ON GUARD
On Guard is my favorite essential oil for cleaning & germs.  It blends perfectly with Basic H from Shaklee.  I use this all natural cleaner/oil combo in all areas of my house.  When I first used this beautifully fragrant oil, I was literally on cloud nine!  I still am! I have been using Shaklee's Basic H for over 2 years. But since it's organic with no added fragrances, I always added essential oils to the bottle to give it a pleasant aroma. I have since found that none of the oils worked quite like doTERRA's and especially On Guard.  Not only is it aromatic, but its antibacterial and antiviral.  I knew this oil was the perfect match for Basic H!  I have found that this oil mixed with Basic H is the most natural way to clean and sanitize my  home.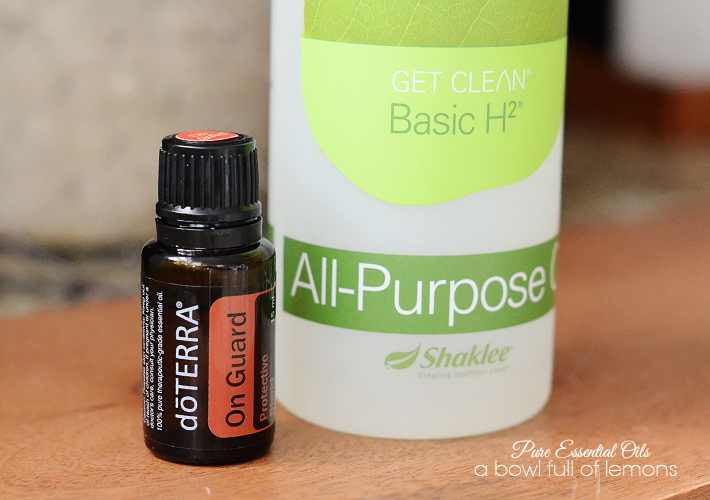 What exactly is On Guard?
On Guard is a pure essential oil blend known for it's many uses.  The "protective" oils contained in On Guard are:  Wild Orange, Clove Bud, Cinnamon Bark, Eucalyptus Radiata, and Rosemary.  As you can imagine, it smells divine. These oils offer a fragrant, natural and effective alternative to synthetic options for immune support. "The oils in this blend have been studied for their strong abilities to kill harmful bacteria, mold, and viruses." Source   "On Guard is dōTERRA's unique, proprietary blend formulated to support healthy immune function. On Guard, with its unique aroma, is one of doTERRA's most versatile blends. It is also safe to use on counter tops, as a non-toxic way to cleanse surfaces, or to clear the atmosphere by diffusing. On Guard is superb for eliminating and controlling pathogens due to the potency of its constituents." – doTERRA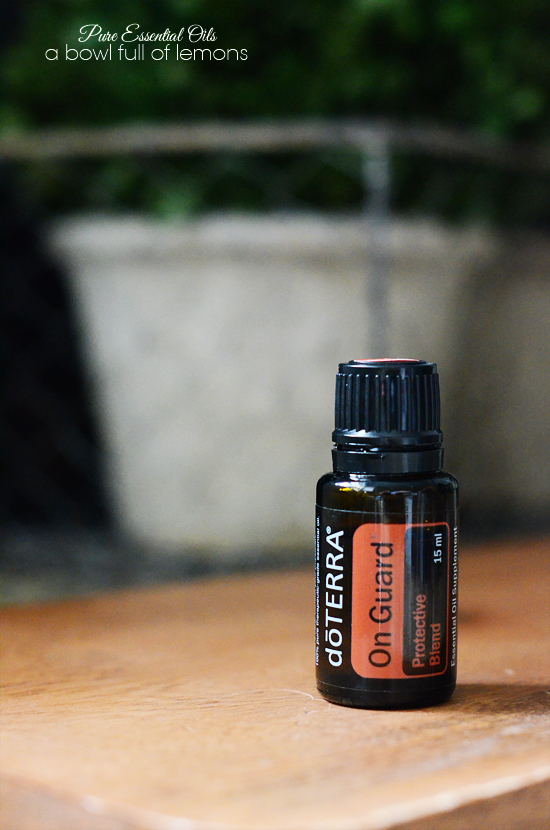 Ways to use On Guard 
1. Add a few drops of On Guard to a mixture of Basic H in a spray bottle.  I use it to clean and purify all surfaces in my home.
2. Diffuse it to clean and purify the air, when someone in your family is sick.  I diffuse it every day for 20-25 minutes (during cold & flu season) when the kids get home from school, to purify the air.  It helps protect the body against the onset of flu, colds and viruses.
3. Therapeutically applied when needed (see below).
4. Apply to surfaces to kill germs and pathogens. Diffuse in rooms to provide immune support and to rid the area of bacteria, viruses, mold, and fungi.
5. Apply topically with massage to feet, back, neck and shoulders to offer immune support.
6. Apply with lymphatic massage at the onset of or during illness. The oils included in this type of blend are GRAS.
7. Take 2-3 drops per day orally for 3 days prior to surgery and apply with massage to strengthen immune system and guard against infection.
8. Take orally with honey, agave, or juice at the onset of nagging symptoms of cold, flu, and viruses.
9. At the onset of sore throat or to fight laryngitis, place 2-3 drops in ¼ cup of water, gargle, swish and pull for 5 minutes, then spit. Take 2 drops internally.
10. Add 2-3 drops of protection blend and 1 drop of Lemon in 1 tablespoon of olive oil and take internally every hour up to 8 hours while relief comes from gallbladder attacks. One can apply similarly using digestive blends.
 *These ways and many more ways to use On Guard can be found on this website.

How to apply On Guard for Therapeutic Use
"Massage throat, stomach, intestines, and bottoms of feet. Dilute one drop of On Guard in 15 drops of fractionated coconut oil (from doTERRA) – Massage the thymus to stimulate the immune system, and massage under the arms to stimulate the lymphatic system. It is best applied to the bottoms of the feet, as it may be caustic to the skin. Dilute with fractionated coconut oil when used on sensitive/young skin. Use with caution in pregnancy."  Source
Therapeutic uses for On Guard
Antibacterial
Antifungal
Antiviral
Candida
Bladder Infection
Chronic Fatigue
Colds/Coughs
Flu/Infections
Gum Disease
Halitosis
Hypoglycemia
Mold
Lupus/Mono
MRSA
Sore Throats
Pneumonia
Warts
Scabies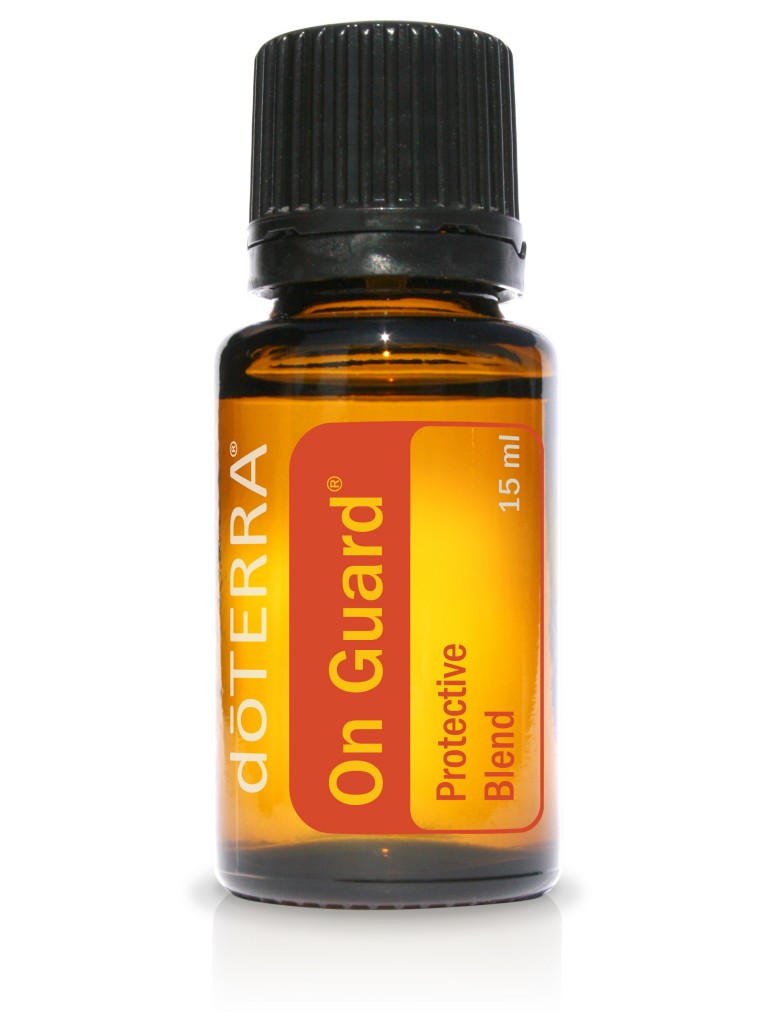 On Guard Scientific Studies
On Guard & MRSA – "Jennifer Eddins, SM(ASCP) is conducting ongoing research using doTERRA's On Guard blend against MRSA.  So far laboratory studies have shown results that would be helpful to you as you clean your house this winter and protect your family from bugs and viruses.  She found that by using 3 drops of OnGuard in 32oz tap water in a spray bottle that was then sprayed and dried on surfaces made the MRSA organism not viable for 7 days, making your weekly cleaning a good thing to protect your family."
On Guard & the Flu – A study was published by PubMed in November 2010. It talked about the effectiveness of OnGuard against the flu virus, particularly swine flu.  The study found that not only did it kill the virus inside the cell (which drugs and antibiotics cannot penetrate the cell membrane like oils can), but OnGuard reduced viral replication by up to 90%.  http://www.ncbi.nlm.nih.gov/pubmed/21078173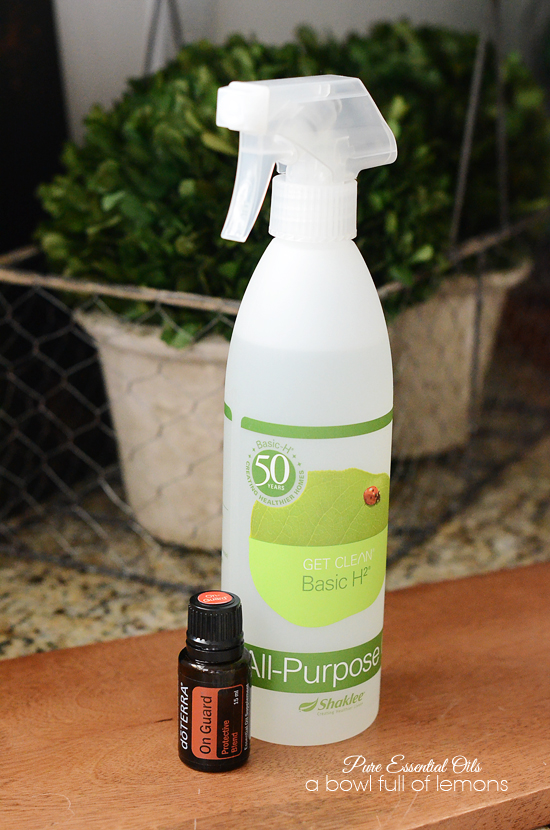 If you have any questions about doTERRA's pure essential oils, email me at abowlfulloflemons@gmail.com.  You can also visit my website at  www.mydoterra.com/abowlfulloflemons.  Next week, I will show you how to use Lavender.
Tags: essential oils, healthy living, on guard, pure essential oils
April 2013, Basic H2, Blog, Clean, Cleaning, doTERRA, Green Cleaning, healthy living, Pure Essential Oils, Shaklee Posted in 16 comments