Today I am giving away an AWESOME pantry organizer called the Cansolidator.  I have 2 of them myself and absolutely love them. You never have to worry about your canned food going bad. The oldest will roll down first. It holds up to 40 cans.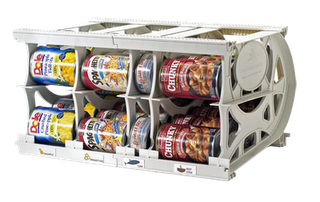 1.  Info on the Cansolidator:  
Featuring SmarTrac technology, the Cansolidator Pantry is a front loading system that automatically rotates up to 40 cans. This adjustable, expandable, stackable system takes the hassle out of can rotation and allows you to organize cans the way YOU want. The Cansolidator is easy to assemble and guarantees a more organized pantry in minutes. Sturdy, compact, and reliable, the Cansolidator Pantry is the perfect stand-alone solution for any pantry.The Cansolidator Pantry holds both small and medium cans.
Dimensions
Height:
11″
Width:
20″
Depth:
16.5″
Capacity:
40 Cans* Rotates cans on a first in first out basis* Holds up to 40 cans* Holds over 100 pounds* Stores small and medium cans (from tuna size all the way to medium 30 oz. cans)* Adjustable width (20″ at its widest)*Units may be stacked for space optimization (note: It's recommended that no more than 2 units be stacked)There are two other items in this line, that are different dimensions. 
The pantry plus
 which holds 60 cans and 
the cupboard
 which holds 20.  They are slightly different sizes so that they will fit in what ever size cupboard you have. 
**SPECIAL DEAL**
If you would like to purchase one or a few of these organizers, you can get them for over 50% off! 
To receive the discount, you will need to go directly to Heather's online store.  The  special price for a Bowl Full of Lemons readers is $21.49. The regular retail price is $44.99.    You do not need a coupon code to receive this discount.  There are also discounts on all of our other products.  Here is a link to Heather's online store: 
http://www.homeparties.shelfreliance.com
HEATHER'S BLOG
Heather has some delicious "food storage" recipes on her blog.  Check it out here:
IF you would like to enter to win the Cansolidator, here is what you have to do:
1. Be a follower of ABFOL
3. Leave a comment here saying you did both!
The giveaway starts NOW and ends at 11:59 pm eastern time on 5/28.  Good LUCK!!