Welcome to my weekly link party, One Project at a Time. This party is devoted to all of my blogger friends, crafty or not, who want to share what they have going on in their lives. You can inspire us to create something new, weather it be a fancy feast or a newly painted piece of furniture. Or you can just share your blog with us! This week, Im still on the down low… enjoying my summer vacation without school and craziness. May madness has gone and the beautiful summertime fun is here. My daughter started summer cheerleading practice (thankfully its only 2 days a week) and my son is finally finished with baseball. Yesterday was my 34th birthday which was celebrated with my kids at the movies and lunch at the mall. We saw Judy Moody. It was an adorable movie. At dinnertime, we came home to a surprising "Happy Birthday" song & candlelit birthday cake from my husband. He is so sweet.
Summer is always a hard time to keep up on blogging for me. I have devoted this precious time to my family & children. But I will pop in every now and then to say hi and hopefully share some of my summer happenings. This week, since I have not had any projects going on, I will share a GREAT book suggestion with you all. Since I love to read, Im always picking up new books whenever I see something that sounds interesting. This week, I found a book called "A Discovery of Witches" by Deborah Harkness. If you liked the Twilight series, you will for SURE like this book. Its not the same as Twilight, but the same kind of genre. I am really enjoying it as a summer read. In a few days, Im hosting a Scentsy giveaway!! Stay tuned. The scent for the month of July is Birthday Cake. YUM!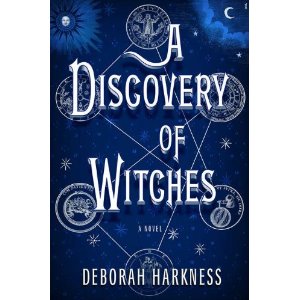 Do you have any good book suggestions? I would love to hear them.
One Project At A Time LINK UP:
Are you busy with projects this summer? Or are you taking some time off to enjoy the summer and the weather? If you are going to link up, please add my blog link button to your post. I have no rules to linking up. 🙂
One Project at a Time Posted in 17 comments