Today I am sharing a love of mine…
Ellies Handmade Soap.
  I am such a fan of Ellie's soaps and in particular, her scents.  I keep them on my kitchen sink, in a vintage porcelain dish.  The sample set has a scent for every season, which I LOVE.  You may not know ellie (or maybe you do). She was a participant in my Parade of Homes in May.  
Here
is her home.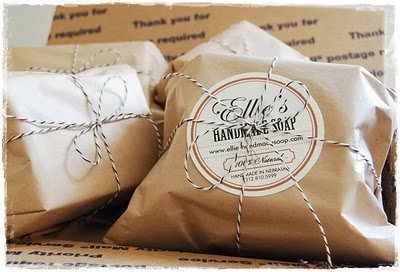 F

 R E S H   

F

 R O M   

N

 A T U R E
100% natural, made-from-scratch olive oils soaps
Ellie
 makes each batch of soap by hand
, stirring together all of the 
ingredients
 in a big stainless steel pot.
The fresh soap mixture is poured into one large wooden mold to set up overnight. The next day, she
 use

 a clever handmade wire cutter to cut the entire batch of soap at once into thick, chunky bars with clean cut edges that are fairly uniform in size. 

Each bar weighs approximately 4 oz each, 

but because it's still a very hands-on process the weight of individual bars may vary slightly. 

That's part of the charm of an authentically handcrafted bar of soap

! (Sample soaps are smaller).
H
O W    

S

 O A P   I S   

M

 A DE
The science of Saponification
From raw, natural ingredients to a perfectly crafted bar of soap, take a peek behind the scenes at my soapmaking kitchen to learn about the art and science behind soapmaking right here.
MY FAVORITE SOAPS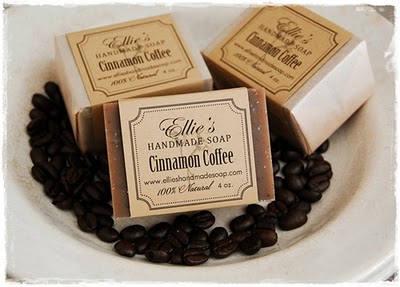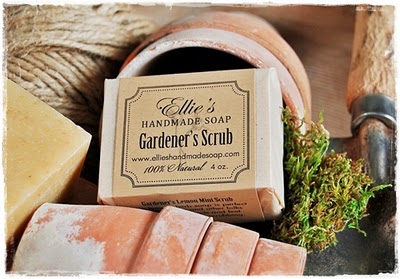 and of course…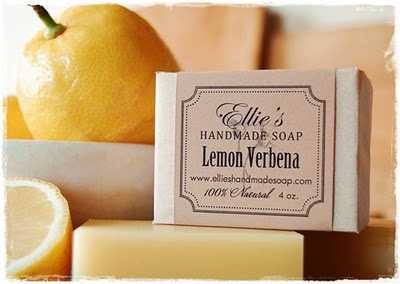 If you would like to try Ellie's Handmade Soaps, visit her shop
HERE
.
THE GIVEAWAY
Ellie has put together a
sample set
with a wide range of scent combinations for the giveaway today.
There will be 2 winners for this giveaway!!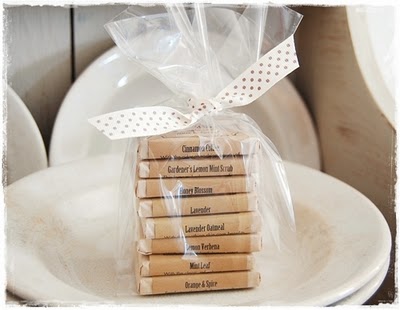 SOAP SAMPLEREverything is cuter in miniature. The Soap Sampler includes 8 miniature bars of handmade soap, just 1/4 the thickness of their full-sized counterparts, but still individually tissue-wrapped and labeled for a fully gift-worthy presentation. Perfect for gift-giving, but don't forget one for yourself! These miniature soaps are ideal for traveling, overnight guests, or simply discovering your new favorite.

Packed in a clear cellophane bag and tied with sweet ivory and tan polka dot ribbon. Individual bars weigh approximately 1 oz each.
Scents included…
Cinnamon Coffee
Gardener's Lemon Mint Scrub
Honey Blossom
Lavender
Lavender Oatmeal
Lemon Verbena
Mint Leaf
Orange Spice
HOW TO ENTER THE GIVEAWAY?
1.

Required

– Follow ABFOL. 
2.

Required

– Follow Ellie's blog (here).
3. Extra entries: Twitter, FB, Blog about the giveaway (links are at the end of this post).
4.  Extra entry… Subscribe to my blog (here)
5. Extra entry… Follow me on facebook (here).
*

Leave a comment for each entry.

If you are a winner and have not done the requirements, you will not receive the prize… so make sure you do them. 🙂
Good Luck!  The giveaway starts now and ends on Sunday at 11:59 pm est time.