The winners of the CLEAN MAMA printables are as follows: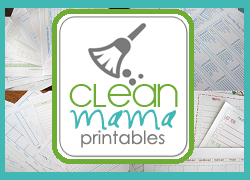 studynsew said…
1. done
2. done3. Everyday is cleaning day, a little each day will keep you on top of things.But i must admit I've got to start early… or it isn't going to happen.
Spencer and Sara said…
1. Done
2. Done3. My cleaning days are Firday and Saturday. I pick up throughout the week and then I really clean and do laundry thoes days. Friday laundry is clothes, and Saturday laundry is sheets and towels. My husband is a graduate student and he doesn't have school in the afternoon on Fridays so he can help clean or watch the kiddos (2 year old and newborn) so things get done quicker!swimfishy2008@yahoo.com
Judi said…
My cleaning day is whenever I can get someone else to do it … or at least help … or when the clutter gets to me so much that something has to be done 🙂 (really it doesn't take that much clutter to get to that point. I hate messy houses – and we have 5 kids and run a licensed daycare, so it never gets terrible. I just don't like cleaning!)
Thank you to everyone who entered.  Make sure to check back tomorrow for a new exciting giveaway. 
Blog, giveaway winners Posted in 3 comments