Welcome to another great week of "One Project at a Time" link up's!! 
I have gotten so many ideas from all of you… Its amazing!  Thank you all for linking up each week. Right now, I am concentrating on home decor because I think we might be building our dream home from the ground up instead of purchasing an already lived in house (not quite sure yet).  I am making my pinterest scrapbook of ideas and trying to figure out what exactly I want to create in our "forever home".  So far here is what I have come up with… 
I don't think there is anything more important when choosing a house, than your front door and foyer.  It sets the tone and environment for your guests. Here are my favorites so far. I love black doors. They are just classic.
I LOVE a nice big staircase at the foyer. The molding and spindles are perfect.
The shades and lighting are so perfect.
I love the farmhouse sink.
I especially love these ikea chairs too.
The colors and textures are beautiful.
I love the batten and board in these living rooms.  Its so beautiful.
This living room has a lot of nice molding and I am digging the grey. I also like the high ceilings.
I love simple vintage bathrooms.
Vintage charm.
I love all three of these bedrooms.
Batten and board is so cute here.
Does anyone know where this bed is from?
I LOVE beadboard & batten & board in any room of the house.
Vintage signs.
Old windows. 
Vintage lighting…
I want a dark (wide plank) hand scraped hardwood for most of the living areas, including the kitchen and hallways.
Isn't it awesome?
Of course I will have to do a whole other post on "organization" in my new home.  More on that soon. 
Okay, moving on to the linky party…
 Please make sure you are looking at what category you are linking to (I do not remove any mistakes). 
There are no rules. Link up one project, or as many as you wish.  I'm so glad you came to party.  
Make sure to link up to the correct category.
Any printables? link them up below (click on the button)…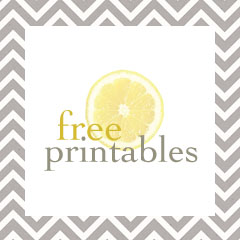 {New Categories}
Show off your house (or room)…Cooking & recipes…Arts & crafts…Furniture…Everything in between…Link parties – (put the "day" in the title)…
Blog, Decorate, Decorating, One Project at a Time Posted in 16 comments