*Disclaimer:  This blog post is through a partnership with Glad and I am being compensated for my time.  All opinions are my own.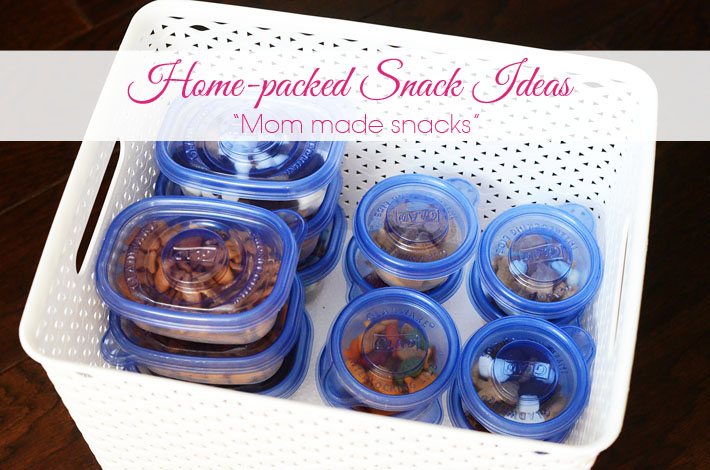 SNACK IDEAS FOR SUMMER
Pre-packaged supermarket snacks cost an arm and leg these days.  Today I am sharing a few simple & inexpensive recipes that you can throw together yourself for much less than the cost of pre-packaged snacks! The kids will be on summer break in less than 4 weeks. So this is a great way to prepare your kitchen for them.  I even took the legwork out of planning for you, with a printable recipe list. You can find the printable list on Glad.com's website (here). Print it out and take it to the grocery store with you. You can assemble these homemade snacks once per week. With very little time and minimal effort, your children will have delicious and fun snacks to eat during their summer break. If you plan & set aside a few minutes every Sunday, you will have a snack box full of goodies for your kids to grab when their bellies are hungry. They are great "treats" for mid morning cravings or an afternoon pick me ups. Also, reusable Glad snack containers will save you money in the long run – no more restocking baggies.  Don't forget to switch out the recipes each week so the kids will not get tired of seeing the same foods.
Tip:  Get your kids involved. These super easy treats can be put together in a couple of minutes, with the help of your kids. During this time, teach them about portion control and why you are separating them into serving sizes.
Organize:  Designate 1 basket for each child in your family. Place baskets on a lower shelf in your pantry. Place 2-3 snacks in each basket (enough for an entire days worth of snacks). Once they are gone, the kids are done snacking.  You can also place small baskets in the refrigerator, for cold snacks.  On Sunday, Assemble enough snacks to last for at least 5 days. Once you have packaged the snacks, place them in the fridge or pantry.
*These tips are great for portion control and help eliminate waste in the fridge and pantry.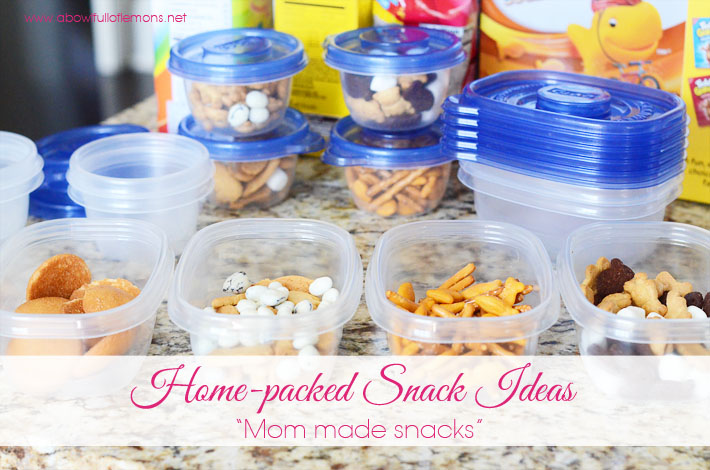 Smores in a cup
1/4 cup Graham Cracker Goldfish
1/4 cup Small Marshmallows
1/4 cup Chocolate Graham Cracker Goldfish
Crunchy Bites
1/4 cup Whole Grain Goldfish
1/4 cup Pretzel Sticks
1/4 cup Nuts
Strawberry Shortcake Bites
1/4 cup Strawberry Fruit Snacks
1/4 cup Mini Nilla wafers
Pizza Pack 
1 slice whole grain pita bread (quartered)
1/4 cup pizza sauce
1/4 cup shredded mozzarella cheese
4 slices of turkey pepperoni
Mini Mexican Snack
1 Handful of mini tortilla chips
1/4 cup Velvetta cheese
Fruiti-licious
1 Cutie (pulled apart)
1/4 cup of grapes
Berry Trio
1/4 cup strawberries
1/4 cup blueberries
1/4 cup raspberries
Protein Pack
1/4 cup cheese squares
1/4 cup diced turkey or chicken
5-6 Crackers
Spring Garden Blend
3 to 4 Cherry Tomatoes
3 to 4 Sugar Snap Peas
3 to 4 Baby Carrots
1/4 cup of Ranch Dressing
*Mix ingredients & place in snack containers. (1 serving each).
Get your printable snack list (here).  Stick it on the fridge or take it to the grocery store with you.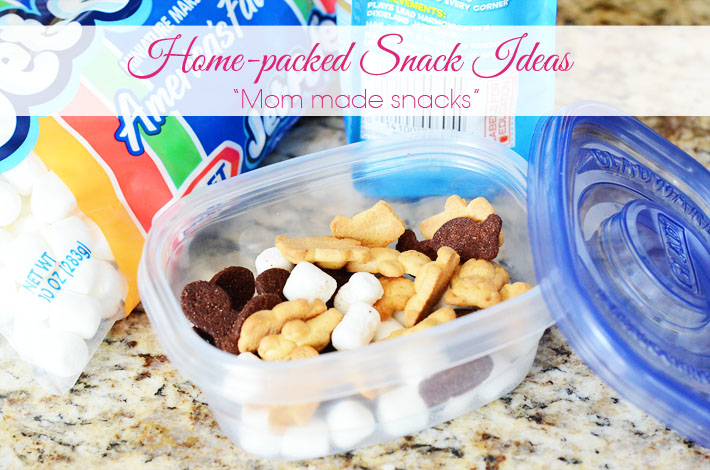 Check out A Bowl Full of Lemons at Glad.com for  more "Mom Made" ideas.
 *Disclaimer:  This blog post is through a partnership with Glad and I am being compensated for my time.  All opinions are my own.
Tags: money saving tips
Blog, food, food storage, glad, Kitchen, May 2013, Organize, snacks Posted in 23 comments