Does tax time stress you out?  Do you know where all of your tax documents & receipts are?  If not,  I'm here to help you get organized! Why pay more then you should, on taxes? Maximize your return with a few organizing steps. Claim the money that's yours! Today, I will be showing you how to organize a designated "tax" area in your office, along with how to put together a tax binder & an accordion folder (for your end of year tax preparation).  No more stressing about taxes.  If you organize a system now, tax time will be a breeze!  You may even enjoy the process (maybe).  😉
How to Organize your Taxes:
This week, I challenge you to designate a space in your office specifically for taxes.  This is especially important for those of you who itemize your deductions at tax time (independent consultants, distributors, contractors, small businesses, etc).  If you don't itemize, a binder will be sufficient for your tax purposes.  Follow the steps below to create an organized system to keep track of all of your tax related documents.   Good luck!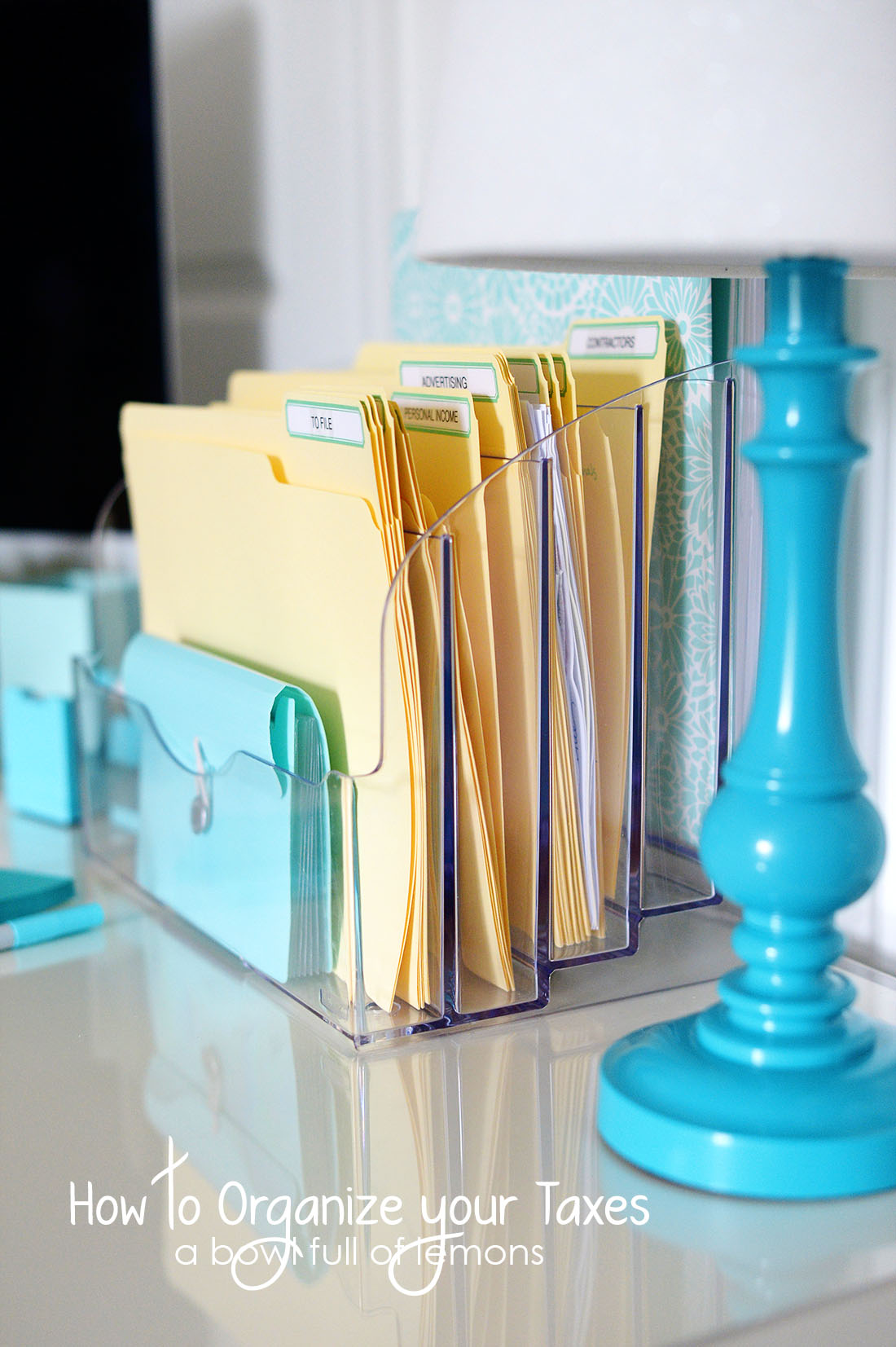 STEP 1:
You will need a desktop filing system.  Place it within reach of your work area.  If it's out of site, your paper will surely pile up, so placement is key! You need to make this process functional & simple, so you can file a receipt or document in a jiffy!  I purchased my acrylic organizer at Office Depot.   You can find them just about anywhere.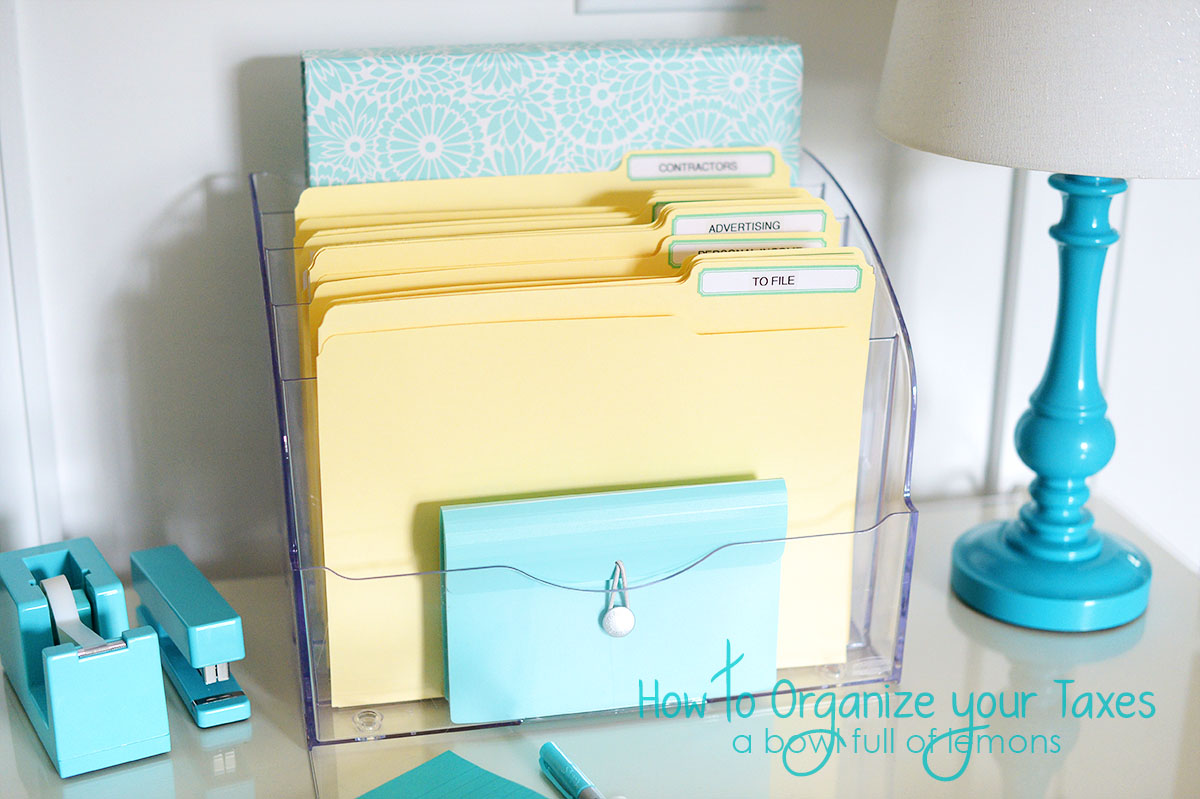 STEP 2:
Label file folders with categories that relate to your business.  Yours may be different from mine. Please speak to your accountant to find out what deductions you are able to claim.  

My Files are labeled: (1 Folder for each)
To File
Bank Statements
Paypal Statements
Taxes Paid
Income
Invoices
Personal Income
Contractors
Itemized Deductions: (1 Folder for each)
Advertising
Auto
College
Depreciation
Donations
Home
Legal & Professional Fees
Medical
Office Supplies
Other Expenses
Shipping Fees
Supplies
Travel
Utilities

Here is a list of common tax deductions. It even shows the criteria of whether or not you can claim them. It's a great list.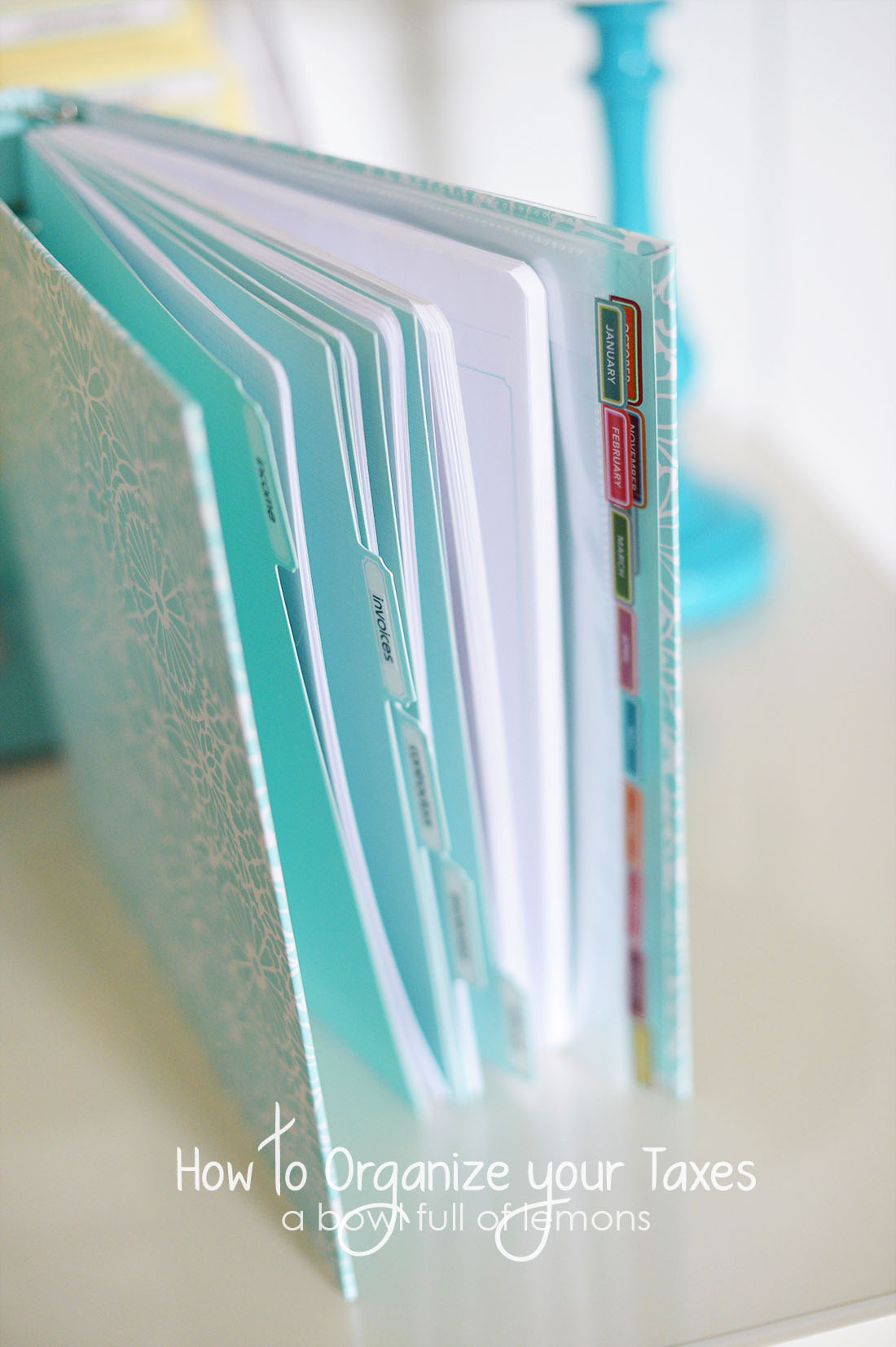 STEP 3:
Create a Tax Binder.  You can create your own printables, or purchase them all together, in my kit here.  I use my binder in addition to logging my information into a book-keeping program.  I don't trust computers, so I like to have a back up.  Also, If I need to look up something quickly, all I have to do is flip to the page.  I purchased my binder & inserts from Staples.  The month labels are sticker tags from Girl of all Work.
My Tax Binder includes the following categories:
Income
Invoices
Contractors
Expenses
Mileage
Receipt Pockets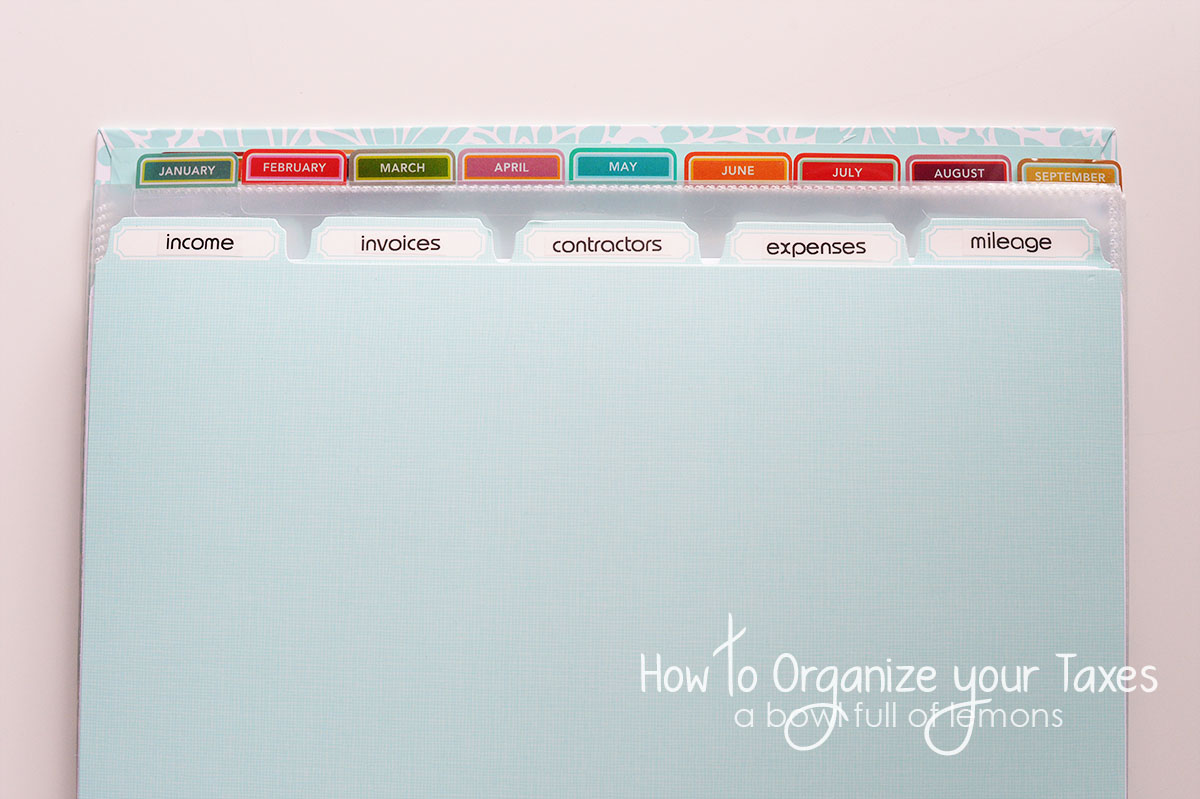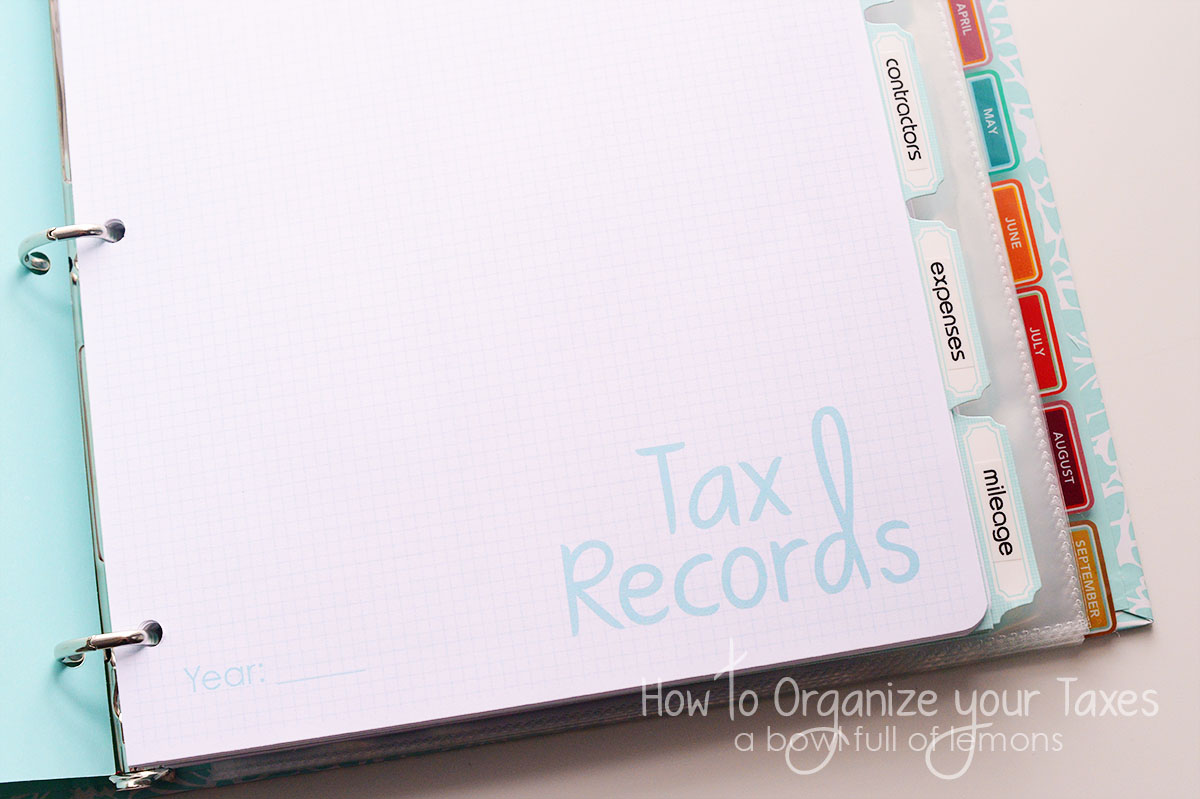 If you need a place to store your small loose receipts, you can place them in the back of your tax binder.  I use clear pocket pages from Staples to store my "supplies" receipts.  This is the category that contains most of the "small" receipts, so I keep these in the Tax binder (organized by month).  You can use these pocket pages for one category or all of your receipts, depending on the size of your business.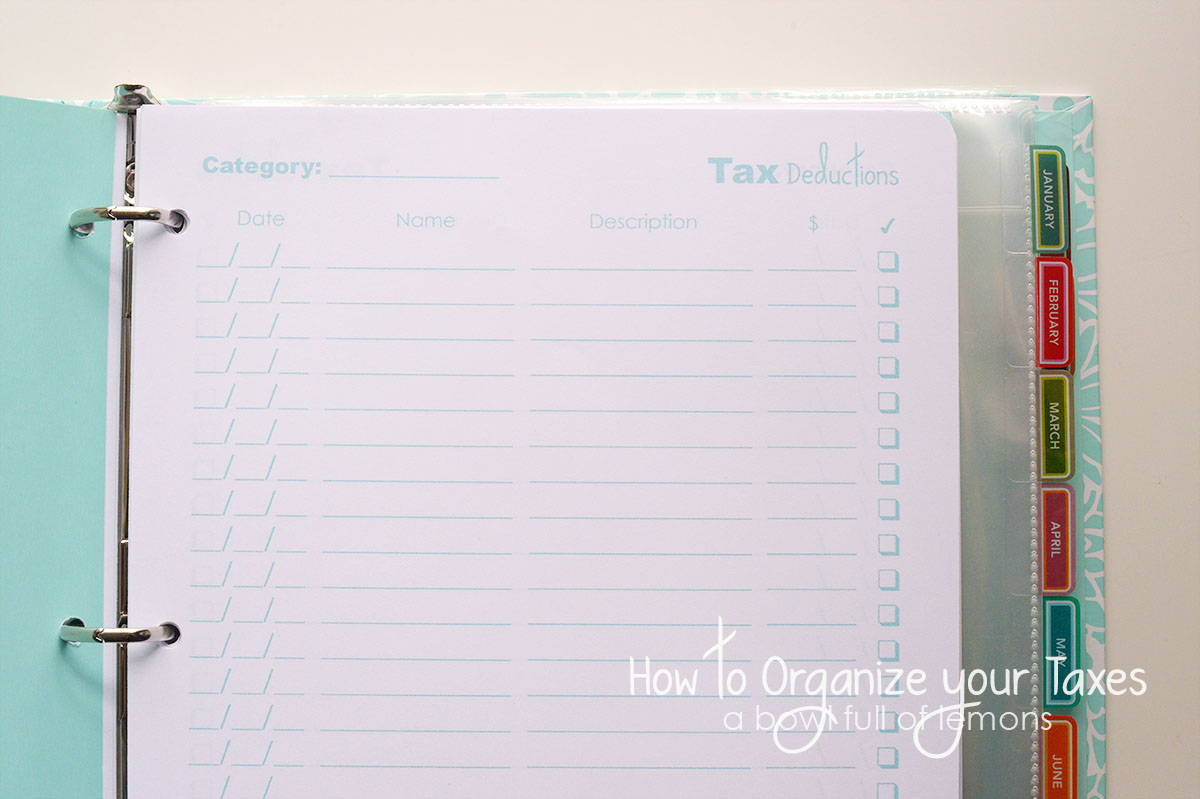 STEP 4:
Designate & label an accordion case for your end of year tax documents. When you are ready to file your taxes, place all document inside the accordion & take to your accountant. (Trust me, your accountant will thank you).  I purchased mine at Office Depot. Its from  the See Jane Work line.  It's clearly labeled and easy for my accountant to find whatever she needs.  Once my taxes are filed,  I take everything out of the case and place it in a hanging folder in my filing cabinet (labeled with the year).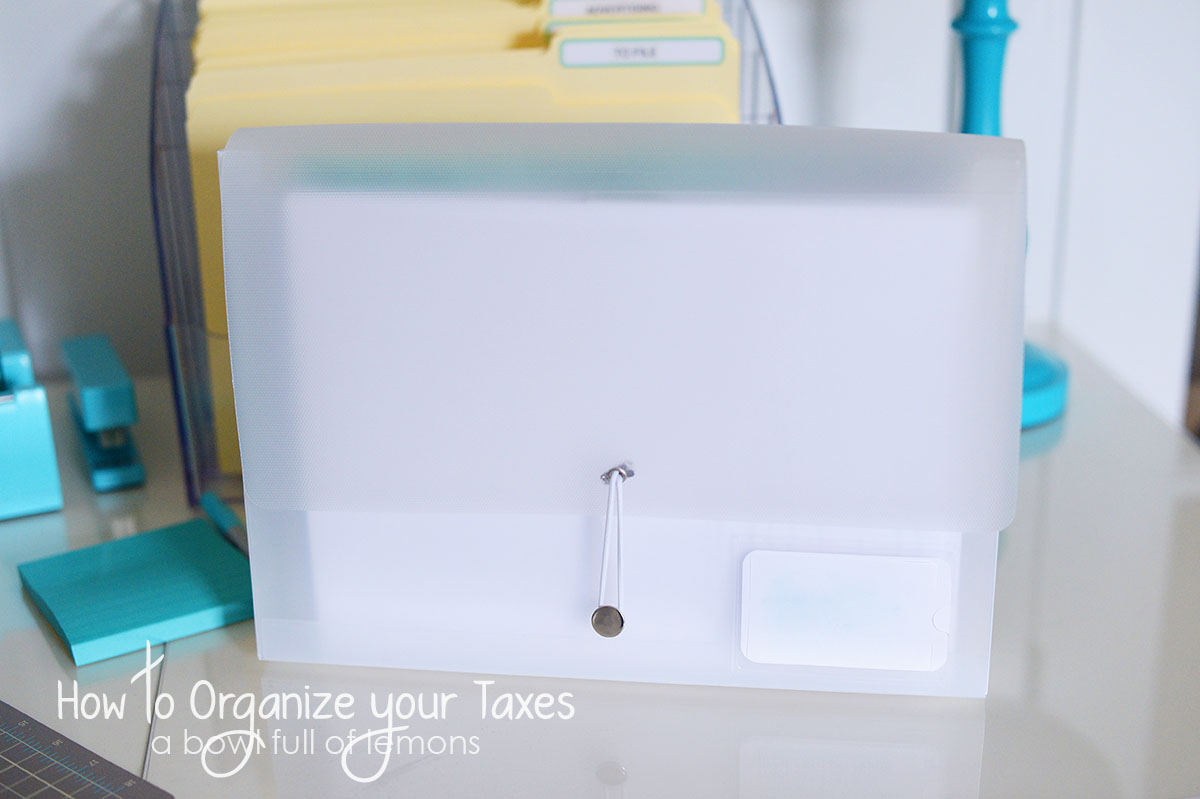 The categories that I  use in the accordion are the same categories that I use throughout the year (in my filing system).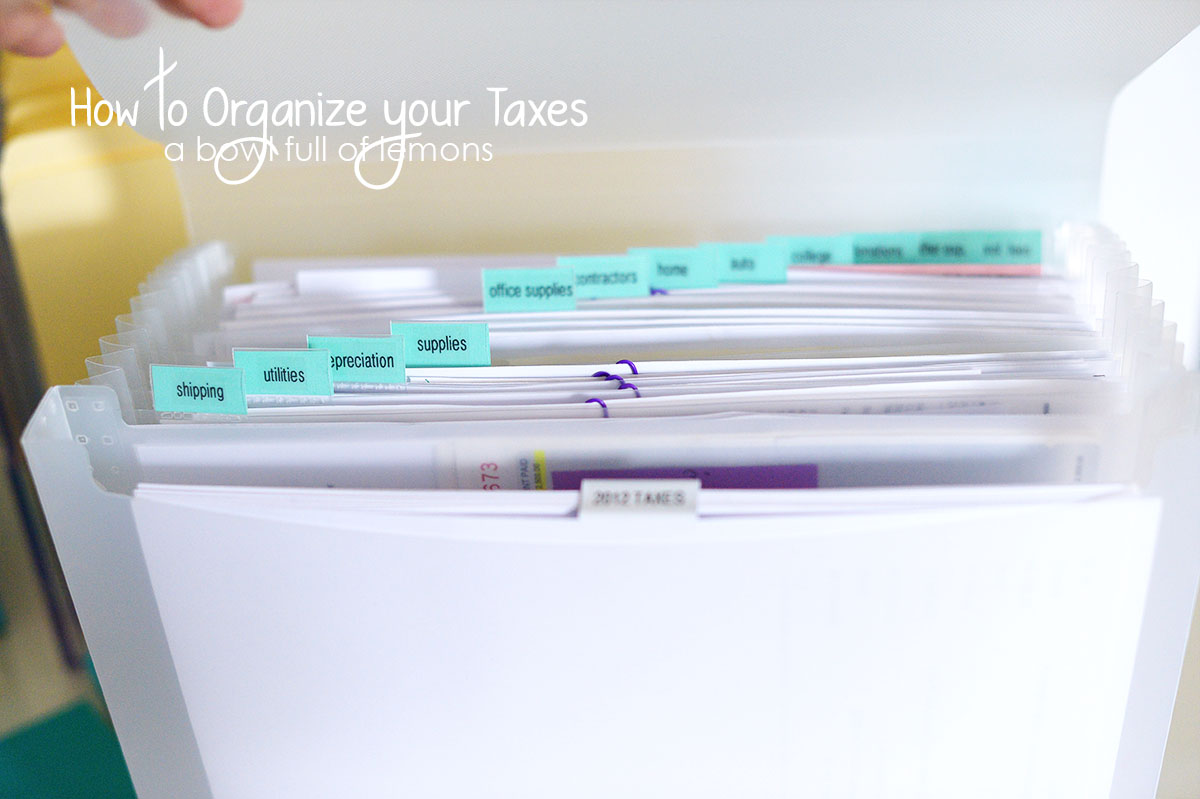 STEP 5:
One last way to organize your taxes is with a mini accordion container.  Keep it in your purse and when you make a purchase, place your receipts directly into the correct category, after you pay.  It makes organizing your receipts a whole lot easier, once you get home.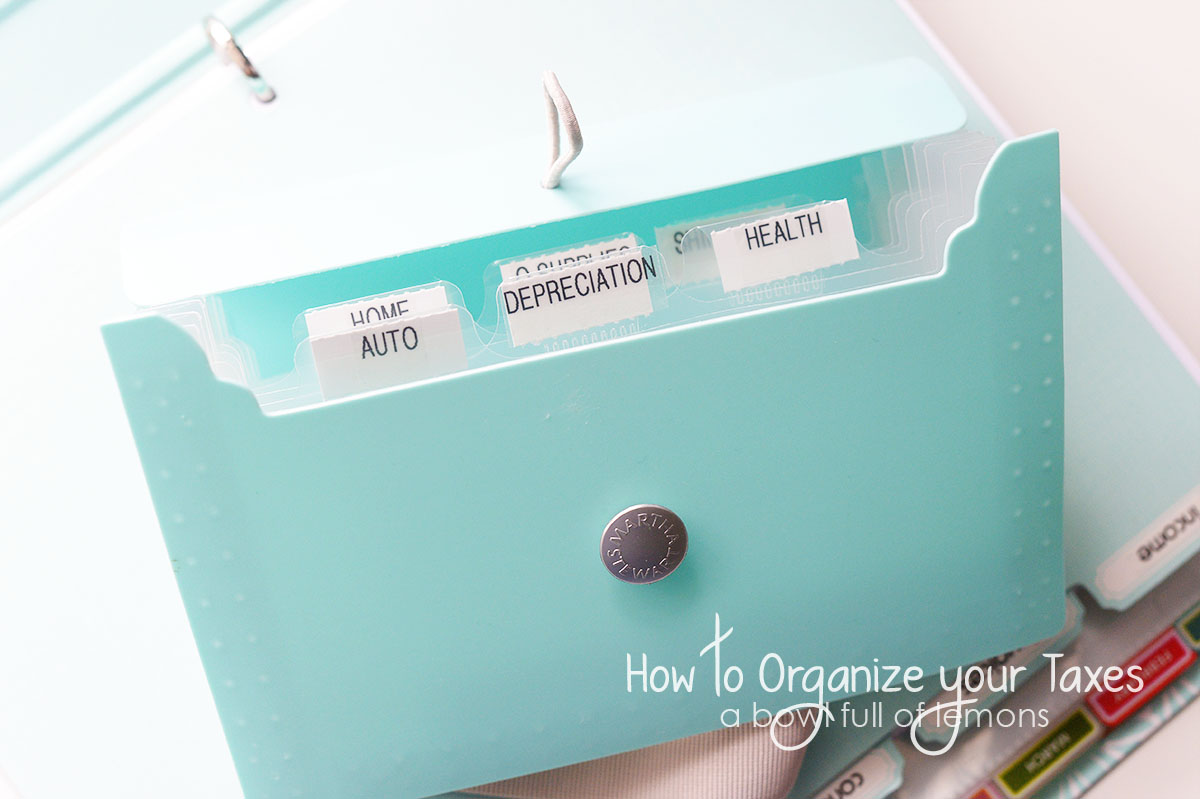 ONLINE BOOK-KEEPING:
The book-keeping program that I use  is www.outright.com.  It's very user friendly.  It keeps a running tally of all of my income and expenses, and gives me an estimate on any taxes I owe quarterly.  It even shows all of my paypal sales and expenses.  I can also create invoices in this program.  If  you have a small business, a book-keeping program like this is an absolute must!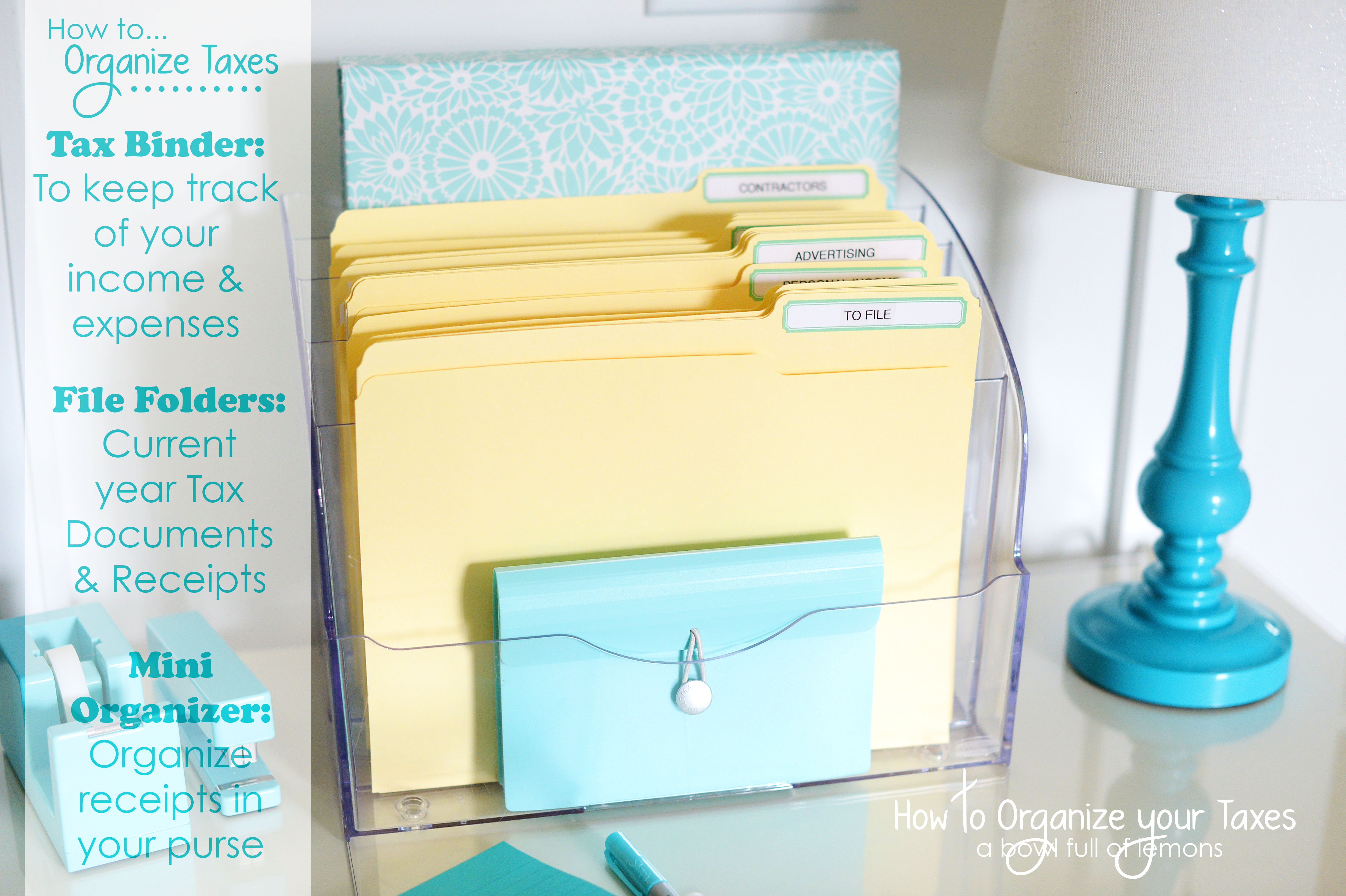 MY PROCESS:
When I run any business errands or purchase something that is tax deductible, I place the receipt in my mini accordion (while I am at the store).  Next, when I get into my car,  I log my (round trip) miles into my mileage book (kept in my car).  Once I get home, I take the receipts out and write them into the correct "deduction" category,  in my Tax Binder.  Then I log them into my book-keeping program online.  Finally, I place the receipt in the correct file folder.  This is a learned habit.  If you spend the few minutes it takes to do this on a regular basis, your taxes will be current, organized, and there will not be any surprises at the end of the year.
I hope I've got you thinking about organizing your taxes throughout the year, instead of preparing them a week before they are due.  Tax time doesn't have to be stressful.  Stay organized so you will be prepared ahead of time!!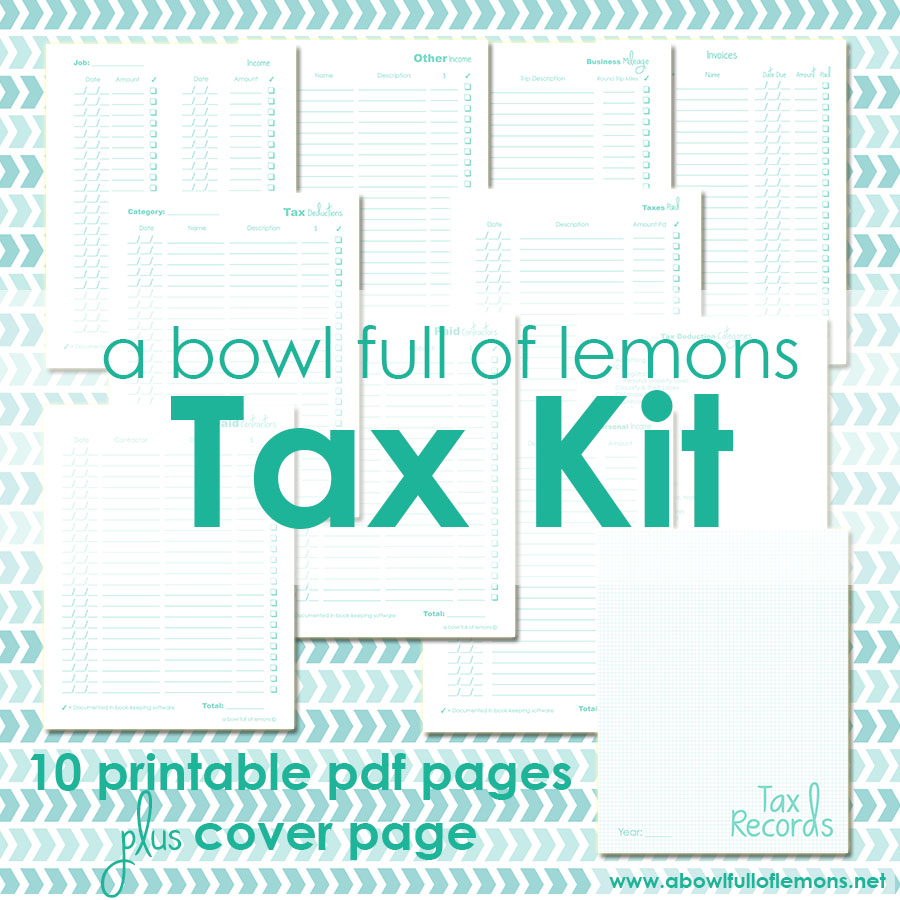 "TAX ORGANIZATION" PRINTABLES KIT:
Want to create the same Tax Binder? A Bowl Full of Lemons now has a printable Tax Organization Kit – for only $10.  Keep your tax documents & information organized throughout the year.  No more stressing out, when tax time comes.  The 8.5×11 kit comes in a pdf downloadable file.  You will receive the file via email, within a few minutes after you pay.  If you do not receive the file, please check your junk mail. It is very important that you enter the correct email address, or you will not receive your files.  If you do not receive your file within 24 hours, please email abfolrainbowplanner at gmail dot com.  Once you receive the file, please save it to your computer. I am not able to resend lost files.
The $10 Kit Includes:
Invoices
Business Mileage
Income (Print 1 per Job)
Income (Other)
Income (Personal)
Paid Contractors (Website designer,  Cleaning Services, Assistant, etc…)
Paid Contractors (By Name – print 1 per contractor)
Tax Deduction Categories
Tax Deductions (print 1 per category)
Taxes Paid
Cover Page
Disclaimer



Disclaimer: I am not an accountant. Everything within this post explains how I "organize" my taxes. I am not giving professional advice, nor am I responsible for your taxes. You will need to speak to an accountant for questions related to your taxes. Thank you for your support to A Bowl Full of Lemons.
Tags: binder, office, organize, organizing, paperwork, taxes
binders, Blog, Budget, budgeting, challenges, February 2014, filing, finances, labeling, Office, office supplies, Organize, organize your finances, planners, Planners & Binders, printables, printables for sale, Slider, Tax Organization Kit Posted in 54 comments