I've always wanted to be a mom… but I got much more than I bargained for!  I'm a mother of 3, an accountant, taxi driver, housekeeper, wife of almost 14 years, chef, organizer, teacher, volunteer, comforter, nurse, photographer, sister, daughter, blogger, entertainer, veteran, christian, and so much more!  I love all of my jobs dearly!  But, the job I'm sharing with you today is blogger!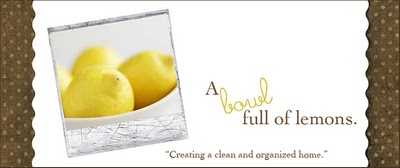 I have a cleaning & organizing blog called
A Bowl Full of Lemons
.  I started my blog at the end of November, 2010 to share my love for all things organizing & cleaning.  I am a Shaklee distributor as well… and my blog is where I show how I use
my Shaklee products.
The thing I pride myself most with is reusing what I have, instead of purchasing everything new (although I do love to shop for organizing items).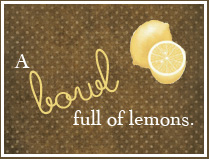 Some great tips to organize on a budget are:
1. Go around your home and collect all containers, baskets, boxes, etc… not being used & put them in a specific place just for "organizers".  Then when you need something organized, you have your own "shop" to choose a container from. I hosted a
21 day organizing challenge
where I had everyone do this. They used the containers through out the challenge.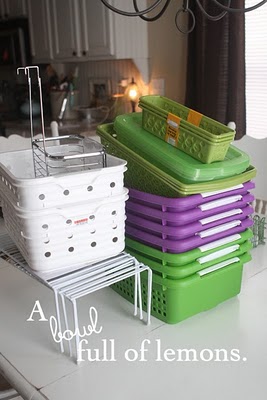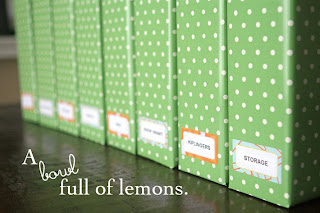 3. Use cardboard shoe boxes, check book boxes, etc… to organize. 
I have LOTS more tips & ideas on my blog.  I also started a
new weekly challenge
that will help get your life organized! The main goal for you is to clear your life of clutter.  To do this, you only need to take one step at a time.  Clean out one drawer at a time.  You will get there and your life will be much easier because of it!

Blog Posted in 0 comments
Congratulations to all giveaway winners of the

Basic H

& Eco-friendly totes!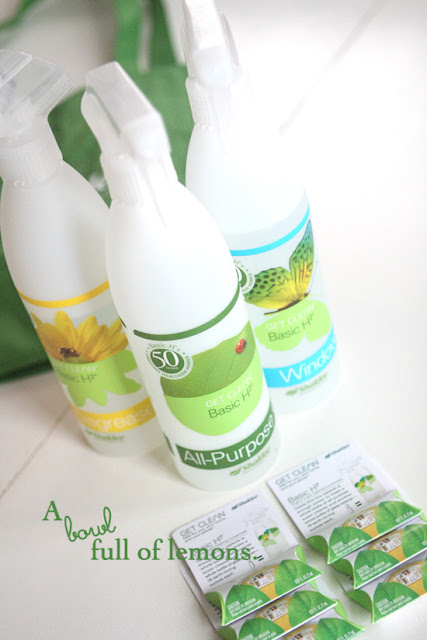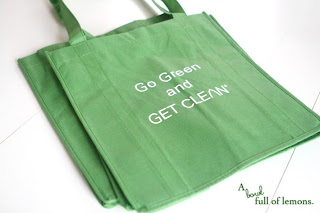 Generated through random.org… the winners are,
I got you on Facebook! I'm a follower! AND I posted the weekly challenge on my blog!! As for the Shaklee products, I am interested in Cinch and laundry supplies.
Love Basic H, love the dishwashing liquid, LOVE the scour off, have completely rid my home of chemicals. Even my husband is a fan and can't get over how wonderful things are. Best of all a lot of my friends who loved shaklee in the past but didn't know how to get it NOW do! Thanks Best of all I"m so excited about how much money we will save in cleaning products!
i would try out the get clean kitchen mini kit – to try everything out first. i was so amazed at your oven that im really considering this product now 🙂
I am a follower, and I completed many of the challenges. I can't wait until your weekly challenge, it will keep me honest!
I blogged about the new weekly challenge!http://hardworkingrma.blogspot.com/2011/01/cleaning-organizing-weekly-challenges.html
#32 – 

Allison said…
Toni,I think I am following your blog- I put in my email address. I LOVE your facebook site (and liked it) and I am happy to say that my home looks fabulous thanks to a swift kick in the pants from your 21 days challenge! I am so happy that I found your blog because I was blog stalkin on New Years day…lolOk so the products that I most want to try are:Basic H2 Organic Super Cleaning ConcentrateBasic G Organic Super Cleaning ConcentrateScour Off™ Heavy-Duty Paste(This is the coolest looking product…and my oven looking totally not-fabulous)Thanks for helping me become more "organized" I have even moved over and bought a label maker! AHHH!!! haha I am a label making machine!Love, Allison
If you are a winner, please email me your address! Thanks to everyone who left comments! I have A LOT more giveaways coming up!!

giveaway winners Posted in 9 comments