Due to the overwhelming amount of requests we have received over the past several days, Becky and I have decided to extend our sale through tonight, Friday August 16th, ending at 9 pm est.  If you were unable to purchase the bundle until payday,  we are glad to offer it to you!!  Click below to order. Happy Organizing!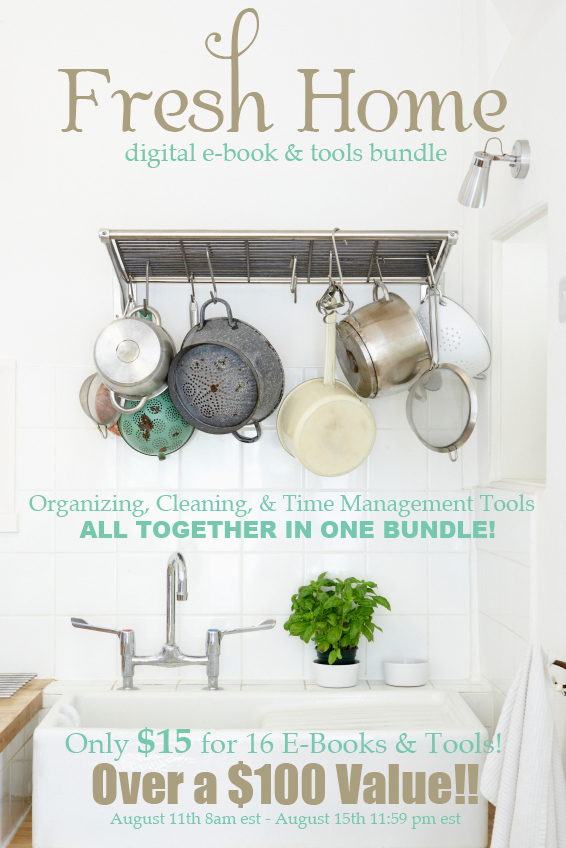 Important Details:
Please remember to back up your files. We are unable to send you copies of the ebooks that have been deleted or lost.
Please do not share your bundle with anyone else – it is intended solely for the person who purchased the bundle. Please be respectful of the authors' copyrights.
After purchasing, you will automatically receive an email (to the email address you provide) containing the download link. Please check your spam folder if you cannot find the email.  

If you do not receive an email containing the files, please forward your paypal invoice to freshhomebundle-1@yahoo.com.

Please download and back up your Fresh Home eBook Bundle purchase. You have 5 download attempts to access your files. The download link expires on 10/31/13. After that date, we will not be able to provide new links to download.
Due to the digital nature of this sale, there will be no refunds available. If you do have questions regarding the downloads, or how to open and save them, please refer to the Frequently Asked Questions page before contacting us.
If you have any questions or issues with any of the ebooks or tools included in this bundle, please contact that author directly.
This post includes affiliate links, and I make a portion of the sale of each Fresh Home eBook Bundle. Thank you for your support of this site!
Tags: digital bundle, fresh home bundle
August 2013, Blog, Books Posted in 0 comments