Grove Collaborative is my go-to website for all things home & cleaning. I place an automatic order each month, to refill household cleaning products, paper products, toothpaste, and deodorant. Every time an order arrives, it feels like Christmas morning.
Whenever I'm able to offer a new Grove special to my readers, it's even more exciting. Right now, the limited time Grove special is the famous Bubble Up dish & brush, walnut scrubbers, and a 3 piece Mrs. Meyers sink set. This set WILL run out, so don't wait to order. The FREE set is for all new members who place their first order. You even get free shipping.
When you sign up for Grove and place your first order here, you get all of this for free! 
So what exactly is Grove Collaborative?
Grove is an online subscription service that makes getting the best, plant-based & sustainable, household and personal care products totally effortless and affordable – from toothpaste to toilet paper to face wash. It's highly customizable and you can change the delivery schedule and products to fit your needs.
I'm a longtime fan of Grove because they've helped me save time and money all while creating a healthier, more beautiful home. I don't have to worry about running out of dish soap or rushing to the grocery store to buy overpriced laundry detergent with indecipherable ingredients because Grove always has me covered. I also love that shipments are customizable and on a flexible schedule. I even order my toilet paper from Grove! It's been great.
"Claim your free offer and sign up for Grove"
Here's how to get your FREE kit:
Sign up for Grove Collaborative using my link here. You will receive a Mrs. Meyer's sink set for free with your first order.
Do your shopping. Your free items will automatically be added to your cart along with some suggestions of their best-selling products. You can finalize your cart of products to suit your household needs by adding or removing items. You can customize each order, spread out your shipments to fit your shopping needs, and cancel at any time.
You made it! Click Finish & Pay and place your order.
The offer ends soon so don't wait. At any time, you can edit or reschedule your orders or cancel if you no longer need the products. *Please note that Grove currently does not ship to Canada, Hawaii, or Alaska.
I order so many great products from Grove every month. My favorites are the Grove glass bottles, the microfiber cloths, and the wide range of Mrs. Meyer's products. I also love the wide variety of products from sustainable companies like Dr. Bronners.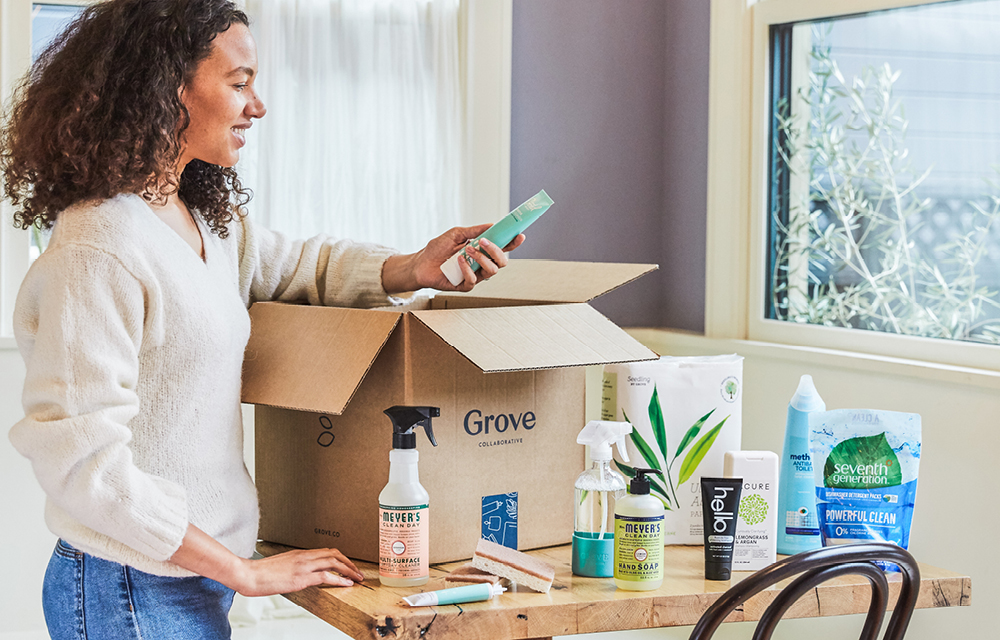 Once you have submitted your Grove order, you'll be signed up for the free 60 day VIP trial. For 60 days, you'll save even more with free shipping, free gifts, price matching, exclusive sales and personal service. (I decided to keep the VIP membership after my trial ended, and I can say it's well worth it! It has paid for itself in free shipping alone.) If for some reason, you don't need the regular shipments anymore, simply cancel your subscription. It's that easy!
Disclaimer: This is a sponsored post by Grove Collaborative®. All opinions are my own & I only recommend products or services I use personally and believe my readers will enjoy. I am disclosing this in accordance with the Federal Trade Commission's 16 CFR, Part 255: "Guides Concerning the Use of Endorsements and Testimonials in Advertising. Please click here for full disclaimer.