I finally finished creating a functional gift wrap station!  It is housed in my armoire, in my master bedroom. (You can see my new paint color in the picture below).  I am so glad I have created this space. Now it will be much easier to get a gift ready to go, when the kids have a party to attend, or we have a family birthday, etc.
PLEASE ignore the large box tv in this armoire.  It needs replaced, but its not going to happen an time soon. I dream of a flat screen on our bedroom wall. (One day).
My photo boxes fit perfectly here.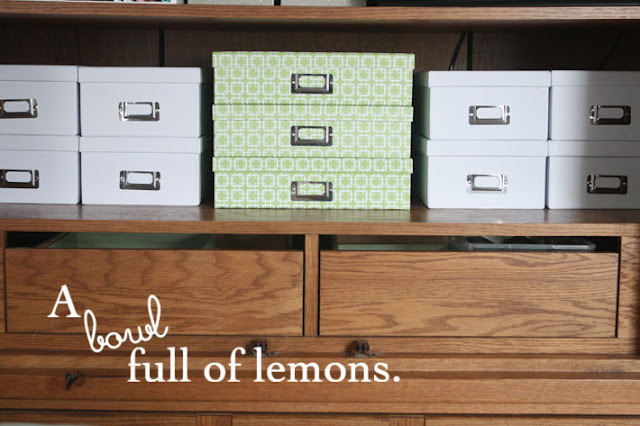 I picked up these boxes at Target this week. They will house my vintage (1990's wink) music cd collection. More on that later.
This scrapbook organizer fits tissue paper, boxes and bags well.
These buckets are for pre-purchased gifts. I like to go to target and walmart the day after Christmas to get gifts on clearance. The kids give them out for school birthdays. It sounds cheap, but they are invited to a TON of parties throughout the school year.
The wrapping paper fits great in the bottom drawer.
The top shelve holds three baskets.  One for my novels, one for my self improvement books, and one for my christian collection of books.  These are NOT my only books.  I switch them out often.  My bookshelve is in my basement. Its nice to have these baskets in my bedroom since this is where I do most of my reading.
The middle drawers hold… my ribbon, scissors, tape, tags, etc…
and the other one holds extra school supplies.
Thats my gift wrap station, now I want to share a very inspirational space from one of my readers…
Three Men & a Little Lady linked up her gift wrapping station for the challenge this week. I was tickled at how organized she was on this challenge (she actually had it already finished it prior to the challenge).  This is the perfect model to follow if you are wanting to create your own gift wrapping station.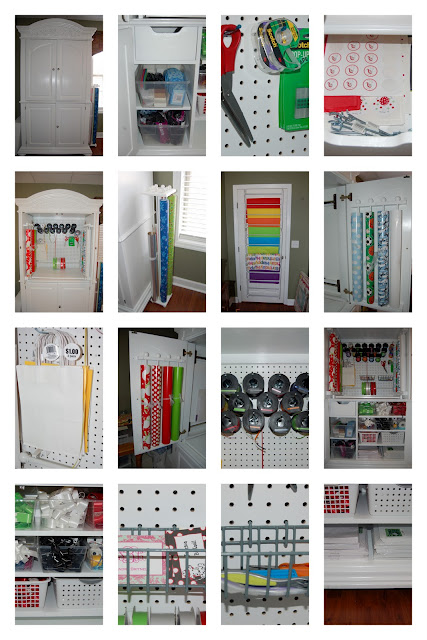 I got peg board hooks from Lowe's to
hang the rolls of curling ribbon on,
and also found the little baskets to hold ribbon shredders,
gift enclosure cards and paper cutters.
Tape and scissors have their own hook so they are
always in the same place.
Under the cabinet there are
baskets of bows and miscellaneous
ribbons and things to decorate packages.
There is a hook that I keep a stock of basic white gift bags from
the Dollar Store that I can just add some bright tissue paper
and a pretty bow of curling ribbon and we are good to go!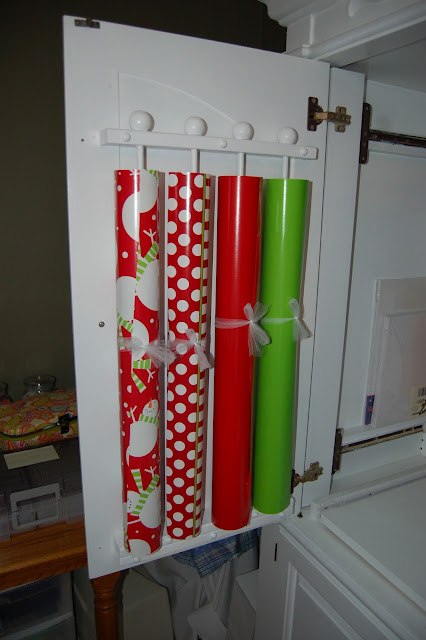 Scott made racks on the inside of the doors
that hold the wrapping paper.
He used dowl rods that can be pulled out from the top
when I need to remove or replace the rolls of paper.
I keep 8 rolls of paper,
2 that are specifically Christmas patterned
and then a solid red and green that coordinate
with the Christmas paper, but can be used for
general Birthday as well with just the change of
colors in ribbon.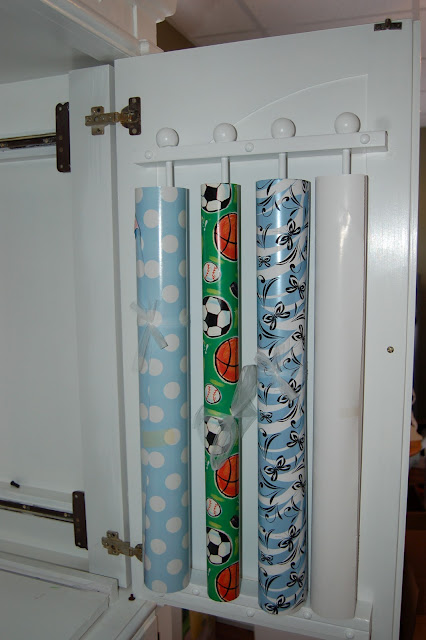 I also have solid white for just about anything,
Baby Polka Dot paper that is light blue on one side
and pink on the other…
I also have a pretty "girly" paper to use to
wrap present s for friends…
and the sports balls are left over from
before…when that roll is done I'll probably get
another solid color paper.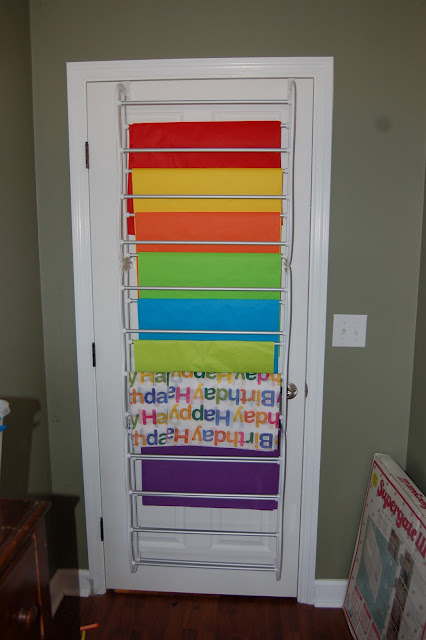 I found this shoe rack at Bed, Bath and Beyond that
I use to hang tissue paper on…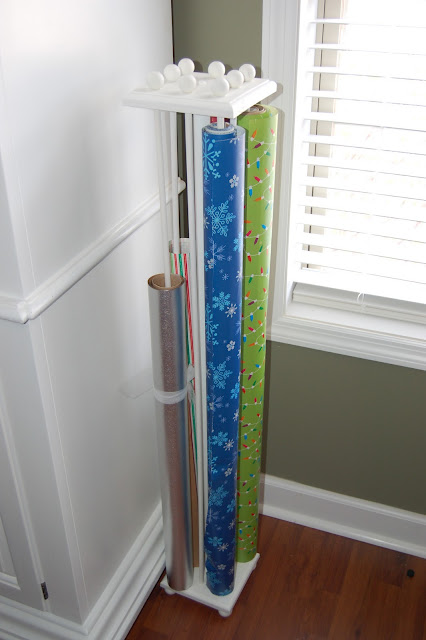 Scott made this wrapping paper holder for me when I was pregnant
with Jackson…
we were sitting in the waiting room and I saw something
like it in a magazine.
I looked at him and said
"you could make that, couldn't you?"
He studied over it and said
"Yes, I can"
hee hee hee
so off he went to Lowe's.
He's so sweet…
This holds extra rolls and also
really TALL rolls of paper that I keep for
the big Christmas presents.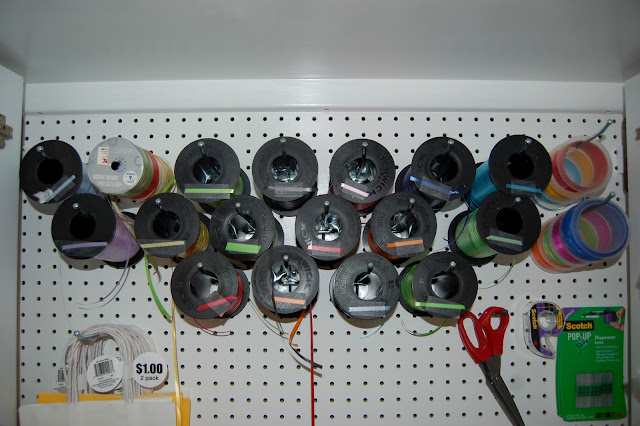 All my pretty little rolls of curling ribbon
hanging neatly on their hooks.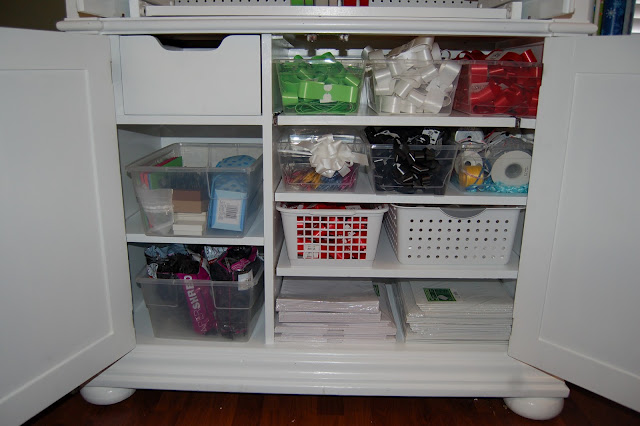 Lots of bows ready to be fluffed!
I have ordered all of my paper,
ribbon and bows from
They have tons of different packaging supplies.
Thousands of different papers, bags, fillers, boxes…
oh the list just goes on and on…
It's as much fun as shopping for office supplies!
I even have a stash of boxes on the bottom shelf that I picked
up at Wal-Mart after Christmas.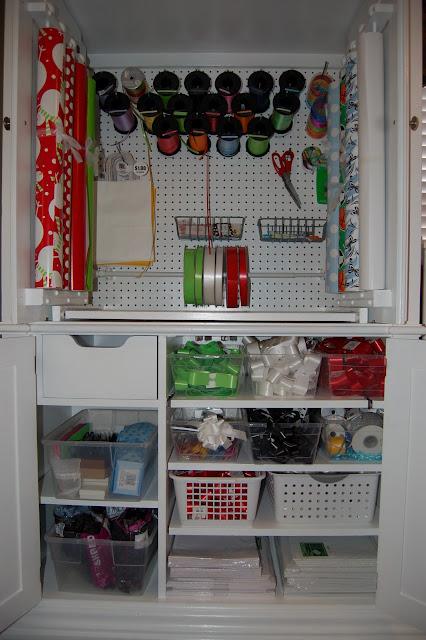 What a GREAT gift wrapping station!  Thank you Sandra for sharing your pictures with us.

Tags: gift wrap station
gift wrap station, Organize, Other Spaces Posted in 21 comments