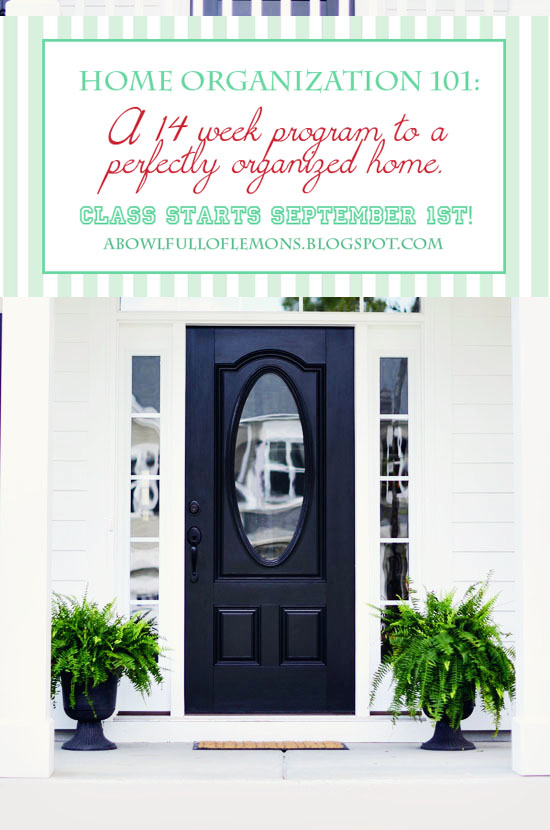 HOW TO SIGN UP:
If you would like to join our organizing challenge, sign up (here) on the event page.  Once you are signed up, join the Home Organization 101 group page on Facebook (HERE). On this page, you can ask questions, post pictures, and support each other during this 14 week process. 
I only have one rule for the challenge.
GRAB A BUTTON!
 If you are joining the challenge, please place the challenge button on your blog. If you don't have a blog, please share the challenge on your Facebook page, Twitter, or Instagram.
HOW THE CHALLENGE WORKS:
Home Organization 101 will continue for 14 weeks. Each Saturday, I will post a new "space" along with pictures of my finished space and share the process of how you can organize yours. You can take as long as you need, and once you are finished organizing your space, come back here to this post and link up your blog (with pictures) to share with all of us. If you do not have a blog, you can take pictures and share them on our Facebook group page (
here
).   Questions, ask away… Our facebook page is the best place to ask them.  Have fun!  Now lets get organized.
 WEEK #10 THE MUDROOM
Mudrooms are all the rave these days. Even if you don't live in colder climates, mudrooms are being built in new homes as a standard feature. If your home is older and you don't have a mudroom, you will learn "how to fake a mudroom" today!  I think they are a must for families with children.
My challenge for you this week is to create a dedicated mudroom "space" in your home, where you can hang coats, & store shoes, gloves, keys and bags.  If you don't have a mudroom, choose from one of the examples below.
MUDROOM SPACES 
Armoire
Closet
Entry wall
Laundry Room
Foyer
Corner
Garage
What you will need to create a mudroom "space"
Baskets
Hooks, etc.
Bench or cubbies
Dedicated space close to the door
A place for your keys & cell phones
Use your imagination when creating a mudroom "space" for your family.  Make it your own style. Make it function for you. DONT FORGET TO TAKE A "BEFORE" PICTURE OF YOUR SPACE.
MY MUDROOM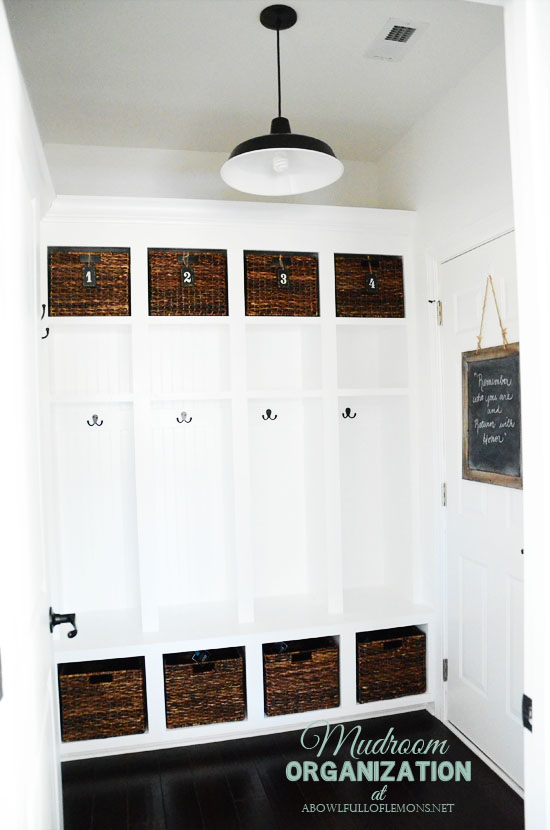 (The natural lighting in my mudroom is very poor. There are no windows so the coloring may be off a bit. I dont like to use flash with my pictures.)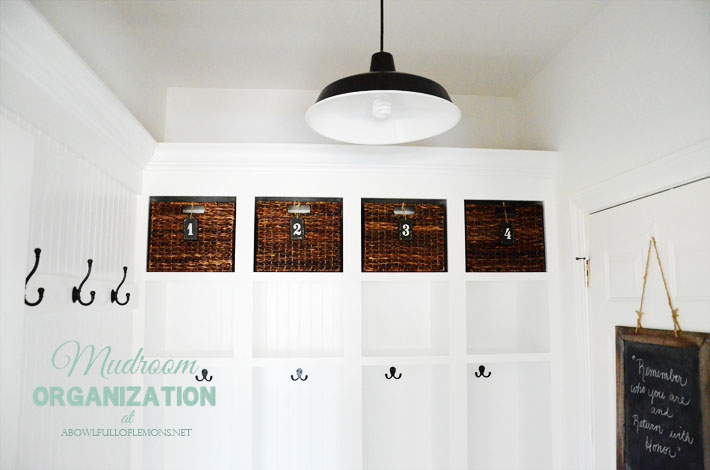 Use baskets to store cold weather accessories, pet stuff, and extra shoes.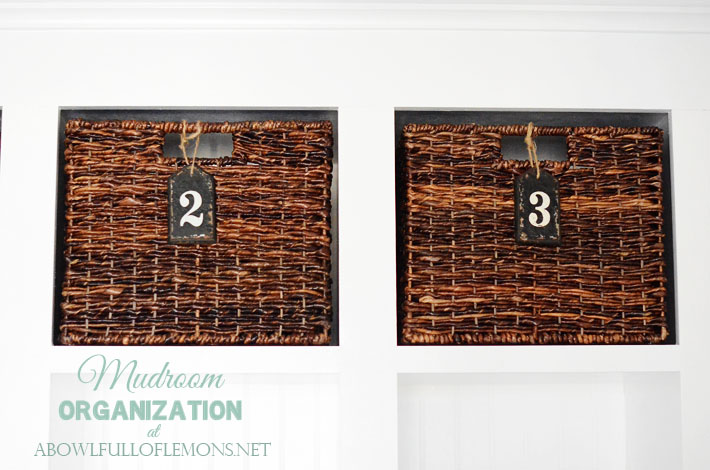 Our home was built with a "technology cabinet".  We charge our cell phones & Ipads here. We made copies of all the keys for the house & store them here as well.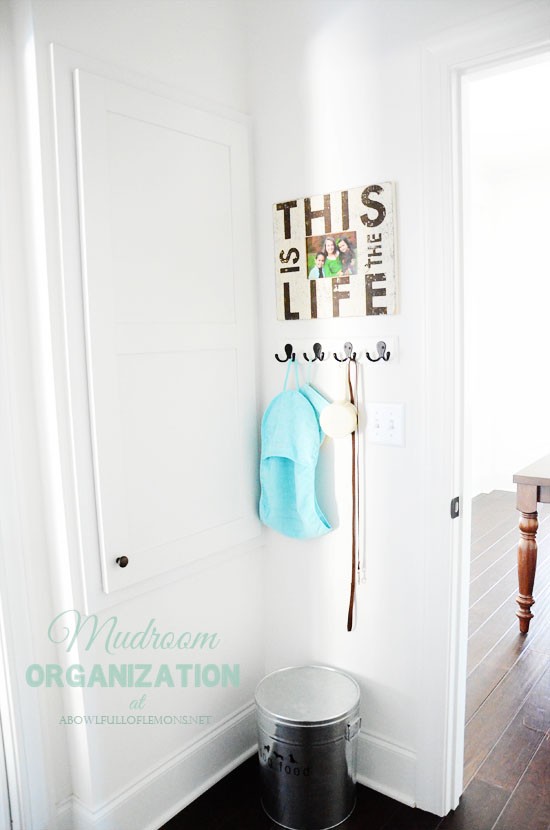 Dog accessories hang right by the door for easy access.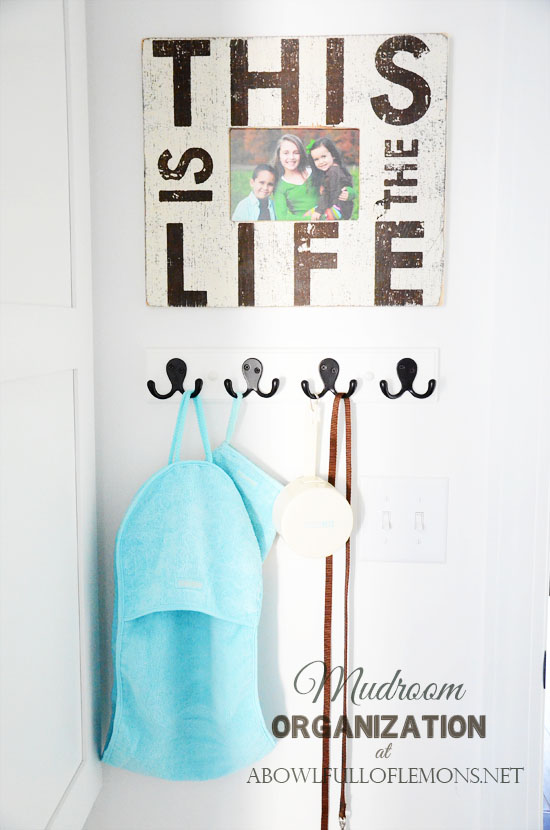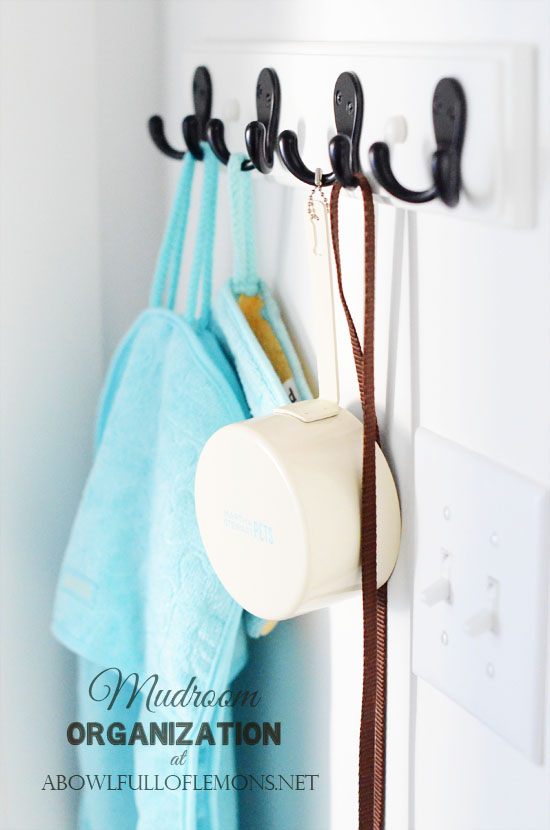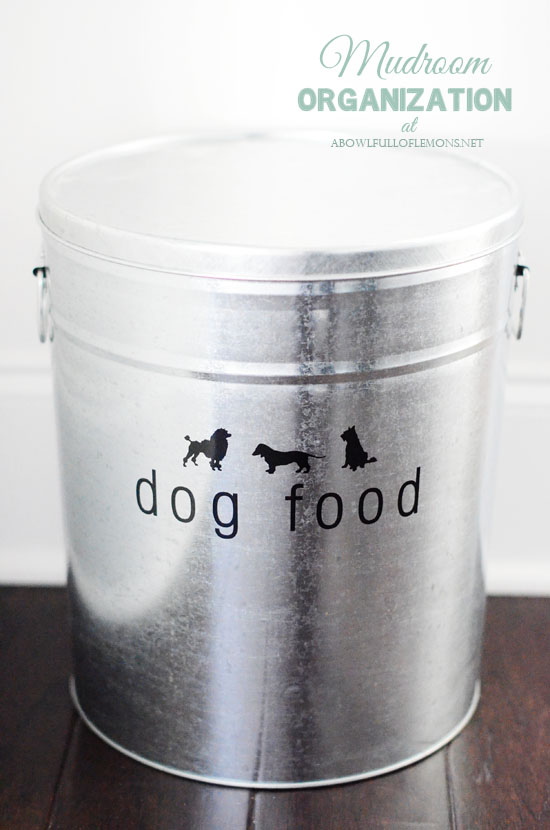 The technology cabinet.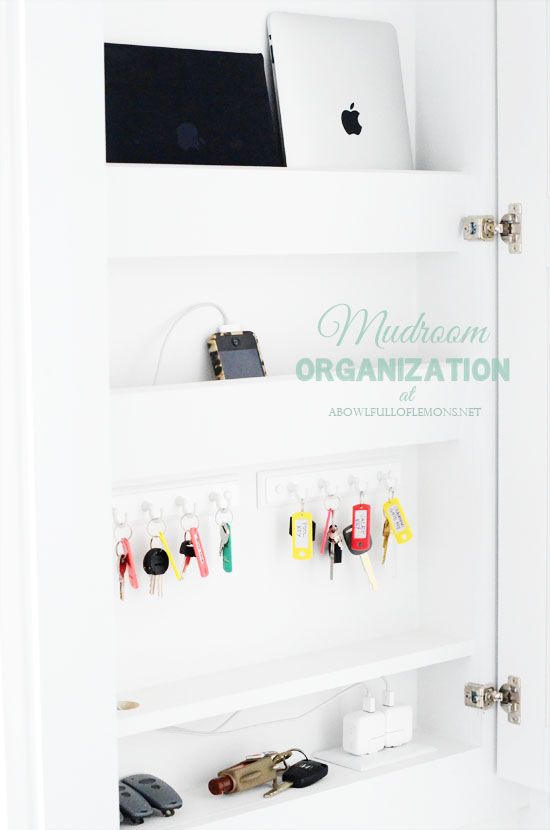 Keep copies of all keys in your mudroom.  If a family member needs one, they know where to find them, even if you are not home.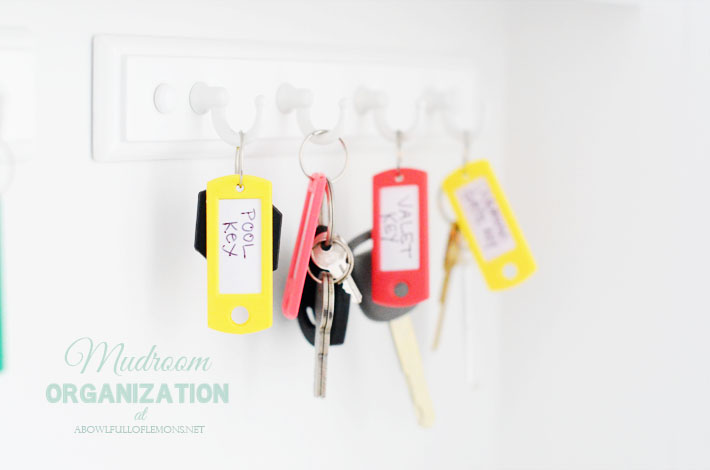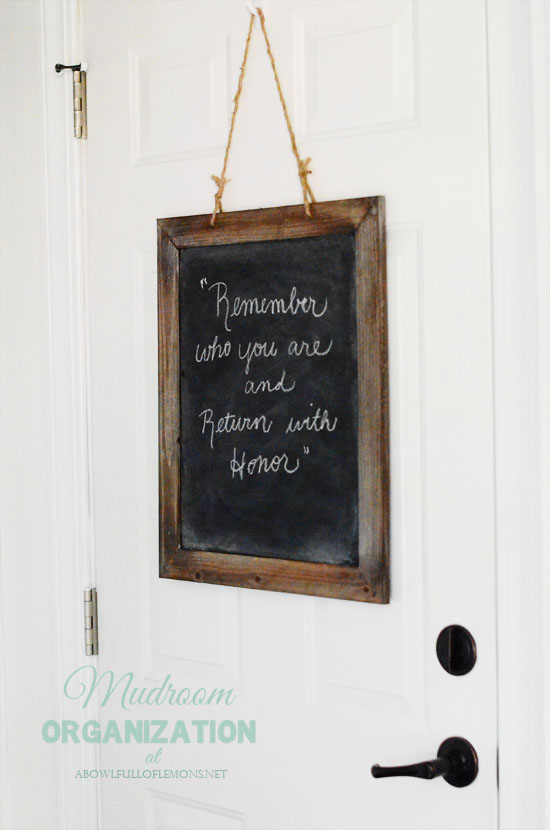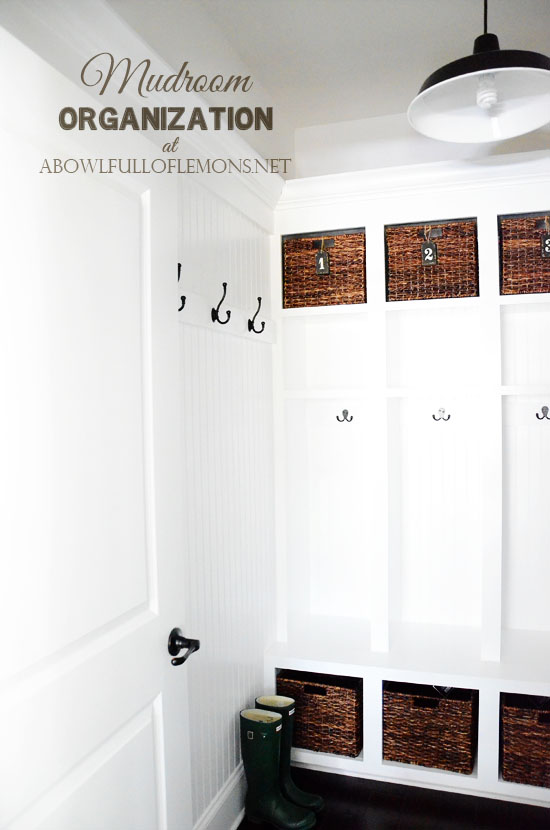 These hooks are for guests.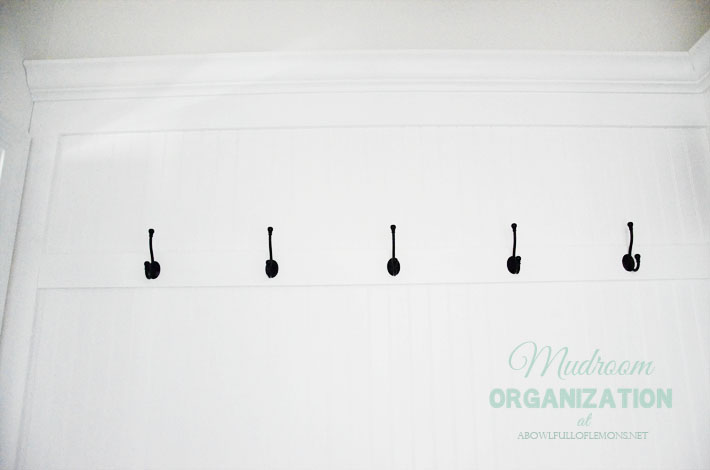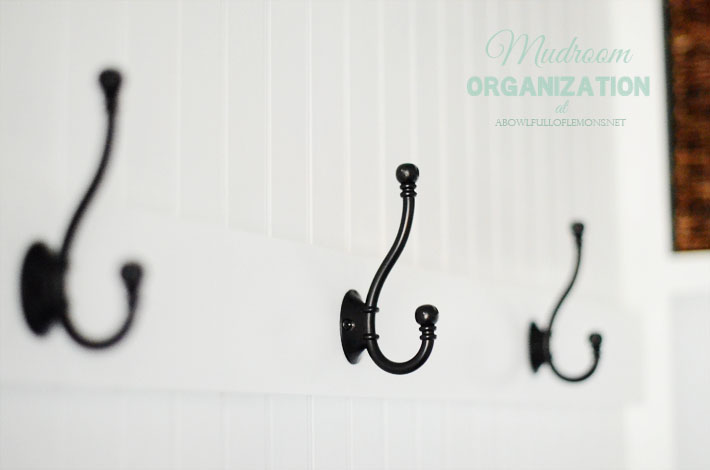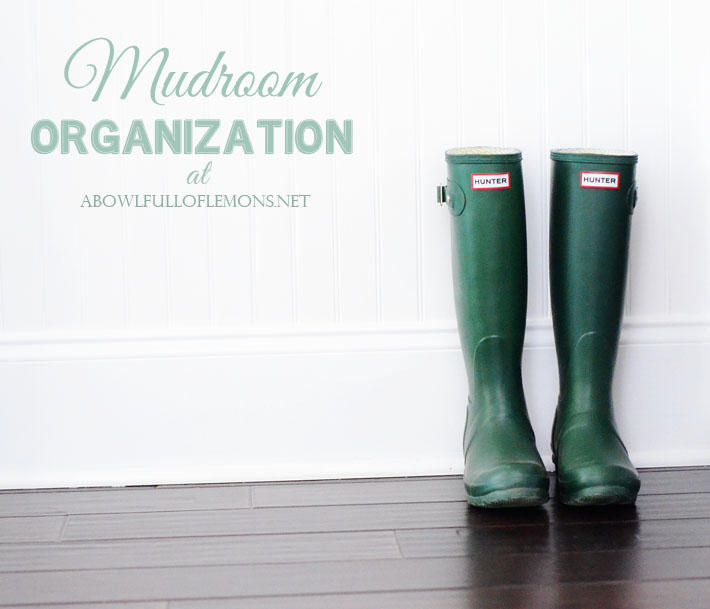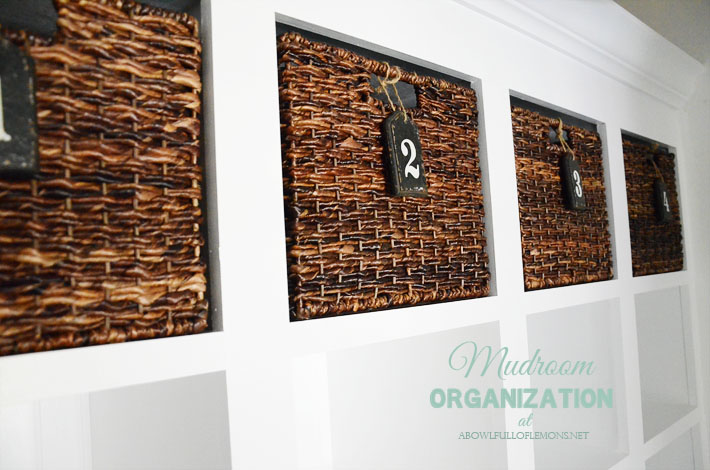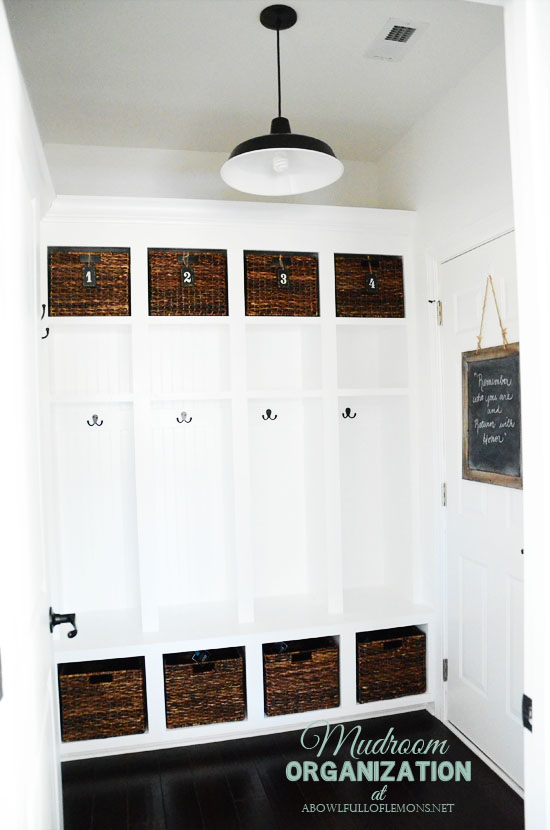 *I would love for you to pin this challenge &  my pictures to pinterest.
Where did I get my stuff?
Hooks – Home Depot or cheaper ones (here)
Baskets – Target
Dog stuff – Pet Smart (Martha Stewart)
Dog food can – Home Goods
Number tags – Local Store
Key organizers – Big Lots or (here)
"This is the life" picture – Go Jump in the Lake
Light – Wayfair (I will share more about the light tomorrow)
MUDROOM IDEAS
I found some great examples of "non traditional" mudrooms. These give you an idea of the space you can create if you dont have a designated mudroom like me.
Armoire turned mudroom… You can recycle any armoire to create a hidden mudroom.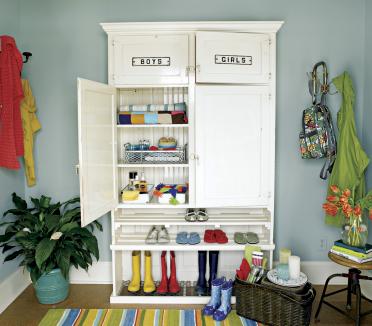 source
Closets turned mudrooms… If you don't have a mudroom, chances are you will have a closet by your front door.  This space can be created into the perfect mudroom!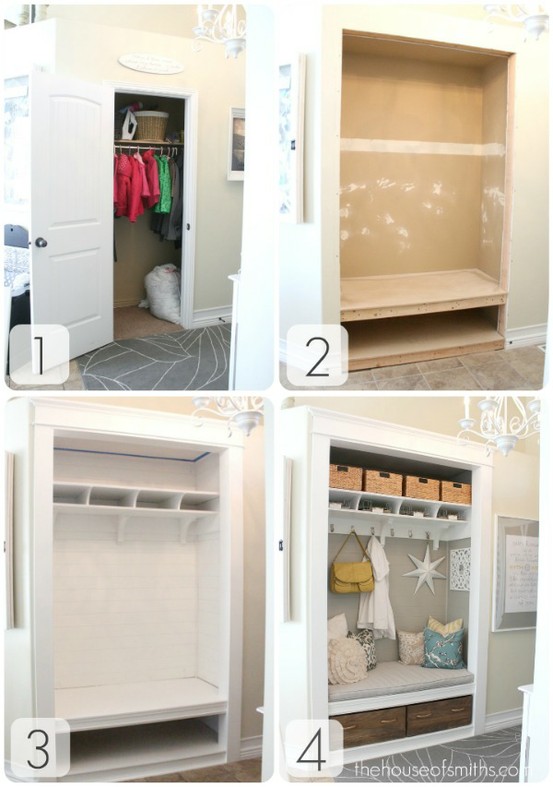 Source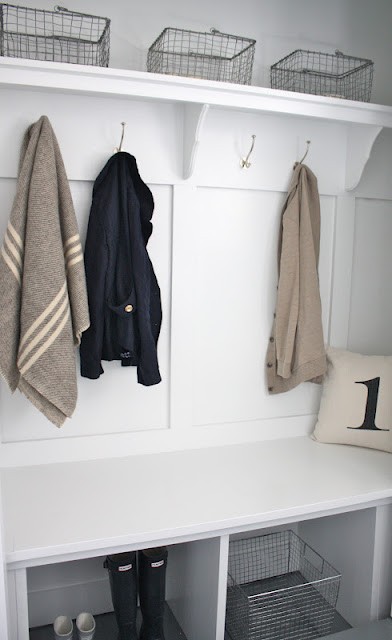 Source
Entryway mudrooms…  If you have an empty wall close to the front door, you can build or purchase a cubby and place it there.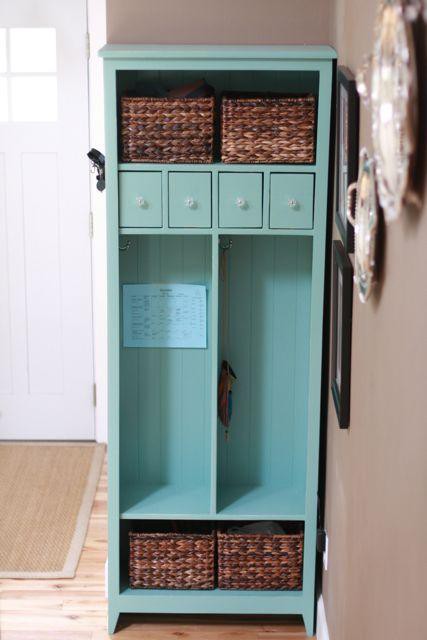 Source
Board & batten or beadboard walls are very popular now. Just hang, paint, drill in some hooks and you have a great mudroom space!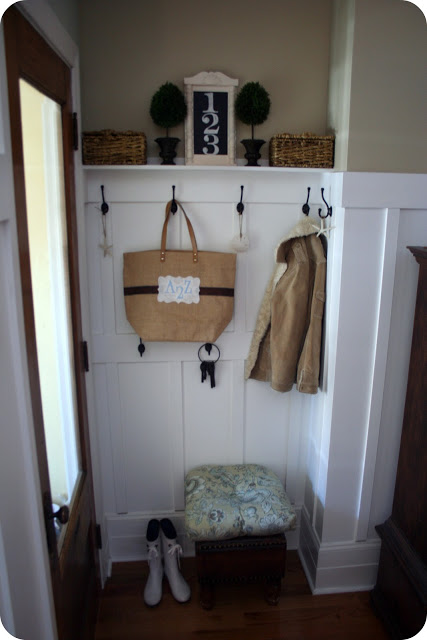 Source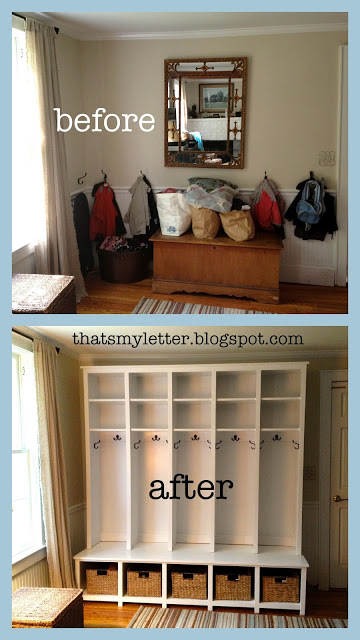 Source
Garage turned mudroom… If you just don't have the room in your home to create a mudroom space, the garage is the perfect spot!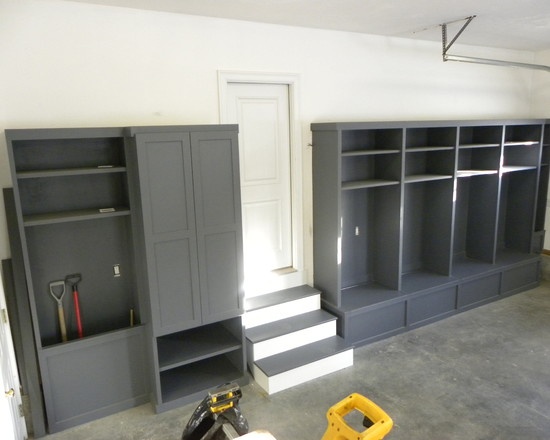 Source
Mudroom "corner"… Everyone has a corner in their house.  This is an easy, cheap, and functional way to create a mudroom space out of nothing!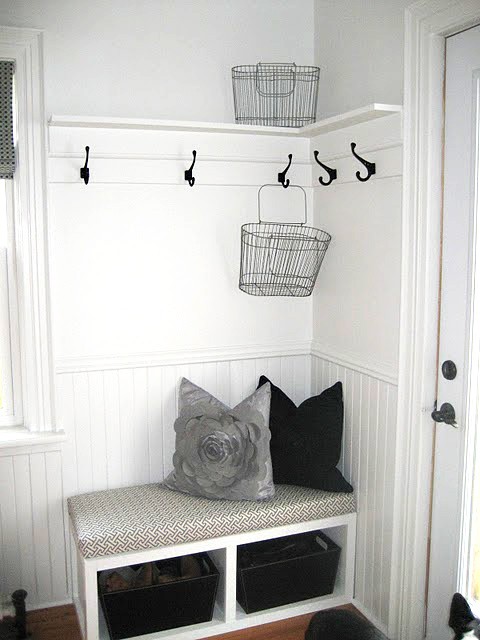 Source
In my old home, I created a mudroom "space" by my front door. I didnt have a mudroom or a foyer, so I had to make do.  Here is my old mudroom space.
Areas in the home where you can create a mudroom:
 Closets
Laundry room
 Hallway
 Foyer
 Armoire by the door
 Kitchen corner
 Garage
I will be featuring my favorite mudroom link ups this week on Pinterest & Facebook, so don't forget to link up yours!
SPONSOR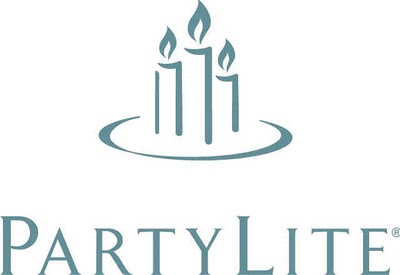 This weeks challenge sponsor is Mary from Partylite. She offers candles, melts, diffusers, and much more. Check out Marys website here for great holiday gift ideas!
Link up your MUDROOM pictures below!  I will be choosing my favorite mudroom link ups to pin this week!
Tags: how to organize, mudroom, organize
Blog, Home Organization 101, Mudroom, Organize, our home Posted in 22 comments