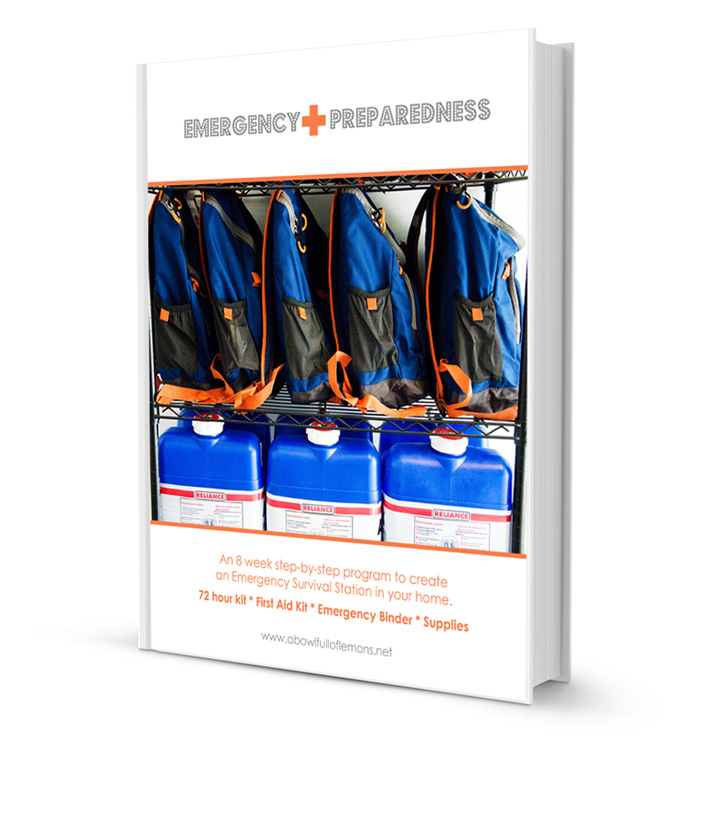 Getting your "life organized" can include an array of things, but emergency planning is one that is often forgotten.  To become fully organized, you must have a "plan" in case of an emergency.  Those who do, will feel more in control if an emergency should arise.  Would you be prepared if a hurricane hit your city today?  If you lost power for an extended amount of time?  If you experienced an earthquake, tornado, blizzard or flood? If you answered no to any of these, then you are not prepared.
My "Emergency Preparedness" e-book outlines step by step instructions on how to put together an Emergency Survival Station in your home.  The E-Book also comes with a "printables kit" for the Emergency Binder with several pages to fill out  your personal family information.  It goes hand in hand with my Emergency Preparedness 8 week series.  Follow along with the series & refer to your book as you build your Emergency Survival Station.
 The E-Book includes:
 Checklist for setting up your storage area
Food & Water Storage Guide
72 Hour Kit Checklist
First Aid Kit Inventory
First Aid Kit Printable
Important Documents & Cash Stash Checklist
"Grab" in case of emergency list
List of personal documents to place in Emergency Binder
Family Emergency Plan Printable
Insurance Policies Printable
Family Health Information Printable
Emergency Numbers Printable
Important Numbers Printable
Supplies Tips
EmergencySupplies Checklist
Faraday Cage Directions
Hygiene & Pet Kit Sheet
Hygiene List
Pet Kit Checklist
Comfort Kit Checklist
Fun Kit Checklist
and more!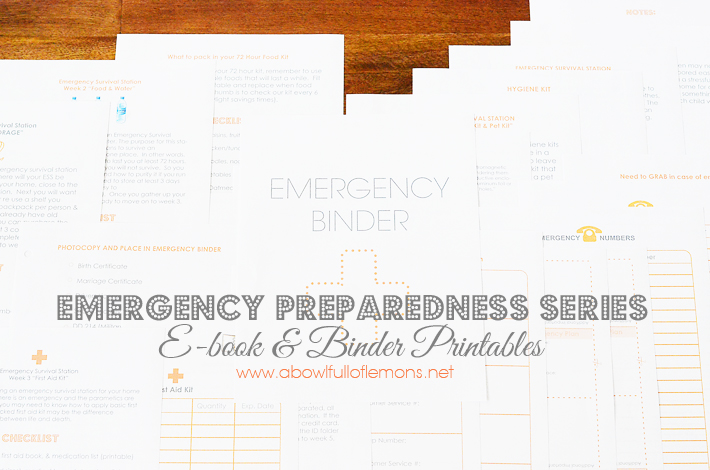 BUY IT NOW!
Buy it now for only $10. Click on the "BUY NOW" button below to purchase via paypal. Once you click on "BUY NOW", you will be directed to Paypal. Once you purchase via paypal, you will receive an email with a link to instantly download your file. You have 24 hours to download the file to your computer. If you have any issues, please email me at abowlfulloflemons@gmail.com.
  E-Book Reviews
Damian Brindle of reThinkSurvival.com, a website for suburban family emergency preparedness.
As somebody with interests in both organizing and emergency preparedness, I was very excited to see Toni offer her 8-week course and the emergency preparedness eBook to go with it. In fact, I believe that her website brings a unique opportunity to many families to not only be better organized but more prepared as well. A win-win for sure.
As I read the eBook, I was glad to see the essential topics of preparedness being touched upon: food, water, and first aid, to name a few. No need to worry, children and pets are considered too.
I'm also a huge fan of lists… I just have to stop of read them to ensure I didn't miss anything! This eBook includes the lists I would want to see covered with respect to all of the main areas of emergency preparedness and without being overwhelming in so doing. I did notice a few suggestions in her lists that many people fail to realize they would need and/or want (you'll just have to read the eBook to find out).
One of the areas that many beginners fail to realize is how important the ability to contact outside help will be.  A list of essential telephone numbers, including family, utilities, and emergency services have been included for easy reference.
I also like the fact that she included a number of printables that cover the necessary topics, including an assortment of contact numbers, food kit inventory, first aid kit, insurance contacts, family health information, and more. The importance of having this information on-hand and thought out before you truly need it cannot be overstated. These simple printables will provide you with the basics that most families would need covered.
Seeing as though I take my emergency preparedness very seriously (and have been at it for many years) I've found it very easy to take such preparations to a whole new level. As such, I sometimes forget the fact that it's the basics that really matter when it comes to preparing your family for an emergency. This eBook and her 8-week course start us off back in the right direction: focusing on the basics.
Follow her course and read this eBook and you'll have your family better prepared to weather any storm. Remember that tomorrow may be too late… get started today!
ABFOL blog fan
"Toni, The book is AWESOME! Your information is better than I have seen in 1 place before. I have never heard of a Faraday Cage before, it makes so much sense. We have a large trailer that we not only use for camping but stocked for an emergency. We live in Salt Lake and we are over due for an earthquake. Hubby and I do have our ham radio licenses. I am excited to use your binder because it covers all needs. My brother is a Dr. and he said that we should stock ASAP Colloidal Silver, we have already used it camping in an emergency. I also use doTerra oils and I am excited to get a collection of oils stored."
Tags: emergency preparedness
Books, purchase ebook Posted in 162 comments