Emergency Preparedness
Getting your "life organized" can include an array of things, but emergency planning is one that is often forgotten.  To become fully organized, you must have a "plan" in case of an emergency.  Those who do, will feel more in control if an emergency should arise. One of my readers shared this on our FB group this week…
"Hi Ladies, I haven't been on in days..I live in Brick, NJ, those of you that have seen it on tv, burning, that was my beach. My home only lost 1 tree, we have power. I feel so lucky, so blessed. The rest of my town is under complete & total devistation, w/o power and so many lost their homes. My beach is still burning as I type. The one thing that I realized in my storm prep, was that I was way less stressed than usual, bc I was organized! We acutally were able to pull one car right in the garage, I had an empty closet to hide in, and we weren't tripping over things in the dark. Thank you, Toni Hammersley, & everyone."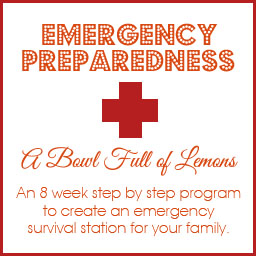 Would you be prepared if a hurricane hit your city today?  If you lost power for an extended amount of time?  If you experienced an earthquake, tornado, blizzard or flood? If you answered no to any of these, then you are not prepared. 
Emergency Preparedness 8 Week Series
"How to create a Survival Station in your home"
"Emergency Preparedness" is an 8 week program that teaches you how to put together an emergency survival station for you and your family.  An "emergency survival station" is described as an area in your home where you store emergency supplies that are needed in case of an emergency, natural disaster, etc.  In the event that you are part of an emergency of any kind, you can be well prepared to deal with it.  I have witnessed first hand, the devastating effects of a natural disaster. In September of 1999, my family lost our home to Hurricane Floyd.   During the hurricaine, the flood waters rose so fast that my daughter (then 13 months old) and I had to be rescued by the coast guard in the middle of the night, while  my husband was away at sea.  By the time we were rescued, the water had reached my shoulders. We spent the night in a high school gymnasium with only the drenched clothes on our backs. No purse, no food, no diaper bag, nothing.  It was the longest night of my life.  We lost everything (newborn keepsakes, wedding pictures, our furniture – all of our belongings).  I didn't even have diapers for my child. It's something I don't wish upon anyone.
I know the importance of being prepared. I learned the hard way. If we'd had an survival station & a plan, we could of had food for a few days, medicine, clothes, and other necessary items that were no where to be found after the disaster.  Im much older now and surely a lot wiser… so I handle things differently than I used to.  I want to teach you to be prepared and learn from my mistakes.  Don't learn from your mistakes. Be prepared now!!
I organized this program so that you can create an emergency survival station a little at a time.  It takes time and money to get prepared, so with my tips you can build your station, little by little without the financial strain of purchasing everything all at once. If you don't have the means to afford everything in the next 8 weeks… soak in the knowledge &  purchase things at your own pace. Create a timeline that fits your budget. If you add a little at a time to your station, before you know it, your family will be prepared. Learn as much as you can from this 8 week program.  You will be glad you did! My tips come directly from FEMA, The American Red Cross, many expert survivalists, and my own experience surviving a natural disaster.
Emergency Preparedness – "Emergency Survival Station"
Week #1 – STORAGE (Shelving, Backpacks, and Bins)
Week #2 – BASIC NEEDS (Food & Water)
Week #3 – MEDICAL (First Aid Kit & Medicine)
Week #4 – EMERGENCY BINDER & CASH (Important documents & a cash stash)
Week #5 – SUPPLIES
Week #6 – PET & HYGIENE KIT
Week #7 – COMFORT (Clothing, Toys, Games)
Week #8 – ASSEMBLE YOUR EMERGENCY SURVIVAL STATION & LINK PARTY
*In my 8 week program, I am sharing what works best for my family.  You can add or take away to customize your own survival station. If you have anything to add to the program, feel free to leave a comment and share your knowledge.
The "Emergency Preparedness 8 week program" begins on Saturday December 8th.  If you would like to create a survival station in your home, sign up below and add the button to your blog. Don't wait until its too late!  Create an emergency survival station for your family now!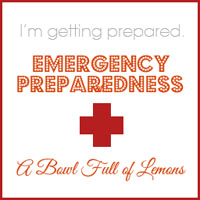 Tags: 72 hour kit, emergency preparedness, emergency preparedness 8 week series, series
Blog, emergency preparedness Posted in 98 comments