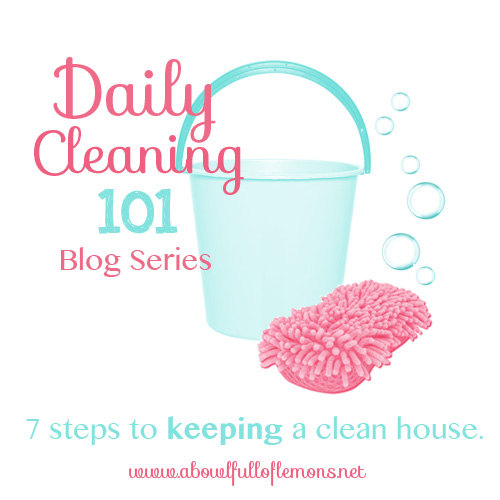 After a gazillion requests asking about what my daily cleaning routine is, I decided it was time to share.  Over the next 7 days, I will show you (in small steps) how I keep my house clean on a daily basis.   Once I switched to blogging "full time", I didn't have enough time to deep clean our home how I wanted to AND give A Bowl Full of Lemons attention (increasing my weekly blog posts, answering lots of daily emails, planning, etc…).  So I hired help.  Every Tuesday, I'm super lucky to have a sweet cleaning lady come and deep clean for me.  She scrubs the floors, showers, toilets, sinks, dusts, etc…  However, the rest of the week needed some attention. I created a list of everything that needed done on a daily basis, to keep my house looking "clean" when the cleaning lady isn't here.  This week, I am sharing that list with you!
I will go over the 7 steps that I do each day to maintain our clean home.  Each day this week, I will share one step.  Keep in mind, I do all of them every day, but I didn't want to overwhelm you so I broke it down into manageable steps for you to build on this week.  I hope you are able to try my routine and see if it works for you to keep your home nice and clean too!
Step 1 – The end of the day kitchen "clean up"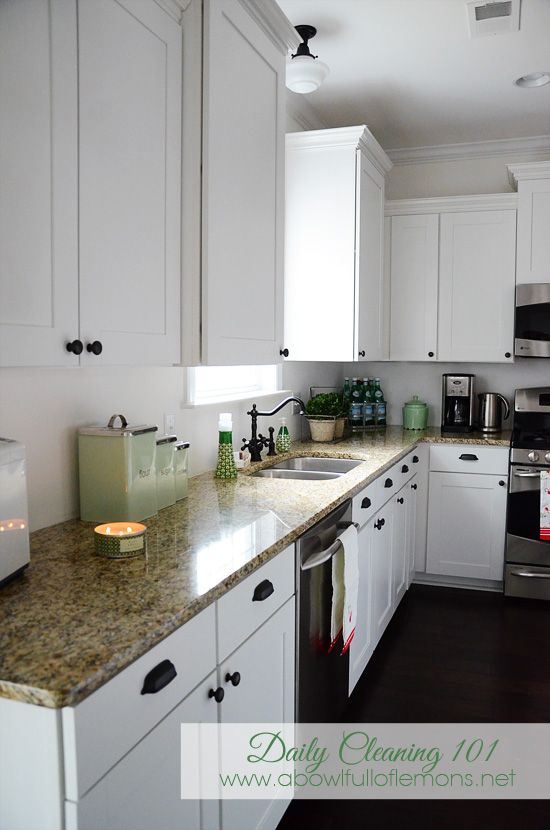 At the end of each day, once the kids are in bed, I spend 15 minutes in the kitchen.  In the morning, I like to wake up to a clean kitchen. I think it really affects my mood for the day, so I give it a quick clean up and wipe down before bed (even if I don't "feel like doing it").  It should only take less than 15 minutes.
Load dishwasher (unload in am)
Clean the sink: Rinse out, scrub with baking soda, spray with cleaning solution (below), and wipe out sink. (Deep clean the sink once per week).
Spray & wipe down counters & table
Put a clean washcloth & dish towel out.
Clean out the sink…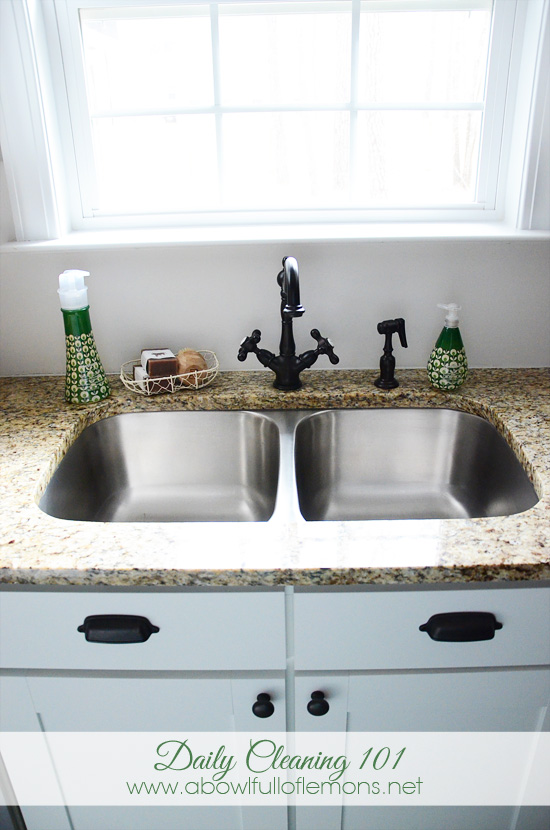 Wipe down the counters…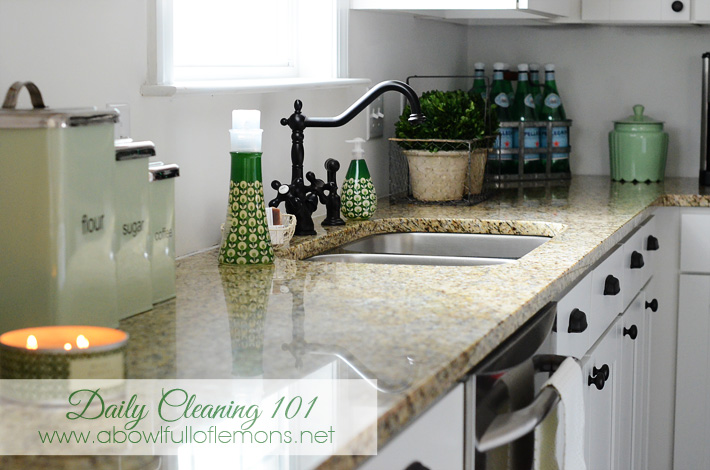 Wipe down the kitchen table…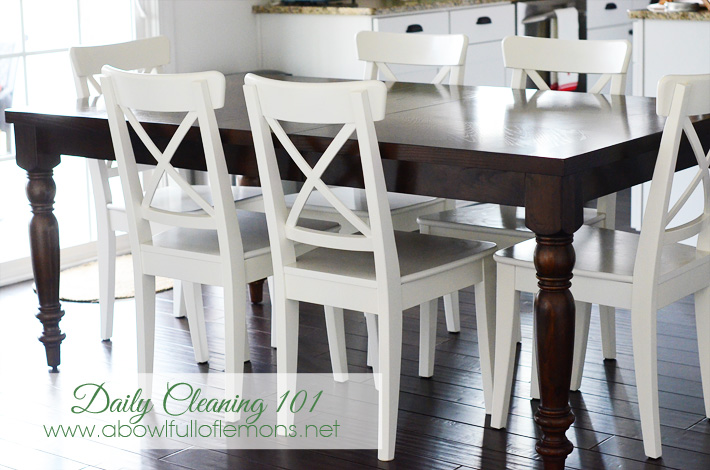 Thats it!  This step should only take you about 15 minutes each evening.  Try this step every day this week… and add the new steps that I give you over the next 7 days.  See if you can make a difference in how clean your home looks and stays.
Cleaners for the Kitchen 
– Scour Off  I use Scour off to deep clean & shine my kitchen sink (weekly).
– Baking Soda  Fill an old/clean cheese shaker with baking soda.  Rinse out sink.  Shake baking soda in sink and scrub into a paste. Rinse.  Then…
 –Daily Kitchen Sink Cleaner   
1 clean spray bottle
1 cup of vinegar
1 cup of water
 *Label it "Daily Sink Cleaner". Spray sink and faucet.  Let sit for a few minutes then wipe out.
Tips
– Fill the dishwasher and clean the sink first. Let the vinegar solution sit while you are wiping down counters and the table.
– Use 1/2 of a lemon as an abrasive scrubber for the baking soda.
– If you clean as you go during the day, step 1 should be simple to do every evening!
Free Printable 
Click on the picture below to print the Daily Cleaning 101 checklist out.  It will remind you of what needs done and how little time it takes.  Please do not redistribute. Personal use only.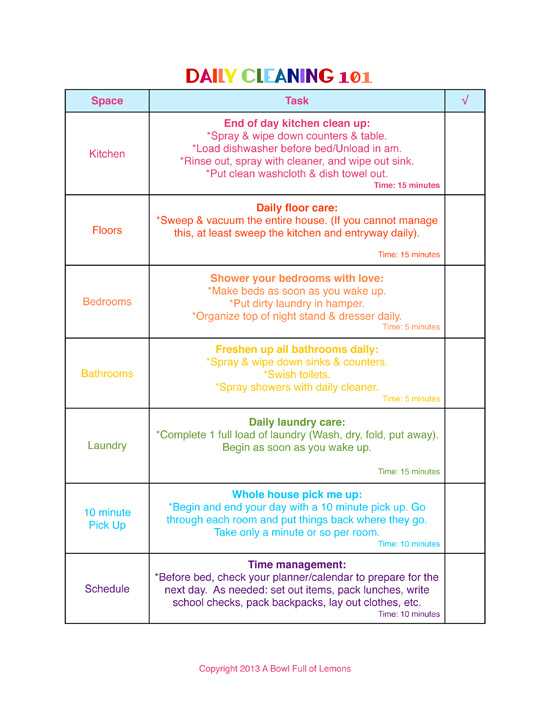 I laminated the printable and put it on a clipboard, in my cleaning caddy. I use expo markers to check off each task once its completed.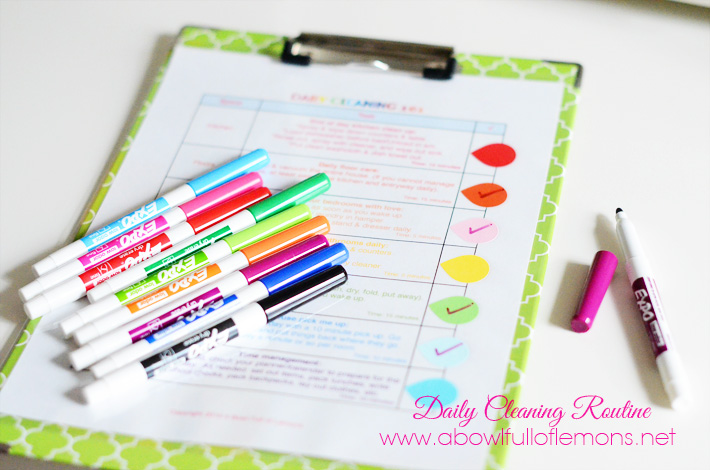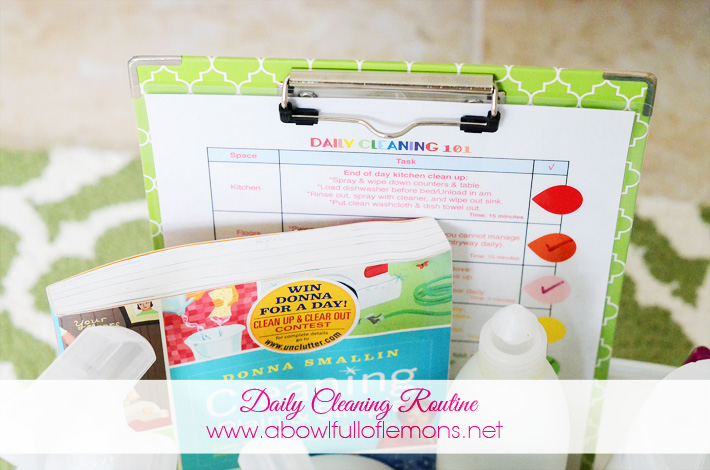 My favorite cleaning products
Cleaning Plain & Simple by Donna Smallin (My "go to" book for cleaning tips, how to's & recipes)
Get Clean Starter Kit  (Contains everything in my cleaning kit minus Scour Off)
Scour Off (To clean my sink weekly)
Real Simple microfiber cloths
Oreck Magnesium Vacuum (Giveaway at the end of the Series)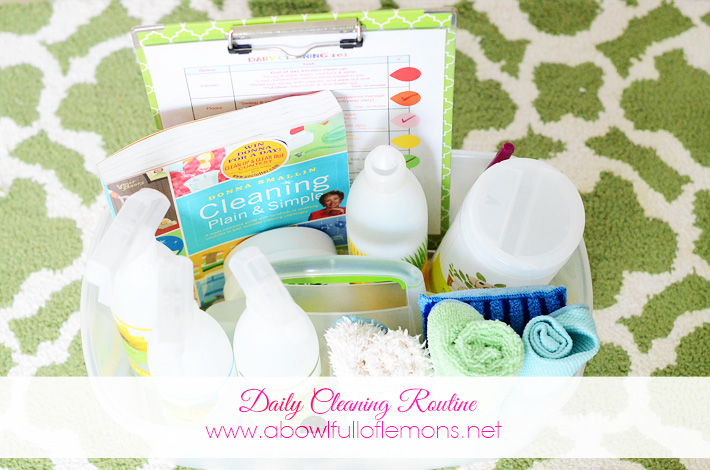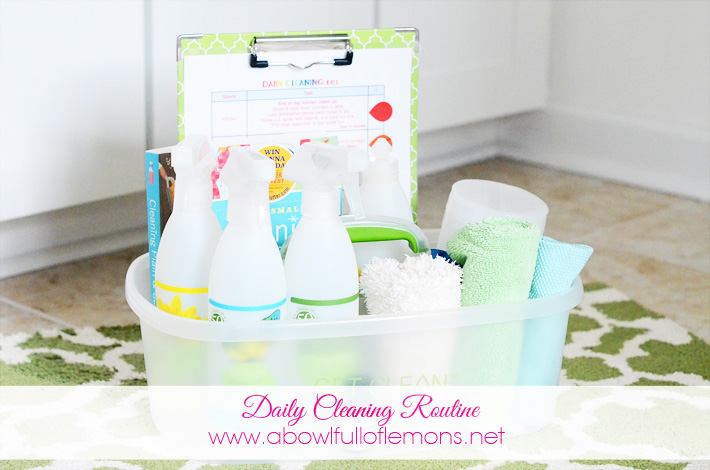 Conclusion
Take 15 minutes this evening (after the kids are in bed) and clean your sink, counters, and table.  When you wake up in the morning, you will have a smile on your face.  Come back tomorrow for step 2 of "Daily Cleaning 101".
Tags: daily cleaning 101
Blog, Clean, Cleaning, Daily Cleaning 101, Free Printable, printables, Scour Off, shaklee featured, Slider Posted in 123 comments