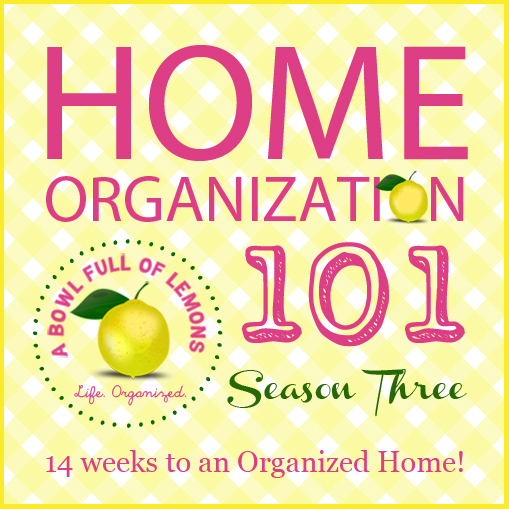 Welcome back to Home Organization Season 3.  This week we are cleaning out the pantry.  With a functional pantry, your grocery bill will decrease, your meal planning will improve and your family will love you!   Don't forget to share your finished space on our facebook group page here.  Happy Organizing!
WEEK #3 – THE PANTRY
THE TASK:
This week should be a bit easier than the previous two weeks (hopefully).  We are cleaning out and organizing the pantry!  I split up the kitchen and pantry because I think the pantry is a separate job itself!  I didn't want you to get burnt out from being in the kitchen for two weeks straight.  Follow the steps to get your pantry organized below!
THE PROCESS:
BEFORE YOU START THE CHALLENGE, TAKE A PICTURE OF YOUR PANTRY.
1.  Make sure you have boxes, bins, etc… before you get started. You will need them. I purchased mine at a local store but some baskets similar to mine can be found
here
. * If you do not have baskets/bins, you can still organize your pantry into "categories".
2.  If you are using them, line up your empty bins & baskets on the kitchen table. If you do not have bins, you can still separate your food into 'categories' on the table.
3. Take everything out of your pantry.  Check the expiration date and throw out expired or no longer used items.  Place "like" items in the baskets on the table. Organizing your food into categories (bins) will help keep your pantry looking nice and neat.  (Categories to consider: School, Breakfast, Pasta, Baking, Sauce, Bread, Snacks, Sides, etc.)
4.  Once you are finished organizing into categories, you can wipe out your pantry, sweep, mop, etc… to get it all clean.
8.  Place all of your neatly organized bins & boxes back into your pantry.
9. Label each bin with a labeler or hang a tag on the basket like I did.
*This is only a

guide

to help get you started. Customize your pantry to fit the needs of

your

family.
Thats it!!  All done.  Now take some pictures and share with us. 🙂
I use the top shelf for small appliances, etc.
I love the Elfa door organizers.  They give me so much more space to store canned goods, etc.  We do not have a lot of canned goods. We eat mostly fresh, but if not in season, then freezer veggies.


I keep extra reusable grocery bags in the basket under the shelves.



Each of my green baskets contain a "category".
1.  Oatmeal
2. Granola
3. Breakfast
4. Cereal
5. Chips
6. Snacks

Whenever the kids go into the pantry to get a snack, they know to leave the "school snacks" alone. They are ONLY for school lunches.


I keep a running tally of my pantry items.  I got this printable from Clean Mama on Etsy here.  I take it to the grocery store with me so I know what Im out of.

I attached the chalkboard labels onto the baskets with zip ties.
Thats our pantry!  Its functional and easy for our family to utilize.
3. Green bins – Target
4. Large woven basket – Target
5. Clipboard – Staples
If you have any questions about our pantry organization, dont hesitate to ask. Please ask your questions on the Group facebook page (
here
) so everyone can see them, and so I dont have to answer the same question multiple times. 🙂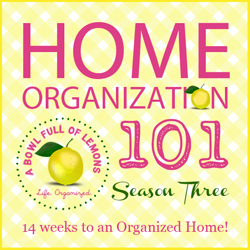 Happy Organizing!
Tags: home organization 101 season 3, kitchen, the pantry
Blog, Home Organization 101 Season 3, June 2013, Kitchen, Organize Posted in 15 comments