I'm not very passionate about many things. I have a hard time deciding on a favorite anything but one thing that is set in stone is that Autumn is my favorite season. No questions asked, hands down I LOVE FALL! But, here's the thing, every October 1st, I pull out my Fall decoration bin and get to work dressing my house for the season and when all is said and done, I feel like it's lacking greatly. So, with your help, I plan on making this year the year that I fully embrace my love for the season and let it show in how I decorate my home.
If this is your first time joining our link party, here's how it works: each week, we invite all of you to link your blogs up to ours. I select one or two of my favorite link ups from the previous week to feature. You can link up to just about any category, all I ask is that you grab the 'button' at the end of this post and add it to the post you're linking with.
Last week, the link party was so packed full of wonderful recipes and decorating ideas that I just can't help but feature some of those lovely posts!
Favorite Link Ups:
Nothing says Autumn like family meals around a beautifully decorated table. But, even if you're not hosting a family meal, you can still have a beautifully decorated space to brighten your day and bring a little bit of the Fall season into your home. Jamie over at Anderson and Grant did just that with her lovely ideas from floral arrangements to family heirloom flatwear.  To see her entire post, click  <HERE>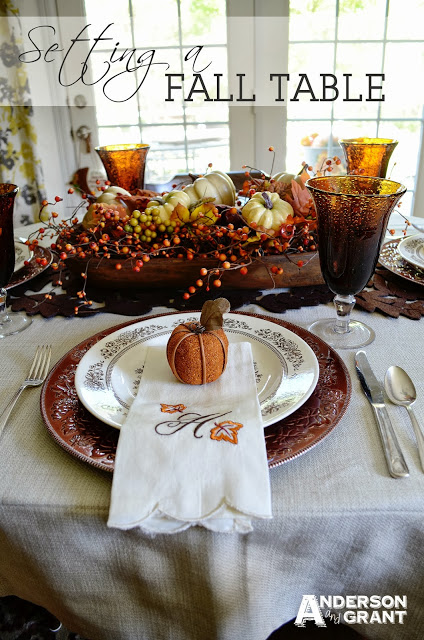 Speaking of bringing the season indoors, I love how Lisa over at Lewisville Love chose to pull some nature into her decorating. With a rustic edge of twine around the candles, it's all pulled together with the pops of white contrasting against the dark twig wreath and basket.  For more inspiring pictures, just click <HERE>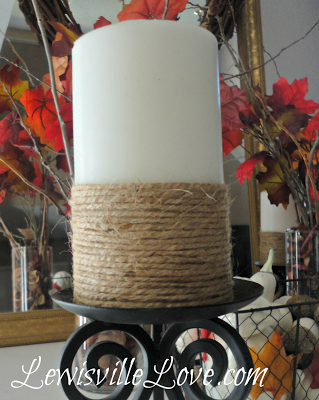 I hope these posts inspired you to dust of your creative hats and embrace this beautiful season with its rich reds, oranges and yellows! I know I'm all ready to get my house in perfect Autumn condition!   And now it's your turn to show me what you're up to, seasonal decorating to recipes and everything in between, but please be sure to grab a button!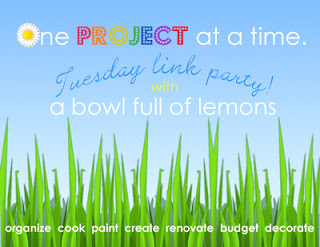 Tags: autumn, decorate, link party
Blog, October 2013, One Project at a Time Posted in 14 comments