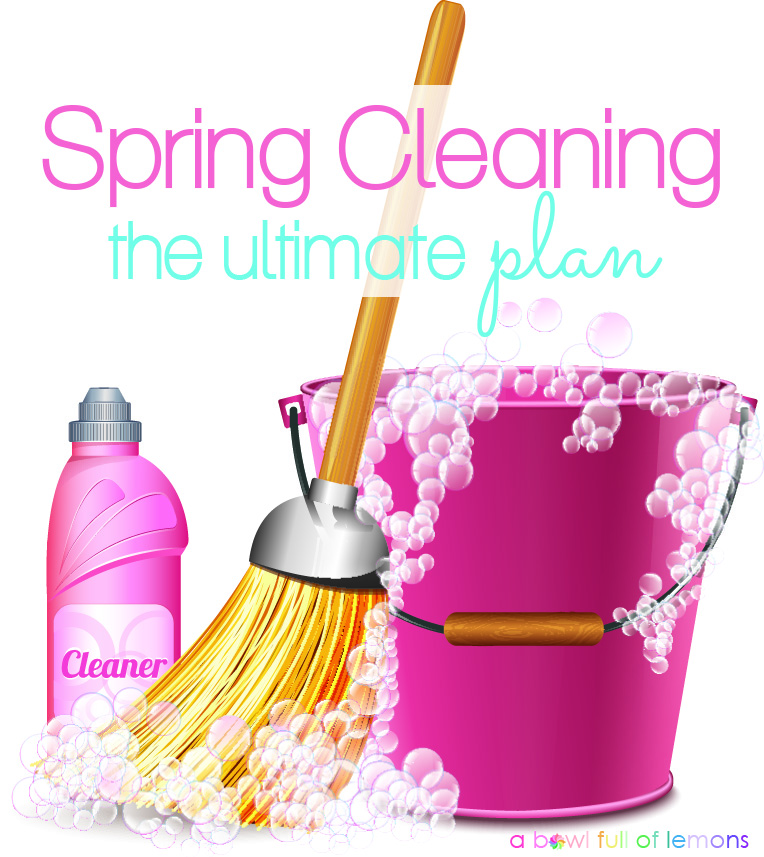 This month I will be sharing a few spring cleaning posts, to help inspire you to dust off those cob webs, open up the blinds & let the sunshine in.  If you are like me, you need motivation to conquer such a large set of tasks & thats what I hope to do this month.  Join me today, as I share my updated Spring Cleaning Plan.  But before we begin cleaning, I want to share some tips on how you can get prepared for the week ahead. Happy cleaning!
Getting prepared for a week of spring cleaning:
1.  I make sure I am all stocked up on my cleaners. For my spring cleaning, I typically use Basic H which is an all purpose cleaner, window cleaner, and degreaser in one, Scour off, Nature Bright & Basic G.  I also use Method products from target, as well as Mrs. Meyers. I only use non-toxic cleaners in my home.  (Cleaning with toxic cleaners does more harm than good).  I place the cleaners in my caddy, along with trash bags & rags.
2.  Stock up on trash bags, paper towels or rags, and candles (I always have a candle burning & the music up loud, while I clean).
3.  Make a week of dinners ahead of time, because you will not have the time or the energy to cook when you are spring cleaning.
4. Organize your cleaning schedule (type or write it out & put on a clipboard), matching days to tasks. I try to have my spring cleaning complete in one week. It takes an additional week to clean the outside of my home (power-washing, wash window screens, weeding, preparing the garden, cleaning out the garage, cleaning out the car, etc.)
Spring cleaning checklist:
Clean all baseboards, banisters, walls, windows & mirrors (spraying everything with Basic H eliminates the need for a bucket of water & cleaner)
Clean all glass surfaces
Wipe down electronics
Wash all curtains (including shower curtains)
Wash all bedding (including quilts & pillows)
Flip mattresses
Empty all trash cans, clean and sanitize them.
Clean the kitchen:
Clear the entire counter top and sanitize
Wipe out & organize all cabinets. Throw out old food and dishes you no longer use.
Wipe off the top of fridge
Dust fridge coils
Clean out fridge and freezer
Clean out oven (including vents)
Clean microwave
Sanitize the sink and garbage disposer
Wipe down all appliances.
Day 4:
Change all filters (furnace, water filtration)
Add salt to water softener
Polish all furniture in house (and wax if needed)
Clean toilets, sinks, medicine cabinets and showers
Day 5:
Vacuum out couches & chairs
Wash couch cushions
Vacuum and mop all floors
Wash rugs
Day 6:
Shampoo all carpets
Replace all smoke detector batteries
Replace burnt out lightbulbs
Day 7:
Rest because next week its time to head outside!!
Extra chores you can do this week:
Switch out winter wardrobe to spring
Oil change in car (fill fluids, check belts, install new wipers)
Clean out car (Shampoo floors, mats & seats, leather conditioner)
Clean out vacuum cleaner
Clean out dog kennel
Reseal grout lines & recaulk
Clean out email box
Clean out (& sanitize) litter box
Clean out your wallet/purse/backpack
Clean the lint trap in the dryer
See all of my 2014 SPRING CLEANING blog posts here.
THE ULTIMATE SPRING CLEANING PRINTABLES KIT
Visit A Bowl Full of Lemons post HERE to get your "Ultimate Spring Cleaning Printables Kit".   The kit includes the ultimate spring cleaning plan (as outlined above), a comprehensive spring cleaning checklist, a checklist for the kids, 2 blank checklists for you to customize your own spring cleaning, how to put together the ultimate cleaning caddy, your spring cleaning shopping checklist, notes page, and 8 essential spring cleaning recipes – all for only $8.00.  It has everything you need to implement your cleaning routine this season.  Get all of my spring cleaning tips in one place, & come back to ABFOL to see how I implement them during the month of March.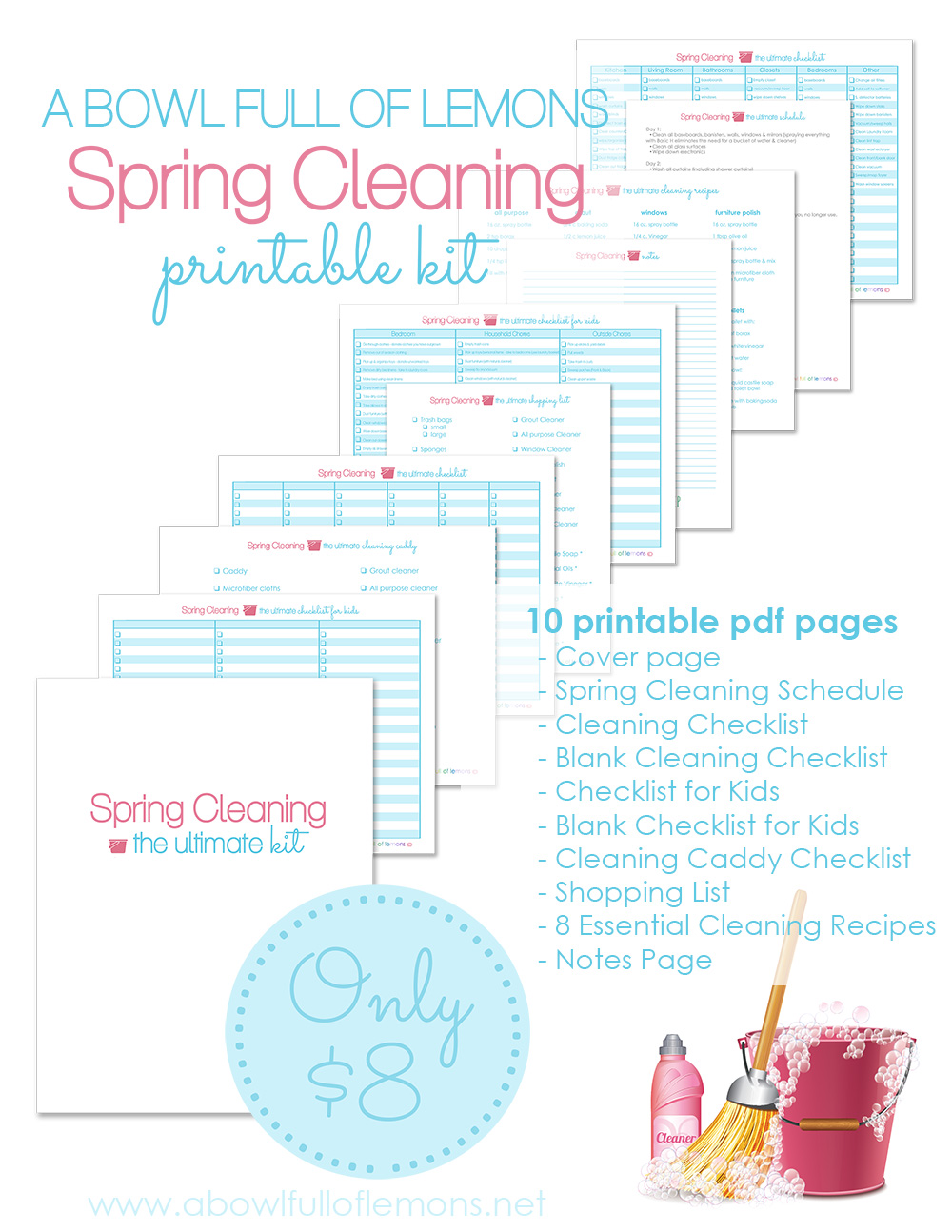 Tags: cleaning, shaklee, spring cleaning
Blog, Clean, Cleaning, lists, March 2014, Spring Cleaning, springtime, ultimate spring cleaning plan Posted in 26 comments