From cleaning to cooking, organizing to DIY projects, there's nothing like our Tuesday link party to get you excited about taking your next project. Today is our day to feature you, to shine the spotlight on all the hard work you've been doing.  Each week Toni and I pick our favorites, the ones that stood out above the rest and were deserving of a little bit extra attention.
If this is your first time joining us, welcome! We're so glad you decided to join us. If you have a blog, feel free to grab a button and link up. If you don't have a blog, no need to worry, you're invited to browse those that do link up. You never know what inspiration you might find.
TONI'S PICK:
Sometimes something is just too good not to share. Each week we strive to feature a new blog, showcasing a variety of styles, ideas and points of view. Every once in a while though, a blog stands out and demands a bit more attention and that's what we have for you this week. Angela, from Angela Says. A few weeks ago Angela shared her homemade laundry tablets and now she's shared a great post on how to not just get rid of, but PREVENT hard water stains. This is definitely one post you'll want to check out!
RACHEL'S PICK:
For years my friends have teased me because I enjoy cleaning. And then they teased me because not only do I enjoy Spring cleaning, I find myself lucky that I get to do it all again in the Fall. I'm not a (complete) germ-a-phobe but I love the results of cleaning, the mindless task that allows my brain to relax for a bit, it's a stress reliever for me. With Fall just around the corner, I've started getting antsy for my Fall cleaning to begin; I'll wait until my kids are back in school though. Woman of Many Roles grabbed my attention with her link up all about Fall cleaning. Someone after my own heart! In her <POST> she shared some great ideas on how to get started, stay on task and how to remember the little things. Hop on over and see what it's all about. Feel free to leave a comment letting her know I sent you.
Are you ready to get cleaning? Grab a button and share what you're passionate about, even if it's not cleaning! I look forward to seeing what's new in your corner of blog-land.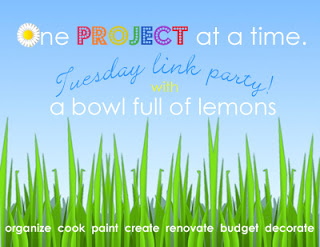 Tags: link party, one project at a time. cleaning
August 2014, Blog, link party, One Project at a Time Posted in 18 comments