In case you haven't heard, it's Back to School time! How many of you will send all of your children (or child) back (or for the first time), in the coming weeks if you haven't already? To have a few minutes or hours of quiet time, to think clearly, not have to break up fights, make extra snacks or entertain the masses sounds rather appealing. As the days turn into weeks you may even find yourself a little bit bored (OK, I admit, that's not too likely but still.) To sit an enjoy a book, uninterrupted until you're done reading is a special gift, a moment to be embraced. I invite you to join our virtual book club and enjoy just that, some time just for you!
Our virtual book club utilizes the internet for our connecting. Facebook offers us a central meeting ground while offering us a place to answer questions about each months book, give insight into what we think the author was aiming for and so much more. Each month we invite our members to suggest and vote on the book we will be reading next, sometimes a specific genre is decided other times, the voting is wide open.  This month, we chose to have our members vote openly.
September 2014 Book Club Pick
If I Stay by Gayle Forman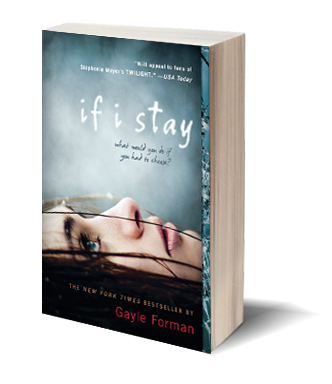 Hailed by Goodreads.com as " a heartachingly beautiful book about the power of love, the true meaning of family, and the choices we all make" If I Stay, is bound to be a captivating read.

You can purchase your copy of  If I Stay here.
August 2014 Book Club Discussion
I hope that you all enjoyed The Memory Keepers Daughter by Kim Edwards. I invite you to join us on facebook for our discussion which will take place on 8/31.  Feel free to ask any discussion questions throughout the day.  If you haven't yet, we'd love to have you be a part of our Facebook Group where we share book ideas, engage in general discussions and much more!
Tags: book club, Goodreads
August 2014, Blog, book club Posted in One comment