I've been a planner for practically my whole life. I've used some sort of planning system or calendar for years. I can even remember using one of those small plastic covered calendars with kittens on them, when I was just 9 years old. There's  something about systematically organizing your entire life into one small binder that excites me. I love it! I've shared a few planner posts in the past and I even created the "Original" Planner Addicts Facebook Group. Planning is an important part of my life and I'm happy to share what I've learned along the way.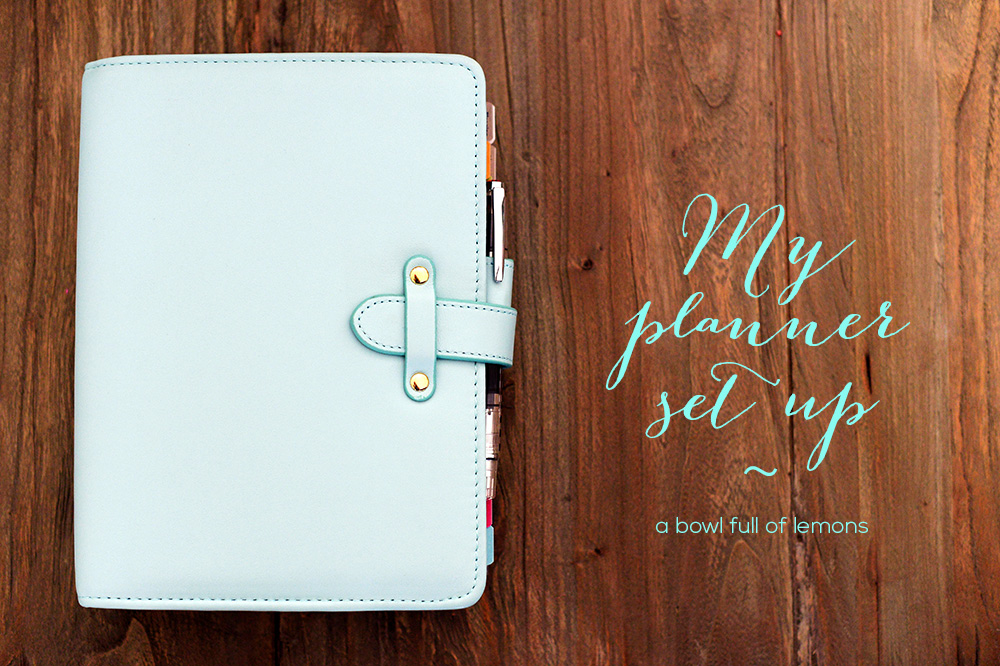 MY 2016 PLANNER
I have tried just about every type of planner brand and size there is, from the largest to the smallest & most expensive to the least expensive. I don't discriminate. I love them all! I am a planner enthusiast. It's a big hobby of mine, so I like to swap them out every now and again. Today I will be showing you what I've decided to use to begin 2016 and exactly how I use it on a daily basis.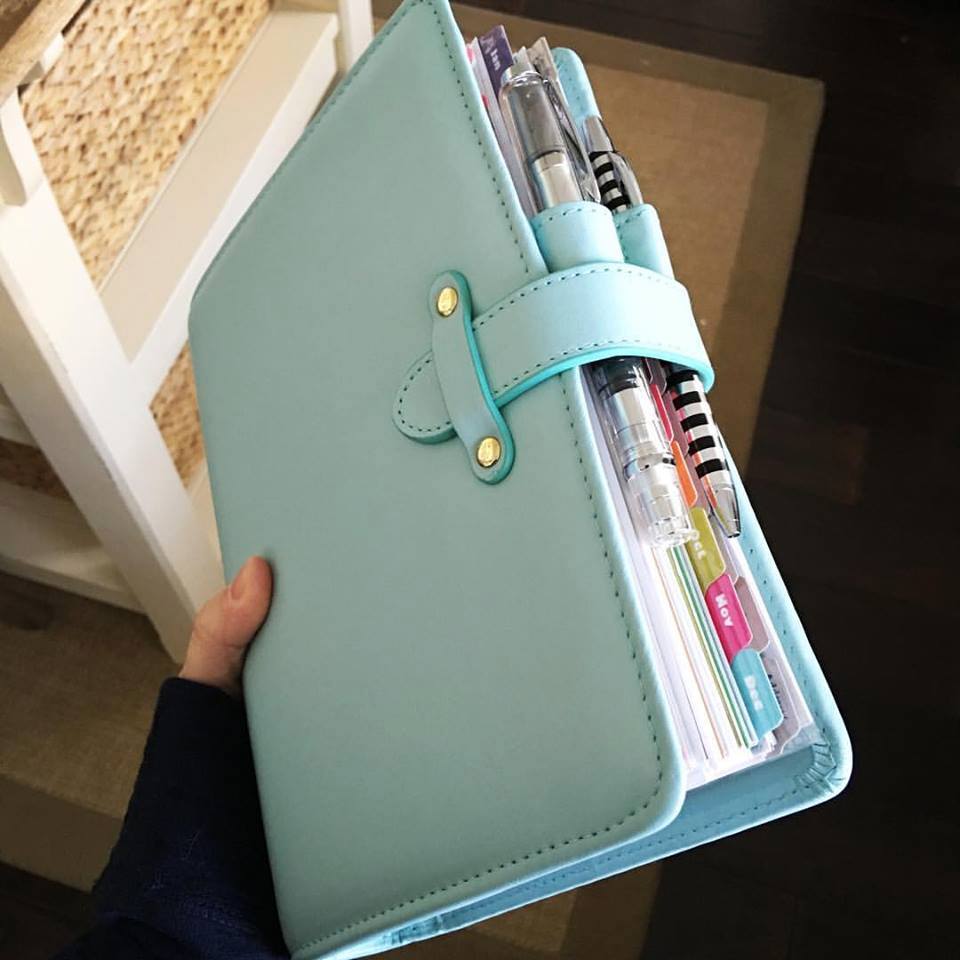 Brand – I'm using a Franklin Covey Bella Leather Binder.
Size – I decided to go with a classic sized planner this year. I love this particular size because it gives me the room I need to write everything down that's important to me. This size is considered the "classic" American size (the inserts are half of an 8.5×11 sheet of paper). It's different from an A5 planner which is a little wider (inserts are half of an A4 sheet of paper).
Inserts – To fit my 7×9 planner, I'm using "Her Point of View" daily inserts by Franklin Covey and the Rainbow Planner & Budget Binder inserts for detailed planning and checklists. I like to keep 3 months of daily pages in my planner, however sometimes that doesn't all fit. So if I have extra checklists and paper inside the planner, I have to take out a month. I simply add it back in when needed (after removing old pages). For privacy reasons, I am only sharing a blank daily layout.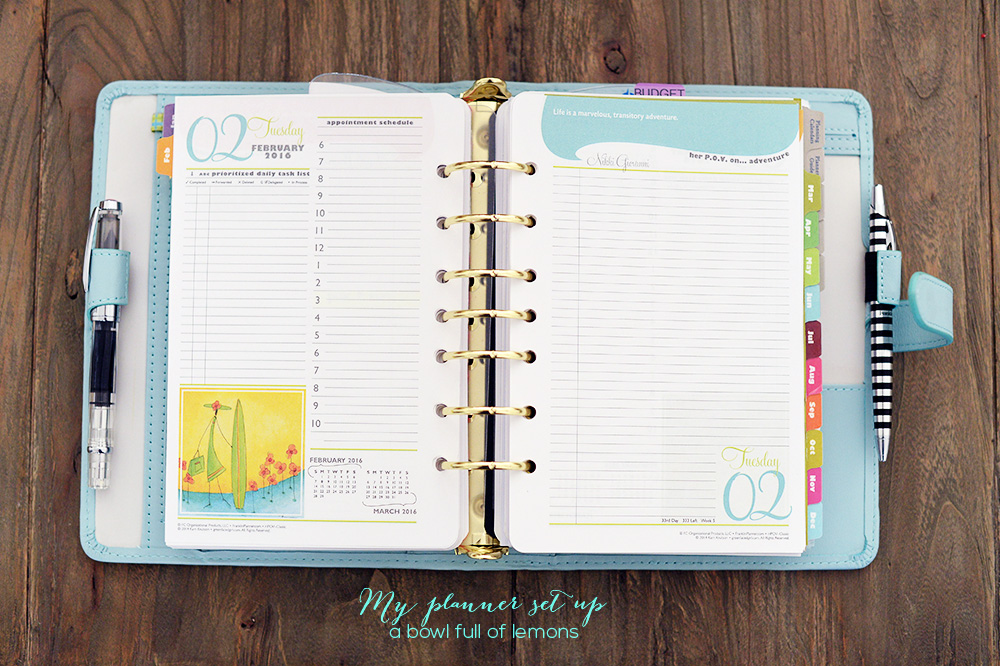 Tabs – To keep things organized, I use labeled tabs.
Calendar (Monthly & Daily)
Franklin Covey Starter Kit tabs (Planner guide, values/mission, goals, finances, key information, addresses/phone)
Financial Budgeting Tabs (Monthly budget, expense tracker, yearly finances, bills, debt consolidation, accounts, investments, auto, home, business)
Numbered Tabs 1-5 (Household, bible study, blog, lists, menu planner)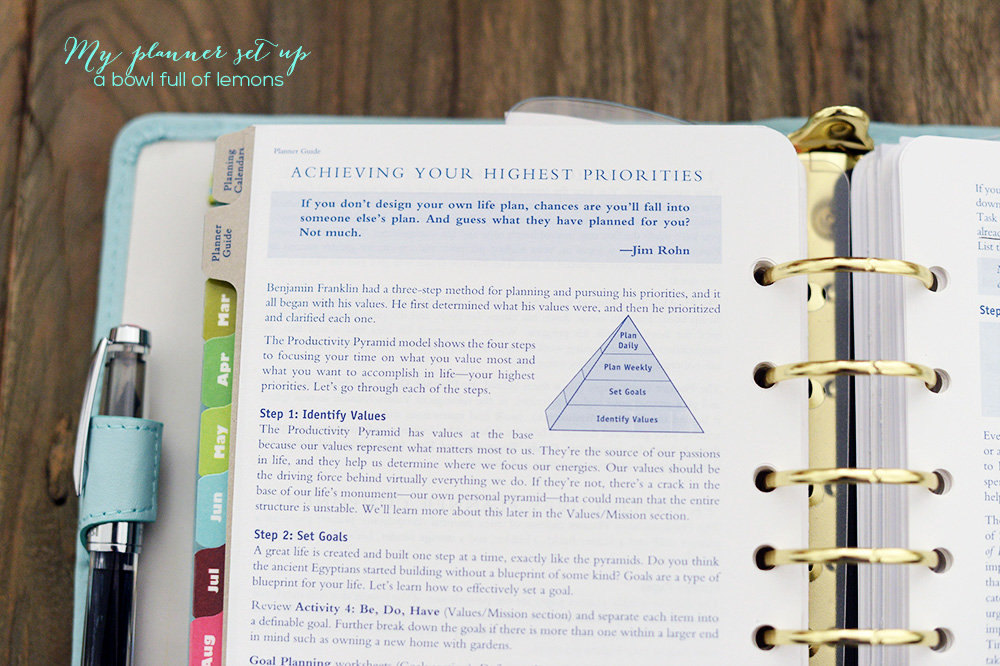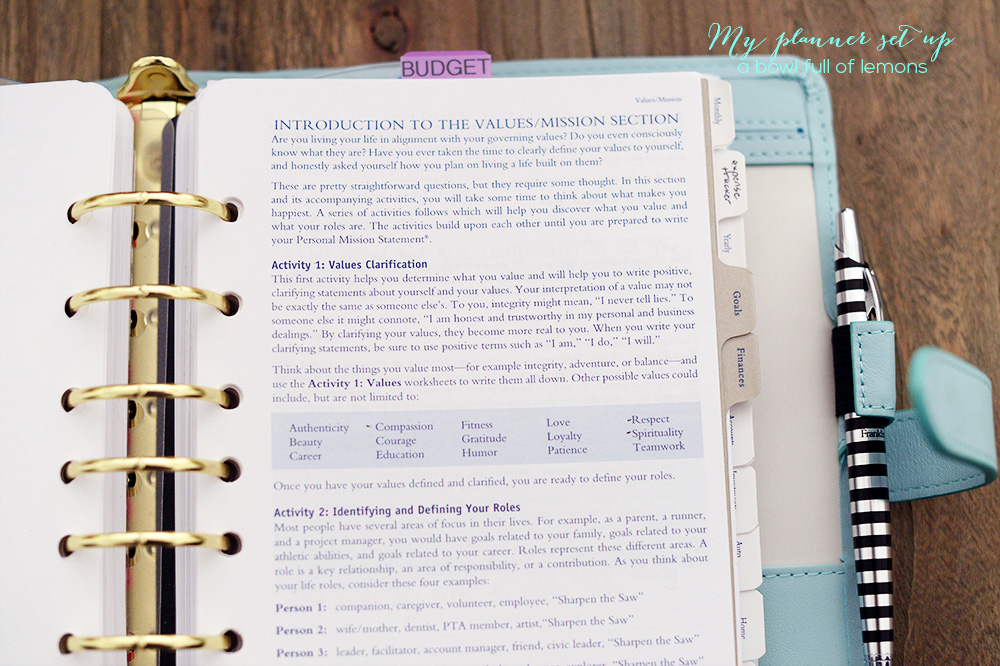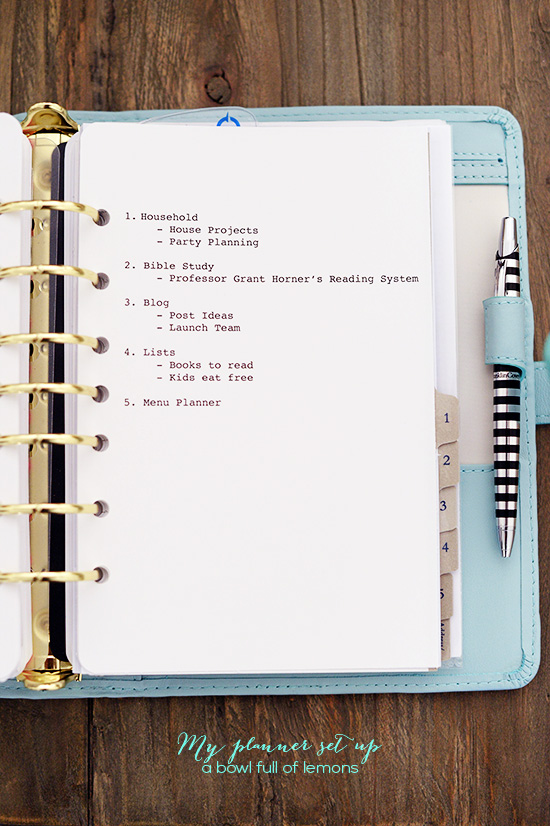 Writing Tools – I use Papermate Flair Tropical pens to color code family activities, Sharpie retractible highlighters to cross out completed tasks, a Franklin Covey ballpoint pen, and a Twsbi Diamond 580 fountain pen. I use a Day-Timer zip pouch to keep them all together and easily accessible in my planner.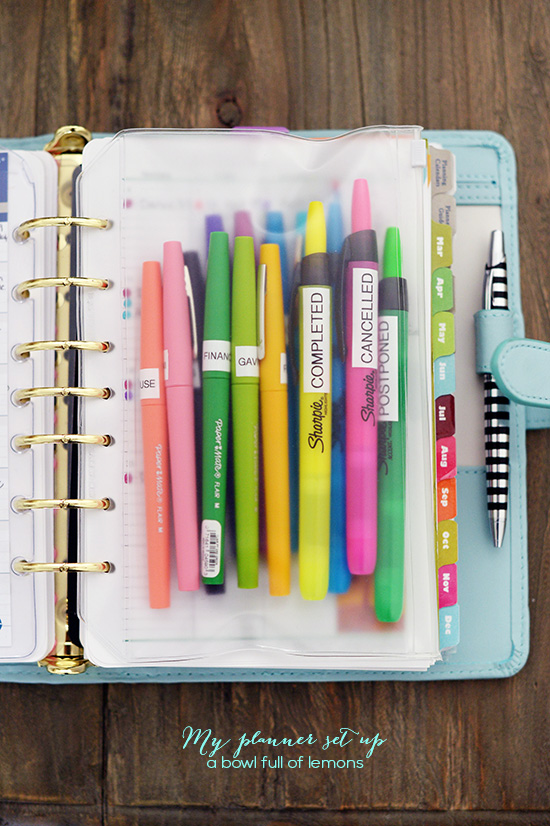 Accessories – I'm not much of a planner "decorator". I've tried it and it really isn't for me. I do add a few task stickers here and there but for the most part, you won't see me decorating weekly layout pages. It was too time consuming and I simply don't have the time to do it. The stickers I like to use are from Me & My Big Ideas and there are a few from Etsy that I enjoy. The goal of using my planner is to organize my schedule and become more efficient with my time and by simplifying the accessories, I've improved that tremendously.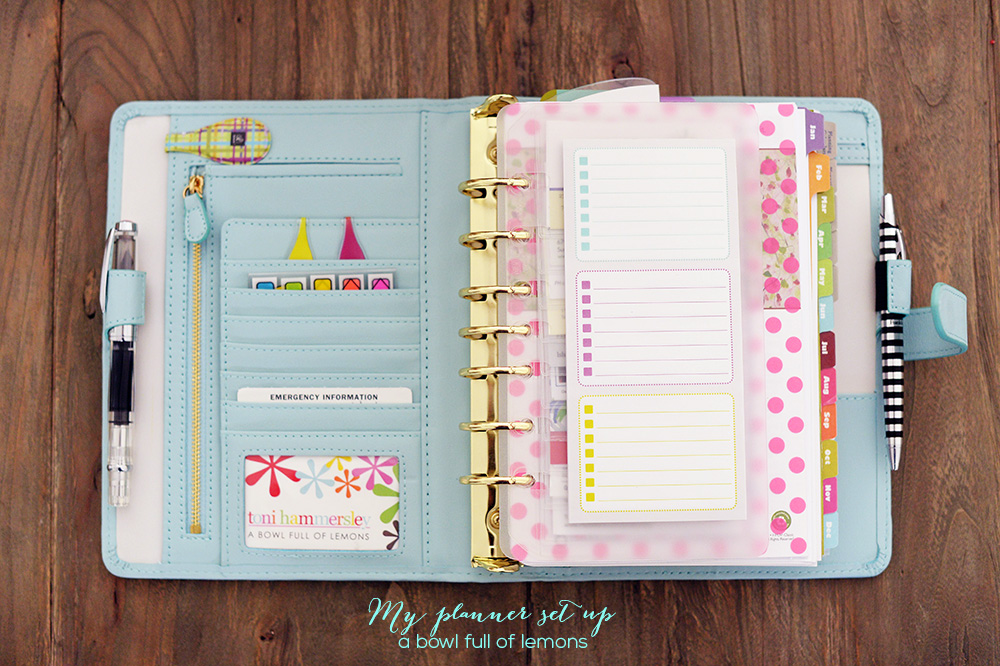 Color Coding – I organize our schedules and tasks by color. I write the tasks in black pen then color a "dot" in front of each task (to represent the person or category). Once the date has passed, I will cross out the tasks with a highlighter. To keep track of what each color goes to, I labelled each pen and highlighter with the name of the category (using labeling tape).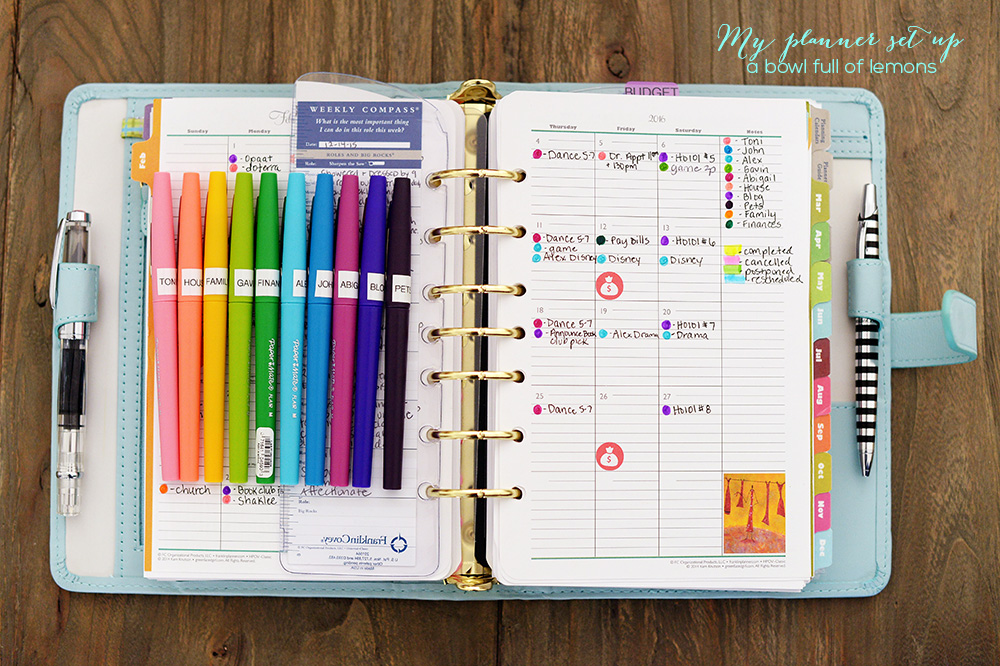 Color coding categories –
A color for each family member
Brown = Pets
Dark Green = Finances
Orange = House
Purple = Blog
Yellow = Family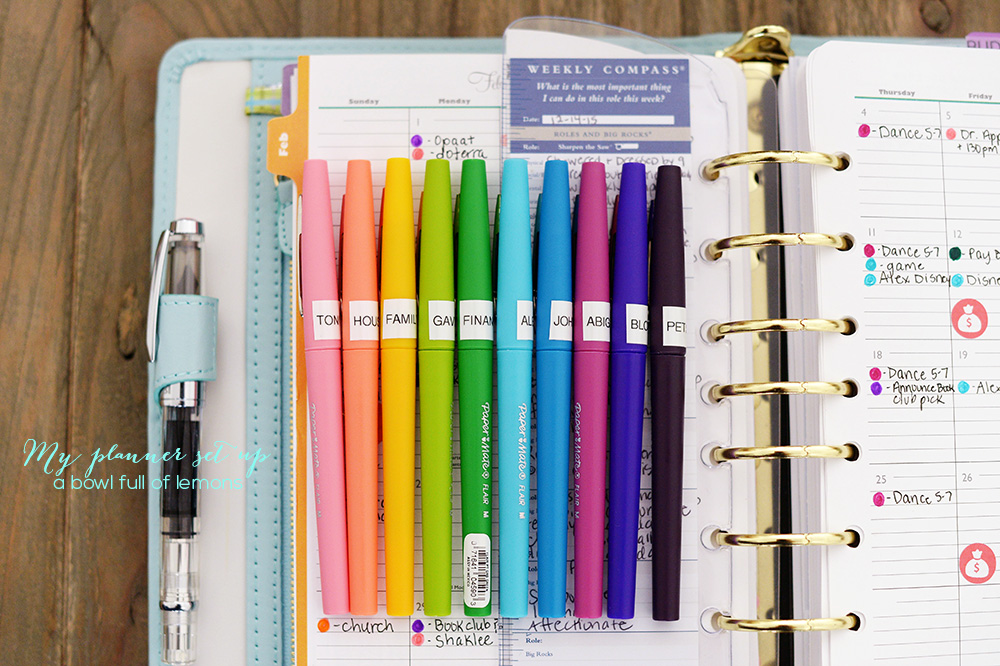 Highlighter categories –
Yellow = Completed
Pink = Cancelled
Green = Postponed
Blue = Rescheduled
Weekly & Monthly Planning – I plan out 2 months at a time, which means I go to the monthly layout and write in all of the upcoming appointments, games, etc. for the next 2 months.  Then every week (usually on Sunday), I will  transfer the weeks happenings from the monthly layout onto the daily pages (for that week).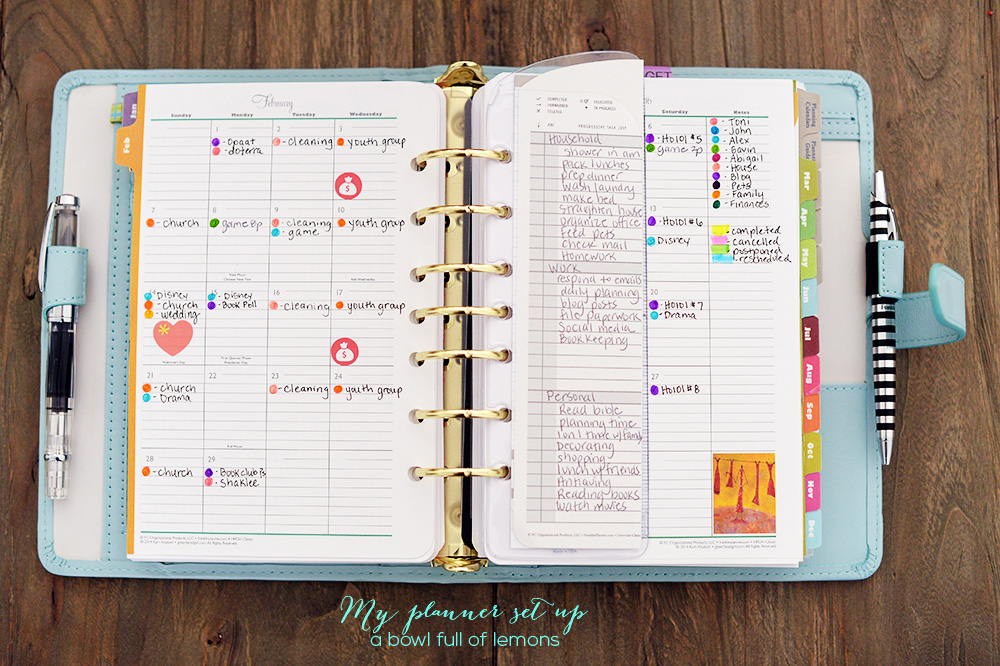 Weekly Tasks – I use Franklin Covey weekly compass cards & progressive task lists (in a divider pouch) to keep track of my roles and tasks for the week. If you haven't heard about Stephen R. Covey's planning system or the Seven Habits of Highly Effective People, I highly recommend you read the book. I am just getting into his system but so far, it's been really helpful! Below is a photo of extra weekly compass cards. Each week, I tear one off, fill it out, and place it in the divider pouch (pictured above).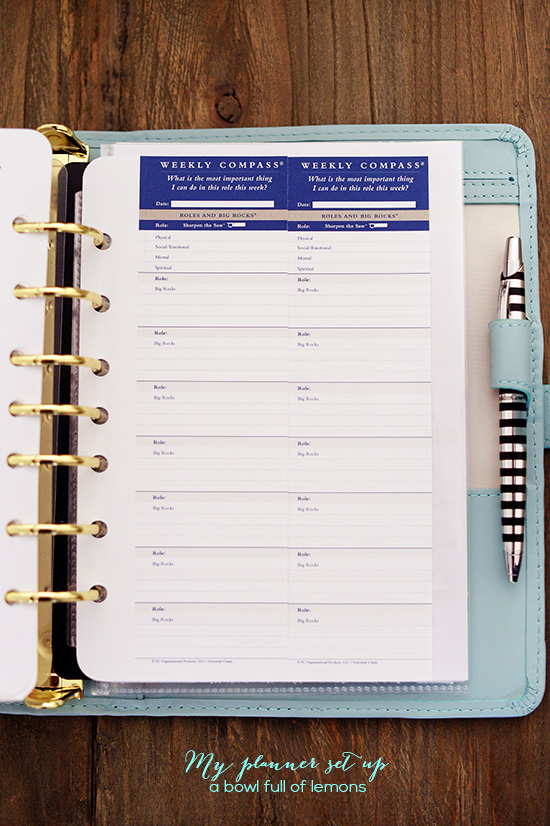 Menu Planning – To keep track of our menu, I typed out a list of 30 of our favorite family meals & 30 side dishes on my computer. I printed, hole punched and placed them in my planner (in front of the weekly menu planner).  I cut off the right side of both lists just enough to see the weekly dinner menu behind them. Each Sunday, I write out our menu and stick transparent Post-It flags in front of all the meals we'll be eating. Once the dinner has been cooked, I remove the flag.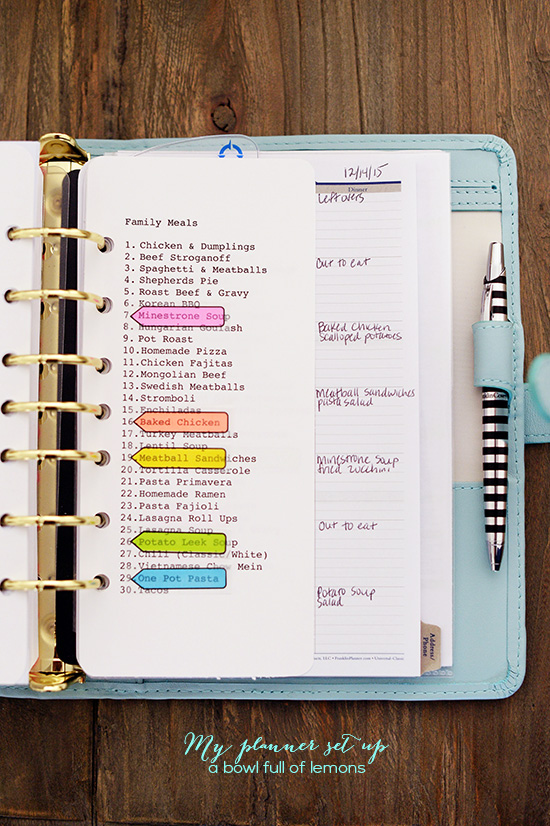 Financial Planning – I use my budget binder printables to keep track of my finances. To learn more about these inserts, visit here.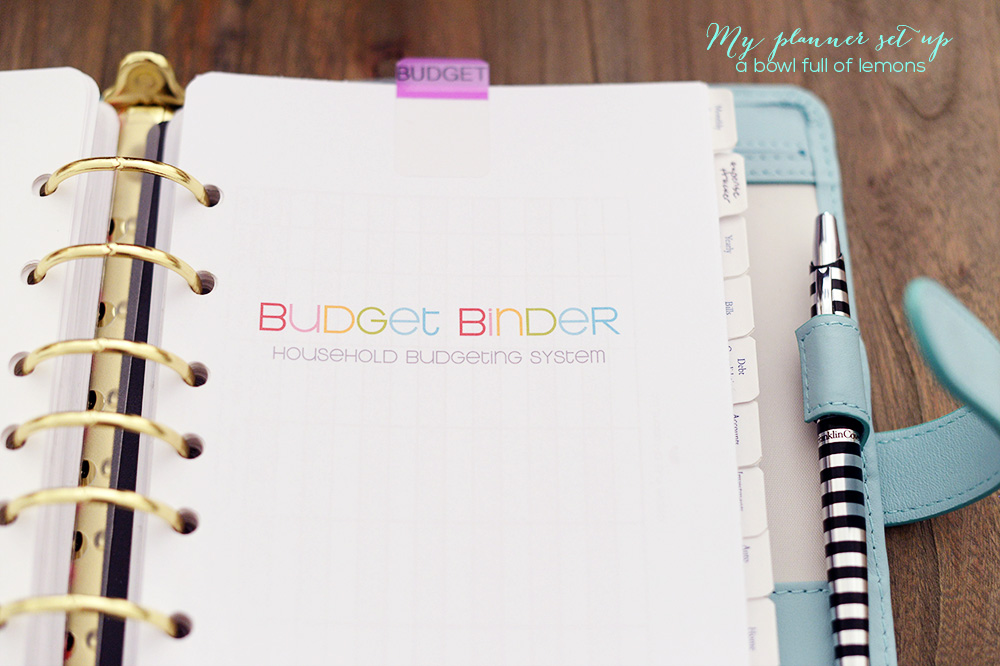 Seasonal Schedules – In the back of the planner, you'll find practice, game, school, and dance schedules that we need to keep track of. I store them in sleeve protectors from Avery. Since I refer back to them for several months, the sleeve protectors keep the paper in perfect condition.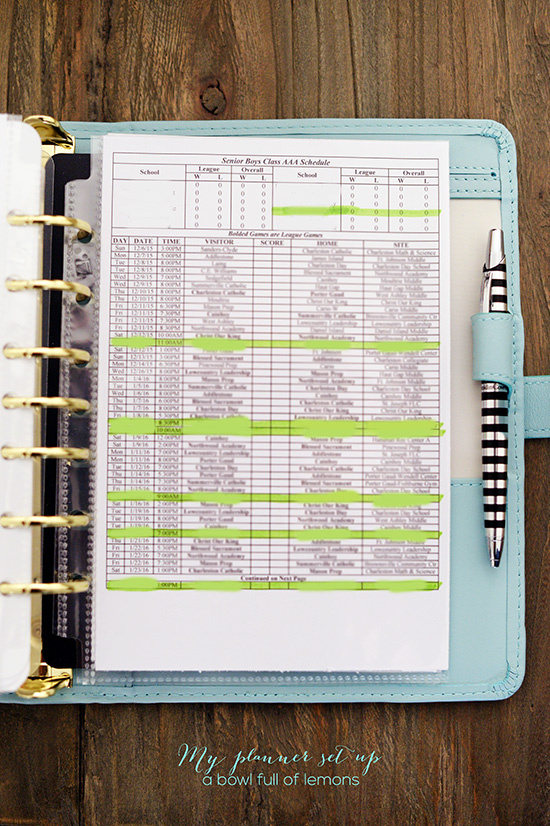 Printing – When shrinking a full size document (8.5×11″) to fit into a classic size planner, simply choose print and reduce the size to 65%. After it prints, trim the paper to 5.5×8.5″.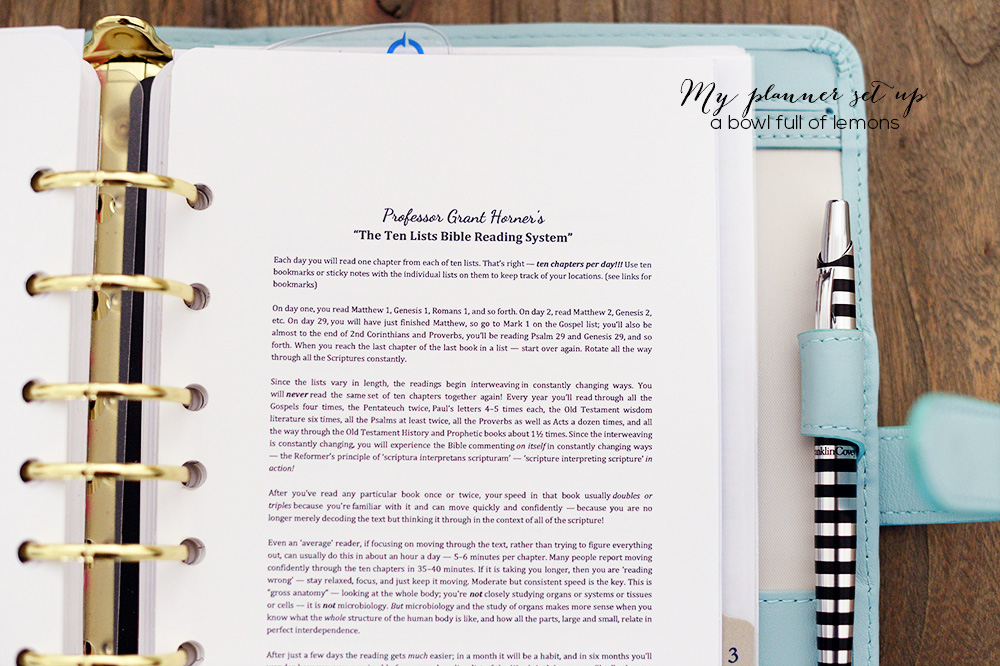 This planner set up is working great for me. My time management has improved and I am more on top of things! I hope you enjoyed this planning post and if you'd like to see more posts like this, comment below with any suggestions. Happy Planning!
Disclaimer: You may find Amazon affiliate links within this post. Thank you for your support to A Bowl Full of Lemons.
Tags: planner, planning, time management
Blog, calendar, December 2015, home management binder, labeling, Organize, planner addicts, planners, Planners & Binders, schedules, time management Posted in 109 comments