I spent the past several days decluttering and organizing my master bathroom. With the help of INTERDESIGN products, I was able to completely organize the space. I recorded this project and uploaded it to You Tube. For in depth details of the space, be sure to watch my video below and visit You Tube to check out my new channel. Don't forget to subscribe for updates!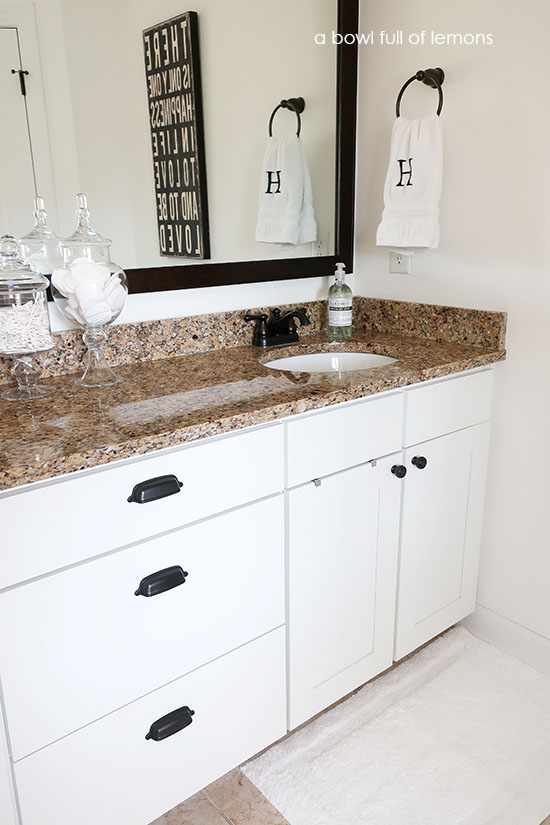 We always keep our bathroom countertop clean and clear of clutter. It's my #1 tip to follow when conquering clutter in the bathroom.  While shopping around, I found two large glass jars at TJ Maxx. They're the perfect place to store cotton pads and Q-Tips. They look great and are a simple solution to gain extra storage.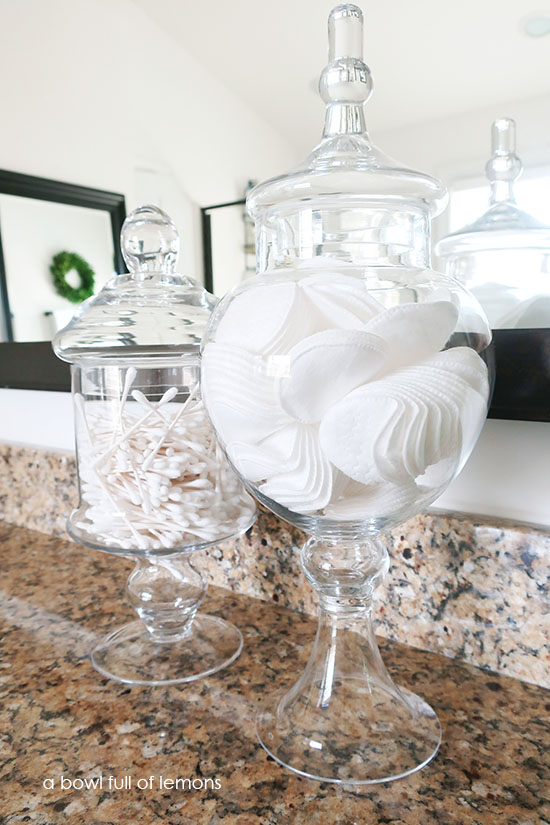 Our drawers are lined with shelf/drawer liner from Walmart. It keeps the organizers in place. The interlocking storage tray is from INTERDESIGN. It fits perfectly inside the drawer and has all of the divided space we need to organize our most used items.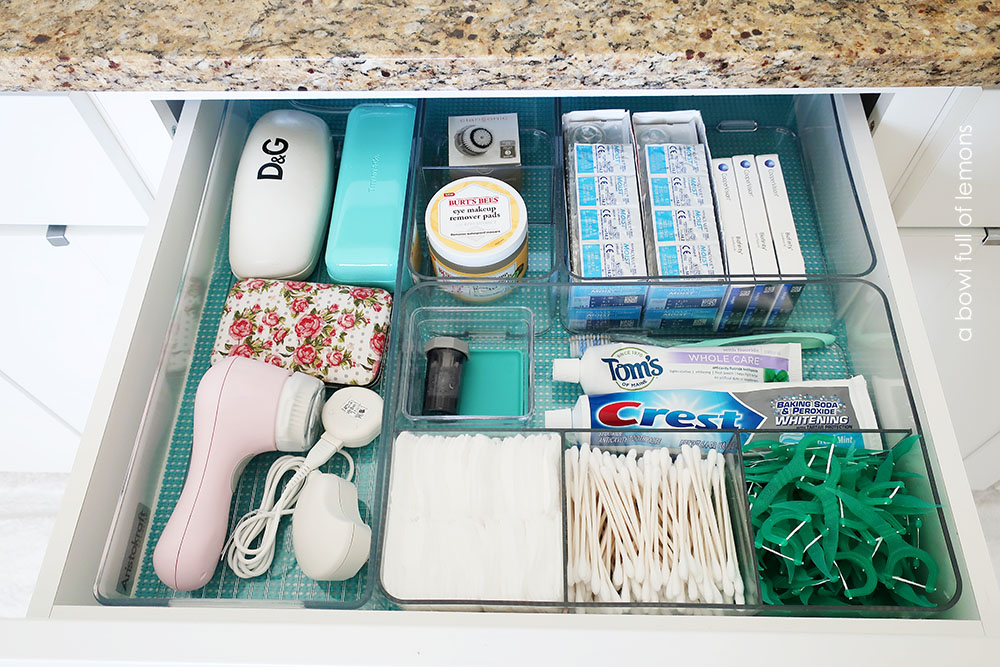 The second drawer contains our smaller accessories, mouth wash, deodorant, hair and skin care items. It also has fresh hand towels and cleaning products. I used 2 INTERDESIGN (8x14x6 inch) fridge bin organizers for this drawer. The smaller teal organizers are from Target.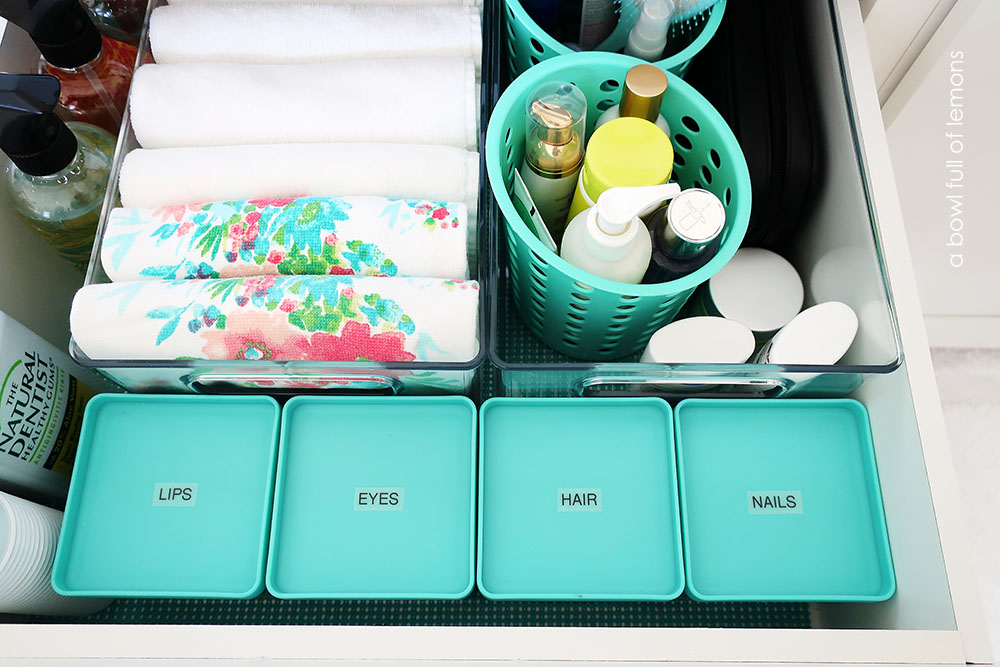 The under the sink cabinet contains many INTERDESIGN organizers, including the Grooming and sick kit caddies (6x9x6 inches), the large bath organizer with hinged lid (7x12x7 inch) and a narrow bath organizer with hinged lid from Target (12x7x4 inch). The magazine storage bin is from Staples (Martha Stewart Line). I keep extra shampoo and conditioner in it.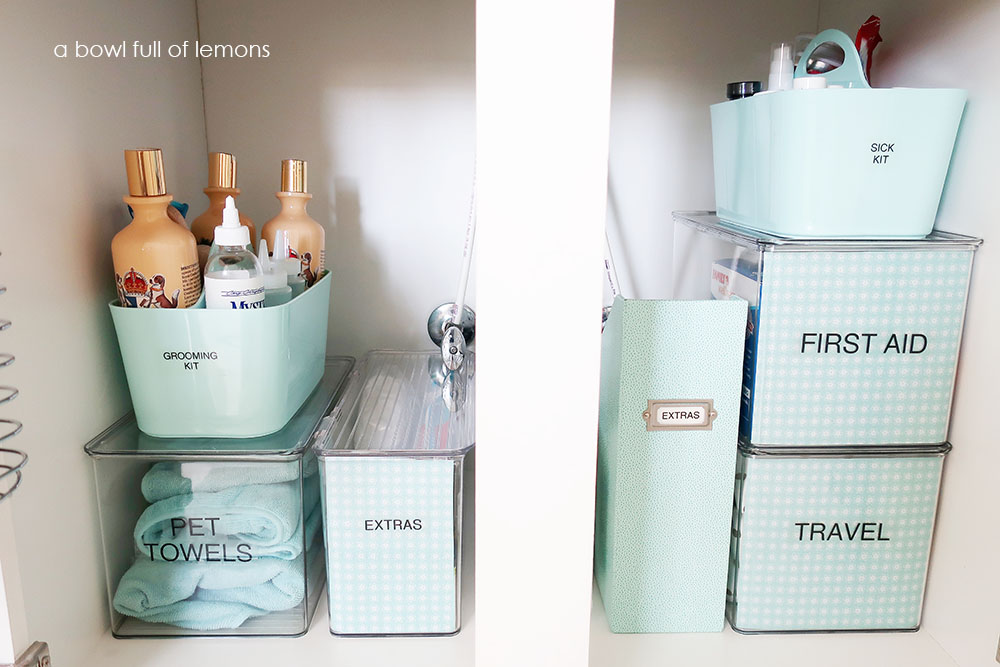 I used scrapbook paper (from Walmart) to line the inside front of the organizers and labeled them with a Brother P-Touch labeler (1 inch font).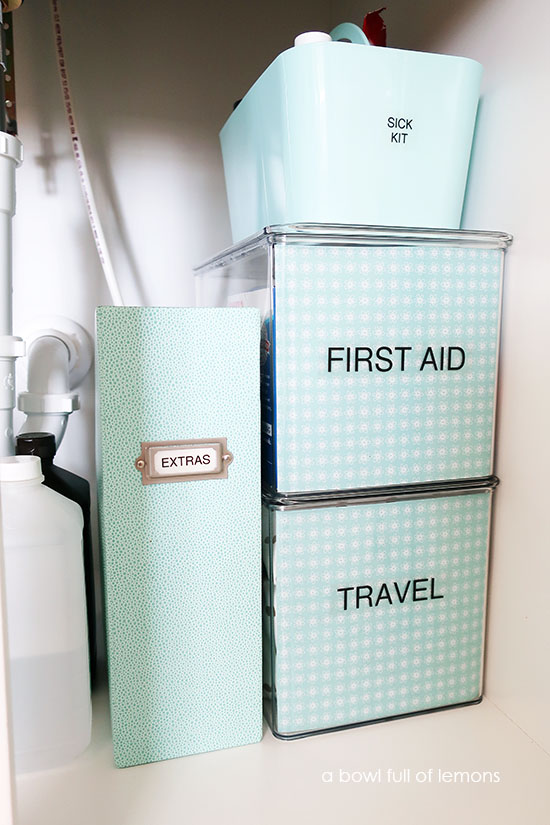 The INTERDESIGN over the cabinet storage bin is great for hair dryers and curling irons. It keeps them corralled and out of the way.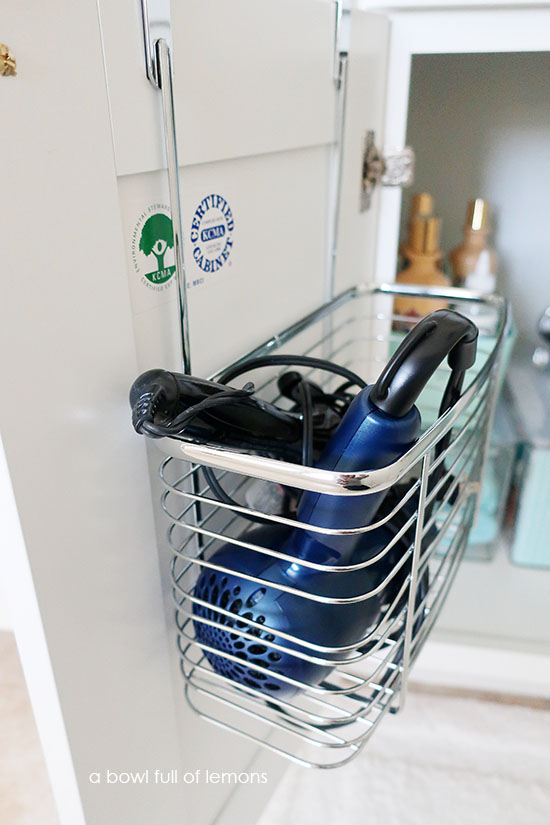 Inside of our bathroom closet, you'll find beautiful hyacinth baskets filled with hand towels and washcloths.  The shelves hold our bath towels and more hand towels.  The baskets are from The Container Store.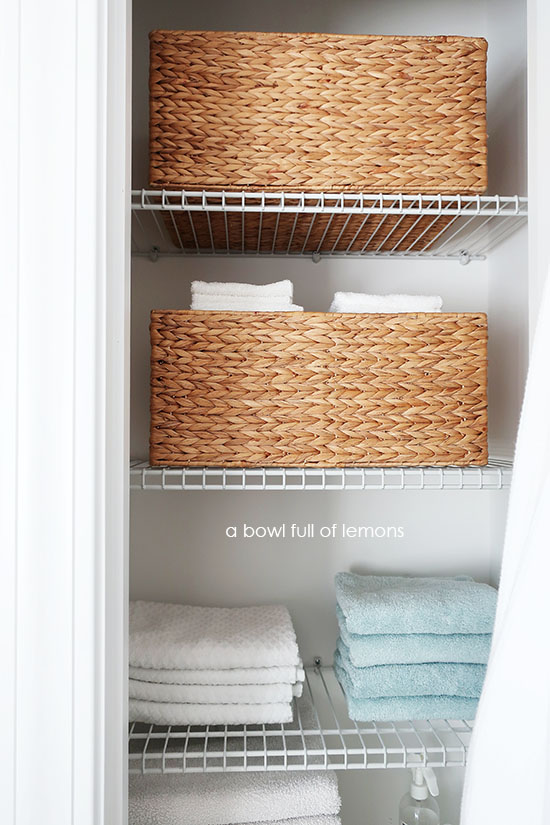 Inside of our water closet, you'll find an over the toilet storage system (Target). It's the perfect space saver and  super convenient!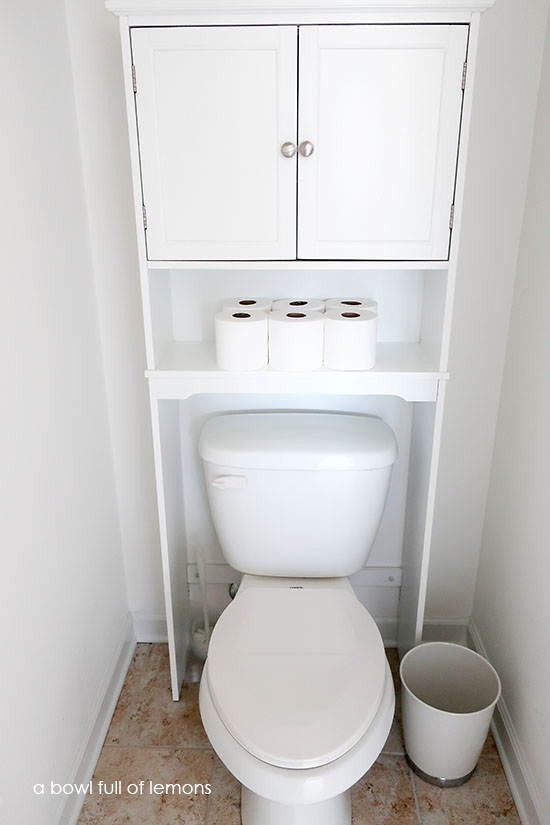 My feminine products are contained in three INTERDESIGN 8×8 square storage bins. They are the perfect size for a smaller cabinet!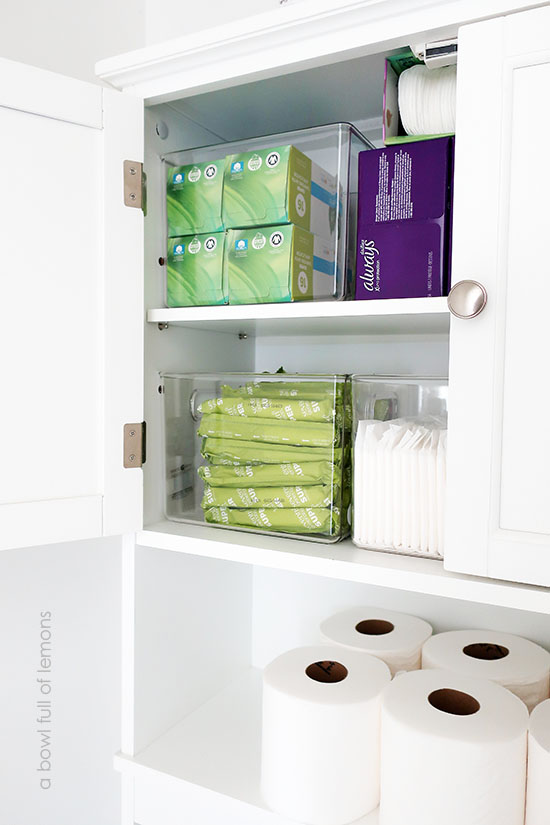 Next is my perfume tray. I found it at TJ Maxx recently. It's a great size and looks beautiful on my vanity.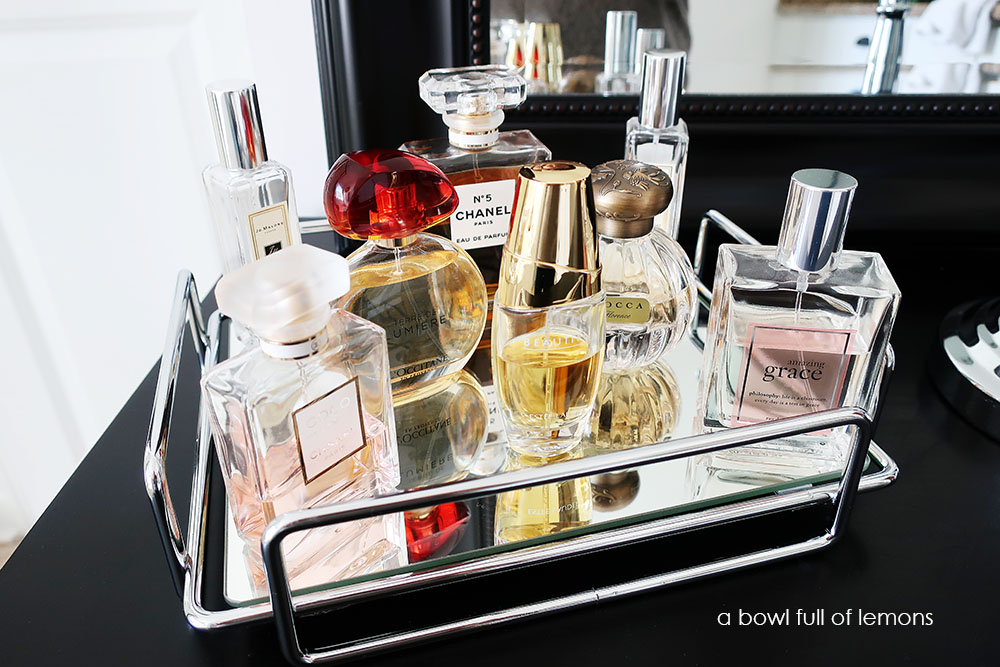 Finally, my makeup is contained in these mint INTERDESIGN storage trays. I found them at TJ Maxx last year.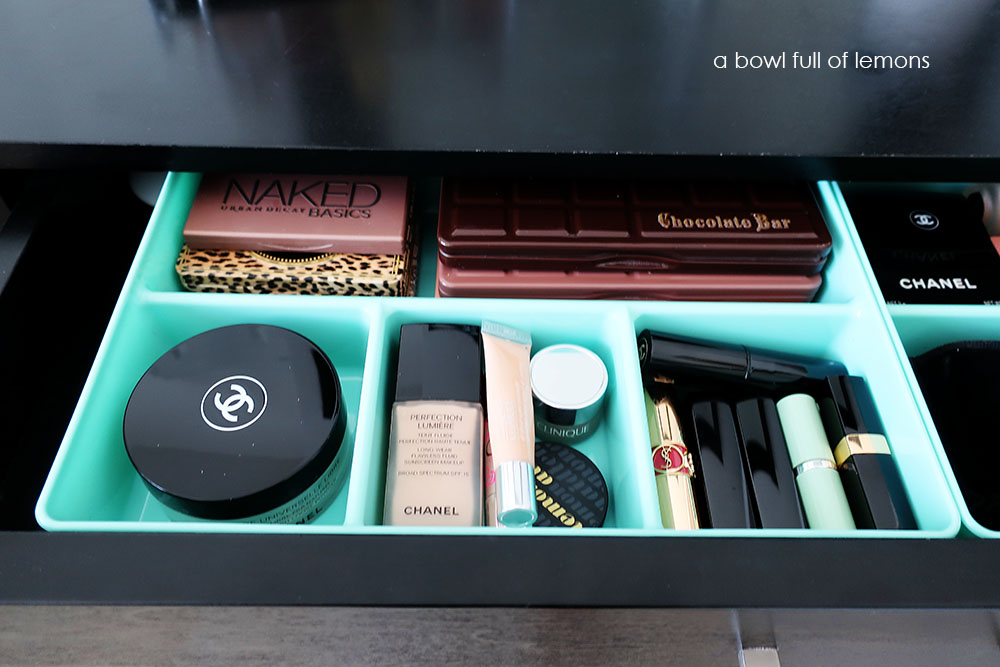 To get the complete bathroom tour, be sure to watch my video above and please subscribe to my You Tube channel. I hope you enjoyed a walk through my organized master bathroom. Have a great weekend.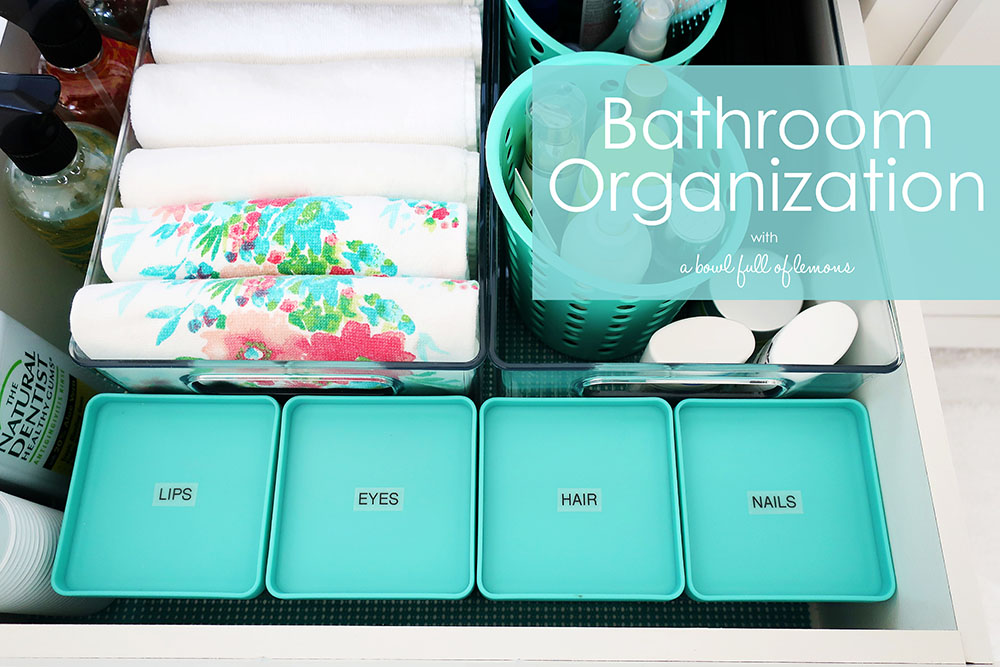 Disclaimer: I partnered with INTERDESIGN to create this content for you. All opinions are my own & I only recommend products or services I use personally and believe my readers will enjoy. I am disclosing this in accordance with the Federal Trade Commission's 16 CFR, Part 255: "Guides Concerning the Use of Endorsements and Testimonials in Advertising. Please click here for full disclaimer.
Tags: bathroom, bathroom organization, organization, organize, review
Bathrooms, Blog, Cabinets, closet, Organize, our home, Review, storage, you tube Posted in 4 comments