Menu planning is one of the most important aspects of home keeping. It should take priority on your schedule. If you don't have a plan, you will feel the stress every single day (I know, I've been there). You will eat less healthier and you'll waste money. By implementing menu planning into your weekly schedule, dinnertime will go smoother. There are affiliate links within this post.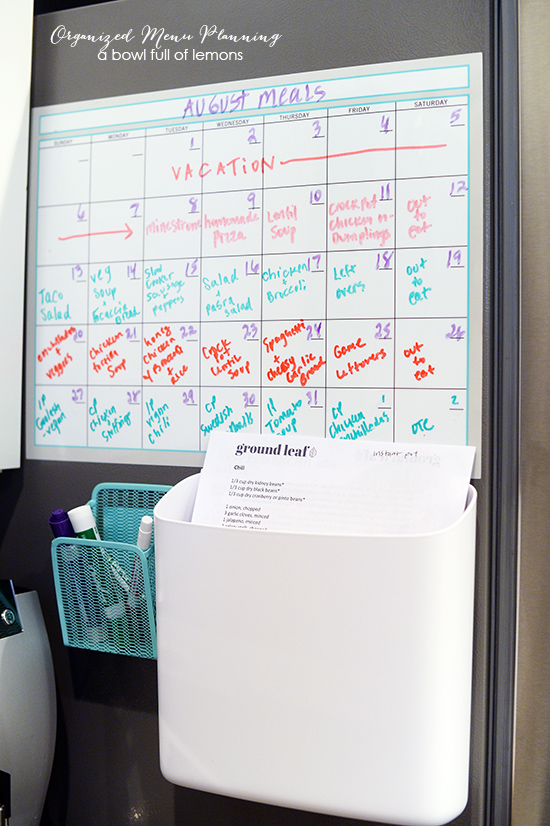 MY MENU PLANNING SCHEDULE: I have perfected a menu planning schedule for our family. It works lovely. The most important tip is to always look at the calendar when planning.  On busy days, I use the crock pot and on slow days, I might bake homemade bread and toss a well seasoned roast in the oven. My week looks like this…
Saturdays – Menu Plan & make grocery list. Clean out fridge & pantry. Go out to eat.
Sundays – Grocery Shopping day.
Sunday – Thursday – Cook healthy recipes from scratch, using my crock pot and instant pot for many meals.
Friday – Leftovers (unless I feel like cooking).
** I keep track of our menu using a white board from Staples (Martha Stewart).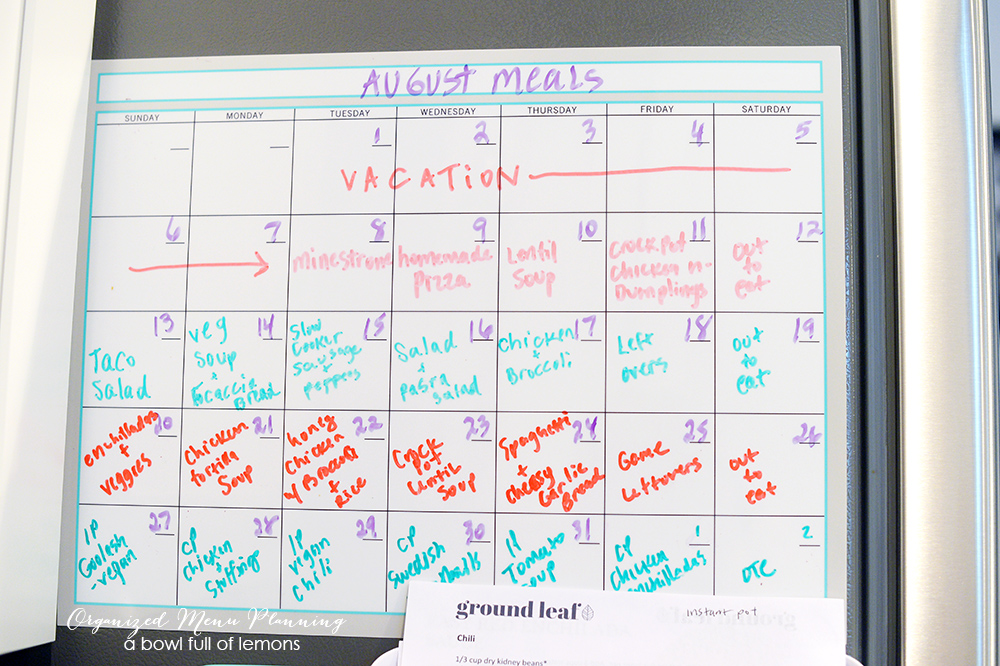 PREPARE FOR THE WEEK:  Before I shop on Sundays, I make sure the refrigerator and pantry are clean (empty leftover containers, toss expired food).  I usually do this on Saturdays. It allows me to inventory what I need to purchase for the weeks' recipes.  Also, I never grocery shop without a detailed list. It eliminates food wasting.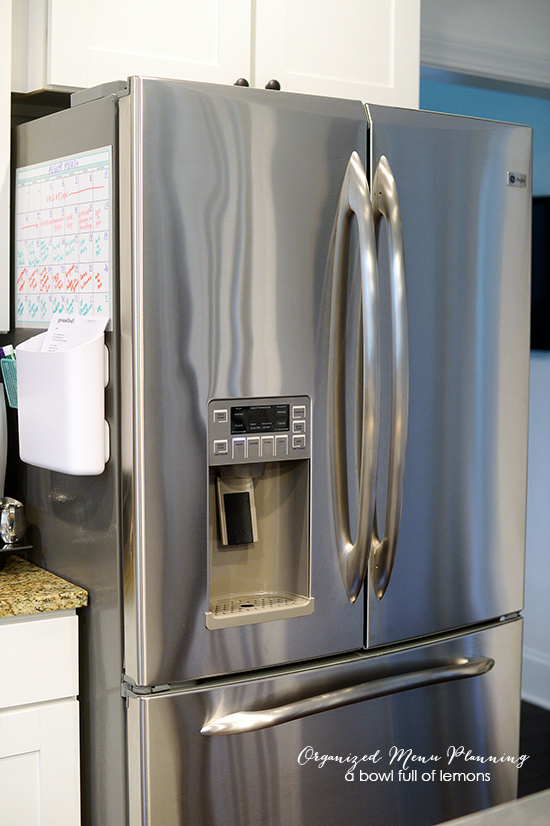 RECIPE STORAGE:  Over time, printed recipes begin to pile up and cause unwanted kitchen clutter. It's important to get organized, if you want to enjoy menu planning. Take a couple of hours and go through all of your recipes. Toss those you no longer want. I used to store my recipes in three ring binders, but I've found it much easier to use file folders. This way, I can add or remove recipes quickly, purge no longer used recipes, and browse easily while menu planning on Saturdays. I love this system. It works well for me.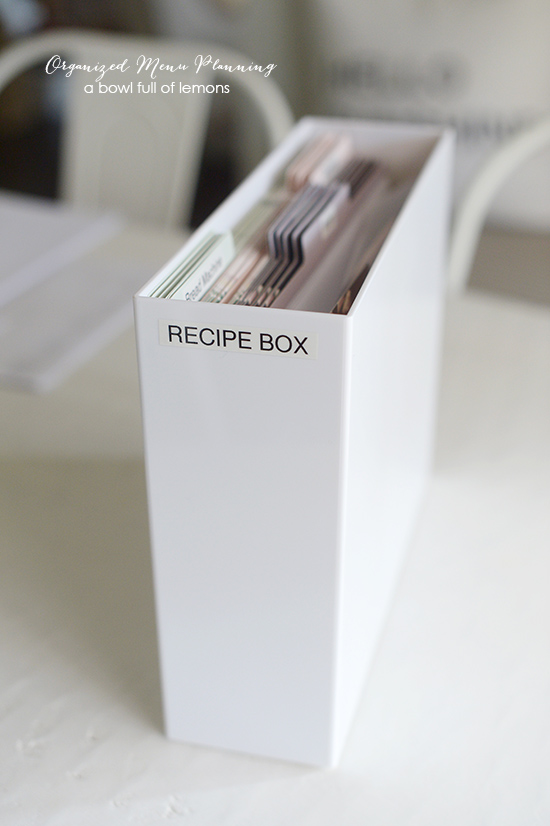 Here is the file box I use.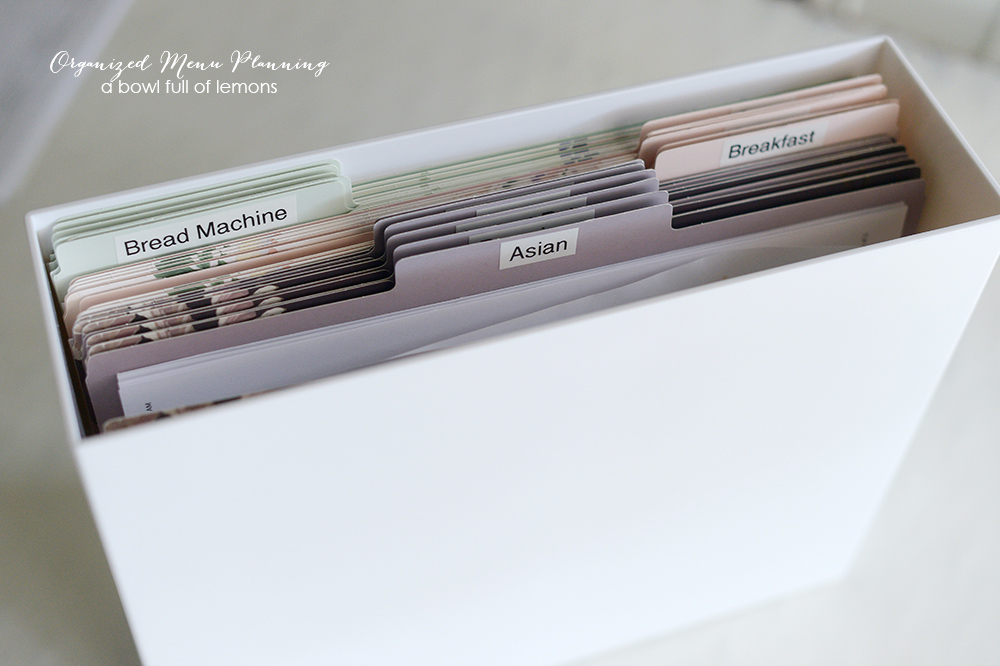 PLAN YOUR WEEKLY MENU: Every Saturday, I take about 30 minutes to plan our weekly menu. I have streamlined this process with the help of file folders. I organized all of my printed recipes into categories. I purchased the folders from Staples. The brand is Fringe. My categories are personalized to our family and my cooking preferences.  Create the categories that your family uses most often. Here are my categories.
Breakfast
Dressings
Seasoning Mixes
Sauces
Healthy Snacks
Sweets
Bread Machine
Crock Pot
Instant Pot
Juicing
Smoothies
Gluten Free
Vegetarian/Vegan
Casseroles
Sheet Pan Meals
Beef
Chicken
Seafood
Asian
Italian
Mexican
Side Dishes
Soup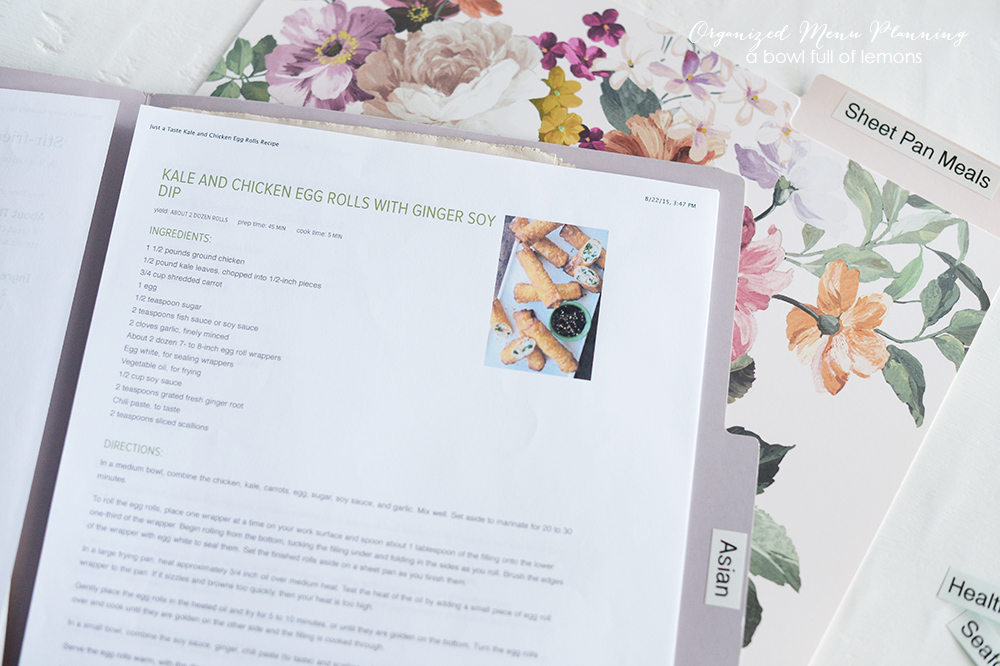 Once I plan out the menu for the week, I store the (current weeks) printed recipes in this magnetic organizer. Once I've cooked the recipe, I file it back into my recipe box.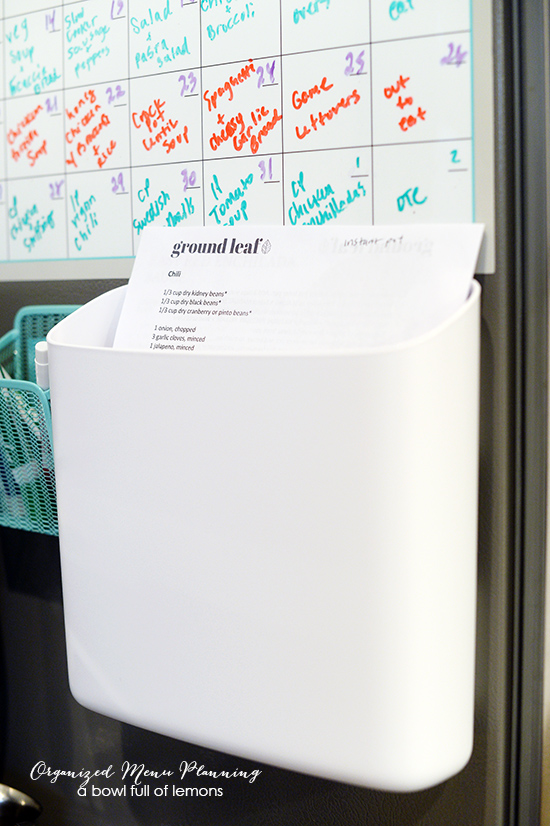 I keep my recipe box and most used cookbooks in my kitchen island. I've had many people ask where I find my  recipes. I typically search Pinterest, Culinary Facebook Groups, blog posts, and Google. I find them everywhere!
Some of my favorites websites to find delicious recipes: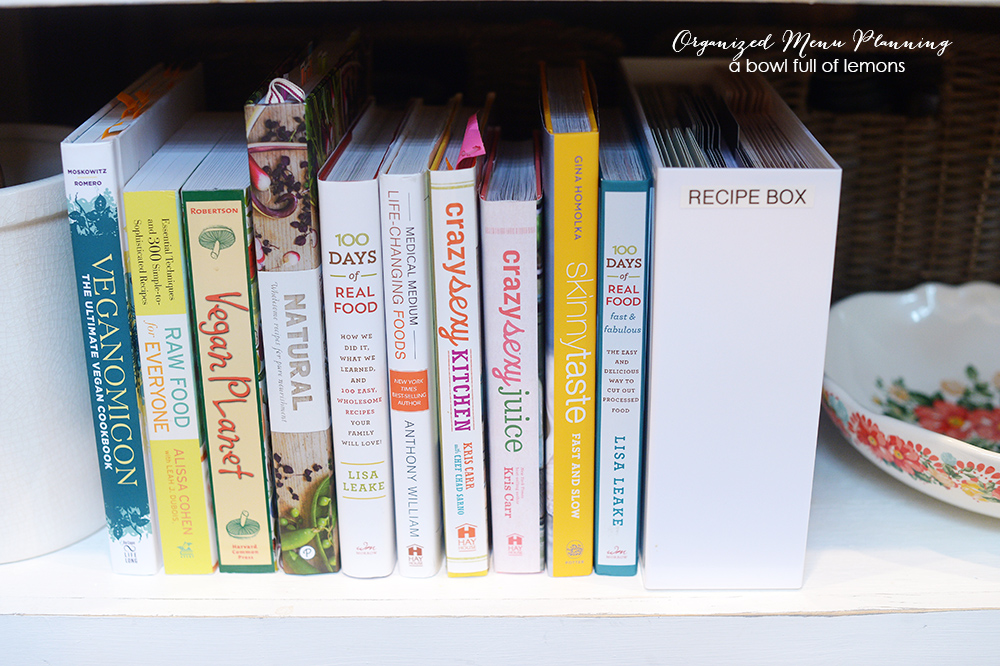 My (current) favorite cookbooks: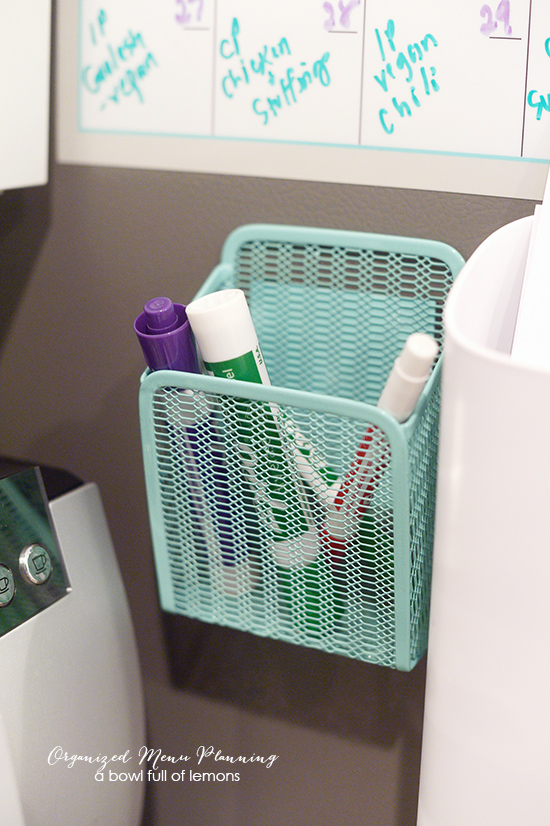 I have a menu planning printable kit available for only $4.00. It contains everything you need to menu plan. Click here to purchase.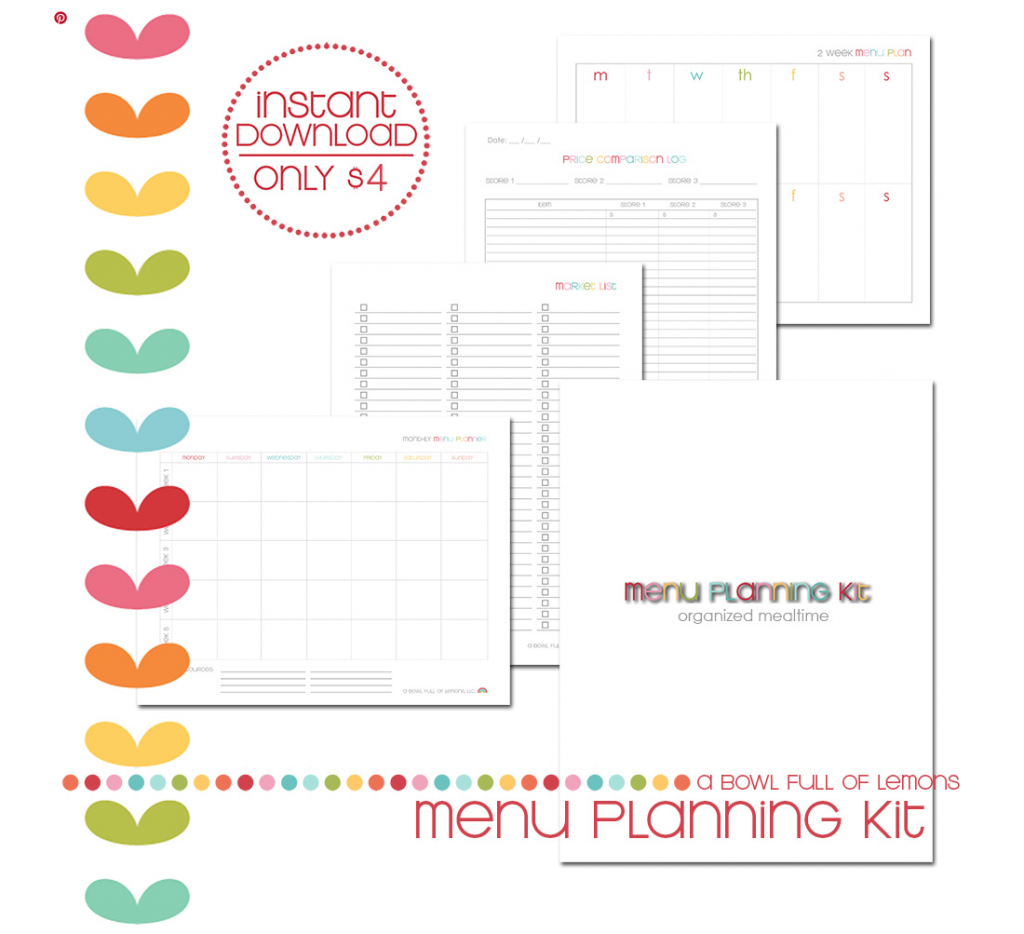 Menu planning is an enjoyable experience, once you get organized. Set a weekly schedule that works for your family, look up some delicious recipes & organize them into categories, and make dinnertime memorable for your loved ones. I would love to hear your menu planning tips. Share them in the comment section below.
If you want to see what we're having for dinner, be sure to follow me on Instagram. I share InstaStories (videos) daily, including organizing & home keeping tips. Finally, if you want to get more organized, be sure to check out my  best selling book 'The Complete Book of Home Organization'. It's packed full of tips to get your home organized.
Tags: menu planning
Blog, filing, Kitchen, menu planning, Organize Posted in 10 comments