Im super excited about this giveaway, since I LOVE Scentsy warmers & scents.  I always have a Scentsy bar burning in my house. This week I am giving away one Scentsy full size warmer & 3 Scentsy bars. The winner will personally get to choose your warmer & scents.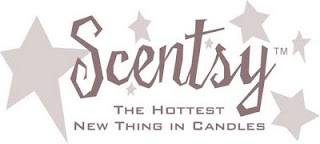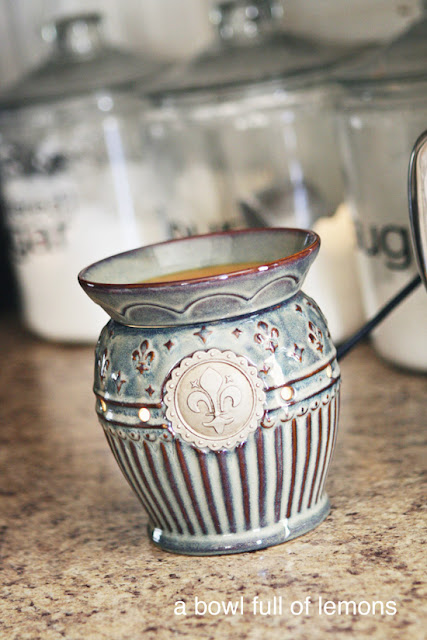 This yellow with polka dots warmer is adorable too!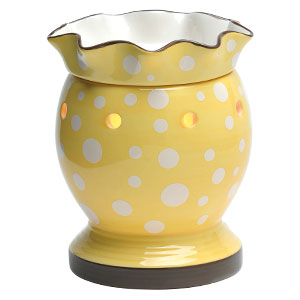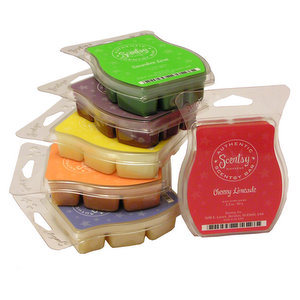 Here is a list of the "Bring back my scent Bars".
 These are ONLY available for the month of July!! They were voted the most popular scents from Scentsy.
Orange Dreamsicle, Watermelon Patch, Grape Granita, Lemon Lavender, Cutiepie Cupcake, Luscious Lemon, Cashmere, Coconut Palm, Spiced Orange-Harvest, Banana Flower, Fresh Cut Cantaloupe, Tuscan Garden, Root Beer Float, Banana Nut Bread, Strawberry Sweetie, Red Delicious, Oxford, Exotic Vanilla/Velvet Spice, Irish Cream, and Fried Ice Cream 😉 
Dont they sound delicious?
Also, this week you can get the scent of the month & cupcake warmer for
10% off
.  The scent is
Happy Birthday.
.. YUM!  Finally, Angela is offering a special only to ABFOL readers.  If you order from my online blogging party, you get your Scentsy light bulbs 
free for life
!  So, whenever your bulb burns out, just email Angela and she will send you one at no charge. If you would like to take advantage of the specials, you can start shopping HERE. The party will end July 6th at 11:59 pm eastern time.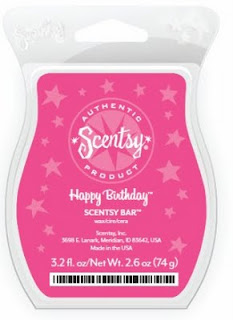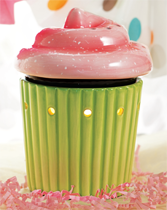 IF you would like to enter to win a full size Scentsy warmer & 3 bars, here is what you have to do:
1. Be a follower of ABFOL
3. Leave 2 comments below (one as ABFOL follower & one telling what your favorite warmer is)!
3.  Bonus entries: Blog, tweet &/or facebook about the giveaway.
The giveaway starts NOW and ends at 11:59 pm eastern time on July 6th .  Good LUCK!!