Today I have a fabulous guest poster, Ashleigh, who is sharing some great de-clutter tips with us. She gives us a good list of things we normally keep that we should really get rid of.  This is a great post!  Thanks Ashleigh. 🙂
Commonly Saved Items You Need to Throw Out Now!
Somebody once defined junk as something you throw away three weeks before you need it. Well, a lot of us seem to have adopted this philosophy when it comes to deciding whether or not to hold on to things we haven't used for years. We are afraid to throw things out, maybe because we refuse to acknowledge that those three weeks have long since passed. In the large majority of cases, the three weeks may as well be three centuries—if we keep waiting, we will end up waiting forever. The fact is that more often than not, we find ourselves assigning value to things that have no value, forging an emotional attachment to worthless odds and ends, or fooling ourselves into thinking we can someday fit into those pants we used to wear ten years ago. And sometimes we hold onto things without even knowing why!
Old books are always the culprit!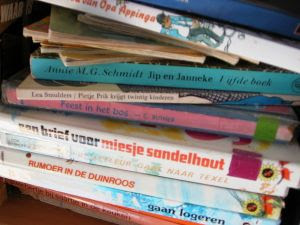 If you think about it, there are a lot of items sitting in your house right now that fall into one or more of these categories—or maybe different categories, but the point is that they need to be trashed pronto. And by "trashed", I don't necessarily mean destroyed. Sometimes it's much better to sell them, donate them, or give them to people who can use them. After all, one man's hamburger can sometimes be another man's steak! And believe it or not, you will most likely feel a great sense of liberation and relief when you see these items disappear. If liberation and relief sound good to you, then see if you recognize anything on this list of some of the most common items people tend to hoard that they should really be throwing out:
Do you really need a stock pile of old hangers?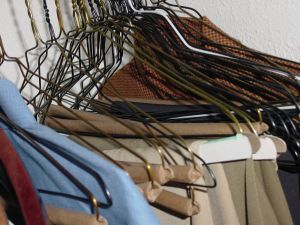 Old clothes: Every piece of clothing we own is something we really thought was cool at some point in our lives. But that was a long time ago. Now the coolness has long since passed and we are left with a memory which is much more attractive than the clothing itself. And if you are like me, the likelihood of being able to wear most of the stuff sitting in your closet has become much slimmer than your present-day waistline. The good news is that somebody out there can sure use it! Charities are always looking for clothing, so here is your chance to clear out some space and help others at the same time.
Cords, wires, and plugs: Whenever I buy a new gadget, it comes with at least one cord or connector that I already have. So I toss it in a drawer. Pretty soon that drawer becomes full. When I look in there now, I see power cords, data connectors, and cables that fit outdated devices I got rid of long ago. If you have a drawer like this, take a few minutes (or hours if necessary) to wade through the jungle of wires and figure out which ones you might actually need some day. You may be surprised to find that only a small percentage is worth keeping.
Stuff that has expired: Ever think about all the stuff you own that has an expiration date printed on it? Well, you can start at your refrigerator/freezer and work your way outward to your pantry, medicine cabinet, and beyond. Look at all your cans, jars, bottles, boxes, and packages. If a food item is about to expire, get it off that shelf and move it onto tonight's menu. If the expiration date has passed, then trash it. If your medicine cabinet has any expired prescription or over-the-counter drugs, dispose of them right away.
Hangers: Whoever named these things must have lived in a house like mine because there are always dozens of them hanging around. A few of mine are the nice sturdy wooden kind but most of them are those ubiquitous wire things that clutter up people's closets. And some of them are broken. Have you counted how many are in your closet? Well, when you do that then also consider how many you really need and ditch the rest.
Out-of-date electronic equipment: Technology is wonderful. Sometimes maybe we think it is too wonderful and that's why we hesitate to get rid of it. But the fact is that nothing changes faster than home electronics and what is state of the art today can be a petrified dinosaur tomorrow. So recognize clutter for what it is and start throwing out those old computers, printers, VCRs, stereos, and cell phones. Then get to work on those outdated media relics like VHS tapes, old video games, and ancient CDs. Remember that many charities are looking for things like these, particularly old cell phones.
Old owner's manuals: When you get a new appliance, you always save the owner's manual, right? Well, when you ditch the appliance do you always remember to go fetch the manual and throw that out too? Many of us don't and we end up with a whole pile of useless paper. And besides, nowadays there is an online version of an instructional manual for just about every product made.
Books you will never read: There are plenty of books worth holding on to. But be honest with yourself—does every book you own really belong in this category? If there are books on your shelves you will never read (or never read again), consider donating them so that somebody else can derive enjoyment from them.
Expired medicine is an important one to throw out!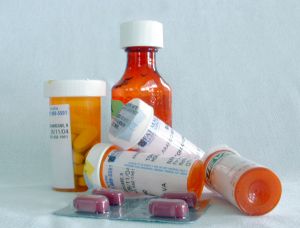 There really is such a thing as junk. And sometimes it's all around us but we don't always realize it because it looks too much like something we fool ourselves into thinking we need to hang on to. Don't be afraid to throw things out (or donate)—you will be rewarded with a feeling of relief and accomplishment. And that feeling will be of much more value to you than the items you are discarding.
Tim Eyre works in the self storage industry, regularly traveling to see locations like a
El Cajon self storage
. In many locations, like the
Peoria self storage
yard, Tim helps his customers store seasonal equipment when it is not being used for outdoor activities or home improvement projects. If you have any questions for me or Ashleigh, don't hesitate to ask!   *Article by Tim Eyre
What are the culprits in your home?  What items do you collect & store, but really don't need?  No sugar coating!! 😉
Blog, decluttering, guest post, Organize Posted in 21 comments