We only have 6 more weeks until Christmas.  Can you believe that?  I am not even close to starting my shopping, but I have at least one gift checked off my list.  Its a very special set of journals for my teenager. The teenage years are such an emotional time that they need somewhere to keep their thoughts! What a better place than a journal!!  
 My friend Katie makes
Gadanke journals.
 I truly believe that "handmade" is better than "boxed up" gifts.  This is one great handmade gift!  You can also use for your spouse or boyfriend (journal your special times with them and give it to them as a gift), prayer journal, holiday memories, vacation memories, pregnancy, and so much more. They are great keepsakes.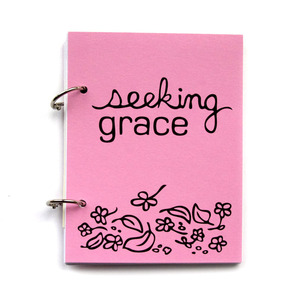 What are Gadanke journals?
– They're for people who say they never know what to write about. Gadanke journals have lots of writing prompts to help keep the ball rolling. 
– The journals are small, so they fit in your purse. A lot of women take them to the coffee shop. You could even journal sitting in the carpool lane! 
– The books give you a place to put your stuff. Date night movie ticket stubs? Vacation postcards? Paste them in or open the loose bindings and pop 'em in.
– And for those who wish they were craftier or want crafting to be easier and more fun, the tags, envelopes and cool papers in the journals help bridge the gap and inspire you to start embellishing your pages.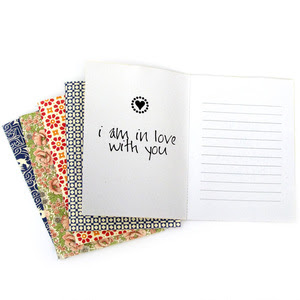 A very special Gadanke Journal GIVEAWAY!
Giving: One lucky winner will receive a journal of your choice.
Entry: To enter, visit the Gadanke shop and come back here to tell which journal you'd love to have for celebrating your stories  If you have another question or anything, that's totally fine, too. You can ask it here.
Extra entries: If you like to enter extra entries for the giveaway:
Good Luck to everyone.  The giveaway starts now and ends at 11:59 pm on November 23rd.
About Gadanke…
Gadanke's motto: Celebrate your story!
Document who you are and what you crave and believe. Handmade journaling products at Gadanke are filled with creative writing prompts and tidbits to make you think (and laugh!). These baby books, prayer journals, travel books, and diaries make your writing process more meaningful and fun! Plus they're totally eco-savvy with 100% recycled papers.
Background: If you're interested, here's a piece of Katie's story…
A couple of years ago, NPR's StoryCorp was in town. It was also my grandma's 90th birthday.The two of us decided to hop into the recording studio to capture some pieces of her story. I had all sorts of prompts to help her with her story telling. (I was always the listener, the one who asked question after question.) The only problem? My grandma couldn't remember. Too much time had passed.
Later, my dad turned to me and said, "Katie, I need you to write down your story." I knew he wished he had his mom's stories. So I started writing. I started wondering about all of the other women who have stories deep inside of them, and I started thinking about how my tendency to just listen and ask could help put those stories onto paper. Gadanke was born with fabulous writing prompts and recycled papers. I feel so lucky to be living my dream!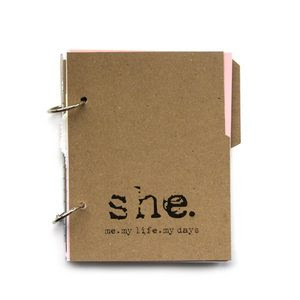 Autumn Apple Picking Cider Making Food Journal Entry