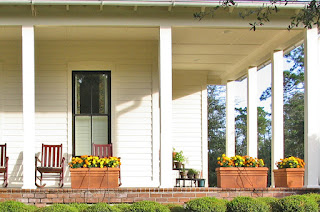 10 Fun and Creative Tips for Decorating Your Winter Front Porch
The porch can get very cold during the winter season, and we don't just mean the temperature. Decorating this particular space in such chilly weather will make your home feel more welcoming. Try out these ten decorating ideas for winter to make your porch more visitor-friendly this year:
Switch the Seasonal Feel, without Going Campy. We love the idea of summer in the winter; beach sand, seashells and starfish accents. Use a large, transparent jar and fill it with sand and other beach-inspired elements like shells and artificial coral. Wicker baskets or woven bags overflowing with items convey summer perfectly and are inexpensive decorating options. Bring summer's warmth to winter to inject some coziness into your porch.
Glam it up. Add a touch of luxury to your winter porch to make it more elegant with metallic items. Brush a bit of gold finish onto your white wreath's edges, or on old wooden photo frames and hang them on the wall. Wrap silver ribbon on your porch columns. Burnished bronze baskets make beautiful holders for assorted decorative items without looking too gaudy.
Go natural. Take winter gourds and place them in large baskets or clear vases to impart a sense of abundance in the cold weather. To keep them fresh, don't carve them at all. Turn them daily to prevent the meat in the vegetables from settling and getting mealy on one side. If you want to get them to shine, spray on a coat of clear lacquer to delay the decomposition process. We love to use different types and sizes to add different textures and designs.
Make a scarlet statement. Red is the perfect color for winter. This elevates the gloomy pale color of the surrounding with an eye-catching change and provides an eye catching statement. This color can be used sparingly by decorating with splashes of crimson in small items as accents. It can also be used to create a larger impact with velvet blankets or wall hangings.
Use family memories. Show off your family's personality by using household items, like a pair of old (but still beautiful) skates, a stack of hardbound volumes, or a photo of a beautiful landscape your family once visited. These items will enhance the uniqueness of your porch, and serve as great conversation starters with guests as they enter your home, or when staying in the porch for after-dinner coffee.
Bloom with winter flowers. Winter flowers in pots are a great way to add a splash of color and a stunning touch of nature to your winter porch. Pick easy to maintain potted plants that bloom in the winter like roses, pansies or carnations. The lovely aroma that comes with real flowers is also an added layer of gorgeous to the space.
Light it up. An inexpensive and elegant way to brighten up your porch for winter is to illuminate it in small, clear lights. Doors, columns, and railings twinkle with pinpricks of light, and can thoroughly be customized to any design you wish. Use multicolored lights for a more festive look, or LEDs to be more energy efficient. To prevent accidents, make sure the lights you use are rated for outdoor use, and that the outlets will not overload.
Get heady with scent. Use flowers or fresh pine scent to add another layer of beauty to your home. Spray canned pine scent to imbibe the aroma of winter, or scatter cinnamon sticks, dry cloves or anise in small cheesecloth packets around the house. This will make the space three-dimensional and a desirable place to hang around in.
Put on some tunes. Small speakers can be set up on the porch during a party to add to the winter festivities. Use your favorite jazz tunes or classical hymns to make it more relaxing, or old ballads to add romance to the space. You can also use instrumental versions and keep them in hushed tones, much like cafes during the winter season. It creates a cozy ambience while allowing for conversation to continue.
Make it comfortable. Beautiful, comfy pillows on porch swings, chairs and rockers, blankets of different sizes but of a unified theme, a heater to keep the area toasty warm, this will take over most of the senses of any visitor to your home when they see and feel the space. For an even more inviting space, keep an open bar of warming liquid implements on one side table when guests come to visit, like a thermos of hot chocolate with a bowl of marshmallows, a pot of coffee on one side with cups, sugar and milk. Drawing the eye, your winter porch will not only look beautiful but also so enticing to sit and stay in.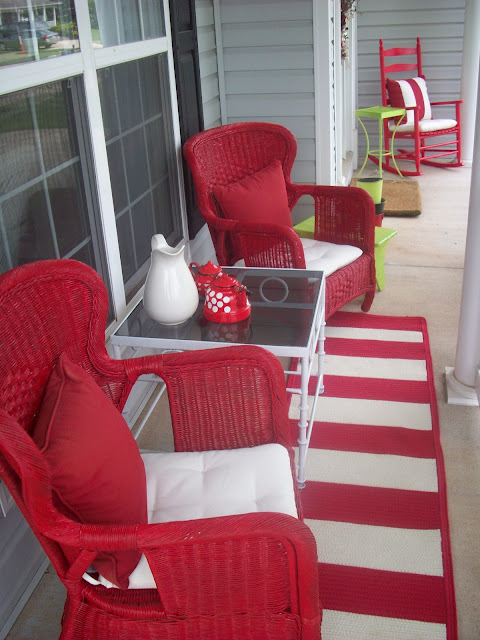 The front porch can easily change from an uninviting space in the winter to one that envelops your guests in warmth. Try these tips to transform your porch!
My guest:
Jessica Phan is a designer for
Balsamhill.com
, a purveyor of high-end
artificial Christmas Trees
. Living in the San Francisco Bay Area is perfect for her because she has a wide range of interests, including Art & Design, Fashion, Photography, Painting and Thrift Store Shopping.
Blog, christmas holiday, guest post Posted in 9 comments