Today, my sweet friend Alejandra Costello is sharing her beautifully organized home office with us.  I drool every time I see her pictures and videos of the amazing work she does.  I think you will too!  
An Inside Look at Alejandra Costello's Organized Home Office
I've always loved to organize since I was a little kid. In fact, I still remember the days I would spend hours rearranging my bedroom to get it "more organized." Seems like yesterday.
Fast forward 15 years later, I'm still stir-crazy over organizing. When I bought my first home is 2009- it was like buying a blank canvas to go wild on. Buying a house for the first time and knowing its yours to organize however you'd like is a fun feeling…if you love to organize!
Since I bought my home in 2009, my home office has always been my favorite space in my house. It's the room I use to be productive for work, get creative with projects, wrap gifts for others, write cards/letters to friends and family, use my imagination, read books, or hang out with Ed my fiancée or Mojo our miniature poodle. It's probably the space where I spend the majority of my time.
When I designed the home office I wanted it to not only be organized (obviously) but to make it a space that made me immediately smile when I walked in. I did that by incorporating lots of bright colors and things that I love (e.g., motivational quotes, pictures of family, cards from friends, crafts I make, etc). Here's a peek of what I see when I walk in: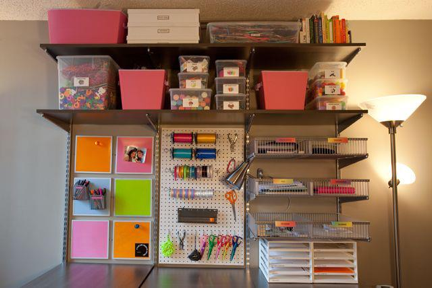 Here's a closer look at some of my organizational systems I've set up:
Pegboard: I LOVE doing arts & crafts to express my creative side and satisfy the right-side of my brain. I bought a pegboard from Home Depot and mounted it to the center of my desk to corral all of my craft supplies (e.g., craft scissors, ribbon, tools, etc). If you look closely, you'll see I used a shish kabob stick to hold all of the ribbon in place. Was it easy to install? No. Was it worth it? Yes!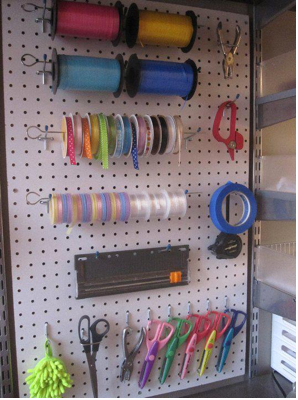 Gift Wrap: I love giving gifts and with that comes all of the gift wrap. Here's how I organize my wrapping paper. Storing my gift wrap vertically on the wall means no crinkled paper or torn ends. You can get the same look for about $20 by visiting The Container Store.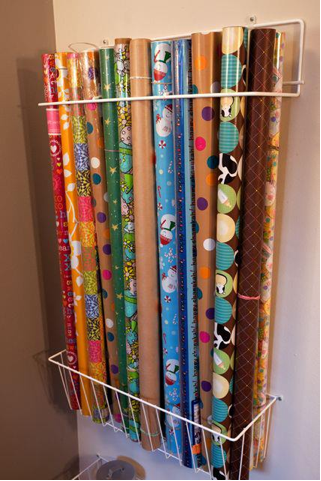 Office Supplies: I'm a total office supply snob, I ONLY use certain types of office supplies. Is that weird that I only like to use certain pens and markers (not a fan of pencils)?! It's almost as if my handwriting is completely different with one pen versus another. Oh well. Here's how I organize my office supplies. Yes, I know, I have A LOT of writing instruments, but I buy them in bulk (to save money) and actually do use them. When it comes to getting rid of stuff I don't use, I'm pretty ruthless. I'll donate something in a heartbeat. However, I can honestly say, I use all of the stuff in this drawer.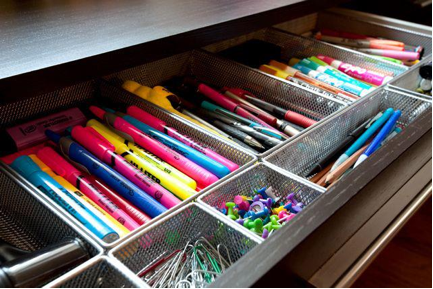 Battery Kit: I promise I'm not a battery snob, I just have a lot of electronics that require batteries! That said, here's my battery kit I put together awhile ago. I used a tackle box I found at Joann Fabrics and sorted and stored the batteries by type. I used yellow label tape to make the labels pop (plus I feel like yellow tape is perfect for labeling "utility type stuff" if that even makes sense).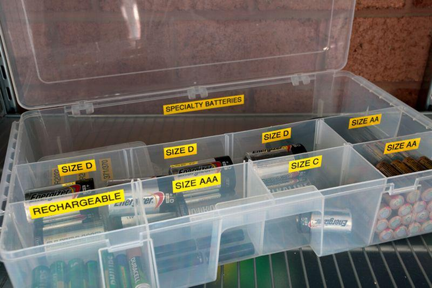 Stickers: Yes, I still have stickers at age 27. I love using stickers for when I write cute cards or letters to friends and family. I organize all of my stickers by category, store them in poly-envelopes, and then hang them on hooks with binder rings. Here's a quick look: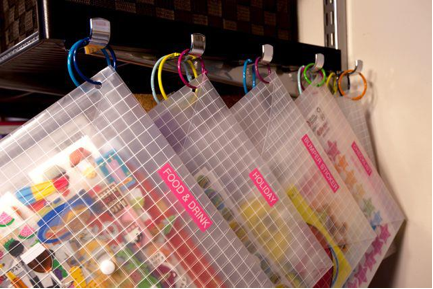 File Folders: I've found through trial and error, that the best way to store file folders, notepads, pad-folios, and envelopes is vertically. When you store these items vertically, they are SUPER easy to access (no tall stack to deal with) with minimum wasted space. Here's a look at how I organize my file folders and other "paper-type supplies."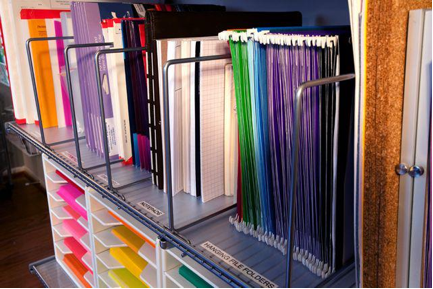 Filing Cart:
I've never been big into filing. In fact, filing is NOT my thing. I've tried all types of filing systems and none of them seem to make filing "fun." However, I came across the Freedom Filer (
http://www.freedomfiler.com
) about three years ago and fell in love. Why? Well, to start, it's color-coded which makes it easier to find the file you need. Secondly, the system is designed to be low-maintenance meaning you don't have to recreate new file folders each year, instead just focus on purging and keeping what you need and use. Here's a glimpse inside my filing cart: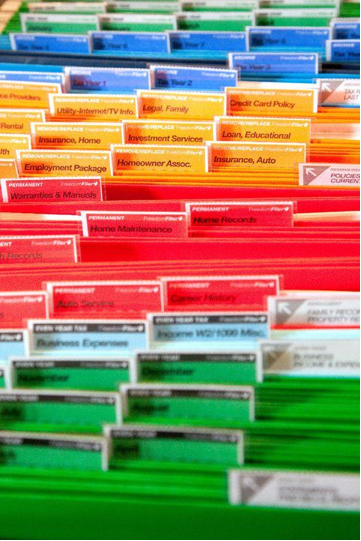 Bio:
Alejandra Costello
is a Certified Professional Organizer who teaches individuals through videos and webinars how to become more productive and more organized on a daily basis by setting up systems in their home and life. Alejandra started her company, Alejandra.tv (
http://www.alejandra.tv
) in 2008 at the age of 23 and to date has shared her organizing expertise with thousands of people in all 50 states in the US and over 60 countries around the globe. Formerly an IT engineer, Alejandra has been named 1 of the 7 most organized people in America and her organizing expertise has been featured on HGTV, NewsChannel8, Family Circle, The Washington Post Express, The Washington Times, and Woman's Day magazine. For more organizing tips, visit her Facebook page at
http://www.facebook.com/AlejandraCPO
Here is a video of Alejandra's organized home.  
Alejandra has many more organization videos on her you tube page (
here
).
Blog, guest post, Office, Organize Posted in 17 comments