Emergency Preparedness GRAND PRIZE giveaway
Today I am happy to host a wonderful and important giveaway for you, to finish out the series (Friday will be my Emergency Station reveal day). During my Emergency Preparedness 8 week series, I shared how my family & home is prepared for unexpected emergencies or natural disasters.  Another way we are prepared, is by keeping premade kits in our automobiles. Shelf Reliance offers pre packed First Aid Kits as well as 72 Hour Travel kits in case of an emergency.  Today I am giving one of each of these away, to 2 lucky winners.
The Giveaway
One lucky winner for each prize (2 winners):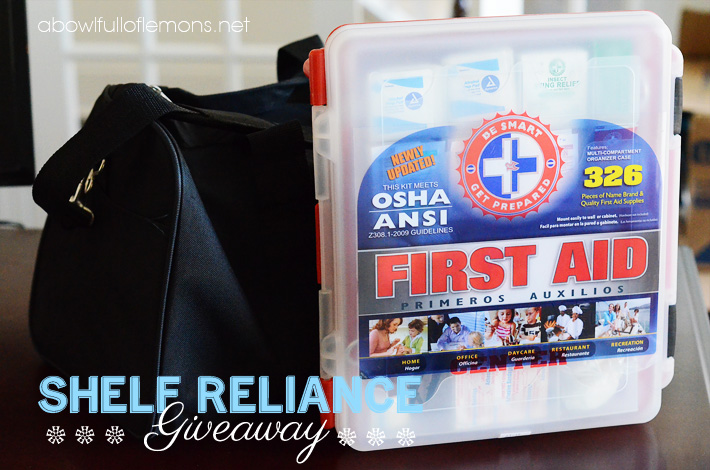 How To Win
Choose one entry or do all three. (Via Rafflecopter)

1. Check out Heather's blog: http://www.cookingwithmyfoodstorage.com.  Leave a comment somewhere on my site. Come back to this post and tell me that you left a comment.  For example you might say,  "I checked out Cooking With My Food Storage and left a comment on the post about Mango Lime No Bake Cookies."  It would be nice if you included the link to the post you liked but you don't have to.
2. Check out what it is like to be a Shelf Reliance Consultant. Come back and leave us a comment telling us what you like best about being a consultant. For example you might say something like,  "I really love that as a consultant I can build up my food storage without spending a lot of money"
Here are the links again; you can visit any one of them or all three.
If you decide you would like to become a consultant Heather would love to have you on her team.
3.     For an extra entry you can tell a friend about the giveaway through Facebook, etc.   When you do that come back to this post and leave an comment like "I shared this giveaway on Facebook."
Rules
   I can't give away anything to "Anonymous." If your comments are showing up as anonymous, be sure to leave your name in your comment.
  I can only ship to the continental US.  Sorry to all the international readers.
The Giveaway starts NOW and will end at 12:00 am est on Monday February 11th.  Tell your friends!
THE PRIZES
The 2 Person 72 Hour Travel Kit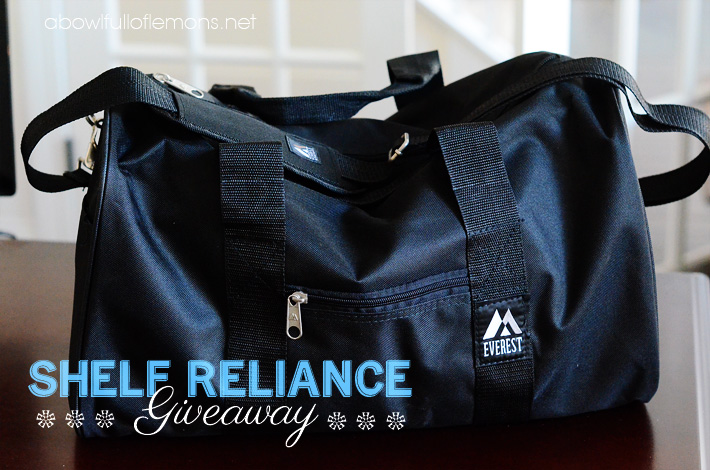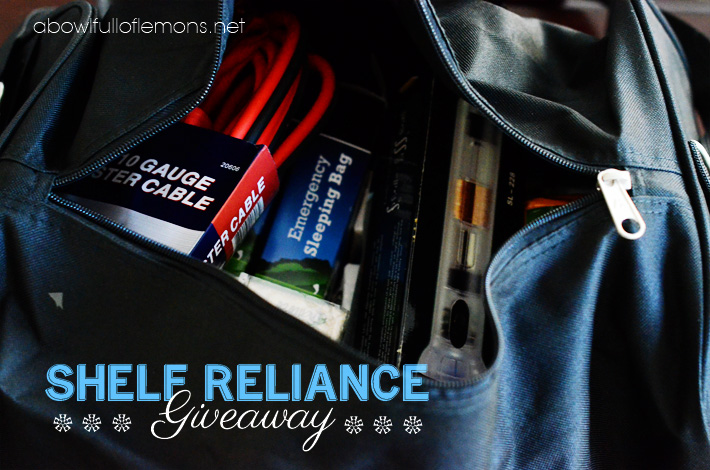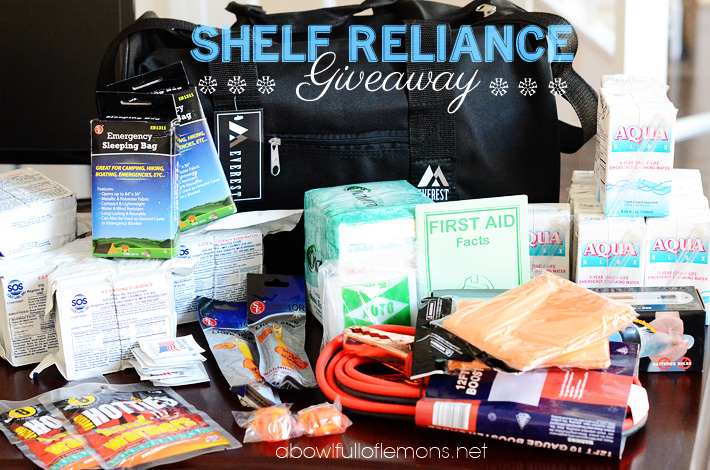 The 326 piece First Aid Kit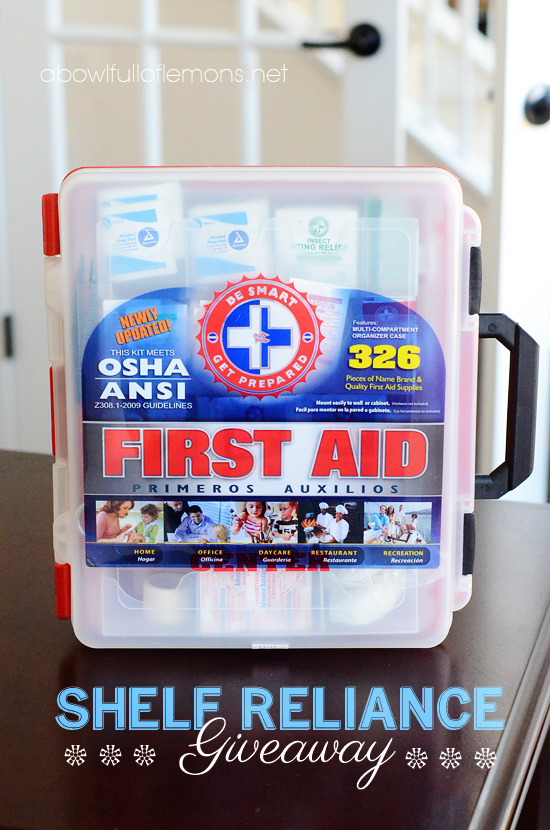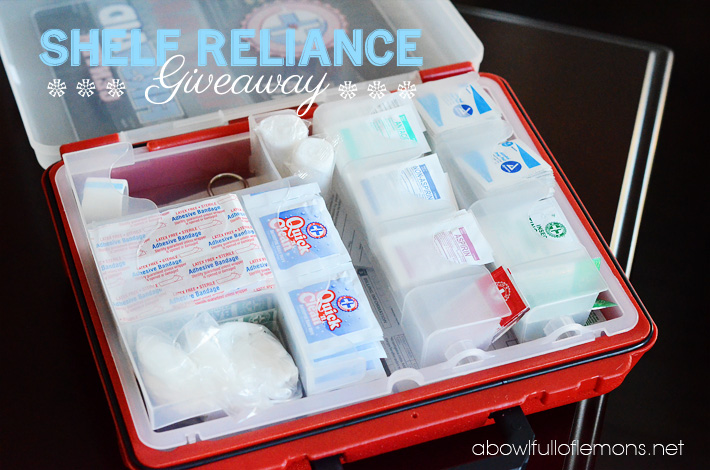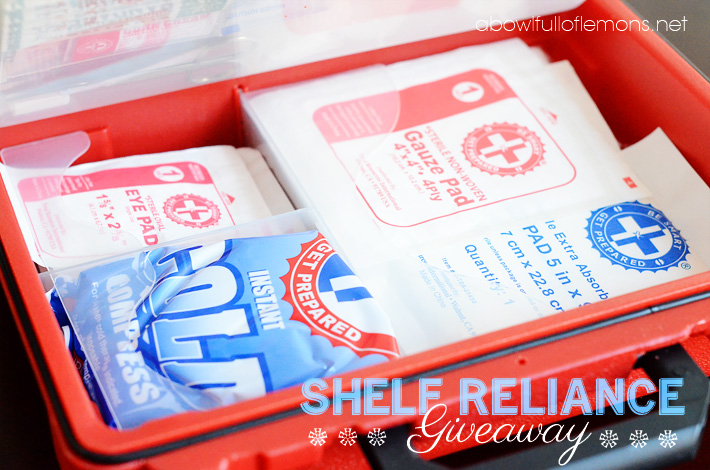 The Giveaway starts NOW and will end at 12:00 am est on Monday February 11th.  Tell your friends!
Shelf Reliance Deals:
Right now, Heather has some great deals for A Bowl Full of Lemons readers on emergency preparedness.
Solar Crank Lantern $29.99   Retail:  $39.99  
12 LED lantern is extremely safe for use indoors, such as a tent or RV, especially by children.  No fuel to spill and no carbon monoxide or fire danger.
Sawyer Point Two Bucket Filter $139.99  Retail:  142.99
This small, lightweight filter kit can provide up to 170 gallons of clean water per day for over 16 years. This filter has a Manufacturer's 1 million gallon guarantee.  It offers protection against bacteria protozoa, and viruses mechanically.
Need a job? Want to learn more about Shelf Reliance?
If you are looking for an inexpensive way to build up your food storage and emergency supplies you should check you the benefits of being a Shelf Reliance Consultant, it is a great way to build up your supplies for free and ½ off.
Visit Heather Lorimer's Shelf Reliance Website:  http://homeparties.shelfreliance.com/home
Tags: emergency preparedness, giveaway, shelf reliance
Blog, giveaway Posted in 98 comments