If you were to describe what the products under your kitchen sink look like, what would you say?  Would they be similar to the picture below?  Or would they be more like the pictures further in this post?  If they are toxic products, what's stopping you from switching to greener options?  Do you know what their ingredients are?  Do you care?  Those are some questions to ask yourself.  If you do care, keep reading…
Today I am sharing ways that you can "makeover" under your kitchen sink. In other words, you will learn how to "green" up your home by switching to non toxic cleaning methods.  There are many ways to do this. Today, I will share how we did it.
Below is an example of what our cleaning products looked before our "switch".  Look familiar?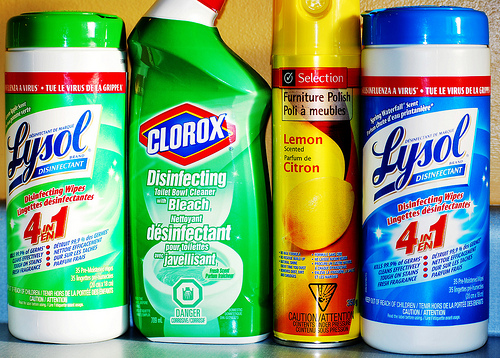 Here is what it looks like now.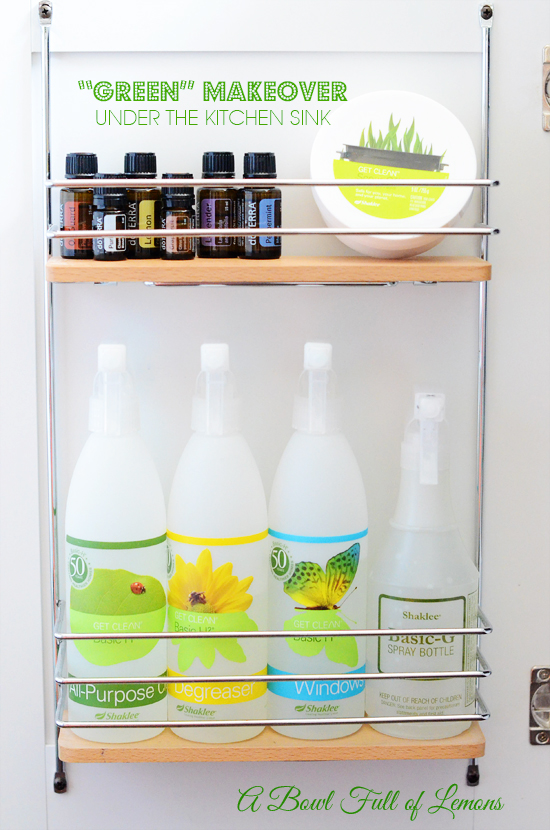 Where to begin?
The first thing we did was swap out all toxic cleaning products for all natural products.  I used to use clorox, comet, and anything else that "promised" to clean well. Whatever my mom used, I was surely using.  THEN, I got smart. I educated myself on the hidden dangers of the products I was using around my family. Soon after, we made the switch. This was over 2 years ago. Now, whenever I go shopping, I try my best to choose "green" products that are good for our home & environment.  When making these same changes, you will improve the overall health of your family and prevent illnesses related to toxic & synthetic chemicals.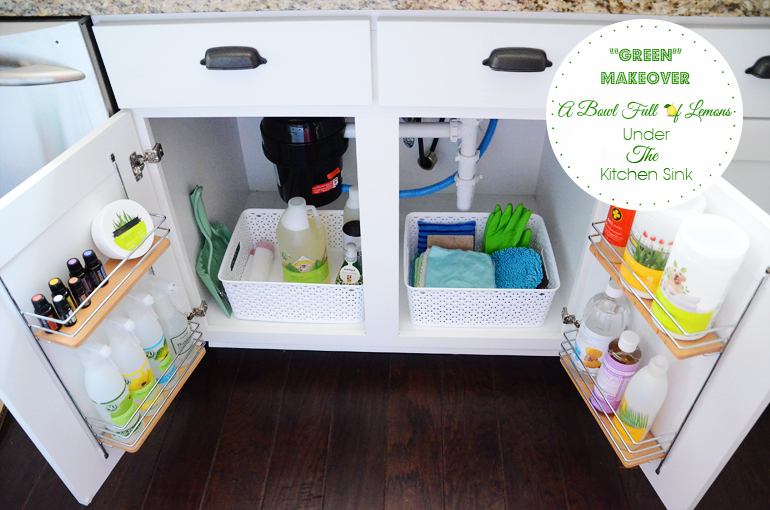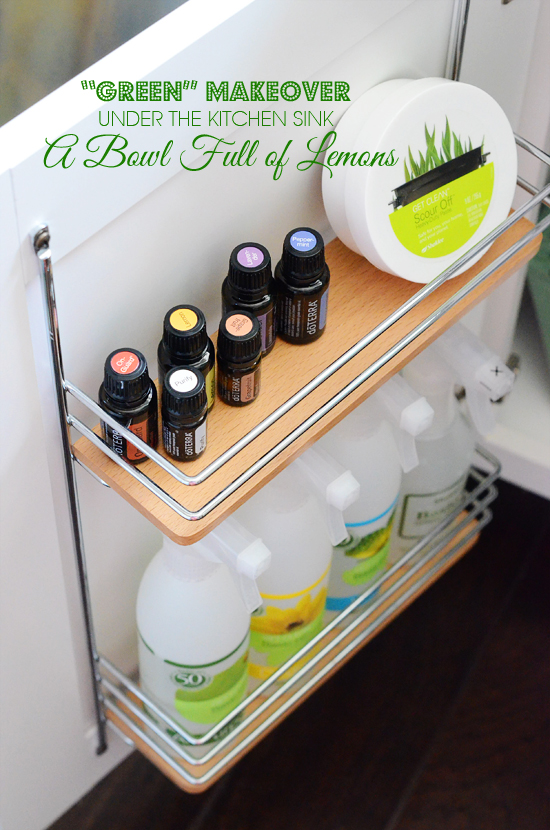 Use Essential Oils – Swap out your synthetic fragranced cleaning products for pure essential oils. Cleaning with essential oils not only gives you a pleasant aroma while cleaning, but it effectively cleans and deodorizes naturally.  Synthetic fragrances are harmful to your health.  They contain neurotoxins, phthalates, allergens & sensitizers, all of which are nasty little things.  To read more about the harmful effects of synthetic fragrances, visit here.  If you are new to essential oils, read my post here.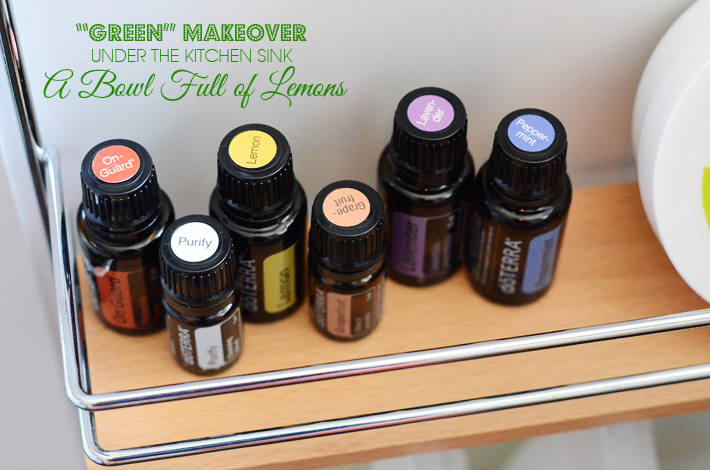 Non toxic dishwashing:  There are many methods to washing dishes the "green" way.  Keep in mind, it's "greener" to wash your dishes in the dishwasher since it uses less water.  Also, avoid synthetic dyes &  fragrances, and choose phosphate free when shopping for dishwashing soaps.
Liquid Castile Soap – This is an all natural Liquid vegetable soap, that is non toxic and super concentrated so it will last you forever.  Here is a great recipe for castile dishwashing soap.  There are also recipes for use in the dishwasher as well.
Phosphate Free Dishwasher Detergent – Shaklee has a great natural detergent for the dishwasher.  It's phosphate, chlorine, and fragrance free. There are many other brands that are phosphate free as well.
All natural Liquid dish soap – Non toxic, phosphate free, all natural & hypoallergenic are what you need to look for when purchasing dish soap. I use either Shaklee or Method (Tomato Vine).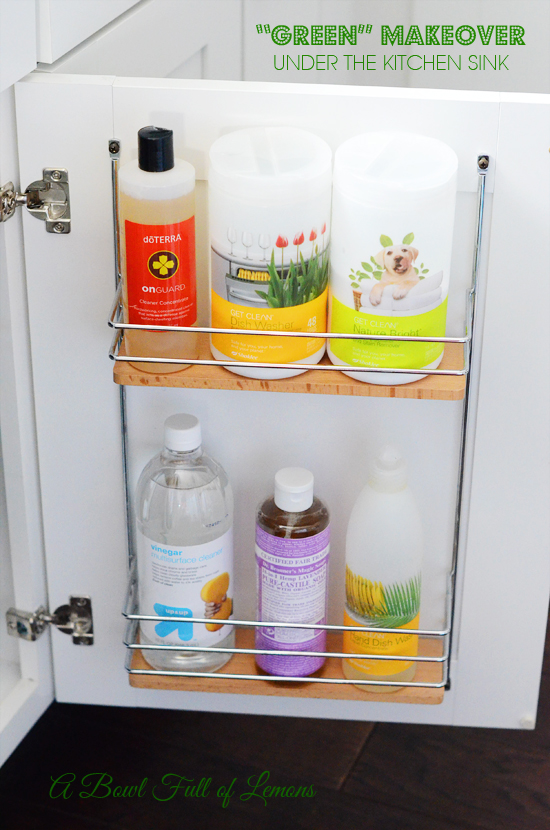 All purpose cleaning:  You can clean your entire home with any of the following "green" products…
Vinegar – I could go on for days, sharing the ways you can clean your house with vinegar. It is all natural and effective.  Here are 10 easy ways to clean with vinegar in your home.
doTERRA's On Guard –  This is an all purpose cleaner concentrate (one bottle makes 12 spray bottles of cleaner) that targets viruses and bacteria on hard surfaces. You can also wash clothes with it.  It's made with pure essential oils, including 5 ml of the popular On Guard. For details on this cleaner, visit here.
Basic H Organic Cleaning Concentrate  –  This is one of the "greenest" cleaners you can use. It makes 48 gallons all purpose, organic cleaner!!  Since its completely natural, its unscented. So, I add a few drops of pure essential oils to each bottle when cleaning.  You can also use this for windows, degreasing, and a gazillion other things.
Method – This company offers non toxic & biodegradable cleaning products with style.  I love the limited edition "Tomato Vine" scented dish and hand soap.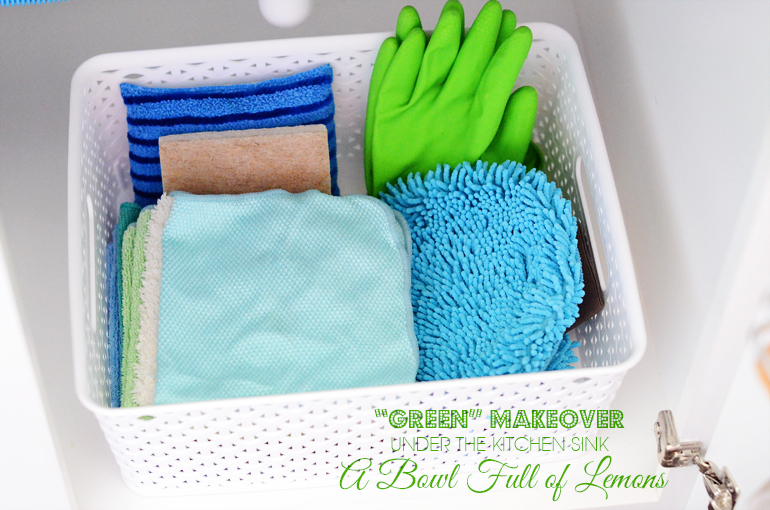 Reusable Cleaning Products:
To "clean" green, you really should eliminate the paper towels.  Invest in some microfiber cloths and keep them handy under your kitchen sink.   Also, environmentally friendly "green" gloves are perfect to take care of your beautiful hands.  Make sure they are "reusable".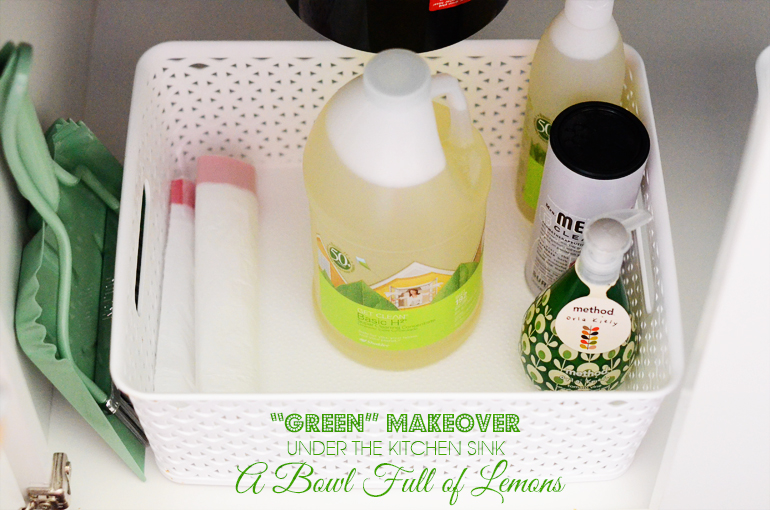 Scrubbing:  There are 3 natural cleaners that I recommend using to "Scrub" hard to clean surfaces.  
Scour Off – This product is made from natural mineral abrasives & the pits of cherries. It smells divine.  It's one of my favorite cleaning products.  You can clean your oven, sink, tile, & tub.  It will even remove rust, and is great for cleaning copper, grout, cement, ceramic, and imitation marble.
Meyer's Surface Scrub –  This product is an aromatherapeutic scrub thats chlorine and phosphate free.  You can use it to clean stainless steel, porcelain, pots & pans.
Baking Soda –  Anything that needs "scrubbing" can be cleaned with baking soda & elbow grease.  Its cheap, natural, and works well.    Use lemon halves to scrub the baking soda into a paste (helps whiten or "bleach" areas that are yellowed).
My cute mint colored dust pan and broom came from World Market.  Its great for kids to sweep up dinner crumbs.
These are just a few ways to makeover "under your kitchen sink".  Going green doesn't happen in a day. You have to incorporate it into your lifestyle.  A little at a time makes a huge difference in the long run.  I would love to hear how you are going "Green"?  Also, let me know if you would like to see more blog posts like this one?
*This post contains affiliate links.
Tags: green cleaning, kitchen, organize, organizing, under the sink
Blog, Clean, Cleaning, Green Cleaning, Kitchen, March 2013, Organize, Pure Essential Oils, Shaklee, shaklee featured Posted in 56 comments