We would like to take a moment and give a shout out to all of our wonderful sponsors! Without them, ABFOL wouldn't be what it is today.  Please take a moment and visit our sponsors websites. Many of them have great specials for the month of June.  This is a great time to get a head start on your Christmas shopping  (did I just say that?!), buy a special gift for yourself, or something to help you with your organizing adventure.  If you are interested in becoming a sponsor & advertising your business on A Bowl Full of Lemons, visit our advertising page (here) for details.
ORIGAMI OWL

It's been said that Living Lockets are the latest trend in jewelry; but the truth is, they're so much more than that. Living Lockets are an extension of you – because each and every one is custom designed to tell a story of your life + of what's important to you.  Origami Owl Custom Jewelry is a social selling company with a unique twist; we were founded by a 14 year old entrepreneur! Read more about our story at http://stacykreider.origamiowl.com/story/.
Build your Living Locket in 5 simple steps:
Step 1: Select the CHARMS that tell your story or represent things you love
Step 2: Choose a LOCKET
Step 3: Choose a CHAIN
Step 4: Add a hand-stamped metal PLATE
Step 5: Add a DANGLE (or two!)
Email stacykreider@gmail.com for her summer specials or shop on her website here…  stacykreider.origamiowl.com.
CLEVER CONTAINER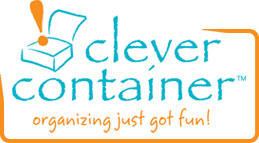 Clever Container is: "all about organizing, functionality, ideas, and fun! We have fabulous products to help you organize your life. We'll provide clever & helpful tips whether you are just getting started on your organizational journey or are already an organizing "junkie". "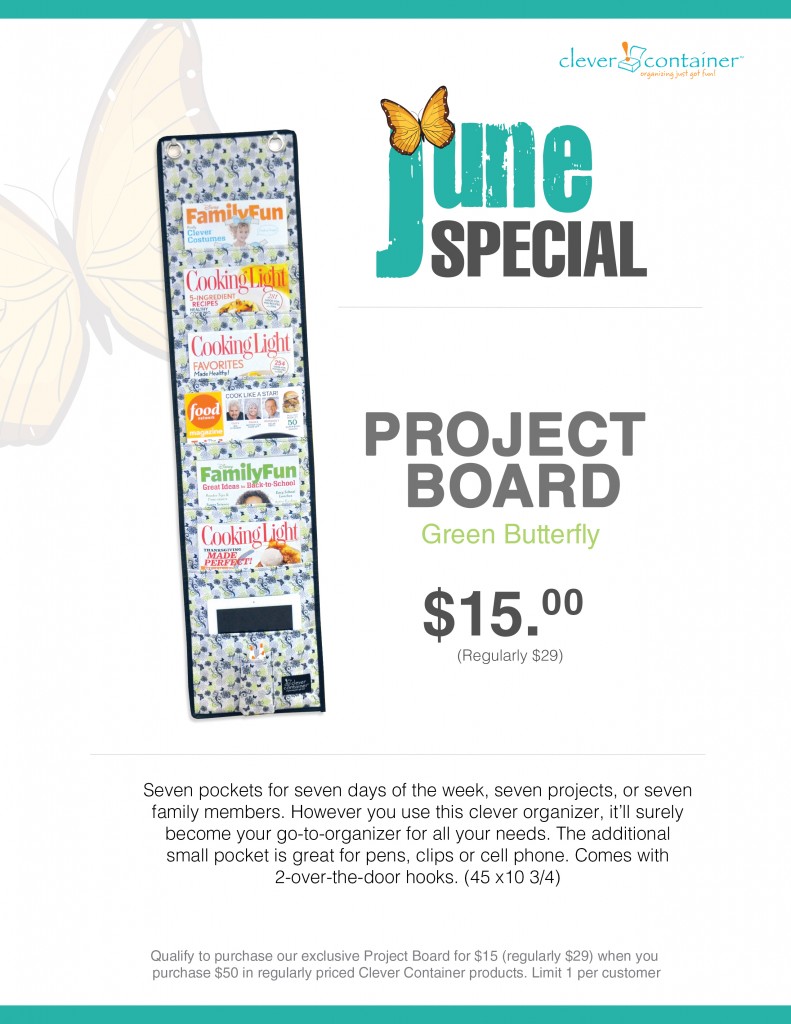 Samantha Hobbs
Consultant #1039
Phone – (417) 389-8798
Website – http://mycleverbiz.com/organizeu
Facebook – https://www.facebook.com/pages/Clever-Container-Samantha-Hobbs/542826985732024
2B ORGANIZED
2B Organized is a professional organizing firm started by Betsy Miller in 1997 in Springfield, Missouri. 2B Organized has helped hundreds of clients with their organizing challenges and has organized everything from a single closet to managing entire out-of-state moves. 2B Organized primarily serves southwest Missouri but has traveled with clients to vacation and family homes around the country.  Own your own 2B Organized franchise!  Contact Betsy below.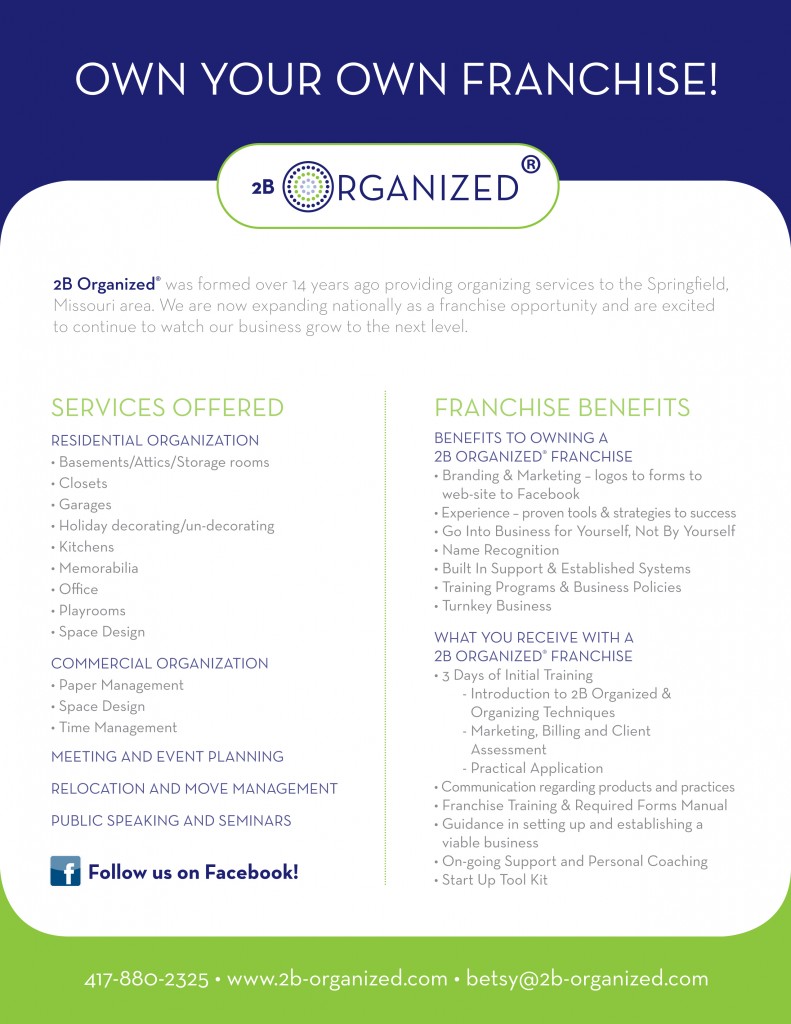 Betsy Miller
2B Organized
Facebook & Pinterest  2B Organized
CLEAN MAMA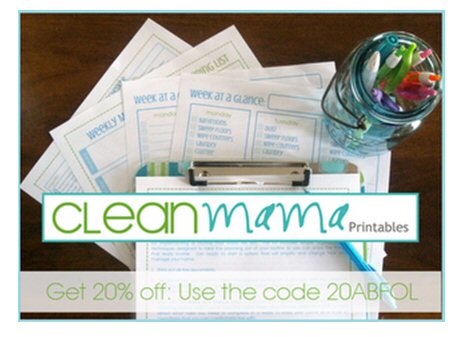 Becky at Clean Mama is here to help you discover new ways to do the mundane tasks of cleaning, organizing and hopefully bring a little more fun into the process. She has printables available for purchase through her etsy store- everything from 'to do' lists to an array of binder kits! Be sure to check out her store.  She has been adding lots of new and updated kits – here are a few:
The Medical Kit, The Garden Planning Kit, The Prayer + Blessings Kit, and The Natural Living Kit
JUNE SPECIAL:  20% off coupon code – 20ABFOL
Email
FACEBOOK
TWITTER
PINTEREST

A TIME FOR EVERYTHING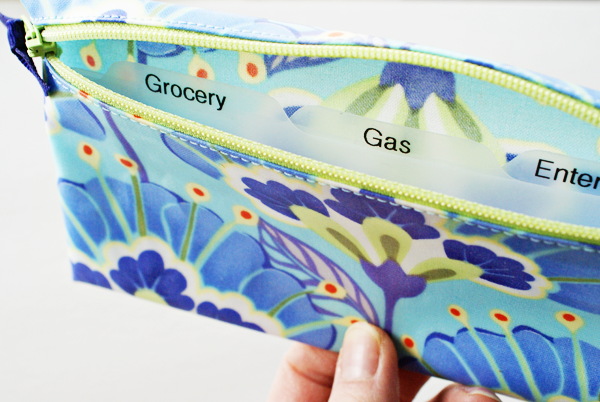 Melissa offers great products to help organize your finances through the envelope system.  Her adorable wallets make it easy to keep track of spending.  This month she's offering all ABFOL fans a FREE set of custom lables for the tabbed dividers when you purchase a Divide-It! wallet.. Just leave a note mentioning "ABFOL June special" and specify your six category names (maximum of 13 characters and spaces). This offer cannot be combined with any other offers.
SABIKA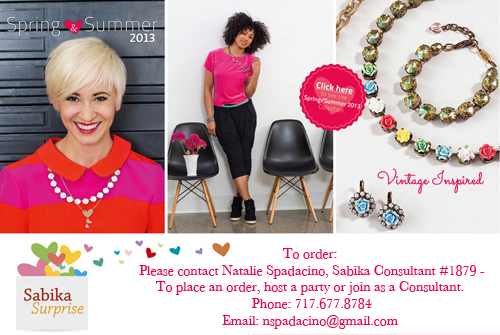 Sabika is a company founded by women for women. We bring beauty, joy and opportunity to women of diverse backgrounds and ages. Our products are handmade and uniquely designed to bring out every woman's individual beauty and style. It is our plan to develop into a nationwide home party network through products and services that take home parties to a new level of sophistication. We offer beautiful, handmade Austrian Swarovski Crystal jewelry to compliment every look from jeans to the nicest affair! Please contact Natalie Spadacino, Sabika Consultant #1879 to place an order, host a party or join as a Consultant. Phone: 717.677.8784 Email: nspadacino@gmail.com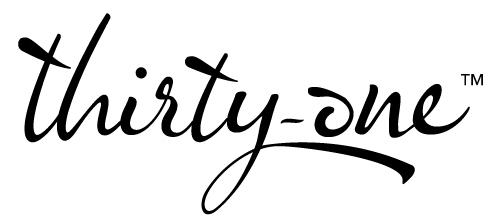 ThirtyOne is a line of Organizational Products for the Home and for the Girl on the Go. Fun, functional and stylish products that are designed to make your life easier. Beautiful patterns with an option to personalize with embroidery make it the perfect gift.  Our commitment is to provide women with a fulfilling, enjoyable and rewarding experience. 
www.mythirtyone.com/ericamckinley
Love the way candles smell but not all the risks that are involved with candles? Scentsy is a safe alternative to traditional wicked candles. Scentsy leaves your room, car, laundry and more smelling great without the risks that go with wicked candles. Scentsy warmers use a low watt light bulb to melt a food grade wax which means there are no toxic chemicals, lead, or soot left in the air. With the low watt bulb, there is no open flame to get burnt on or start fires as well the wax is not hot enough to burn. Kendra has a huge selection of warmers to match your décor and tastes as well as over 80 different fragrances to choose from. She also has bath, body, and laundry items as well as to go items like scent circles and travel tins. To check out all Kendra has to offer go to www.Kendraa.scentsy.us!
Scentsy has 2 great promotions going on for the month of June.
1. Scent and Warmer of the month. The warmer is called "God Bless" and the Scent is called "Bananaberry" which is "lusciously sweet banana cream layered with succulent strawberries" Both are 10% off for the month of June only. These two will go to the standard pricing on July 1st and will be gone from the catalog come November.
2. June Hostess exclusive is "Fun in the Sun". It is available to hostesses only through June 30th. Hostesses can use their half off rewards to purchase this exclusive item. It retails for $70 and the hostess can get it for $35. It is a canvas tote with detachable clutch. Inside it has a Havana Cabana SPF 50 Sunscreen and a Havana Cabana lip balm. The tote bag measures approximately 13″ tall x 18″ wide at top x 14″ wide at bottom.
As always you can email Kendra at kendraahmed@gmail.com to see if she is running any personal monthly specials, ask questions, etc. Visit Scentsy at  www.kendraa.scentsy.us
FRIDGE COASTERS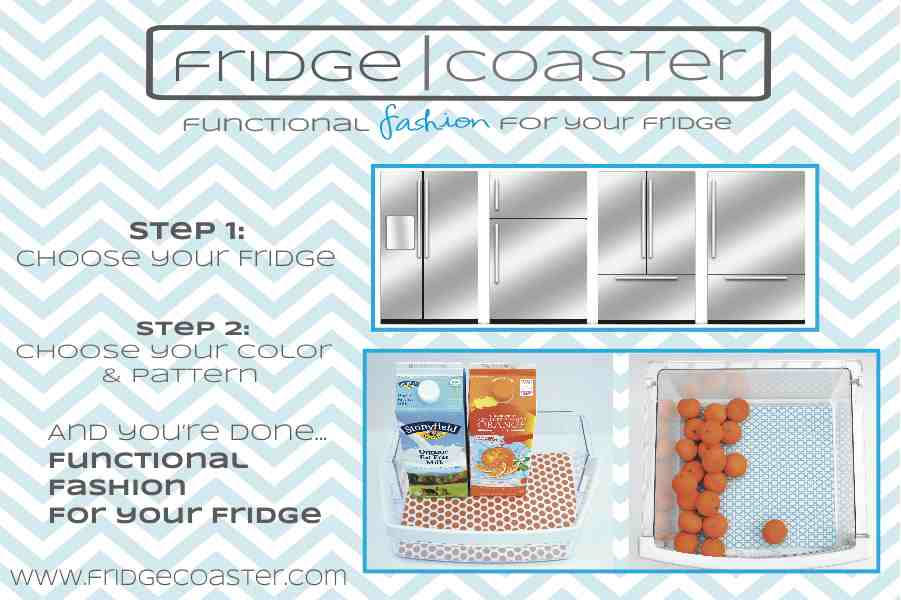 Don't you hate scrubbing your refrigerator bins and surfaces?  So do we! And now you don't have to.  We're the husband and wife duo behind Fridge Coaster.  Fridge Coasters are super absorbent "liners" that come in different sizes to fit all high traffic areas of your refrigerator. Place under produce in the crispers to keep your veggies fresh longer, or under milk and salad dressing in the doors to absorb drips that would normally dry to the bottom of your bin, ewww. Fridge Coasters provide time saving function and fashion to the inside of your refrigerator.  In addition, we're really proud to say that our sustainable product is made 100% in the USA of 30% (or more) post consumer product.  We then use a UV-dried printing process which means the ink never bleeds beyond its original printed shape even when fully submerged in water!  How awesome is that?  Long story short, Fridge Coasters will save you a ton of time and put a smile on your face every time you open the fridge.
June Special:  ABFOL readers can use promo code "ABFOL8" to save 8% on all orders.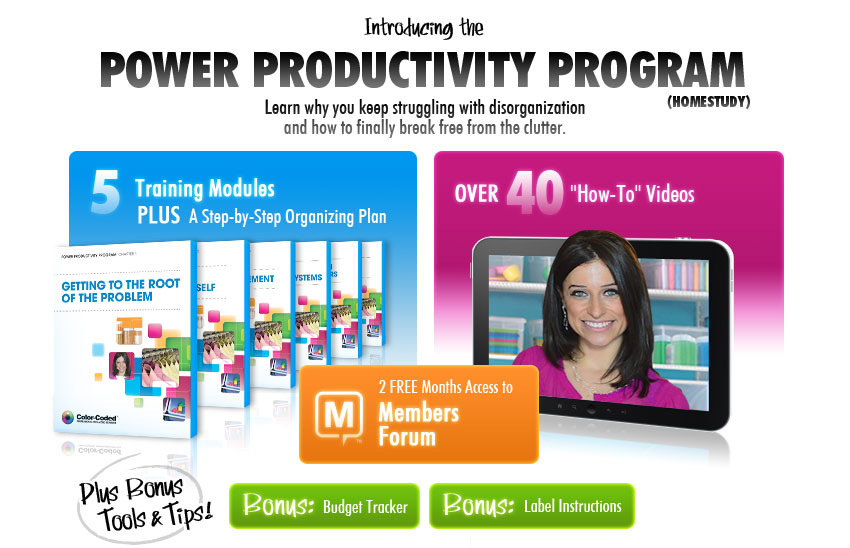 Alejandra Costello is a Certified Professional Organizer who shows individuals how to become more organized and productive on a daily basis by setting up systems that work for their own organizing style. Alejandra started her company, Alejandra.tv, in 2008 at the age of 23 and to date has shared her organizing expertise with thousands of people in over 100 countries around the world. Formerly an IT engineer, Alejandra was named 1 of the 5 most organized people in America by HGTV. Her expertise has been featured in HGTV, The Washington Post, Family Circle, Woman's Day, The Washington Times, CBS, NewsChannel8, and Mashable.
Alejandra just added 40+ "how to" videos and lots of printables to her complete organizing program (the Power Productivity Program)! In the program she shows you step-by-step how to get organized, stay organized, and become your most productive self without slipping back to your old ways. The program give you the tools you need to finally overcome your battle with physical and mental clutter.Her latest videos from this month:
[VIDEO]: Organizing for Kids: How to Teach Kids Where Things Belong
[VIDEO]: Receipt Organizer for Home Office Organization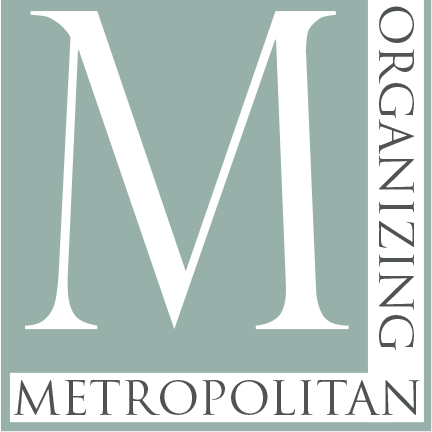 Geralin Thomas is a professional organizer who offers organizing solutions for busy families; real solutions, for real people. If you need practical resources or creative ideas and inspiration to help you better-manage your modern lifestyle, you're in the right place. In addition, she offers resources for professional organizers who want to increase productivity, boost confidence and improve their bottom line.  Her business in located in North Carolina. If you aren't able to visit her in the Raleigh area but want to chat,  drop in and say hello via her blog, "Managing Modern Life"  
http://metropolitanorganizing.com/category/managing-modern-life/
 or email

Daisy Blue offers all natural products for your skin and for your home, so you can feel good about bringing them into your home. Their promise to you is "No parabens or other artificial preservatives. No phthatlates or artificial frangrances. No sulfates, sulfites or phosphates. No silicones, paraffin or mineral oils. Cruelty and Gluten free products. Only the good stuff" .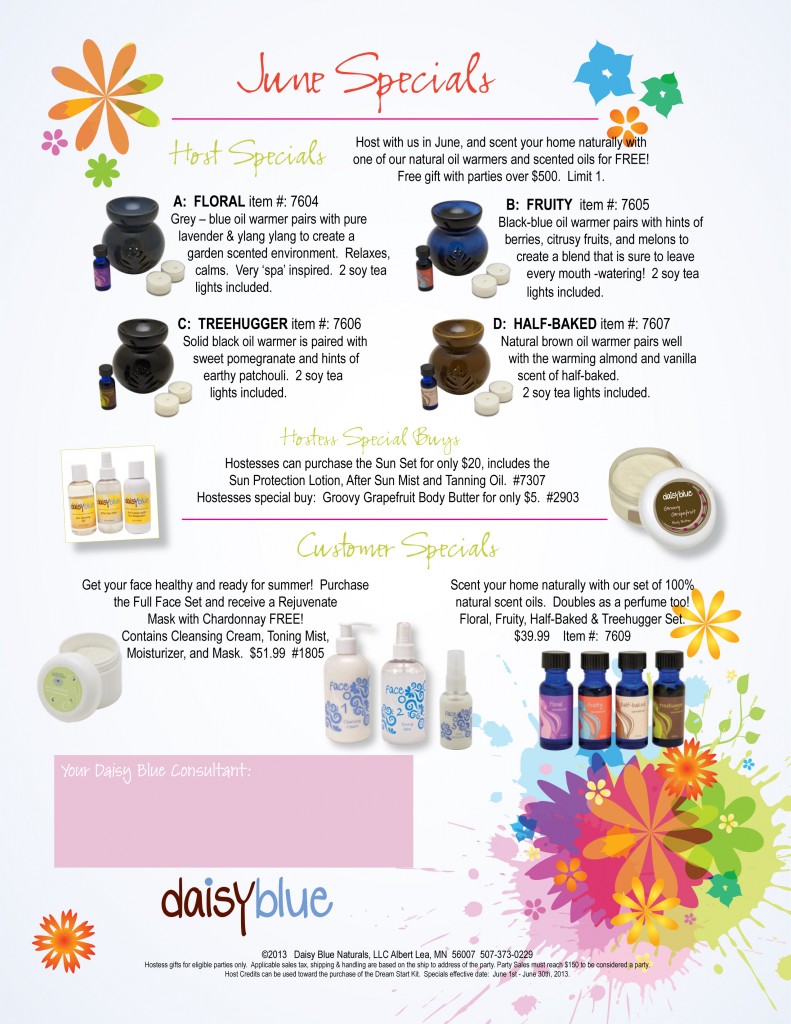 Krista Ruthstrom
Website: www.6445.daisybluenaturals.com

Email: kbruthstrom@yahoo.com
Facebook: https://www.facebook.com/KristasDaisyBlueNaturals
PARTY LITE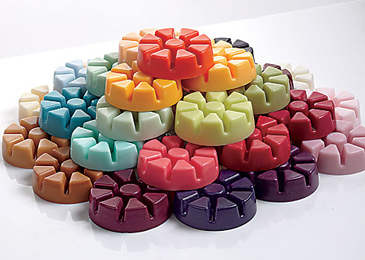 Summer time is right around the corner! Enjoy our Happy Hour scented candles at 25% off for the entire month of June!! Our summer catalog is open until July 31st, but why risk having your favorite lantern sell out? Grab yours now and get your front porch, back deck, or pool area ready for summer fun! If you're looking for a guest pleasing scent that also wards off those summer time pests, check out our Geranium Citronella scent, which is not only offered in candle form, but in garden incense form! I'm so excited that summer is on it's way that I'll also be doing a raffle twice this month. Once June 15th, and again on June 30th for a $25 gift certificate. Every $50 spent gets your name in that raffle, and $250 gets your name in that raffle 10 times, and when you sign up for Party Lite Preferred, I'll send you  a special gift. Hope y'all are as excited about summer time as I am, it's going to be scent-sational!!
Check out all the specials here.
Contact: courtneyaaron007@gmail.com
BLESSINGS UNLIMITED

Blessings Unlimited offers a unique blend of business and ministry with exclusive home decor items and gifts created to encourage hearts, build relationships, and bring beauty to the place where you live.
OUR MISSION:
To pursue the heart of God
and bring blessings to others.
http://www.myblessingsunlimited.net/cristinpotter
SHELF RELIANCE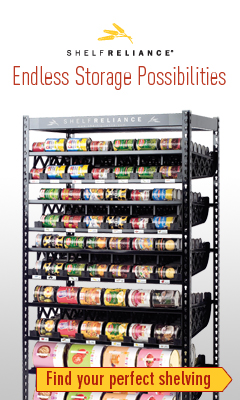 Meet Heather from Cooking with My Food Storage, where she blogs about incorporating food storage into regular meals.   Heather is a consultant for Shelf Reliance which is a premier source for pantry organization, food storage, and emergency preparedness supplies. Right now, Heather has some great deals for A Bowl Full of Lemons readers on pantry organization.  First, the Cansolidator  Pantry can organizer, which you can snag up for just $21.49, is 52% off!  This organizer will rotate 40 cans, it's easily adjustable and stackable.  The best part is, your pantry will be so much easier to keep organized. Also, for anyone who is "into" food storage and loves to be organized, the  Harvest 72″ food rotation system works great.  It organizes cans of all sizes up to 460 cans.  By ordering from Heather,  you can snag it for $270.29. (The price will show up as $350.01. After adding to the cart, you will see the discounted price.)  
Visit Heather Lorimer's Shelf Reliance Website http://homeparties.shelfreliance.com/all-products/frs-food-rotation-systems/the-cansolidator-series/cansolidator-pantry.html to see what they have to offer.
If you are interested in becoming a sponsor & advertising your business on A Bowl Full of Lemons, visit our advertising page (here) for details.
Tags: June 2013 Sponsors, sponsors
Blog, June 2013, June 2013 Sponsors, Sponsor Shout Outs Posted in 2 comments