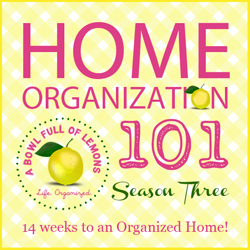 Welcome to week 9 of Home Organization 101 (Season 3). This week, we are cleaning out and organizing the dining room (or area where your dining table is located). Is your dining room in need of an organizing overhaul? I hope the challenge is going well for you. A well organized home brings a calm atmosphere for the family. Good luck this week!!!


Week 9 – THE DINING ROOM
The dining room is where the family should end their day… sharing how their day went, making memories!  Right?  I bet a lot of you cannot say that about YOUR dining room. It may be the "catch all" space for you.  Or you might only use it for formal occasions. My dining room is used every day. We choose to eat dinner in there. We don't save it for fancy dinners or holidays. We get some good use out of it. So we need it to be organized and functional. I hope my tips will help you to create a functional & organized dining room for your family to enjoy.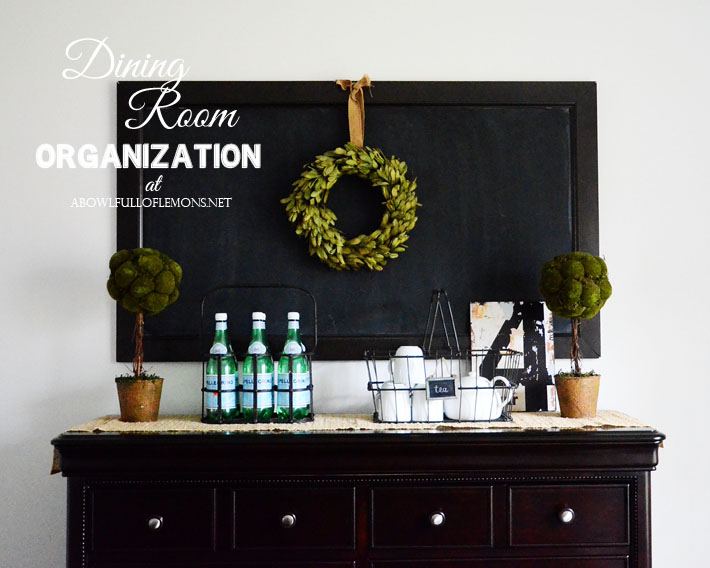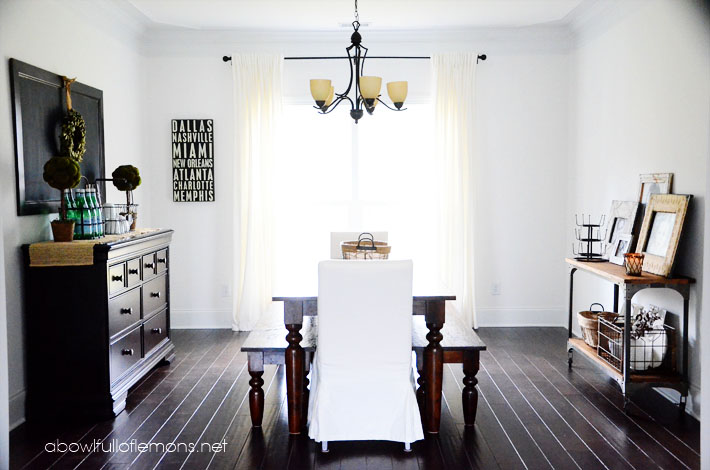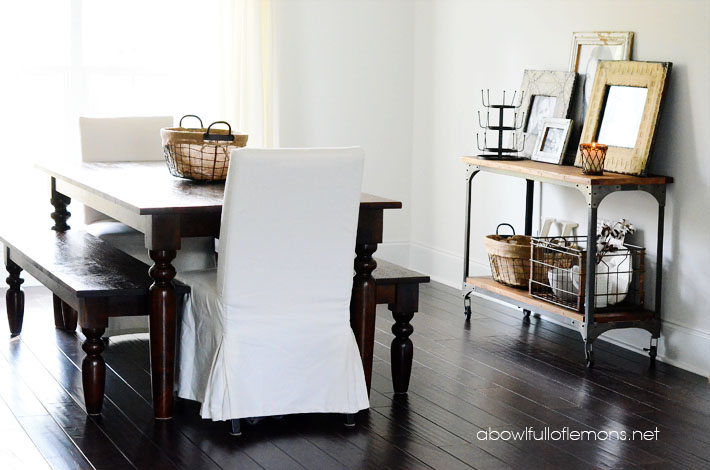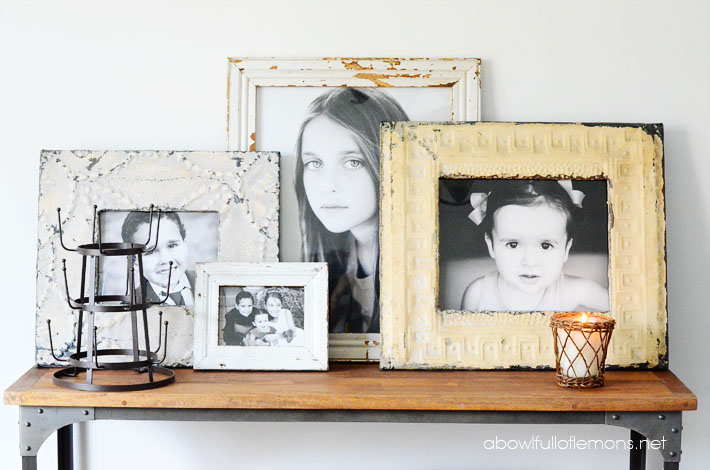 I love storage of any kind. I picked up this vintage milk crate at a local antique store.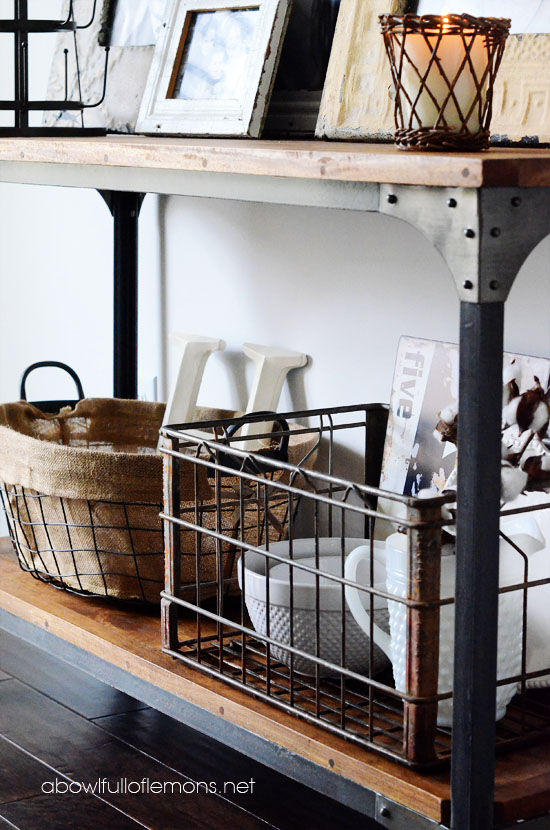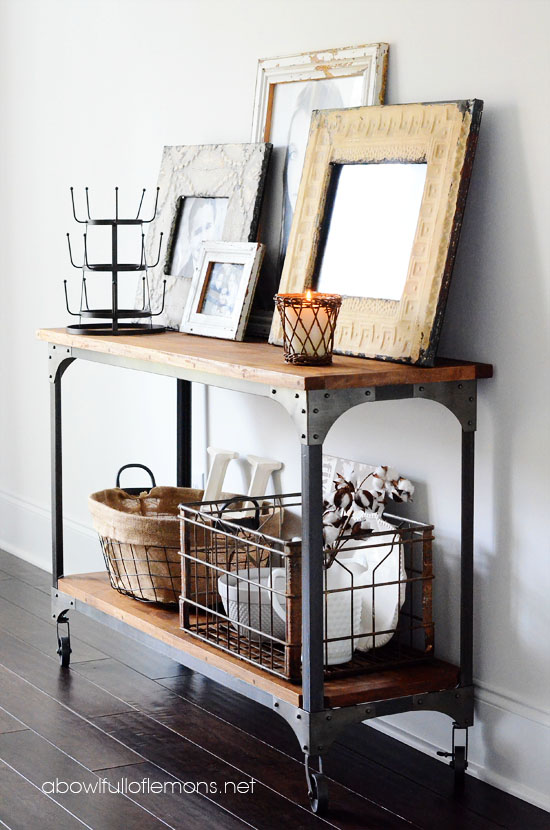 I love my vintage aprons & the mini chalkboard tags are a cute accent to the them.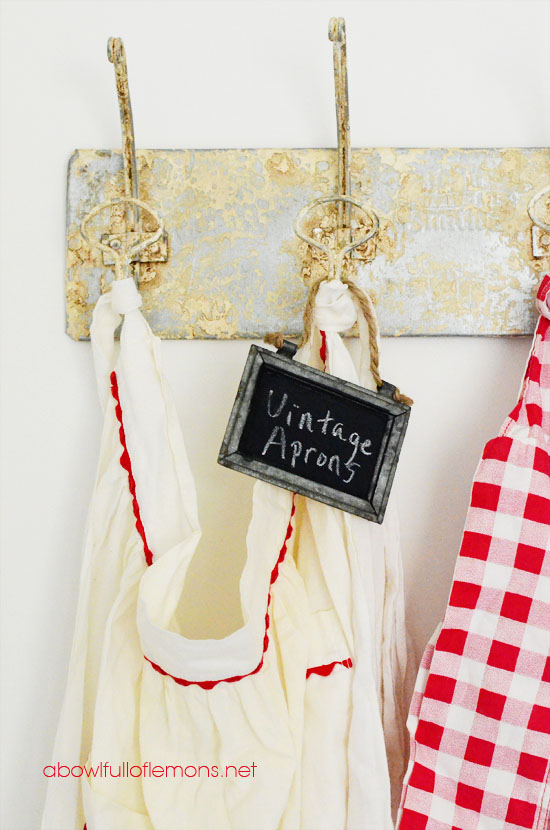 Baskets of any kind are a good organization tool for the dining room. You can keep alot of stuff in them.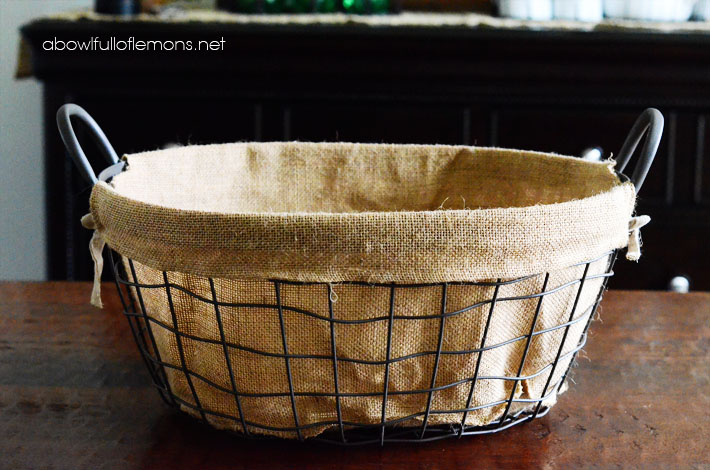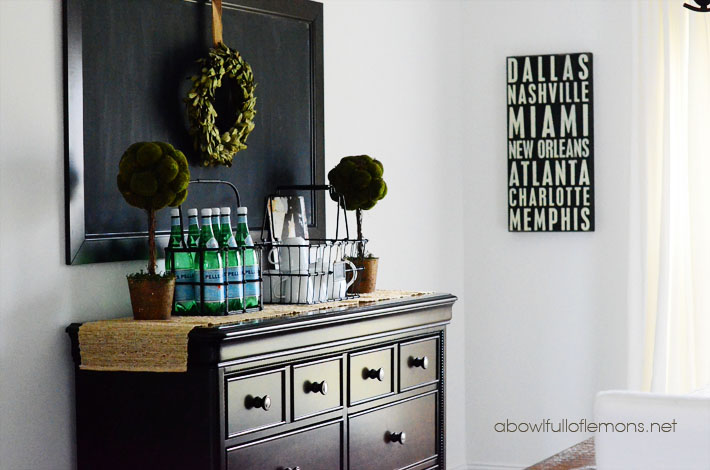 My husband and I made this chalkboard out of scratch!  We used a thin board from Home Depot, painted it with chalkboard paint, mitered baseboard for the frame.  Then I spray painted the frame oil rubbed bronze. I LOVE how it turned out.  The size is 60×35″.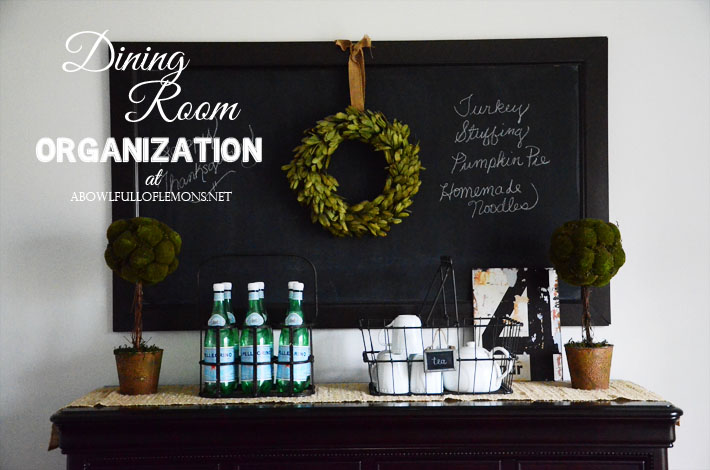 This dresser is perfect for all of the things we use in the dining room.  This drawer is for "napkin" related items (disposable napkins, rings, cloth napkins, hand wipes).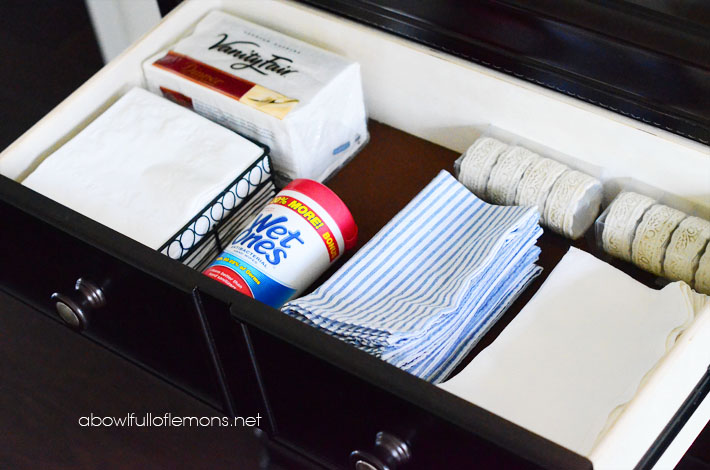 This is our beverage drawer. We use these items often after dinner.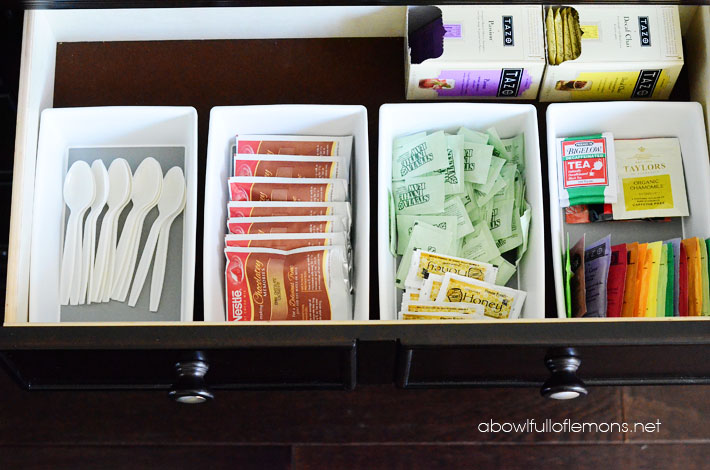 This drawer contains my "summer" linens, placemats, and disposable dishes.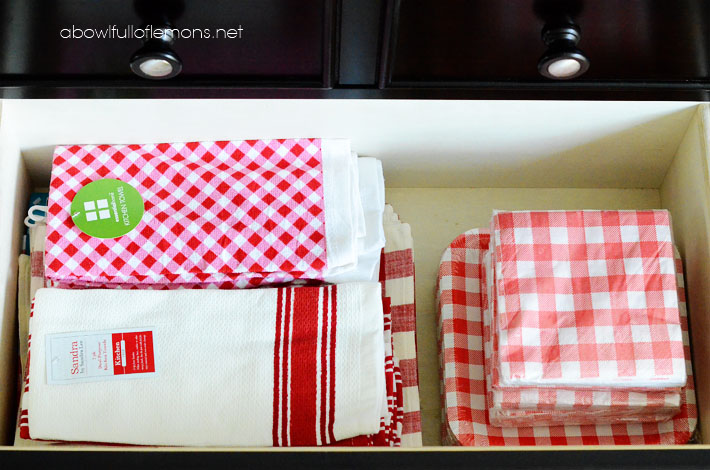 Table cloths go into this drawer.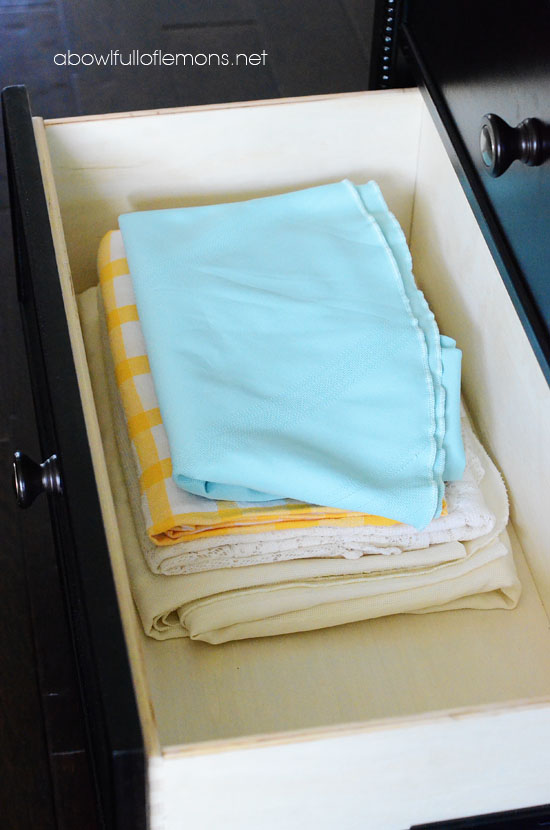 We use these placemats daily.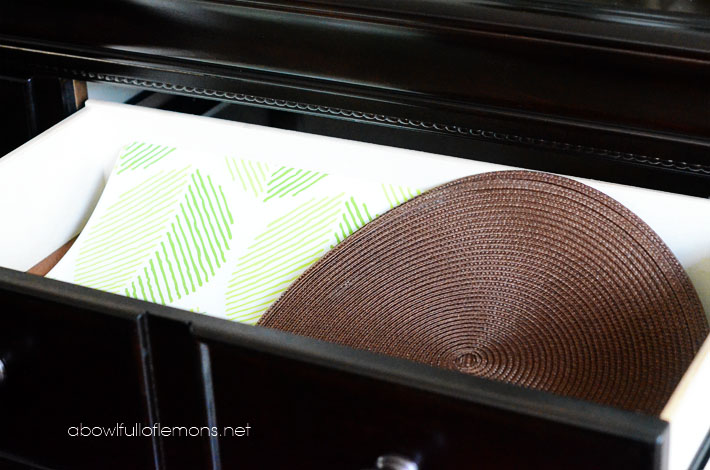 Disposable dishes are stored in here. I use these often for "pizza" nights, kids snacks, etc.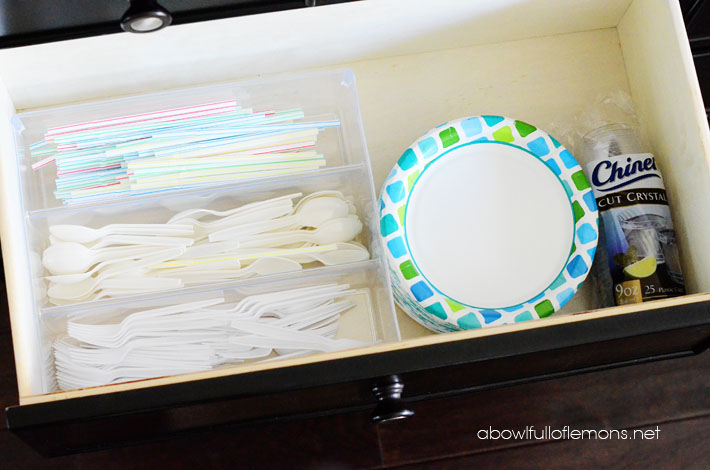 To recap, you can create organized drawers for the following:
1. Disposable dishes
2. Napkin related items
3. Place mats
4. Table Cloths
5. Beverage drawer
6. Seasonal linens & placemats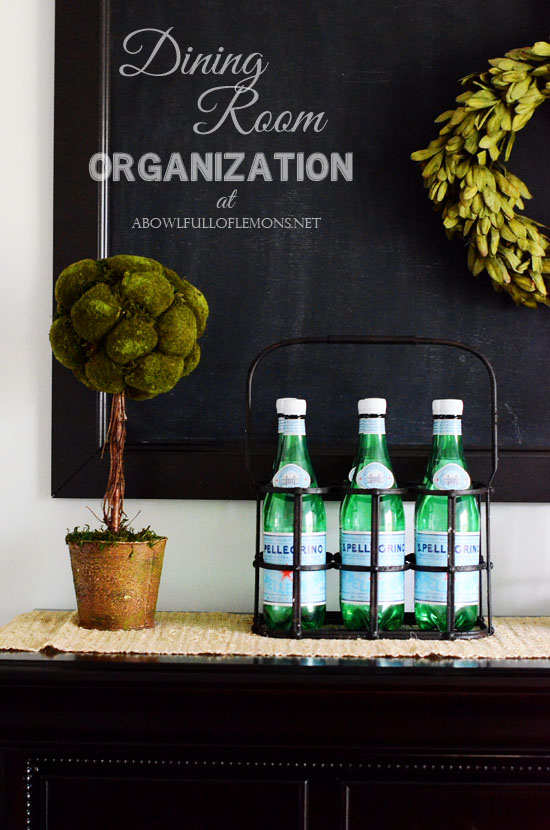 Where did I find my things?
Mini Chalkboards – Here
Dresser – Big Lots
Vintage Water caddy – Ross
Topiaries – Store in Greenville, SC
Chalkboard – Made it ourselves 🙂
Bay Leaf wreath – Target 4 years ago
Table runner – Target
Wire basket on dresser – Hobby Lobby
Wire baskets on rolling cart & table – Home Goods
Number signs – Local store
Table – World Market
Slipcover chairs – Ikea
Subway word art sign – Home Goods
Vintage rolling cart – World Market
Picture Frames – Dryads Dancing (online)
Drying rack – World Market
Curtain panels – Ikea
Curtain rod – World Market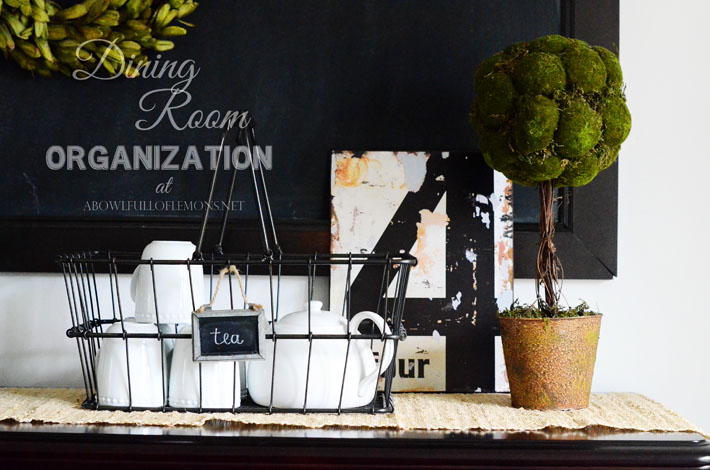 THE PROCESS
Organizing the dining room is a pretty basic process. If you have a hutch or buffet, you can easily create a functional space.  If you dont have one, you can use a dresser like I did. I could not find a buffet that I liked, so I purchased a bedroom dresser!  I got mine at Big Lots for $499.  You can reuse one that you already have. Paint it or keep it the same.
1.  Take a picture of your space before you begin.
2.  Clear out the space using these 4 bins (keep, donate, trash, other room).  Place the bins in another room until you are ready to re-organize.
3.  Once you have gone through everything, the room should be empty (besides the furniture).  Give it a good cleaning!  Scrub the floors, table, baseboards, buffet, etc.
4. Now you are ready to put back everything that belongs.  Categorize like items (using the examples in my dresser pictures).
5. Decorate to make it "your style".
6. Take "after" pictures and come back here to link up!
Organizing your dining room is very rewarding.  Creating an inviting space for your family to come together every evening to share memories is definitely worth the the time and effort.
HAPPY ORGANIZING!
Tags: dining room, home organization 101 season 3, organize
Blog, Home Organization 101 Season 3, July 2013 Posted in 6 comments