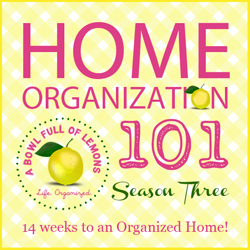 Master bedroom organization begins today.  We are now in week 6 of Home Organization 101.  You have made it this far. Don't give up now.  Get your bedroom organized and create an oasis for you to relax at the end of the day.  It's time to clear the clutter!
WEEK #6 – The Master Bedroom
This week we are cleaning and organizing our master bedrooms.  I am certain that many of you have not organized this space in a while, right?  Do you have "stuff" shoved under the bed, in the drawers, and clothes laying wherever there is an open space?  If you said yes, you most definitely need this week. I challenge you to
clean
your bedroom from top to bottom,
organize
it, and finally create the 'sanctuary' you have always wanted.  Your master bedroom should be your place for relaxation, not stress.   We are NOT cleaning out the closet this week… only the bedroom.
THE PROCESS
My motto for the master bedroom is "less is more".  Keep this in mind when cleaning & organizing this space.
1.
Take a picture of your space before you start.
  (Share it on our
fb group page
).
2.
Find 5 laundry baskets/boxes and label them with a piece of paper…
Keep – Everything that stays in the room.
Trash – Things that need tossed in the trash.
Donate – Everything that you are donating or giving to someone else.
Clothes – ALL clothes that stay in the room.
Other – Everything that goes to another room in the house.
3.  Concentrating on one hot spot at a time, empty the space completely.
Under the bed – Pull everything out and sort it into the baskets. This space should be empty!
Dresser drawers – Pull out all of the clothes and empty onto the bed. Go through each piece of clothing.  Does it fit? Do you still wear it?  If not, donate it! Fold and place the clothes back into the drawers (like items together).
Night Stands – Empty out the drawers and the top. Clean it off, wipe it down, and only put back the necessities back!
Dresser top – Clean it off, going through each item thats on there.  Sort though using the "basket system".  Wipe down and put back only necessary items.  This is a clutter hot spot. This is the first area people notice when walking into the bedroom! Try to keep it clean.
All other hot spots in the room – Using the "basket system" go through whats left of the room.
4.  
Clean
– This is the perfect time to deep clean your bedroom… Clean the windows, door knobs, baseboards, vacuum, dust…  Wash the bed linens, curtains, bed skirt… Give it a good cleaning.
5. Once its all clean, you are ready for the fun part!  
Its time to organize
!  This is the important step if you want to keep your room clean. Use baskets and bins to place "like" items together, around the room.
6.  Thats it. You're finished!  Now go light a candle and
enjoy your sanctuary
!
OUR MASTER BEDROOM
I purchased our bed at Ikea.  I love it!


The curtain panels are 96″ from Ikea as well.  The blinds are from Home Depot.


I love my Broyhill (Attic Heirlooms) bedroom set.  It matches well with the bed.
 I try to keep the dresser clear of clutter. The baskets, from target, are used for my perfume, candles,  and e readers.  The dresser can be the biggest clutter magnet in the room.  Try to keep it nicely organized.


Our e-readers fit well inside the basket.




Candles and Scentsy bars are stored in here.


My bedside table is organized for my personal needs.  I like to read at bedtime, so I keep some books on the bottom shelf.  I purchased these bedside tables for $79 each at Big Lots.  It took me forever to find them to match my dresser & armoire.  Organize your night stand for your needs!
I keep my magazines on the left side and my ipad on the right.


Using a drawer organizer for the night stand helps to keep things neat and tidy… and prevents it from becoming a junk drawer! Its perfect for my "night time" toiletries, etc…   You can find them (here).




I love these ceramic egg organizers. I have another one of them in my office (here).  They can be purchased in my store (here).




I love my books all neat and organized & within reach.


This is our bedroom "entertainment" center.  I found this buffet dresser on Craigs List for $60!!  It fits the flat screen perfectly.  My yoga mats go into this wire basket for easy access.
I keep all of our music cds & movies organized by genre in here.
My husbands office is through these french doors.  Decorating his room is one of my future projects to share with you.  The office-man cave!
I always have the "ginger" bar burning in my bedroom scentsy warmer.
I love decorating with vintage market baskets.


Using baskets in the bedroom keeps it looking neat and most importantly organized!  CONTAINERIZE your room.


My striped pillows (in front) are from Target. They are on clearance now.  My quilt set is Ralph Lauren, from Marshalls, and the navy ticking duvet set is Pottery Barn.
The bedding looks royal blue in the pictures but its not. Its a deep navy blue.


Remember to take everything out from under the bed.   If this space is cleared out, you will feel much better about your room. I promise.


Just remember:  Purge, simplify, containerize, organize, and beautify!!!  You will do great!


Happy Organizing!


Tags: home organization 101 season 3, master bedroom, organize
Bedrooms, Blog, Home Organization 101 Season 3, July 2013, Organize Posted in 19 comments