At the end of November, I decided to take a break from our book club and encouraged you all to pick a book that you might not have had the chance to read.  But now that the holidays are coming to a close, I'm excited to get back into the swing of things and welcome you to join me in reading January's book selection, The Husband's Secret by Laine Moriarty.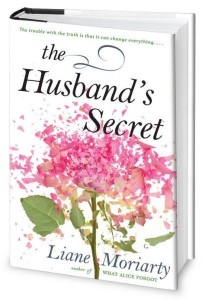 The Husband's Secret… "Imagine that your husband wrote you a letter, to be opened after his death. Imagine, too, that the letter contains his deepest, darkest secret–something with the potential to destroy not just the life you built together, but the lives of others as well. Imagine, then, that you stumble across that letter while your husband is still very much alive. . . ." text borrowed from Goodreads
You can purchase your hardback copy <HERE> or Kindle version <HERE>
Be sure to join us on Goodreads for our monthly, virtual book discussion and in our Facebook group for conversation, book suggestions, swapping and more!
Tags: book club, Goodreads
Blog, book club, Books, December 2013 Posted in 19 comments