As I continue sharing my spring cleaning tips with you this month, I would like to show you what I use to clean my house with & show you how you can green up your cleaning plan.  Start your spring cleaning off right by assembling the "ULTIMATE GREEN CLEANING CADDY".  Once you get your cleaning supplies organized, you will be all set to conquer your "spring cleaning plan".  Learn what's in my ultimate green cleaning caddy below.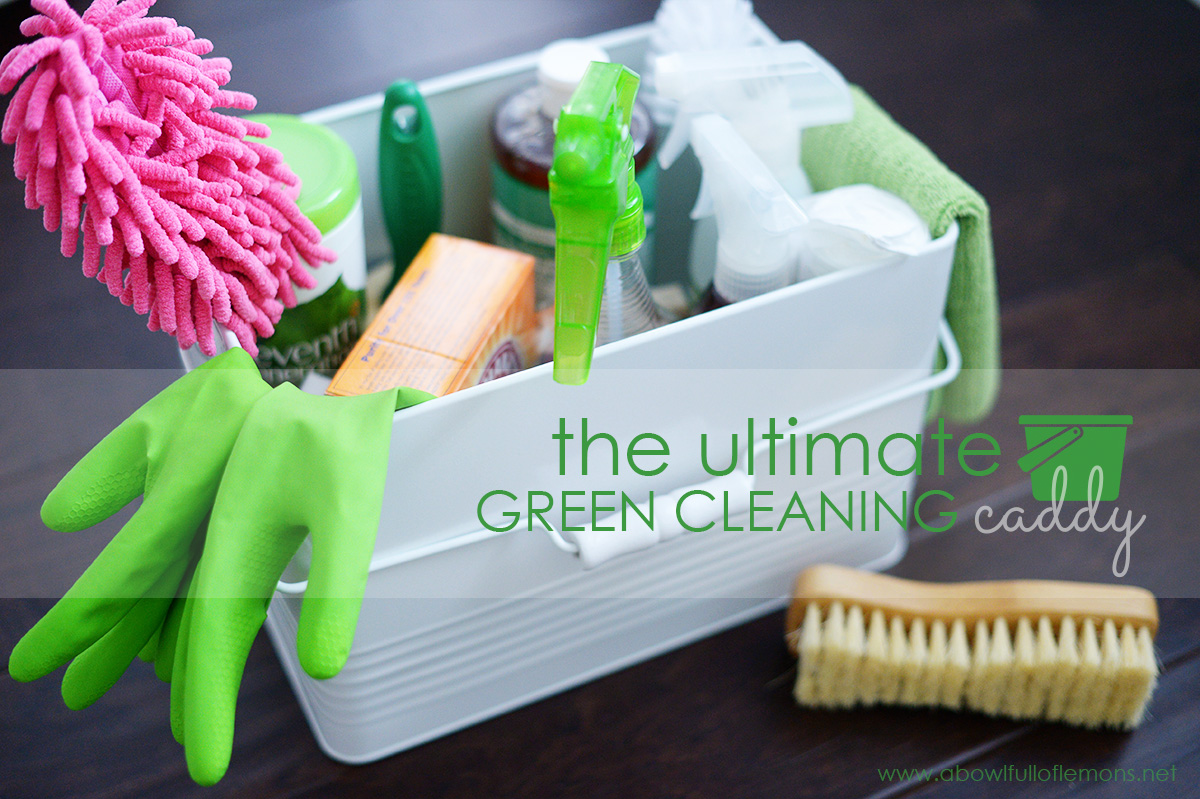 WHY GO "GREEN"?
Since I began educating myself about the toxic dangers within my home 4 years ago, I decided that I needed to do something about it – and fast.  The first thing I did was swap out our traditional cleaners for more healthy alternatives.  With the knowledge I gained, there was no way I could avoid the possibility of consequences, if I continued down the toxic "conventional" path I was on.  Those cleaners were not good for my families health, and they certainly weren't good for our environment.  If the bottle says toxic… don't buy it – It's TOXIC!  It's really as simple as that.  If you can't find a more natural alternative or you can't afford to buy organic/natural, make your own cleaners.  Knowledge is bliss and ignorance can be deadly.  What will you do with the knowledge you gain?  If you are not aware of the dangers of conventional cleaners, I urge you to educate yourself, for the sake of your health.  There is a sea of knowledge, right at your fingertips.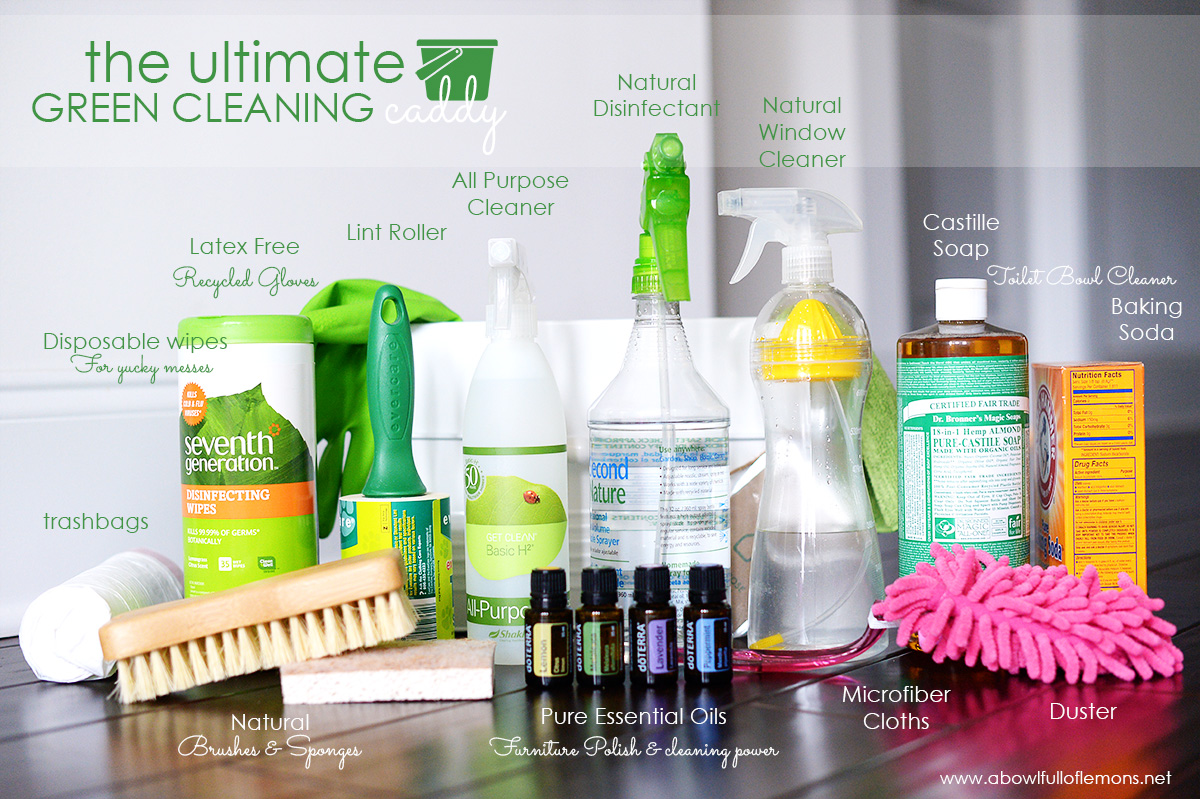 My "Ultimate Green Cleaning Caddy" includes:
TOOLS:
Microfiber Cloths
Scrub Brush
Disposable Cleaning Wipes
Toothbrush
Sponges
Duster
Cleaning Gloves
Grout Brush
Trash Bags (small & large)
Lint Roller
CLEANERS
Grout Cleaner
Window Cleaner
Disinfectant
Floor Cleaner
Tub & Tile Cleaner
Toilet Bowl Cleaner
Baking Soda
*Get the 8 essential cleaning recipes listed above, in my Spring Cleaning Kit & get the cleaning recipe cards for your caddy here.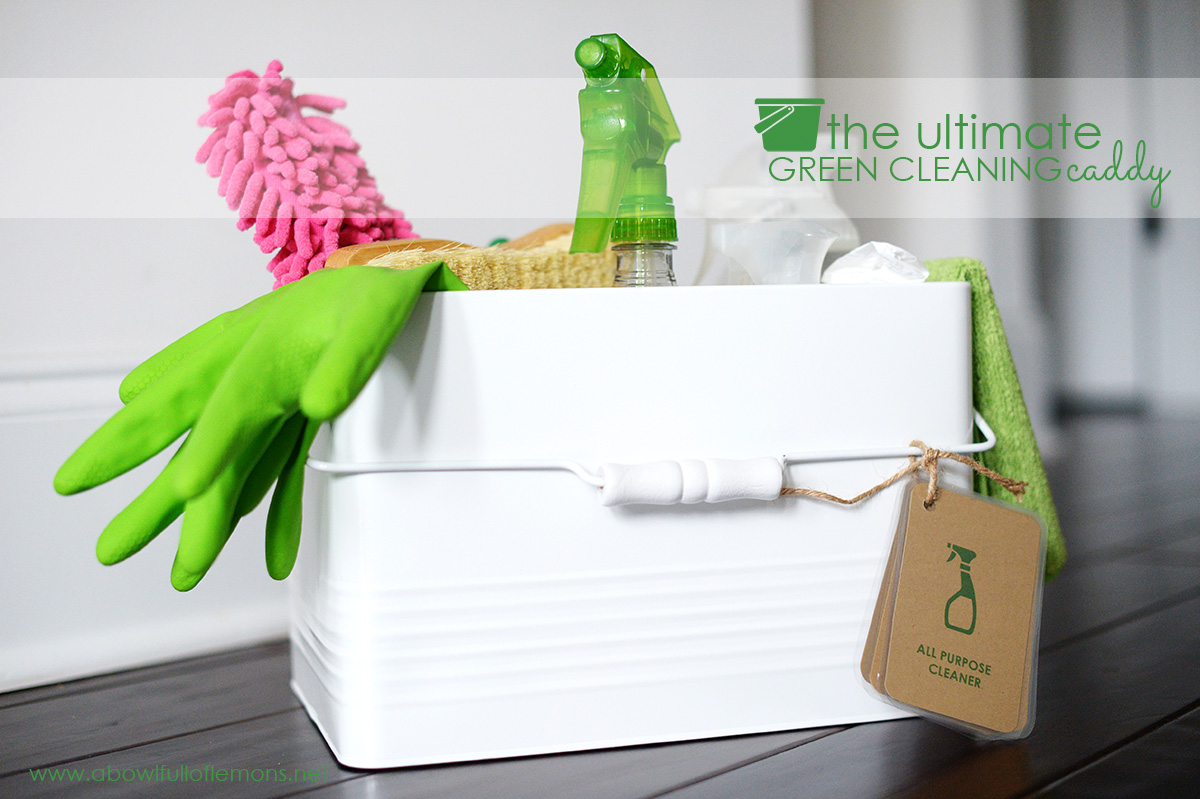 Switch to all natural brushes & sponges.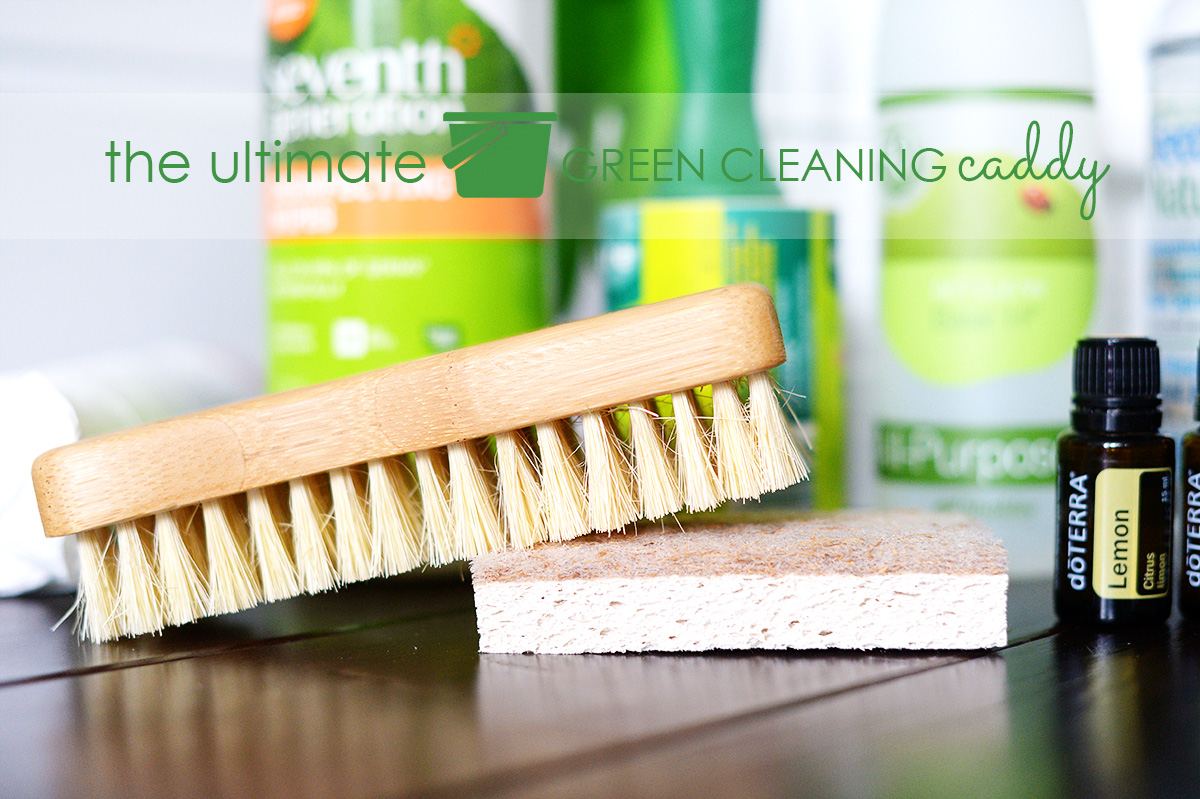 Castile soap and baking soda are the 2 ingredients for one of my "8 essential green cleaners". (Almond is my favorite castile soap scent).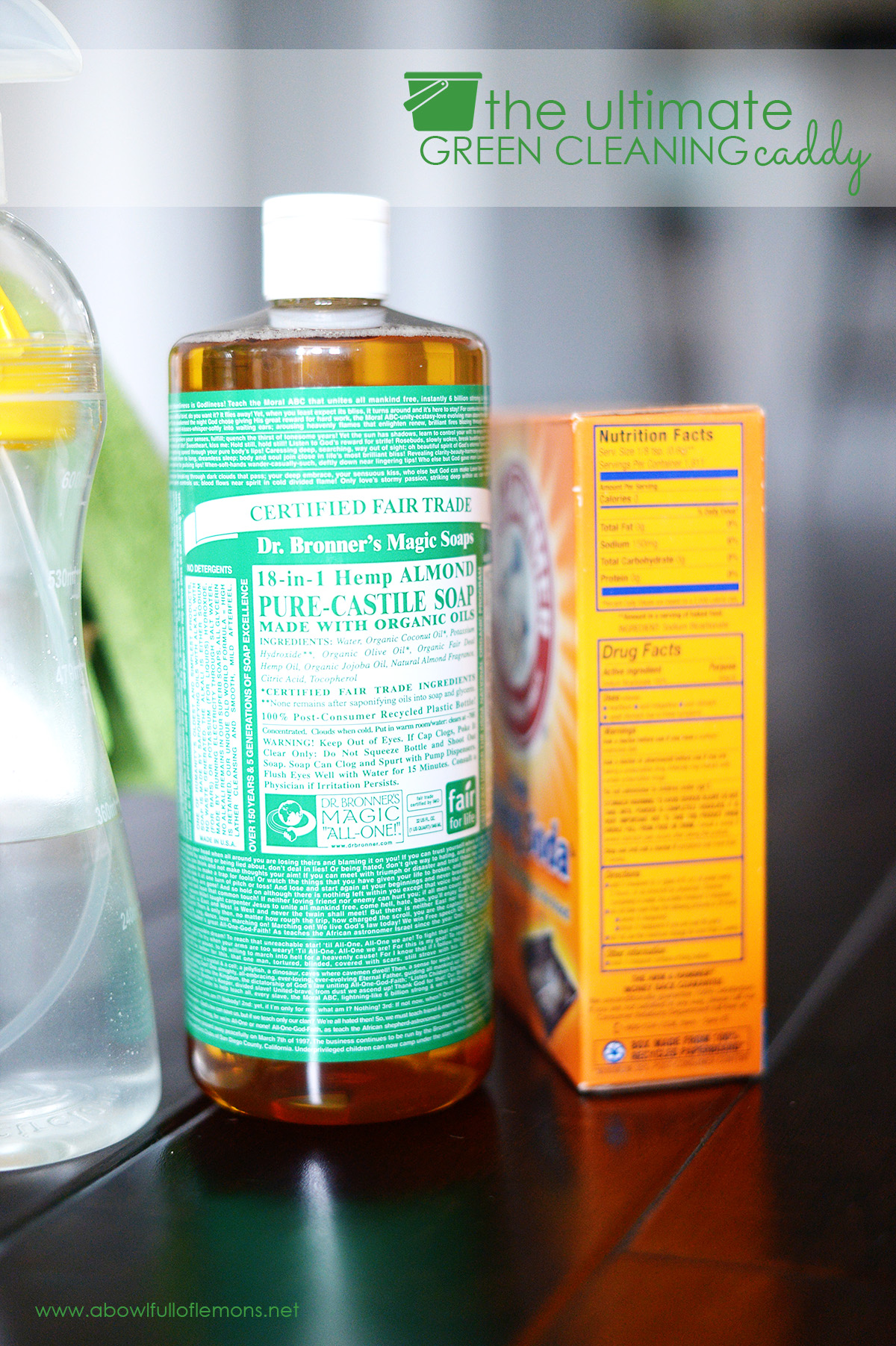 Pure essential oils are the base of all of my homemade green cleaners.  Here are some of the ways I use them.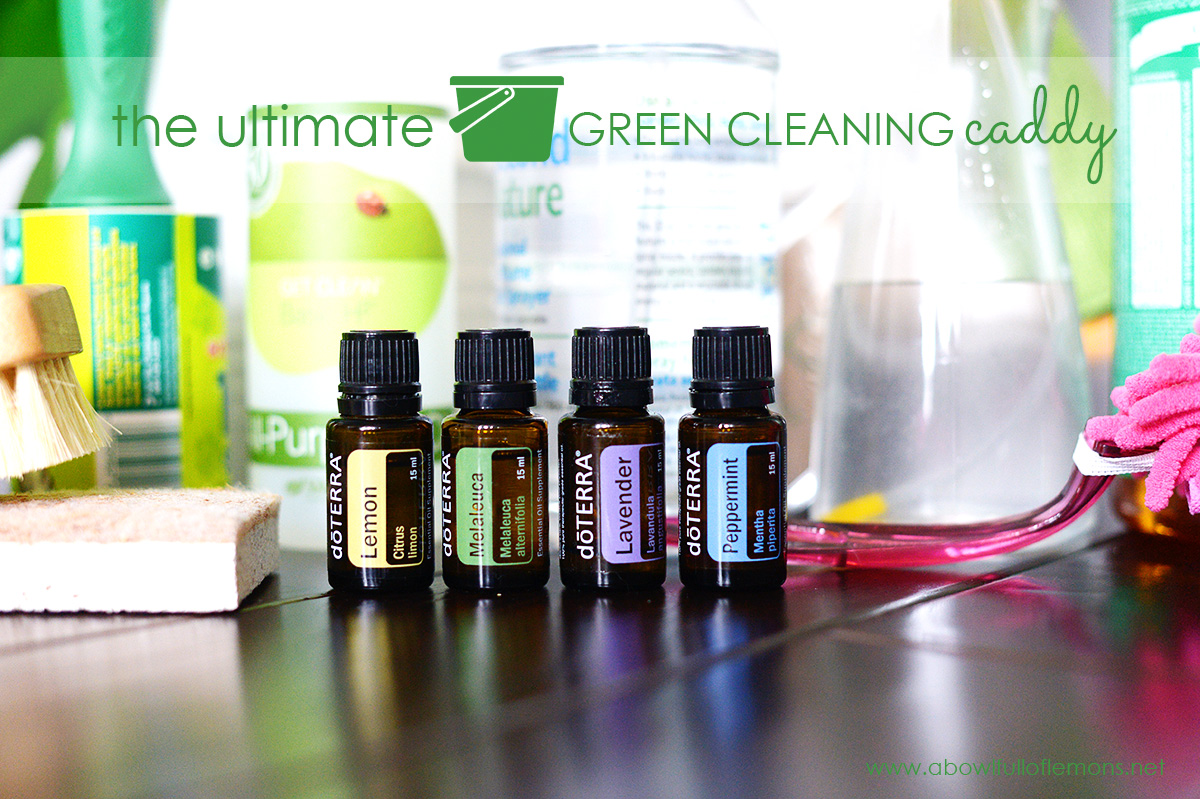 Basic H is my "go to" all purpose cleaner.  I add pure lemon essential to the mix. It smells divine!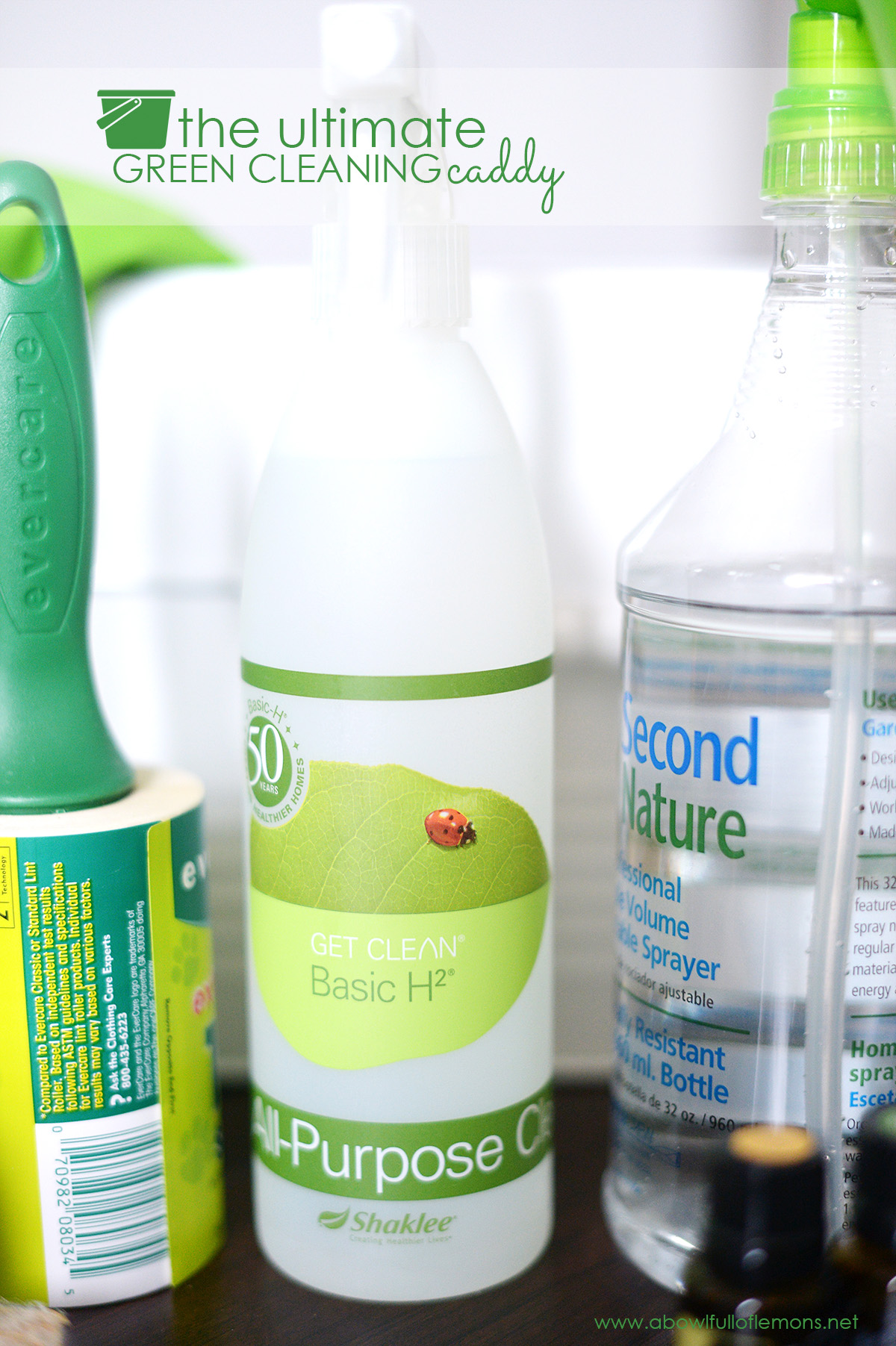 THE ULTIMATE GREEN CLEANING RECIPE CARDS
If you are a conscious consumer who wants to clean your home the healthy way, or you need to save money, why not try mixing up your own cleaners?  Throw out those toxic skulls in a bottle & save a ton of money!  I have created the "8 essential green cleaning recipe cards" that you can attach to your cleaning caddy.  When its time to mix up a new bottle, you won't have to go looking for the recipes. Best of all, you will be creating a healthy enviornment for your family.  Purchase below (via paypal), for only $4.00.  Hang the cards on all of your caddies.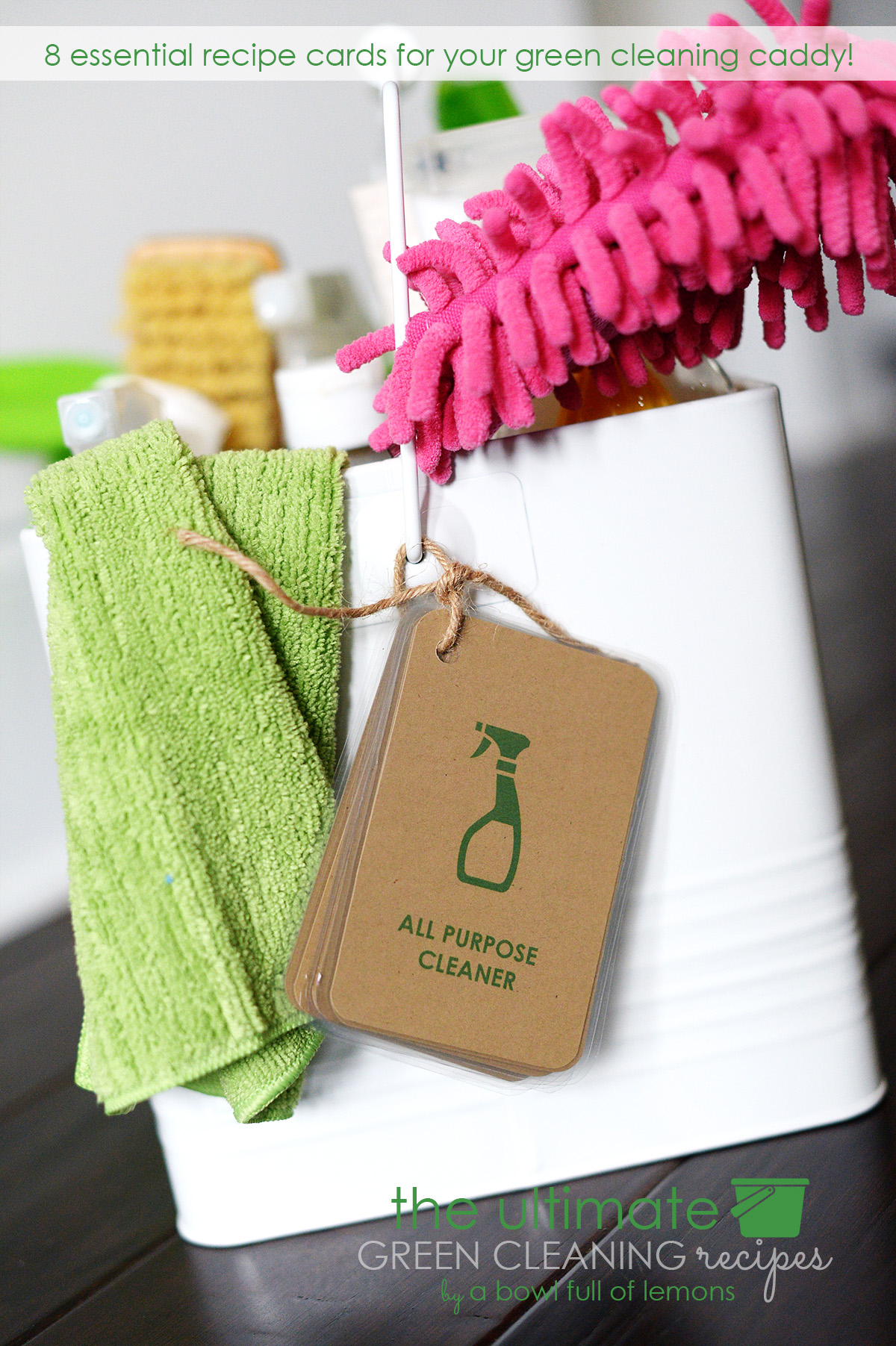 HOW TO ASSEMBLE THE RECIPE CARDS
Purchase the "Ultimate Green Cleaning Recipe Cards"
Print front and back on card stock paper (any color)
Cut into 8 cards & corner punch (if preferred)
Laminate (not necessary)
Punch  holes in the corner
Hang on your cleaning caddy with jute or a metal clasp
*I purchased the Kraft Card stock at Michaels & I used a Purple Cow Laminator.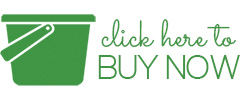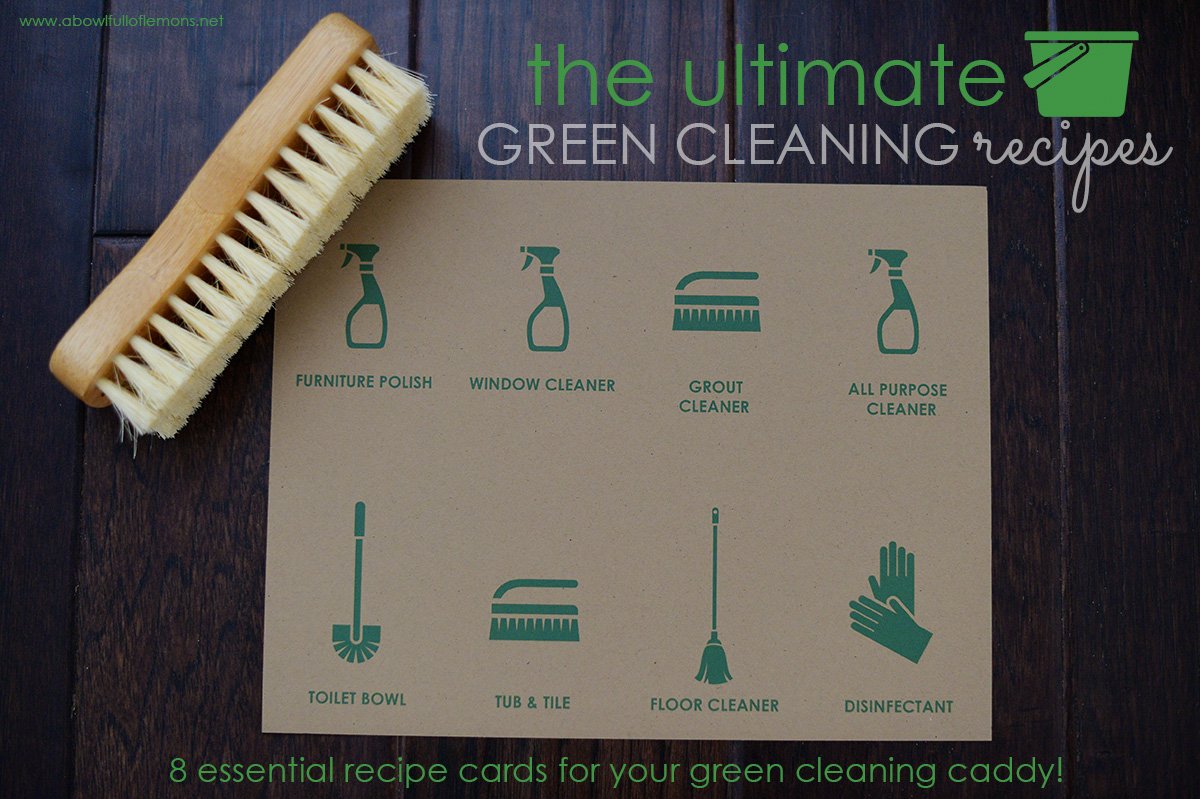 DETAILS
The "Ultimate Green Cleaning Recipe Cards" come in 2 downloadable pdf 8.5 x 11 files for only $4.00.   The front side has the title of the cleaners and the back side has the 8 recipes.  You have the choice of grass green or teal blue font. Copyright of A Bowl Full of Lemons, LLC.  For personal use only & may not reproduce, distribute, or sell.  Due to the nature of the digital product, there are no refunds.  Once you order, you will receive the files to the email you provide, within a few minutes.  Check your spam folder, if you don't receive them. Please make sure you type in your correct email address.  Thanks so much for supporting A Bowl Full of Lemons.
See all of my SPRING CLEANING blog posts here.
THE ULTIMATE SPRING CLEANING PRINTABLES KIT
Visit A Bowl Full of Lemons post HERE to get your "Ultimate Spring Cleaning Printables Kit". The kit includes the ultimate spring cleaning plan (as outlined below), a comprehensive spring cleaning checklist, a checklist for the kids, 2 blank checklists for you to customize your own spring cleaning, how to put together the ultimate cleaning caddy, your spring cleaning shopping checklist, notes page, and 8 essential spring cleaning recipes (recipe card printables not included) – all for only $8.00. It has everything you need to implement your cleaning routine this season. Get all of my spring cleaning tips in one place, & come back to ABFOL to see how I implement them during the month of March.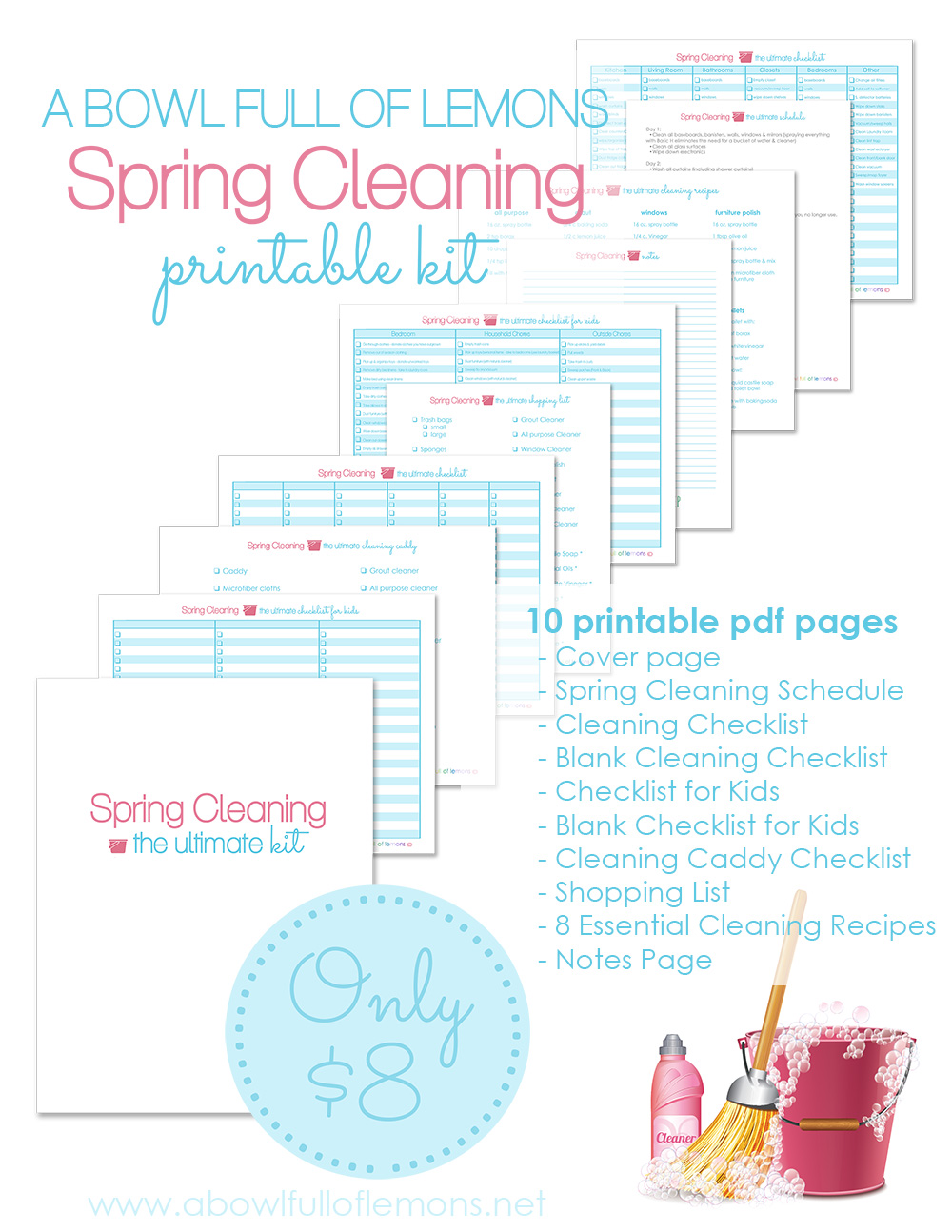 *I share affiliate links in this blog post.  I earn a  proceed of products sold within my affiliate links.  Thanks for your support to A Bowl Full of Lemons.
Tags: cleaning, cleaning caddy, green cleaning, printable, recipe cards, spring cleaning
Blog, Clean, Cleaning, Cleaning Recipe, Green Cleaning, healthy living, March 2014, printables, Pure Essential Oils, recipe cards, Shaklee, Slider, Spring Cleaning, ultimate spring cleaning plan Posted in 26 comments