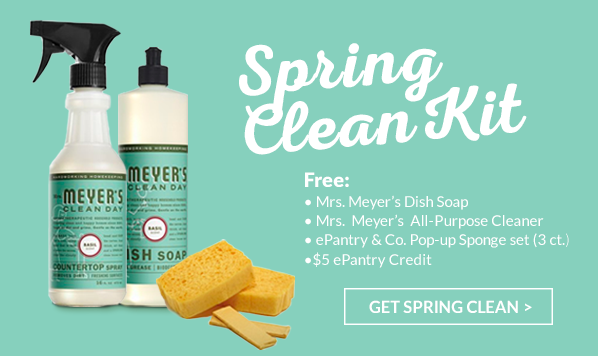 It's day 6 of the spring cleaning Challenge – hurrah! This means it's the perfect time to start looking at your cleaning products. You all know how much I love using all-natural cleaning products: they work wonderfully and smell great, but best of all they are safe for my kids, my home and the environment. The problem is that with my busy schedule I just don't always have the time to go out and buy them. When I do a Target run for dish and hand soap, I end up losing an hour of time and spending $150. This is an example of one of the instances in which something that seems good for my budget actually is not.
I needed a solution that would help me get quality products like Mrs. Meyer's & Method while saving time and money, but also keeping me out of the stores to make sure I don't blow my budget. Well, good news! I've finally found the answer – meet ePantry, a small company dedicated to bringing the best all-natural cleaning and personal care products to my family (a plus), delivered straight to my door (even better). No Target run or anything else required (thank goodness – because I've banned myself from Target). They carry a curated section of the best brands such as Mrs. Meyer's, Seventh Generation, method, Tom's of Maine etc. at great prices. Dr. Bronner is coming soon too. And that's not even the best part- they actually have a really smart website that will help predict what your family will need, right when you need it so you never run out! Imagine that, no last minute store runs. You can schedule future deliveries months in advance, or customize an order when you need one! It's beyond flexible- you can see why I love them so much!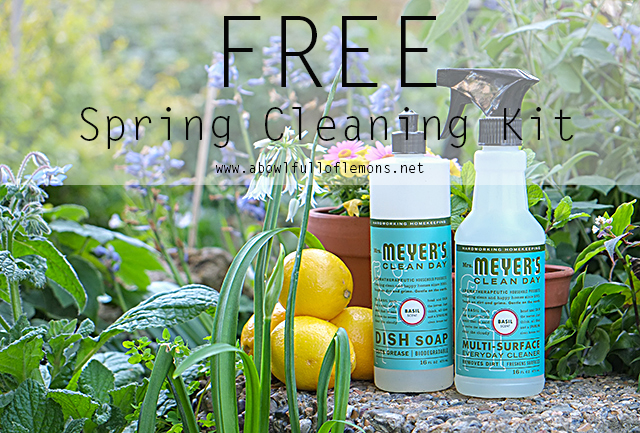 Epantry is giving ABFOL fans an exclusive offer:
A FREE Spring-cleaning kit (Mrs. Meyers dish soap & All purpose Cleaner)
A 3 pack of pop-up sponges
A $5 credit
FREE shipping for all first time orders.
You get all of this just for trying ePantry – How exciting is that?  So here's what to do: This Spring Cleaning Kit is only available now through April 12th but you have to sign up with the ABFOL link.  Answer a few quick questions about your household so ePantry gets an idea of how often you will need products and what you like. Then you'll land on your dashboard – here you can add or remove products – it's entirely customizable by you! Once you've got everything you want, click Finish and Pay. You'll need to be at a final amount of $20 or more (that's only for your first order).  Remember, you will get $5 off and free shipping along with the free products.  Its a fantastic deal!

Refer friends and family, get $10 off! If you refer friends and family to ePantry, each person you refer will get $10 in credit for their first order! And, more good news! You will also receive $10 in credit for each person who checks out. It's a win-win! Now that you've read all of the amazing benefits of ePantry, go and grab this offer!
~Toni
Disclaimer: This is a sponsored post by ePantry.  All opinions are my own & I only recommend products or services I use personally and believe my readers will enjoy. I am disclosing this in accordance with the Federal Trade Commission's 16 CFR, Part 255: "Guides Concerning the Use of Endorsements and Testimonials in Advertising.  Please click here for full disclaimer.
Tags: cleaning, epantry, spring cleaning
April 2015, Blog, Clean, Cleaning, Spring Cleaning Posted in 10 comments