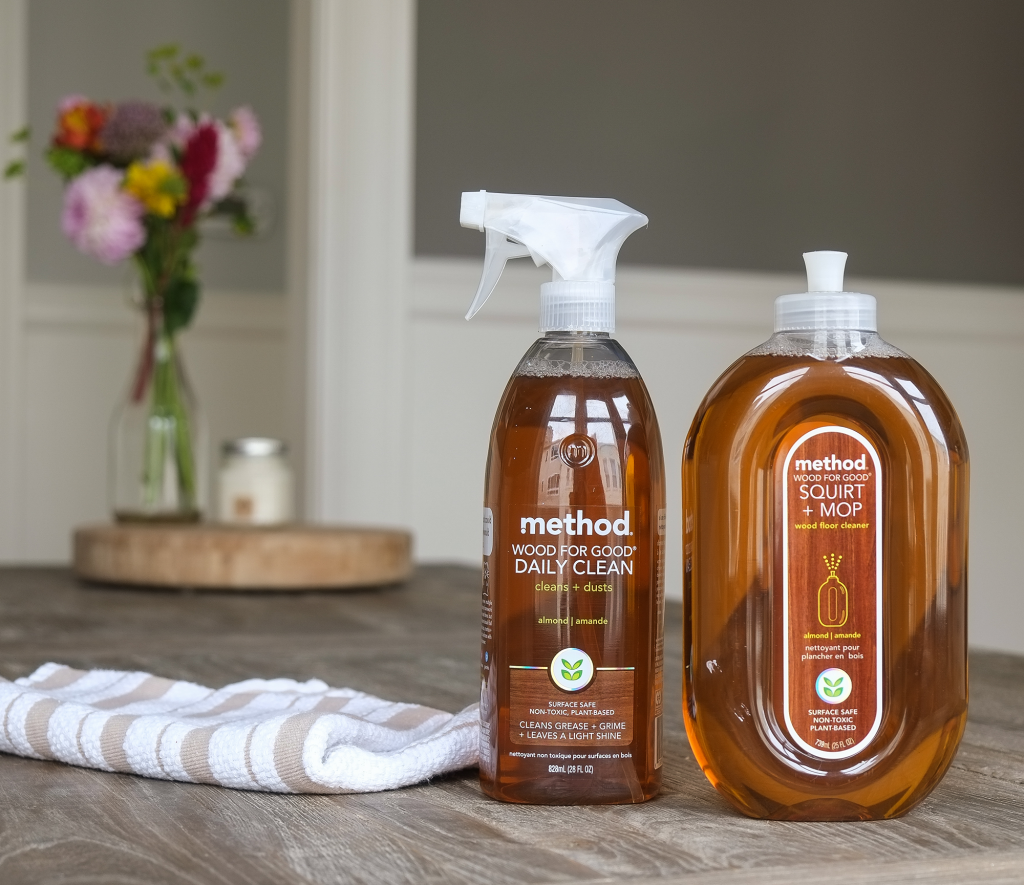 Summer is quickly approaching! I am sure that many of you have noticed that I have been getting ready for the season with recipes and projects- but what about summer cleaning? I love opening my home to guests in the summertime, for gatherings on warm evenings, pool parties, and Fourth of July Barbeques – you name it! My favorite place to hold parties is on the patio, an area that can get pretty messy during the week. I want it to be easy and fun to prep for fun summer activities- this is where ePantry comes in!
ePantry carries two of my absolute favorite wood-cleaning products: the method wood floor cleaner, and the daily wood cleaner. Wood can be tricky to maintain because it can get dirty pretty easily, and not to mention, it takes time to mop floors! Neither of these factors are a problem with method's wood cleaners. All I use is a mop and the squirt-top bottle and I am set! For bannisters, knobs, tabletops, and any other smaller wood surfaces, I use the daily wood cleaner. Both of these products are all-natural and biodegradable, which fits in perfectly to my goal of using products that are kid and earth friendly. Of course, the almond scent for both of these products is one of the best parts ☺
My love for ePantry doesn't stop at the amazing products. For those of you who don't know about ePantry yet, this is a website that sells the best all-natural cleaning and personal care products. They carry a curated selection of brands, from Mrs. Meyer's, method, Seventh Generation, to Tom's of Maine, and more! It's so important to me to use products that are safe for my family and the environment, which I am sure that all of you know by now ☺ On top of that, I don't have time to run to the store every time I run out. I can't tell you the number of times that someone in my family has reached into the cupboard to grab another role of toilet paper, only to discover that we were all out! If this has happened to you, fear no more- ePantry's goal is to make sure you never run out of the products you need! They have a smart and flexible website will help predict what your family will use. I use ePantry as a planning tool, to schedule future deliveries months in advance.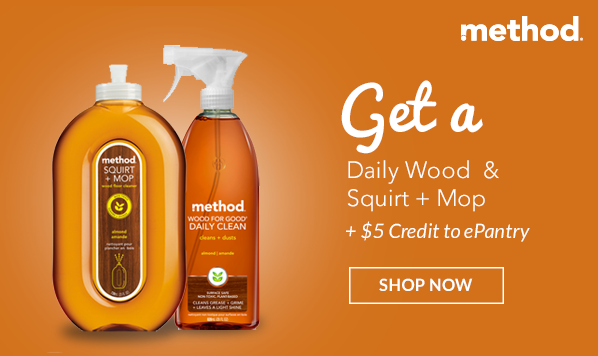 SPECIAL OFFER
To share my love for ePantry, I am excited to offer another amazing special offer to my readers:
Free Method wood floor cleaner
Free Method Daily wood cleaner (Spray Bottle)
$5 credit on your purchase
Free shipping for all first-time orders!
This is a $22.35 value- How exciting is that?!
Here's how to get started:
Sign up with this link before June 7th!
Answer a few questions about your household, for ePantry to get an idea of your favorite products & cleaning schedule. Don't worry; this information is never shared with anyone!
This is the best part- adding products to your basket, and customizing your dashboard!
Once you've got everything you want, click Finish and Pay. You'll need to be at a final amount of $20 or more (that's only for your first order). With that,  you will get all of the free goodies and free shipping!
** The A Bowl Full of Lemons special will end on June 7th at 11pm EST.
Refer friends and family, get $10 off! 
If you refer friends and family to ePantry, each person you refer will get $10 in credit for their first order! And, more good news!

You

will also receive $10 in credit for each person who checks out. It's a win-win!
Now that you've read all of the amazing benefits of ePantry, head on over to their site! Feel free to chat with their friendly Customer Service team if you have any questions ☺
_________________________________________________________________________________________________________________________________________________________________
Existing Customers: 
We are offering all ABFOL readers who are existing ePantry customers 50% off of a method wood floor cleaner!  Click here to get this special.
Disclaimer: This is a sponsored post by ePantry.  All opinions are my own & I only recommend products or services I use personally and believe my readers will enjoy. I am disclosing this in accordance with the Federal Trade Commission's 16 CFR, Part 255: "Guides Concerning the Use of Endorsements and Testimonials in Advertising.  Please click here for full disclaimer.