Zillow Digs has announced the top closet trends for the 2015 Fall season. They've partnered with The Container Store and asked several bloggers (including me) to interpret these trends.  Whether it's a master closet, a kids closet or a linen closet, my interpretation has to include Farmhouse Style. I created the style board below which  helped me visualize and plan the space.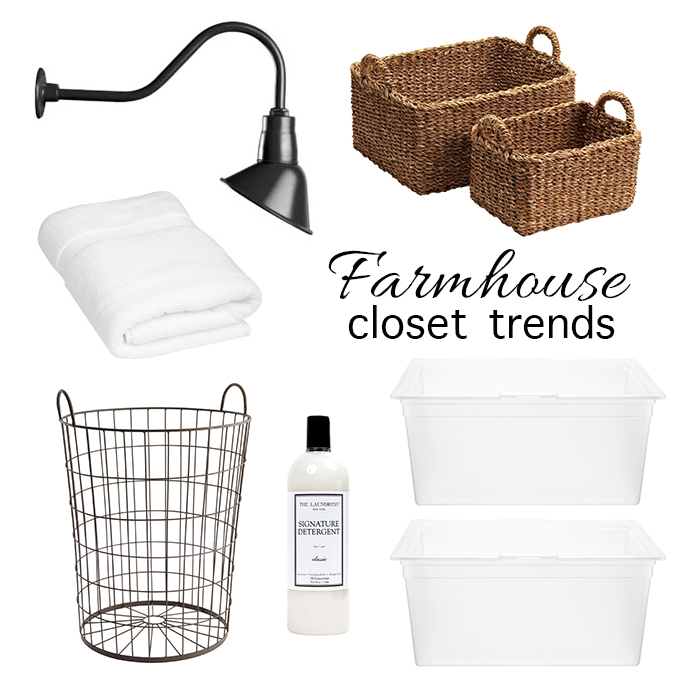 My closet trend interpretation includes a linen closet makeover, which features several products from the Container Store (including an Elfa Closet System).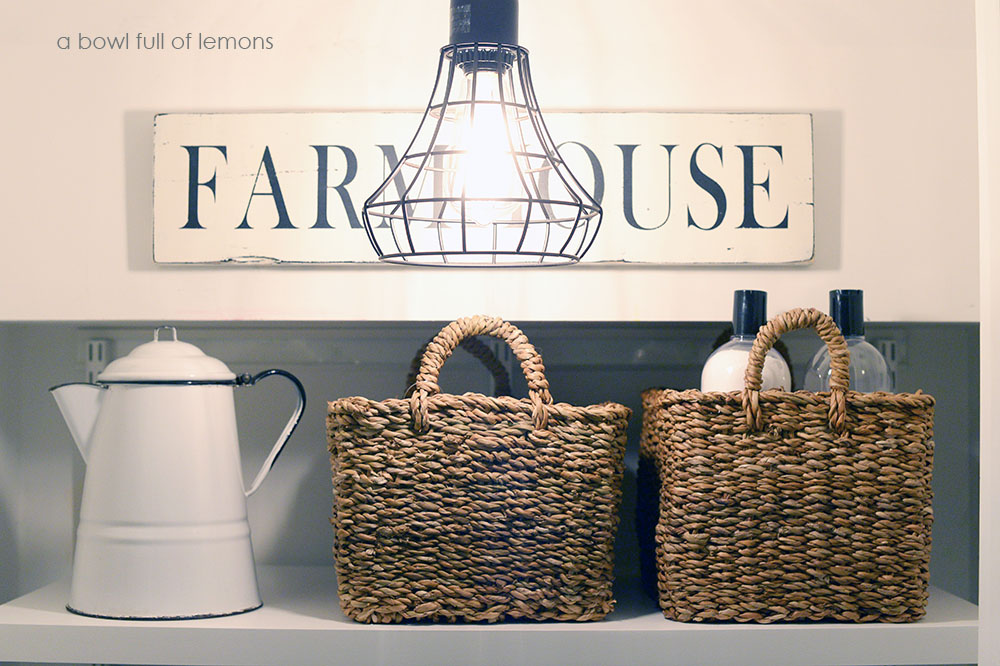 The light is from Target.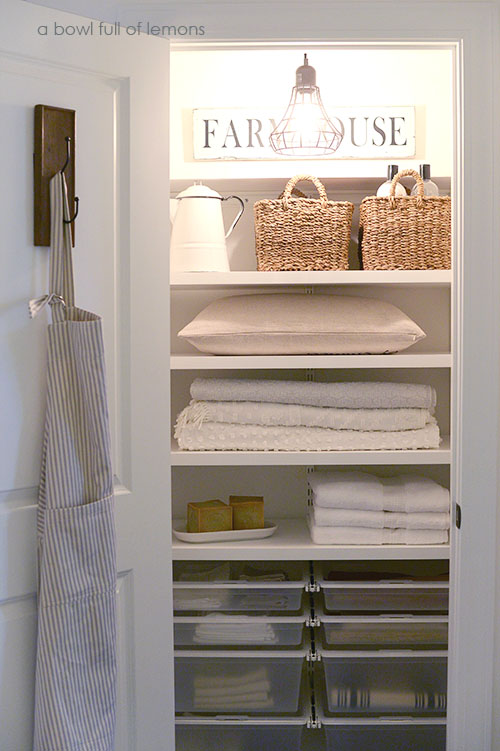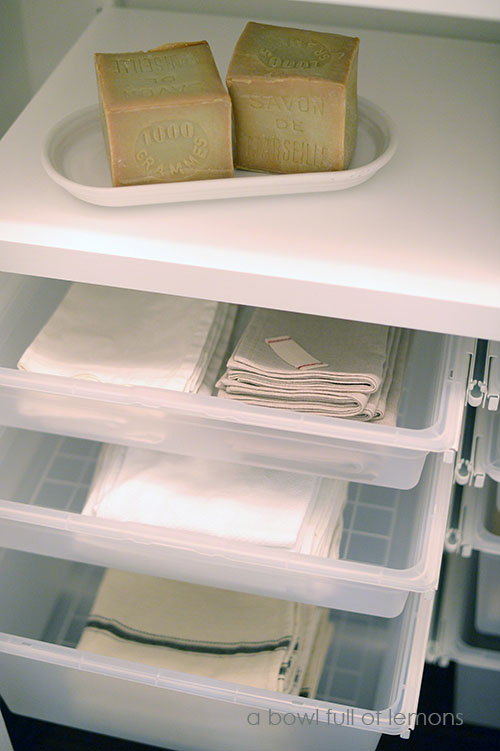 Don't forget to utilize the door. Simplicity is key this year. Instead of cramming things into bulky door organizers, purge away and go for a classic hook. Less is definitely more.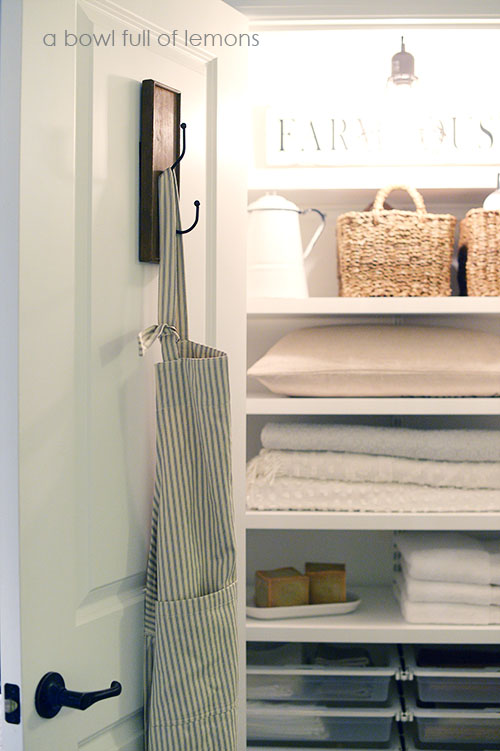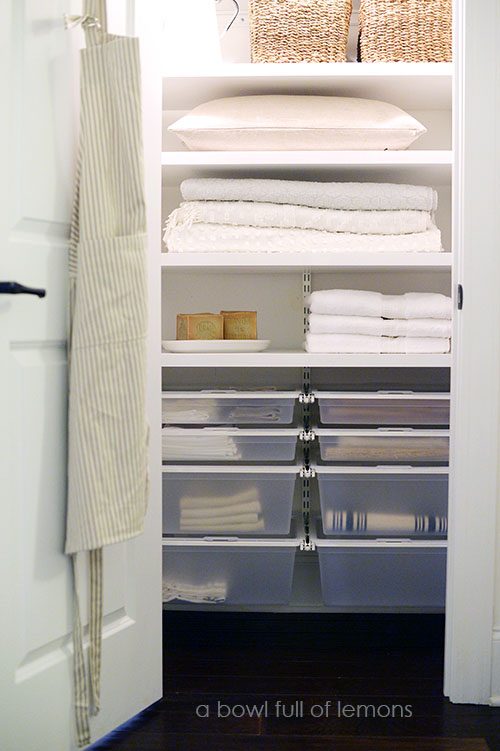 Here are a few must haves if you're going for a farmhouse look.
White walls. These are a must if you're looking for that farmhouse feel. They are classic and will never go out of style.
Woven Baskets. Natural materials fit the farmhouse mold well. I use the Holga Bins.
Wire Baskets. I love the look. The Iron Toy Barrel is a great container for dirty clothes.
White towels. Like white walls, white towels give a classic feel to the space.
Farmhouse Style Lighting. The icing on the cake when it comes to decorating a space is the lighting, and gooseneck or cage lighting screams farmhouse style! If you have the option to install lighting, it will transform your space. I used lighting that plugged into a wall outlet because we didn't have lighting wired in the closet.
The Laundress. Not a must have but I thought I'd throw it in since I love their products.  The bottles match the decor perfectly (black and white) –  which is important right?! They are my favorite natural cleaners for linens and clothing.
Vintage collectibles. Enamelware, french soap, or old quilts mixed in with the necessities gives the space a little extra farmhouse feel. If you have the room, it's a great touch to add.
Another trend you can add to your closets this season are barn doors. They bring an element of charm and character to the space. Here's one that I absolutely love.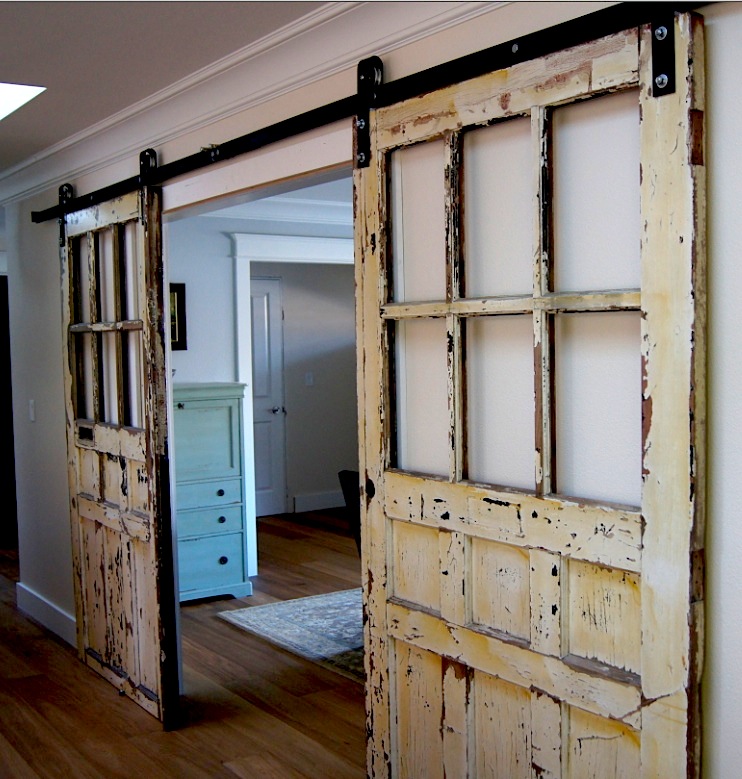 Click HERE to check out the detailed Zillow Digs Fall 2015 closet trends report for the season. Here's a highlight of what's in and what's out.
What's in this season?
Transparent storage materials.
Split or his and her finishes.
Spotlight lighting.
What's out?
Behind door storage.
Basic setups
Dark closets.

Are you in need of a closet makeover? Zillow Digs and The Container Store have come together to giveaway a fabulous $5000 Grand Prize Closet Makeover for one lucky reader.
Details:
Grand Prize: One winner will receive a $5000 closet makeover from The Container Store, including a consultation from one of our Contained Home in home organizers, as well as custom installation of their closet.
The Sweepstakes runs through Monday September 28th.
Enter to win HERE.

In addition, The Container Store's Annual Shelving Sale has begun and features 25% off all Shelving solutions – including Elfa and Elfa installation now through October 18th!

Good Luck!

Disclaimer: This post is sponsored by Zillow and The Container Store. All opinions are my own & I only recommend products or services I use personally and believe my readers will enjoy. I am disclosing this in accordance with the Federal Trade Commission's 16 CFR, Part 255: "Guides Concerning the Use of Endorsements and Testimonials in Advertising. Please click here for full disclaimer.
Tags: closets, container store, farmhouse decor, linen closet
Blog, Closets, container store, Farmhouse Decor, linen closet, Organize, September 2015 Posted in 13 comments