Happy New Year friends! Today I'm beginning a brand new series called A Bowl Full of Lemons "Planner Tips". The goal of this blog series is to help you get the most out of your planner. If you don't use a planner, now's a great time to start. My goal is to share a tip every week. (I'll see if that's achievable soon enough). If you have any planner tip requests, please leave a comment below. I think it'll be a fun series! If you are new to planners, check out my planner set up and choosing a ring bound planner posts which will help get you started.
2016 Goal Planning
Have you began setting goals for 2016? It's January 1st and it's time to make plans, goals, and resolutions. Many people will make some sort of list in hopes to accomplish personal goals over the next twelve months. Sometimes I do and sometimes I don't.  This year, I decided to make a goal list and place it in the front of my planner so I could see it every time I opened it up.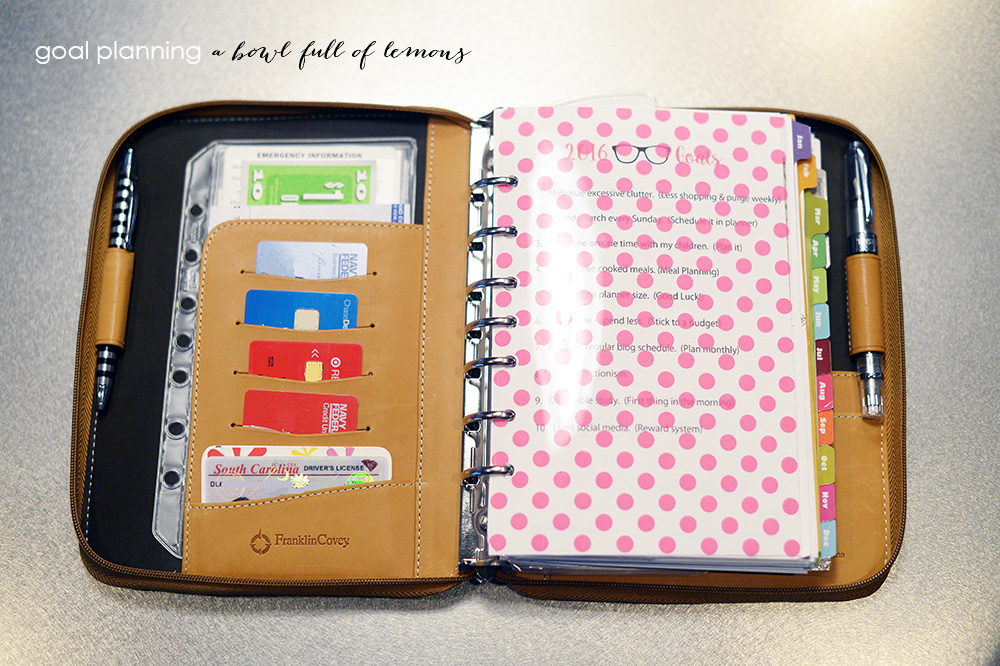 I typed and printed out ten achievable goals. Then I created a dashboard to protect them in my planner, by cutting down a 12×12 plastic scrapbook sheet to 5.5 x 8.5 inches & hole punched it.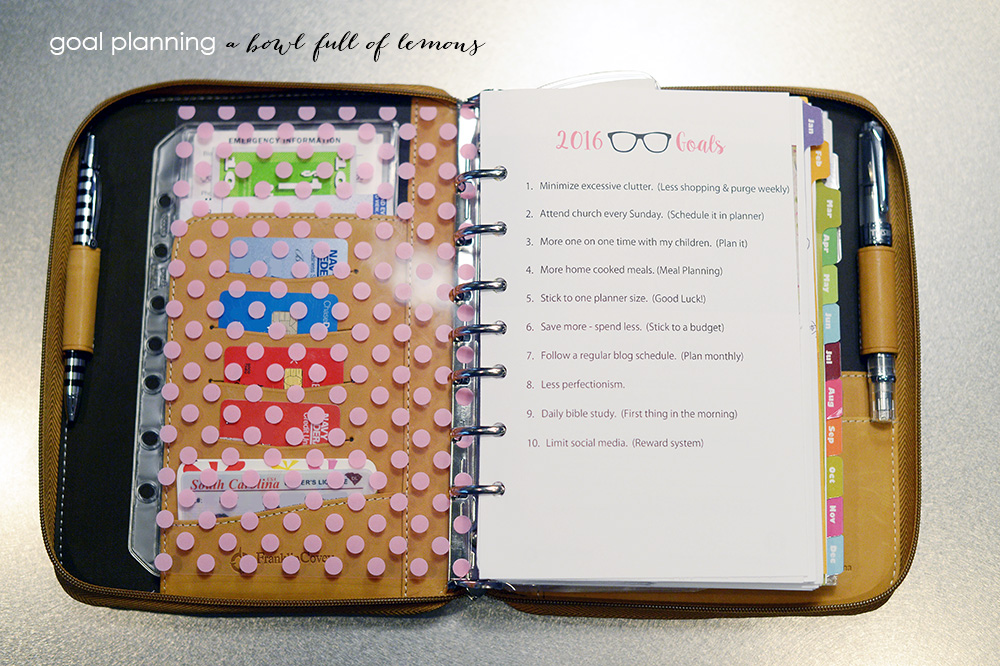 Not only did I make a list of goals, but I took a huge step further and dissected each one. I broke them down into small steps that will help me realistically achieve each goal. I transferred them onto a separate goal planning sheet (from Franklin Covey).  If you're participating, you don't need to purchase this. A simple pen and sheet of paper (for each goal) will suffice. Once I wrote down the goals, I quickly made a list of how I would accomplish each goal. It's important to set measurable goals. When will I complete each step? How will I measure it? Etc. Once I wrote down my goals and practical steps, I placed them in the front of my planner. When goal planning, it's important to re-visit your goals daily, weekly, and monthly. Make sure to schedule in the steps you are taking to achieve these goals, as you plan.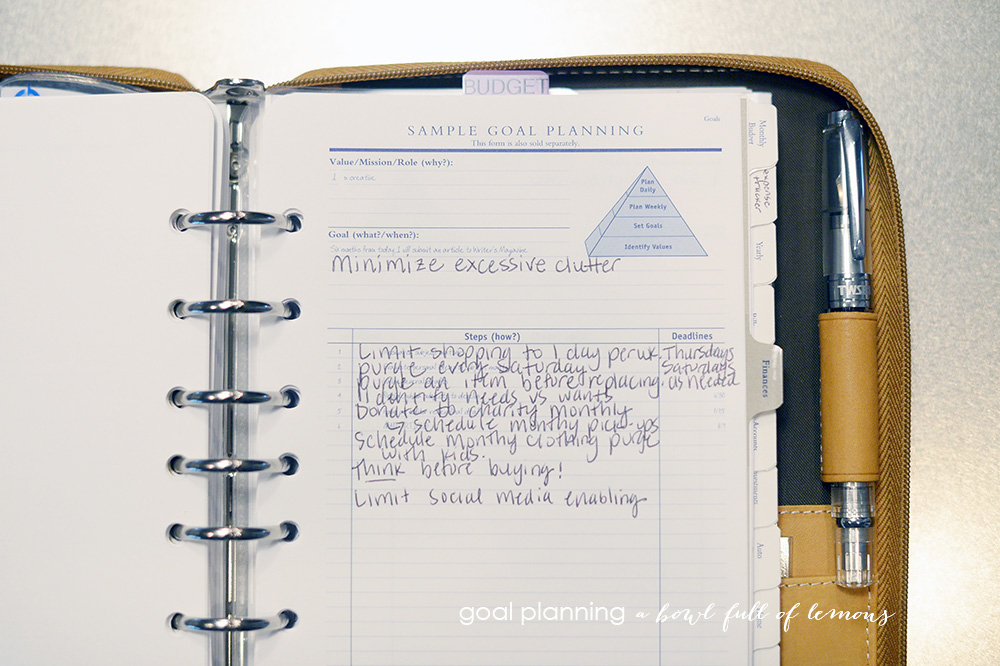 If you need a visual reminder, keep your planner near you during the day. I keep mine out on the kitchen island or with me at my desk. Open it up to the goals page and make it a point to review them every day.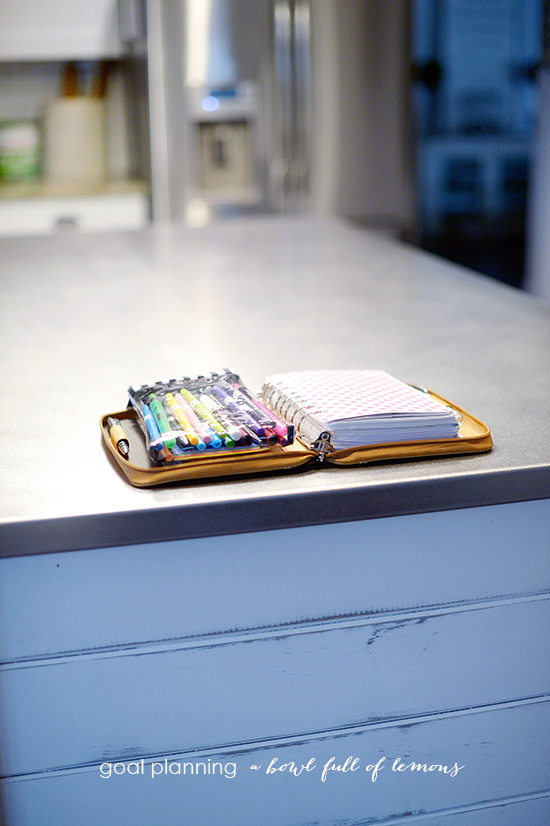 *The planner pictured above is from Franklin Covey. It's called the "space maker" and it's no longer available.
Happy Planning!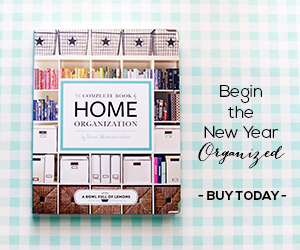 My brand new book is available now!  Click here to purchase.
Tags: goal planning, goals, planner, planning
Blog, goals, January 2016, Organize, Planners & Binders, Planning Posted in 11 comments