One of the biggest obstacles I hear from readers is the amount of clutter everyone has accumulated over the years. It's hard to get organized when you have mountains of stuff to compete with.  Before you tackle the 14 week organizing challenge in January, this crucial step needs to be completed.  So who's ready for a challenge? This month, I challenge you to purge your clutter.  The challenge is designed for you to go at your own pace. You can purge it all in one day, designate weekends only, or purge one bag per day. Customize it to fit your needs.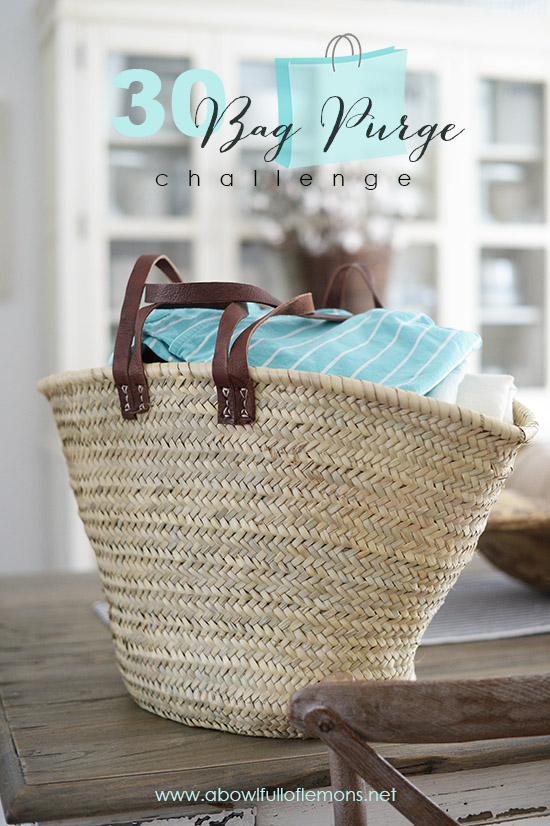 I've created challenge boxes for you to follow, however you don't have to purge in the order that's laid out. Once you fill a bag, cross out the box. Share your progress in our Home Organization Facebook Group or comment on the blog letting me know how the challenge is going for you.
Click on the photo to print out the challenge.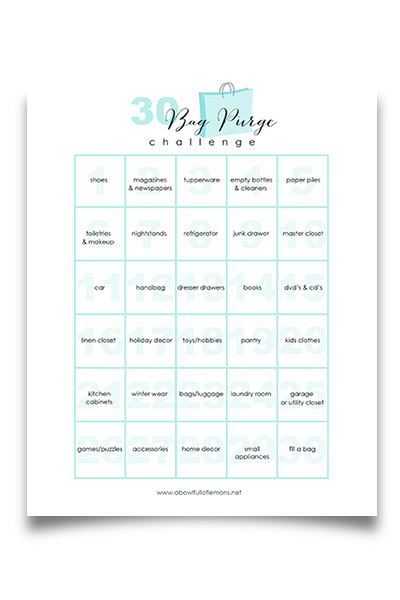 THE CHALLENGE:  Purge 30 bags of clutter in 30 days. You must remove all of the bags from your house to complete the challenge. If any of the tasks don't apply to you, find something else to purge. The size of your bags will depend on the task at hand.
Good luck and enjoy the process. It's a rewarding experience and you'll feel so much better once you complete the challenge. If you would like to share on social media, use the hashtag #30bagpurge.
~Toni
Tags: 30 bag purge, purge, purging clutter
30 bag purge challenge, Blog, decluttering, October 2016, purging clutter Posted in 10 comments