I love an organized closet. It makes life simpler. My mornings run smoother, and I'm able to take better care of my things. The key to an organized closet is to purge the clutter and categorize the rest. It's quite simple and easily achievable. You don't need designer handbags or matching bins. All you need is the will to succeed and the drive to maintain. If this is something you have longed for, look no further. The inspiration you need to get started is below. Note: All of the products used in this space are mentioned in my video. The links to purchase are within the post.
If you've seen my closet tours in the past, you may notice that I've purged a lot of clothing. I have eliminated the things I no longer wear by half. Everything in this space is here because I use it and it brings me "Joy". That's important when deciding what to keep and what to purge. As Marie Kondo often asks, does it bring you joy?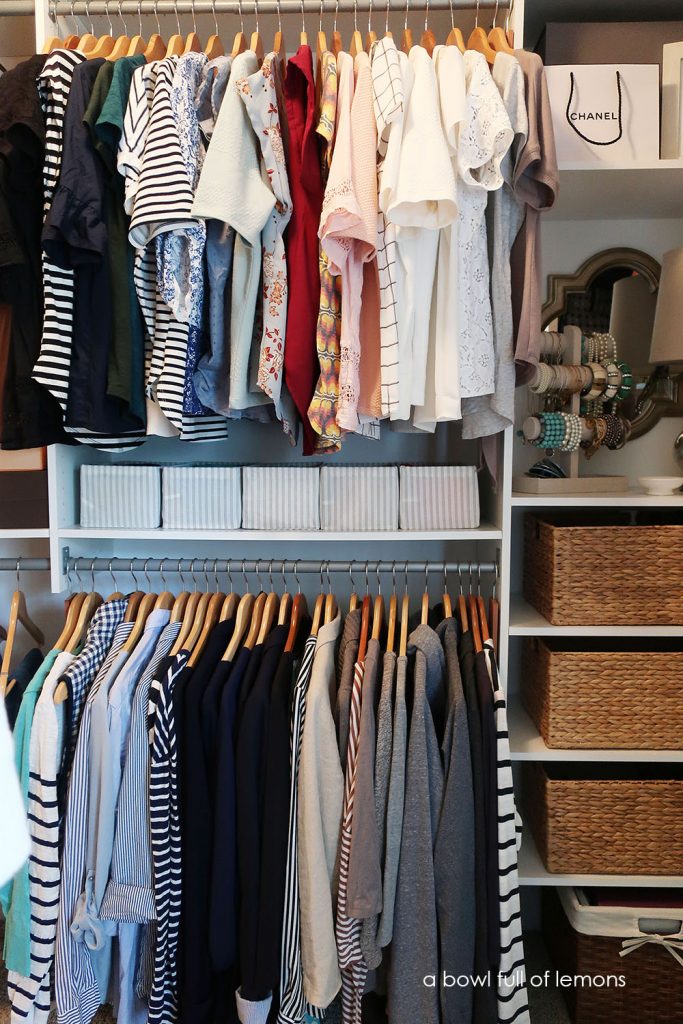 Don't be afraid to display your things. You spent the money on them, don't hide them away in a box.  You can find my jewelry organizer here.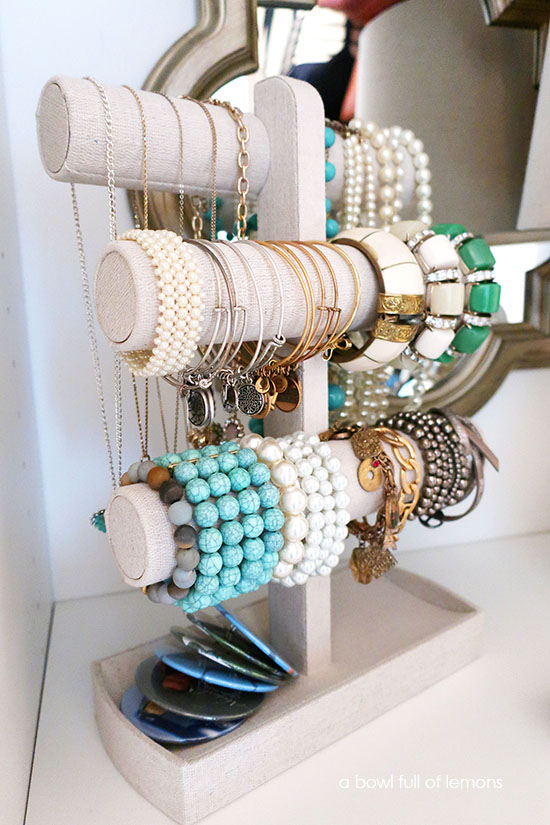 Things like body care and garment care items can be tucked away in baskets. These water hyacinth baskets were purchased at the Container Store but you can also find similar baskets here.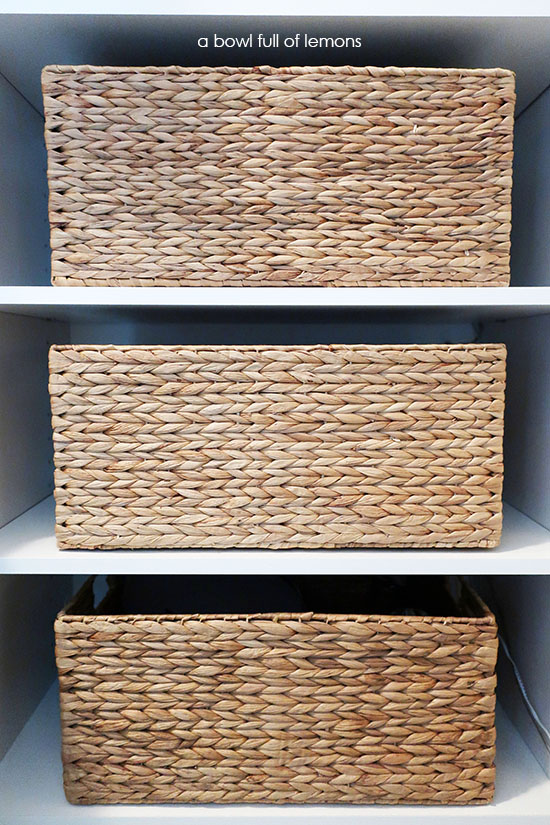 I love the look and sturdiness of wooden hangers. They are worth the investment, although they are not very expensive (under a dollar each). They transform a closet!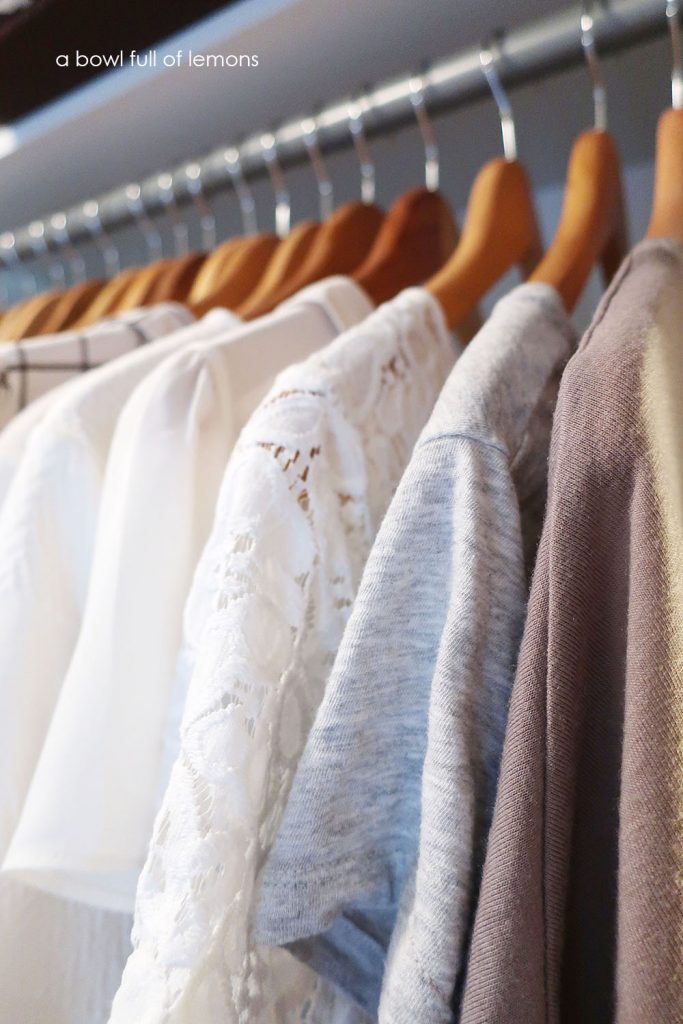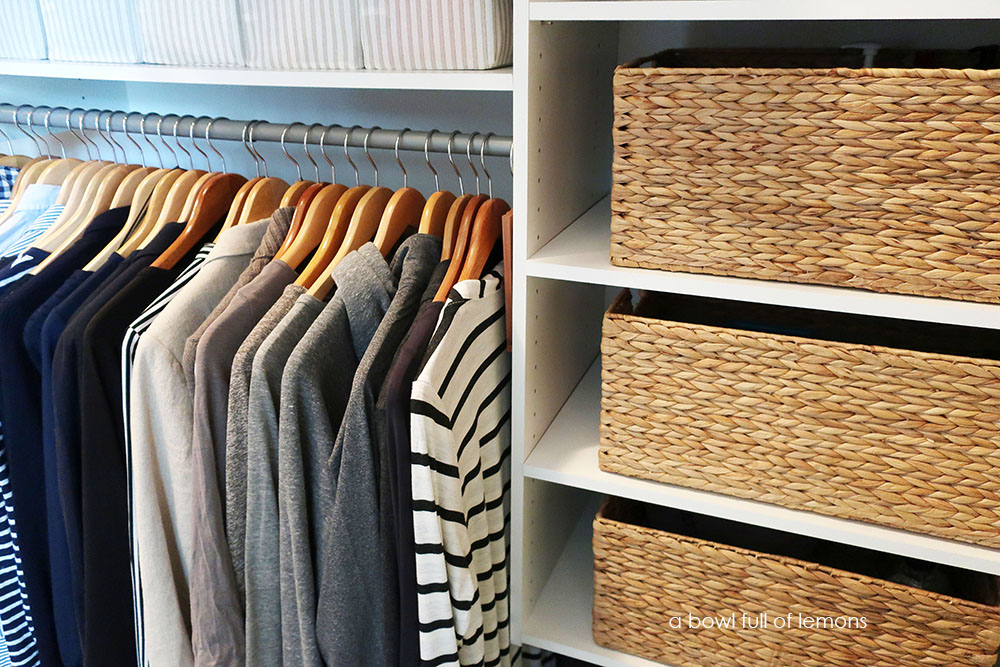 Camisoles & tank tops can be organized in a variety of ways. My favorite way is to separate them by color and tuck them neatly into canvas bins. They fit perfectly on this shelf, under my hanging shirts.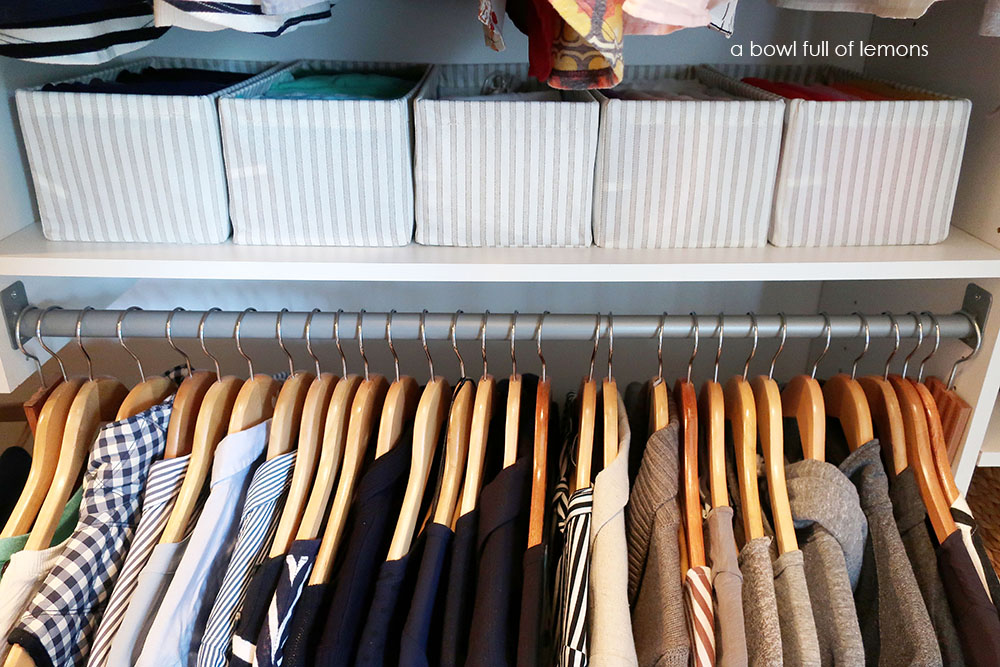 You can find these bins here.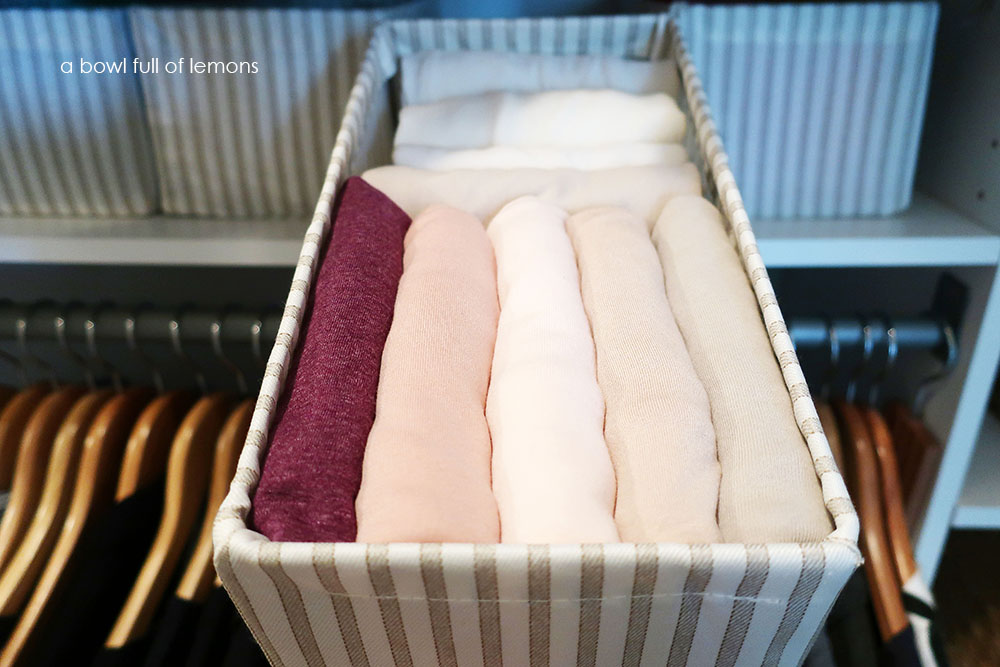 I keep my handbag collections on display in my closet. I stuff the bags with plastic air packaging so they keep their shape.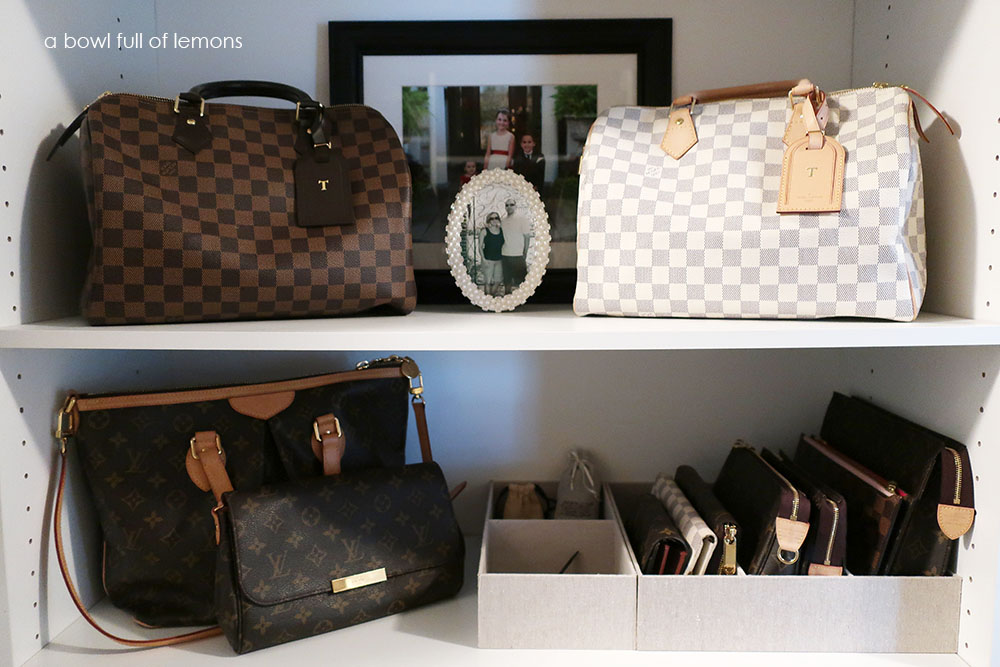 These bins are the perfect way to organize and display wallets and accessories. I found them at TJ Maxx.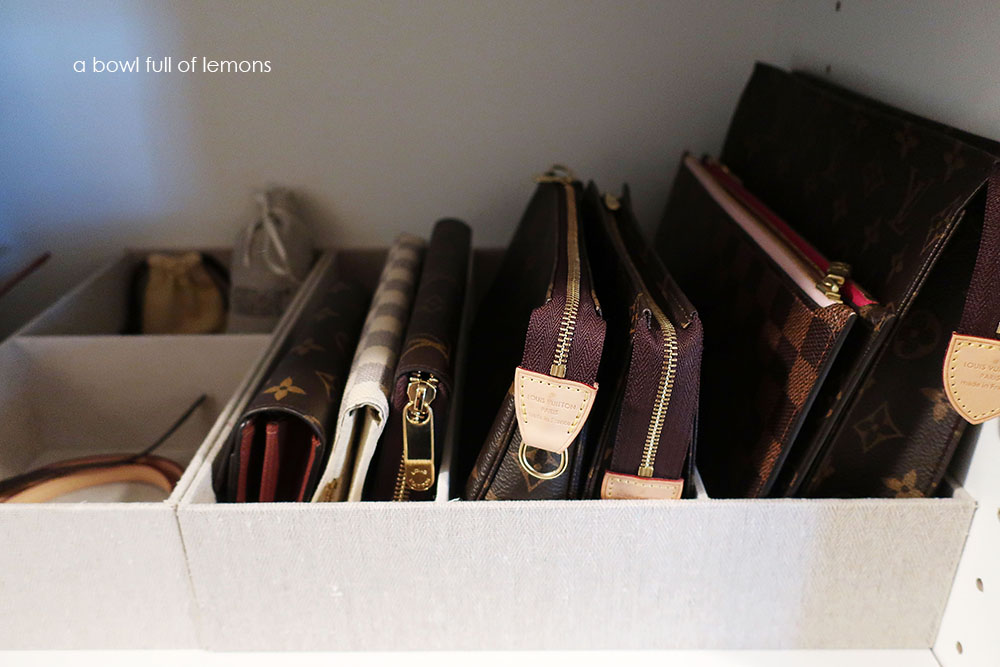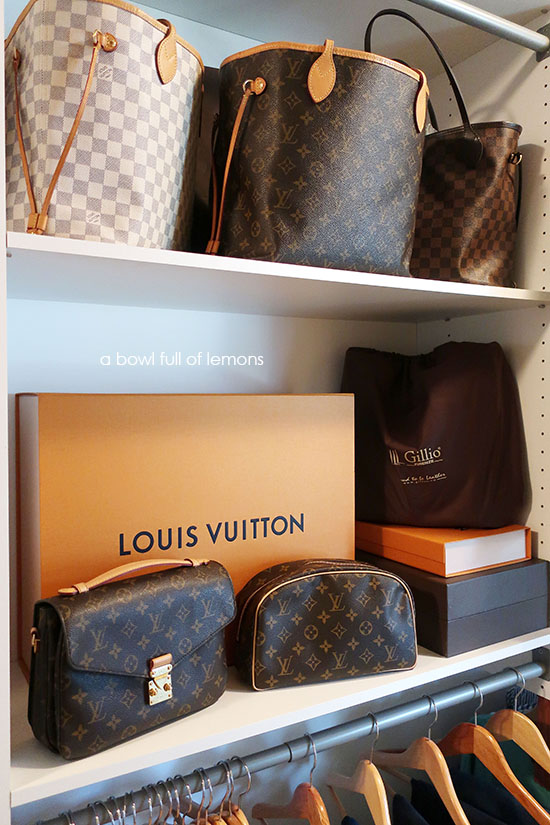 Shoe organization is fairly simple to attain. Purge the shoes you no longer wear and place the rest in shoe bins. These clear bins are a great way to store your shoes and to protect them from dust and from getting smooshed.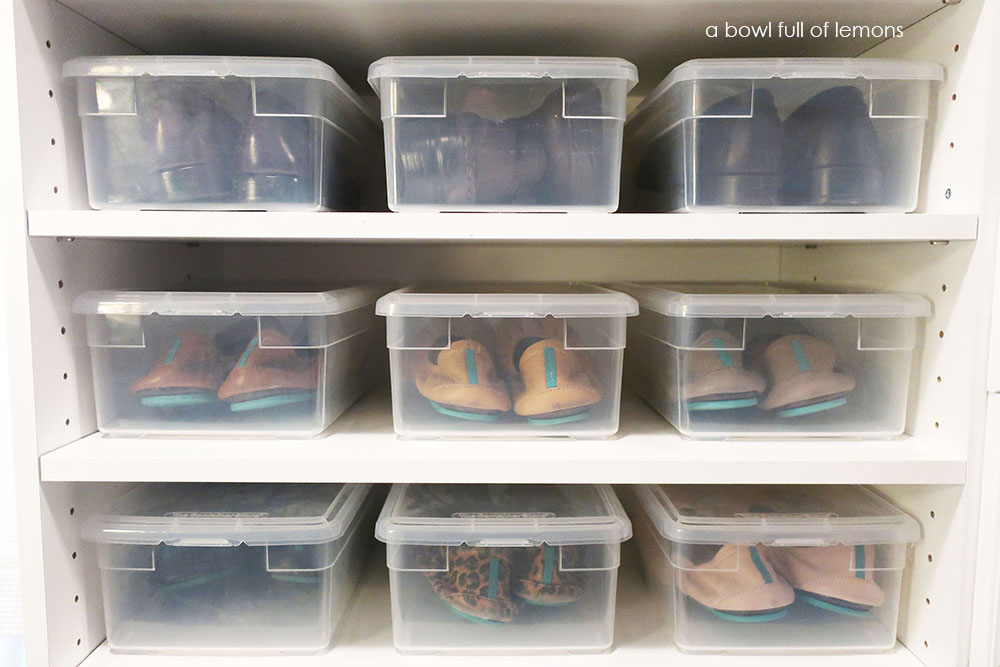 In these baskets (from Target), I store lingerie, jewelry boxes, and eyeglasses. Below those, I have my collection of nail polish. I purged about 75% of my nail polish.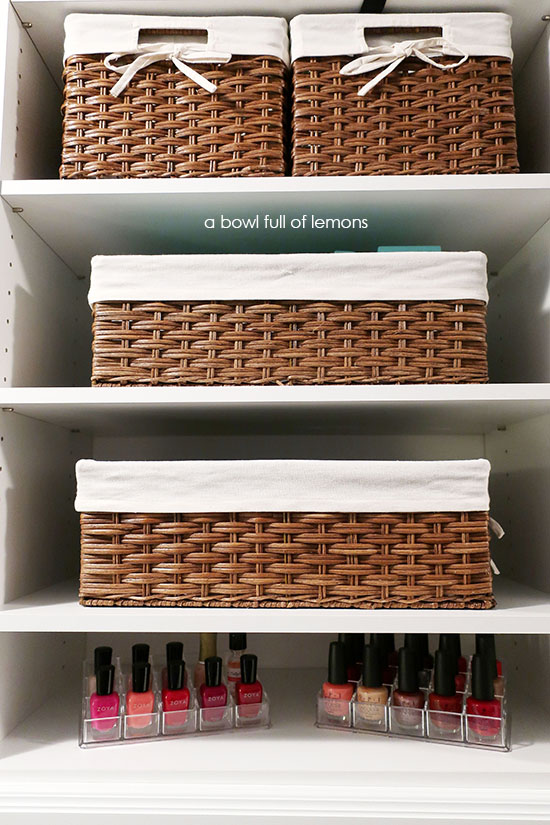 These organizers are a great way to display nail polish.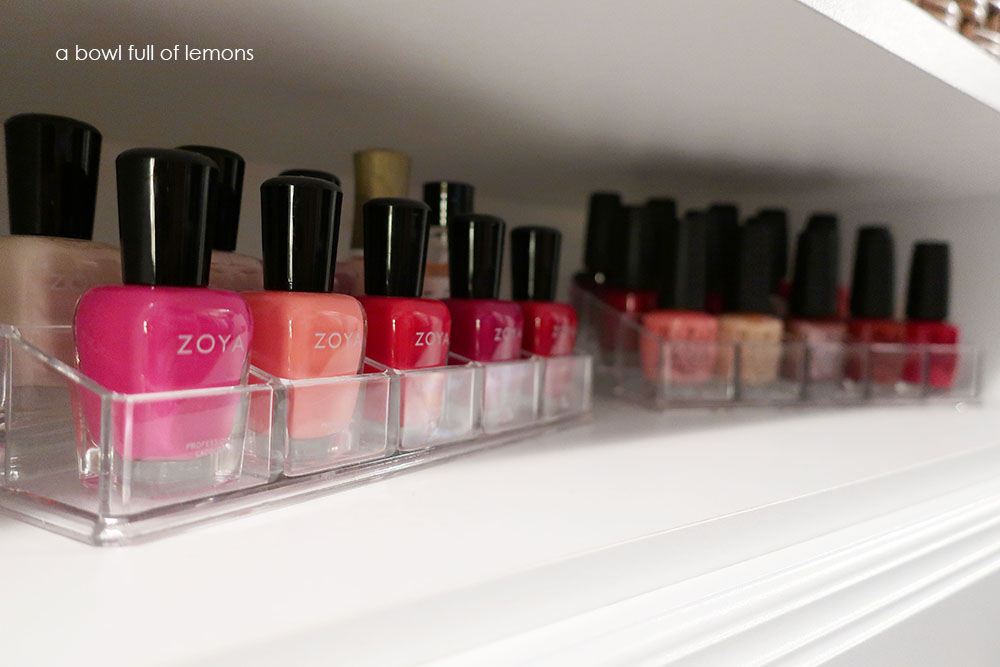 Drawer organizers are another great invention! They keep things contained and visually appealing. There are so many options to choose from. Mine were purchased at TJ Maxx, but these would work great as well!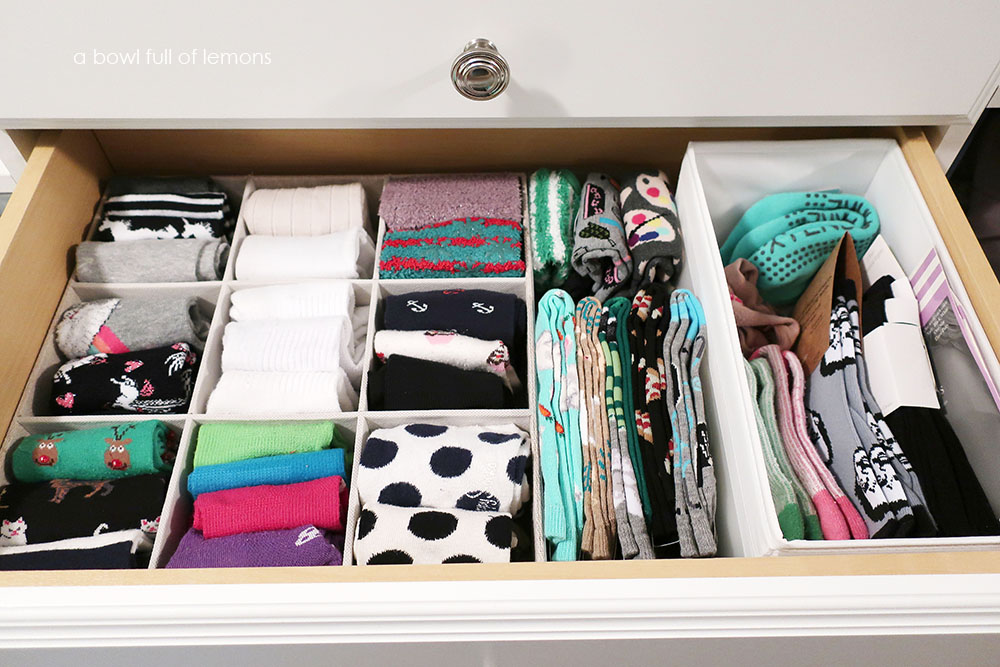 Here is my collection of wallets. Isn't it a beautiful sight? I really do need to purge a few though.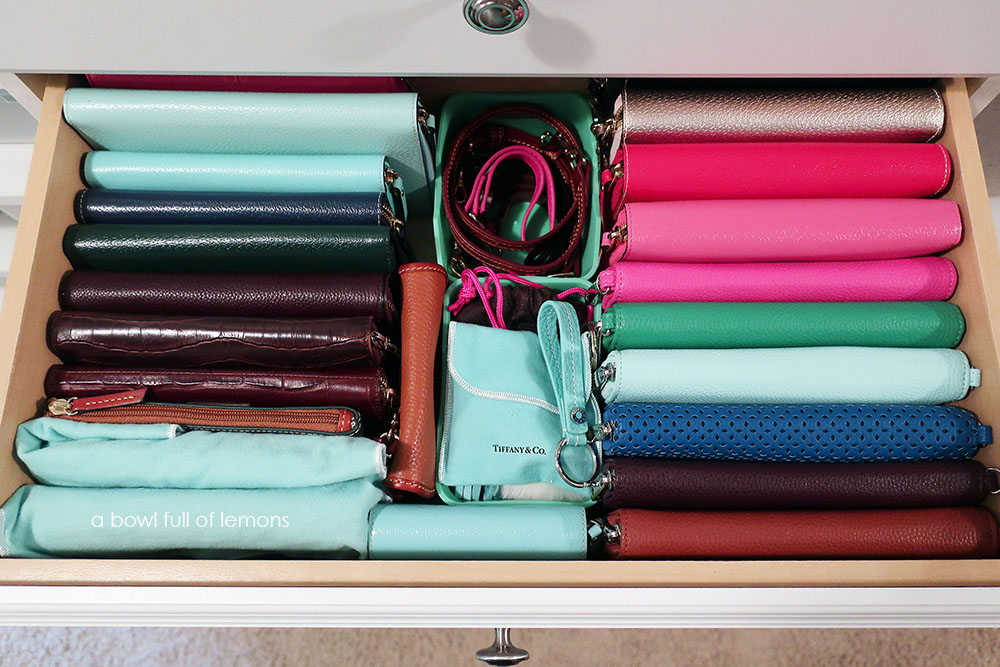 This shelf is used to display my leather hand bags. I like to keep the collection to what fits here. If I purchase a new hand bag, I purge one to make room.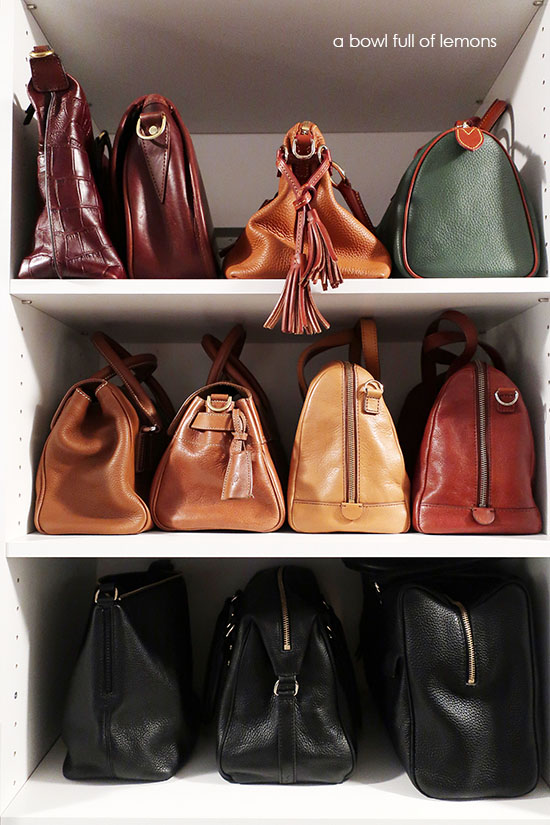 I moved my collection of essential oils to this nail polish organizer. It's much easier to see them all at once and grab what I need. You can find this organizer here.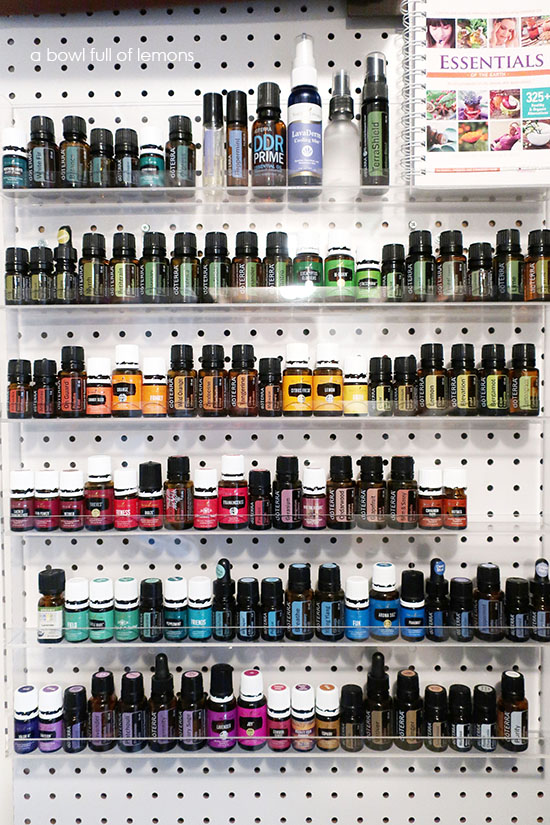 My husband installed this peg board for me to display my accessories. I hang my bags, jackets, and a few dresses on it. It's a great use of wall space and easy to install. You can find everything at Lowes.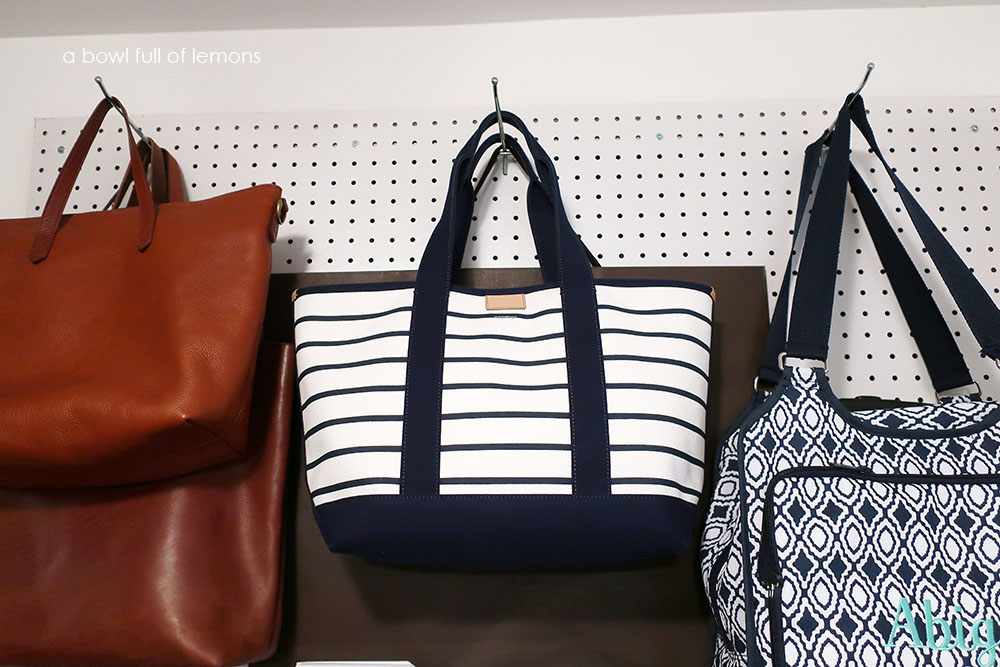 A closet can be functional, organized, and beautiful all at once. Anyone can achieve it. It takes some planning and a little time to implement, but once you do the rewards are grand.  I hope you've gained some valuble tips and inspiration that will motivate you to clear the clutter from your master closet. Be sure to watch my You Tube video where I take you on a tour of my master closet and show you what's in all of the bins and baskets. Have a great day.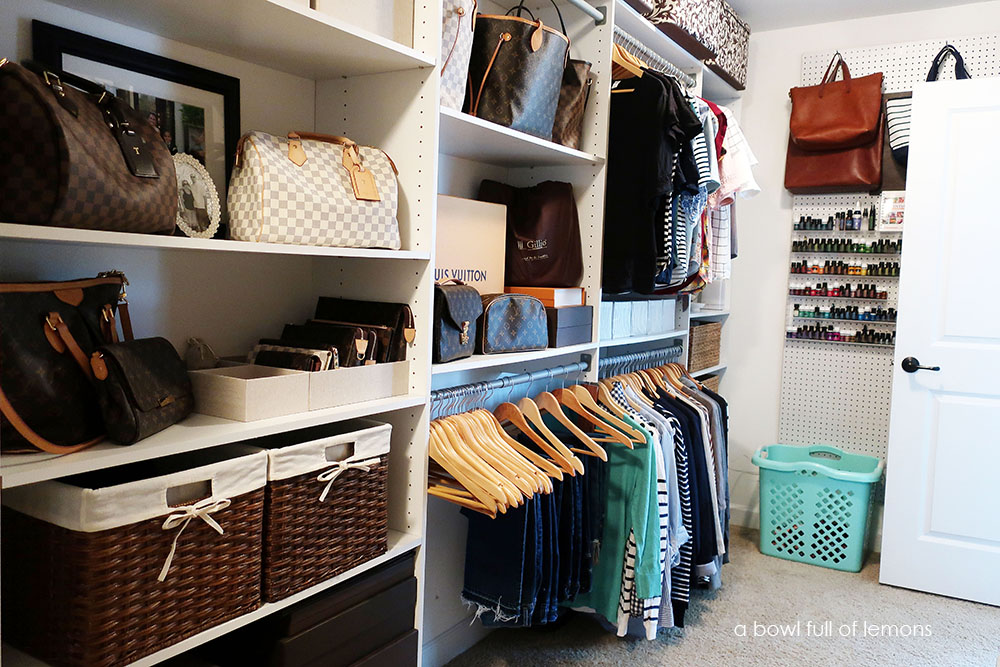 To get more organizing tips and tricks, be sure to purchase my book The Complete Book of Home Organization. I put my heart and soul into the book. I don't think you will be disappointed.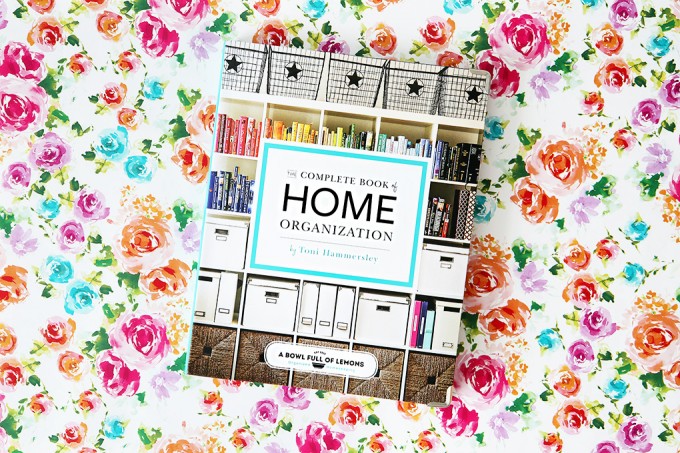 Disclaimer: There are affiliate links within this blog post. Thank you for your support.
Tags: closet organization, drawer organization, home organization, master closet, you tube
Blog, closet, Closets, essential oils, master bedroom, Organize, storage Posted in 10 comments