I've been using Grove Collaborative for several years now. The ease of use and time-saving online ordering has saved me countless hours. I'm so busy these days and shopping for these products online gives me one less thing to worry about checking off my list. Today I'm sharing my current Grove favorites. What are yours?
The Ultrasonic Aromatherapy Diffuser and Grove essential oils. I absolutely love diffusing essential oils. It's one of the first things I do in the mornings. I diffuse purify in the morning, unwind in the afternoon, and lavender in the evening. These essential oils are certified organic and are sustainably distilled either through steam processing of leaves, bark, and roots, or cold pressing fruit peels. They are never treated with chemical solvents.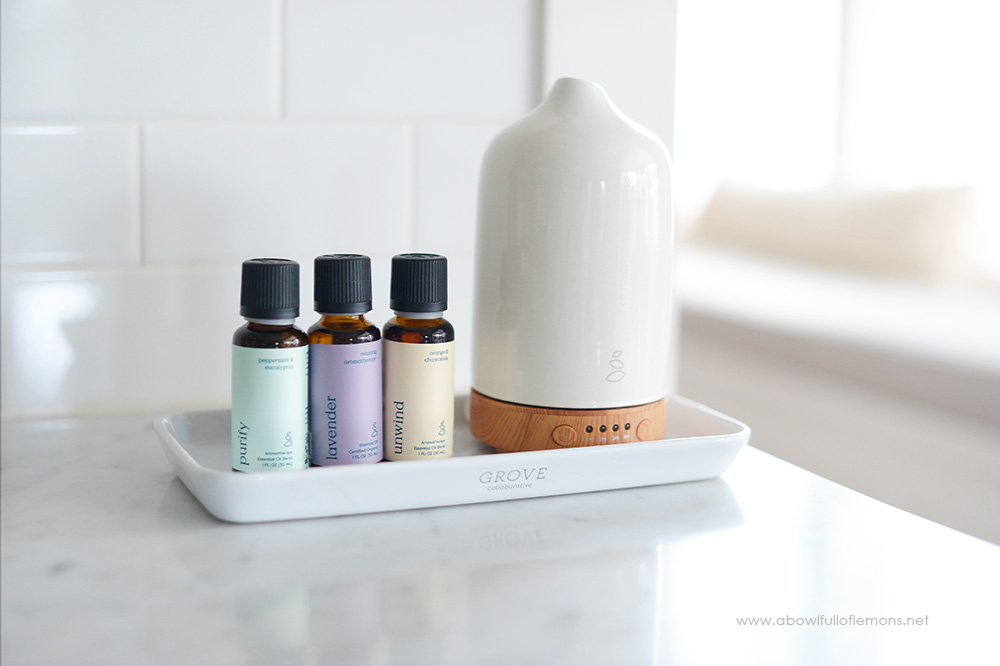 2. Dr. Bronner's Pure Castile Soap. It's no surprise that I love using natural cleaning products in my home and I love making my own. Castile soap is one of the main ingredients in many of my cleaning products, however you can use it alone to clean just about everything in your house. It's my go-to natural cleaner. Almond and lavender are my two favorite scents.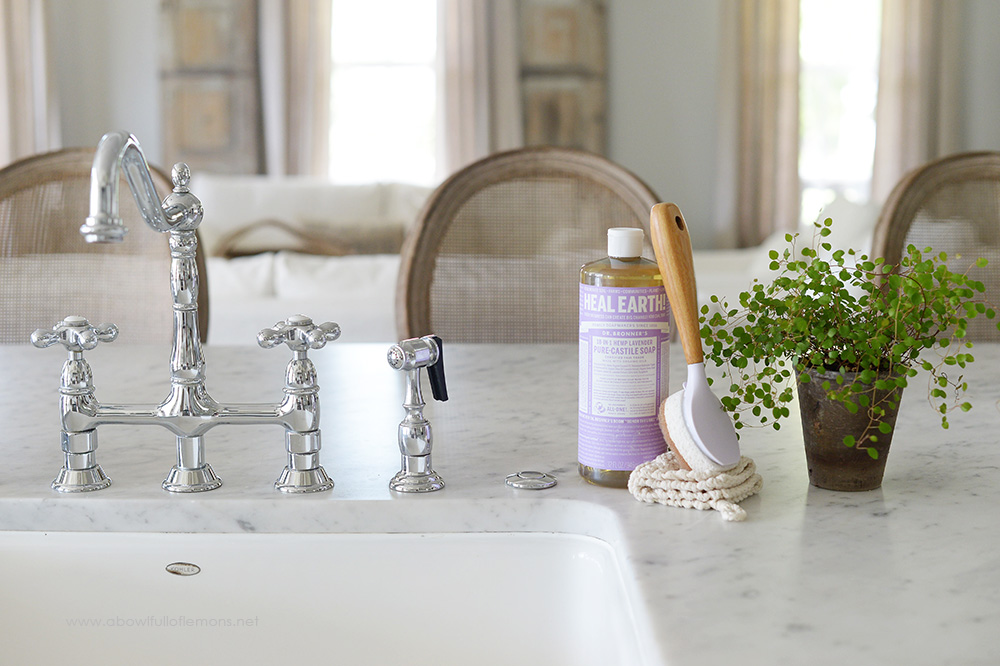 3. Grove's Replaceable Head Walnut Scrubber. This is my brush of choice for dish-washing. I keep it in my sink at all times. I swap out the brush head every 2 weeks. It's non abrasive and eco friendly. Win-win!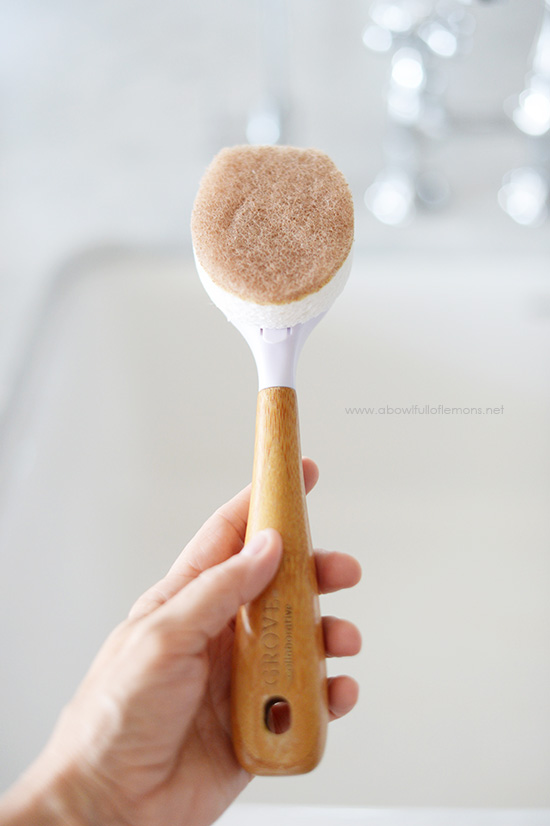 4. Grove's Lavender & Thyme Glass Cleaner. I love cleaning concentrates and this one works (& smells) amazing! Once it's empty, I simply pour a new concentrate in my reusable glass spray bottle from Grove & add water. Their biodegradable formula is made with 95% plant-based ingredients — no plastic, parabens, phthalates, phosphates, formaldehyde, synthetic dyes, ammonia, or chlorine bleach. Plus they are cruelty free, so that means no animal testing ever. I love it!
5. Seventh Generation Easy Dose Ultra Concentrated Laundry Detergent. I LOVE this detergent. The bottle is small, I can get 66 loads out of one bottle, and it's pre-measured. With just one firm squeeze, I can quickly add the detergent to the washing machine. It's also biodegradable, paraben-free, sulfate-free, and triclosan-free. There are three scents to choose from: Tropical grove, lavender, and free & clear. The main reason I love this product is that it actually works!

If you're new to Grove Collaborative, they are offering a free gift with your first Grove order. Click below, to see what the buzz is all about, browse their amazing products, and get a free cleaning set. You'll even get free shipping!

Groves mission statement says it all. "The products that clean our countertops, clothes, and selves shouldn't spoil the earth or our health. We're creating a reality where household essentials of every kind are actually good for you and the world." If you're looking for a company that cares about offering quality products, you've found the right place!
Disclaimer: This is a sponsored post by Grove Collaborative®. All opinions are my own & I only recommend products or services I use personally and believe my readers will enjoy. I am disclosing this in accordance with the Federal Trade Commission's 16 CFR, Part 255: "Guides Concerning the Use of Endorsements and Testimonials in Advertising. Please click here for full disclaimer.
Tags: a bowl full of lemons, clean home, essential oils, grove
Blog, Clean, Cleaning, grove collaborative Posted in 0 comments