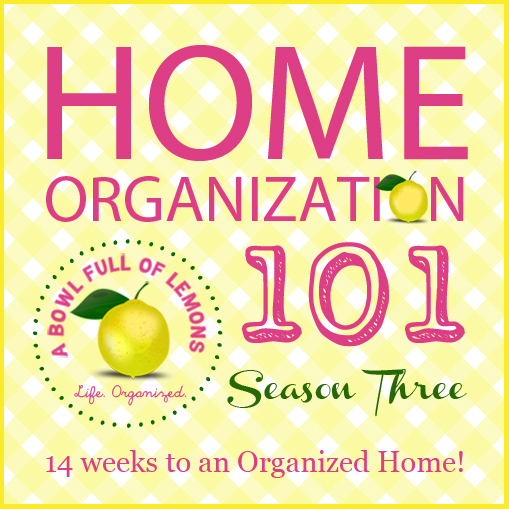 Summer has finally arrived and it's time to tackle the clutter. Welcome back to another season of Home Organization 101.  If this is your first time in "the class", welcome.  I'm happy you are joining us. If you have been through the class before, you already know how rewarding it is, once week 14 arrives.  Each Saturday, I will post a new "space" along with pictures of my finished space and share the process of how you can organize yours. You may have seen some of my pictures already, but I will be adding a few new pictures this season, as well.  Take as long as you need.  Once you are finished organizing your space, share your pictures on our Facebook group page (here).   Make sure to upload them to the correct "weekly album". Questions? Ask away! Our Facebook page is the best place to ask them.  To print out the schedule, click HERE.  Have fun!  Now lets get organized.
WEEK #1  THE KITCHEN
WEEK #1 TASK:
The kitchen is the hub of the home.  Everyone ends up in the kitchen at some point during their day. So it gets messy fast!  The best way to conquer the mess and the clutter is to get organized. Today is the first day of my 14 week series on clearing out the clutter and organizing your entire home.  We will start in the kitchen, where it all begins.  To begin the process and in order to be fully organized, everything really should be emptied out of the space, so you can see it clearly and start fresh.  Its time to clear the clutter.  Empty out every Cabinet and drawer in your kitchen.  Only do this if you can have everything put back in its place within the week.  WE ARE NOT ORGANIZING THE PANTRY THIS WEEK.  We will address the pantry in a couple more weeks.   Get a babysitter (or send the kids to the neighbors), put on your comfy clothes, and turn up the music. Its time to organize!!  *Before you start, look around your house to find bins, baskets, etc… You can use these for your kitchen organization.
WEEK #1 CHECKLIST:
1. Clean out and organize all cabinets.
2. Clean out and organize all drawers.
3. Purge everything that is not used, expired, doesnt belong, collecting dust.
4. Clean out & organize fridge & freezer.
5.  Mop, wipe down cabinet doors, clean counter tops & tables.
6.  Take everything off the refrigerator door.  It makes the kitchen look messy.
7. Clean all appliances.
THE PROCESS:
1. Clear off the kitchen table. This is your dumping grounds.
2.  Empty out all cabinets & drawers!  Place ALL items into "categories" on the table.
3.  Wipe down the cabinet doors, shelves and drawers. Add new liners if necessary.
4.  Discard (trash) old, expired, and no longer used items & food. Check the dates.
5.  Place all items that are able to fit, into baskets.
6.  Place everything back into the cabinets & drawers (in categories).
7. Take everything off the kitchen counters and place onto the table.
8. Wipe down the counters & backsplash with a good natural cleaner.
9. Wipe down ALL small appliances & large ones too!
10. Put back items you use on a daily basis, onto the counter top.
11. Mop the floors and wipe down the table & chairs.
12.  Empty fridge/freezer. Wipe out. Put back in an organized manner.
13.  You may clean and organize under the kitchen sink. I will share under my sink at a later date.
Tip: Keep all clutter off the counters at all times. If you take it out, put it away!
ORGANIZED SPACES IN MY KITCHEN:
1. Coffee & Tea station.
2. Vitamin & medicine cabinet.
3. Lunch Station.
4. Spice cabinet.
5. Command hooks for pot holders.
6. Baking sheet organization.
7. Baking cabinet & bin.
8. Dish placement.
9. Under the sink
10. Junk Drawer
11. Silverware Drawer
Stacking glasses and mugs doubles up your cabinet space!!! These wire shelves are from Walmart.
Our oils stay on the counter!  Easy access.
I keep my homemade bar soaps in a vintage dish by my sink, as well as our veggie scrubber.
The silverware drawer
The Junk Drawer
Below is my "Tea" station…
I have bins filled with the following…
1. Coffee Pods
2. Tea Pods
3. Sweeteners
4. Honey
5. Tea Packets
I keep my Tazo tea packets in this bin.
Below is our "Coffee station".
The top shelf has all of our coffee wafers, biscottis, etc…  The second shelf contains all of our coffee. The bottom shelf has our coffee flavorings & to go cups.
For those of you who are interested, you can purchase flavored syrup at Starbucks!!  They have everything you would order at Starbuck, in syrups.
For convenience, we keep all medicine and vitamins in their own separate cabinet in our kitchen.
Our medicine is organized into 5 different categories, in bins.
1. Eyes, ears, nose, throat.
2. Childrens Meds.
3. First Aid.
4. Fever & Pain.
5. Splints & Wraps.
Below is our "sick caddy".  It contains tissues, cough drops, hand sanitizer, ice pack (empty), and medications that are needed when sick.
Our protein powders & supplement shakes have their own shelf.
Finally, I purchased a Martha Stewart see through envelope (at Staples) & stuck it on the cabinet door.  It holds a "ow" chart. So whenever someone is sick, we can keep track of their medications, last dose, etc…  The printable is no longer available.
1.  Keep everything on one spot. (Baggies, napkins, wet ones, utensils).
2.  Hang lunch boxes on command hooks.
Our spices are organized on lazy susans too!  This area is pretty self explanatory.  The cooking spices are on the bottom and the baking stuff is on the top! 😉
Cake decorating caddy.
Pot holders hang well on a command hook.
Pots & Pans organized vertically into the cabinet are easy to take out.
All of my baking & cake decorating supplies go into this cabinet.  The basket has cookie cutters, pans, cake supplies, etc… My mixing bowls & cake decorating kit fit well too!  It helps to keep all of these items together, in one space.  That way, there is no searching multiple cabinets to find what you need.
Under the Kitchen Sink
If you are joining the challenge, I ask that you place a button on your blog. Thank you!
Happy Organizing!
Tags: home organization, home organization 101 season 3, kitchen, kitchen organizing
Blog, Home Organization 101 Season 3, June 2013, Kitchen, Organize Posted in 58 comments