Did you know that our link party isn't just a time for you to share your blog and for us to showcase your work, but a time for us to sing your praises for a job well done?  Every week, I take the time to scour your links to find the ones that share ABFOL's passion for organizing and home management. I pick the one or two that really stand out above the rest to share in the coming weeks!  So, without further ado, I invite you to join with us in your all your creative, crafty, organized, home-managing ways!
If you're new to our Tuesday LINK PARTY, let me just share that this is our way of turning the spotlight on all of you as you link your blogs to ABFOL.  You can really link up to just about any category.  To help you out, here are some suggested categories:
Categories:
Home organizing
Room Renovations
DIY projects
Green Living
Cleaning
Recipes
and just about everything in between!
Our Featured Links:
To encourage you in your home organization, I just love what Allison over at Slippers By Day has done to her spice cabinet. She took a fairly popular idea (using chalkboard paint on the spice bottle lids) and made it her own. To continue the chalkboard theme, she made not just a memo board, but a quick glance cheat sheet for conversions!  Check out all her little tricks to organize her spice cabinet <HERE>
To continue with the organizing theme this week, I fell in love with the sisters work, over at Create. Bake. Celebrate., especially their genius way of using some 'wasted' space in the laundry room.  Holly and Madeline share an inspiring post about using every inch that you have <HERE>. I simply love how they went low with the shelf for their bag. No more bags on the floor!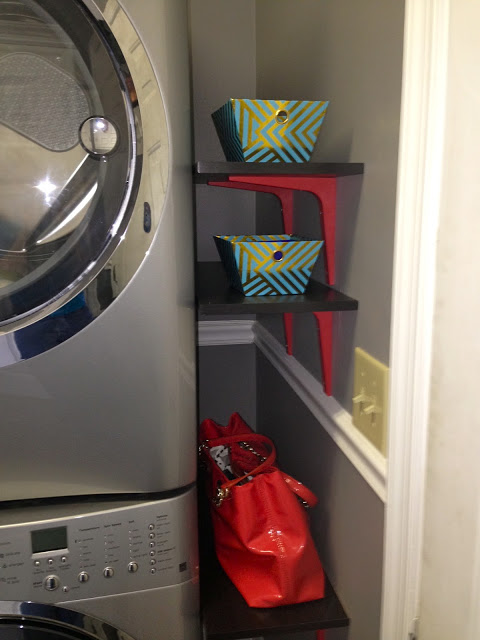 I hope you've found inspiration in these two blogs. We would love to see what you have to share, so grab a button and link up!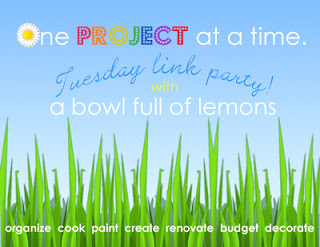 Tags: home organization, laundry room, link party, one project at a time, spice cabinet
Blog, July 2013, One Project at a Time Posted in 15 comments