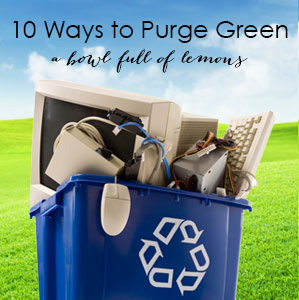 10 WAYS TO PURGE GREEN
Spring is a time to freshen up your home and office environment. It's also a time to deep clean and purge the things you no longer need. Celebrate Earth Day this year by following these ten tips to green purging.  It's better for your community and the environment.
OFFICE TECHNOLOGY: In a recent online survey, Staples found that the majority of respondents (78%) have old technology sitting around and over half don't know where to go to recycle it! Bring any brand of office technology in any condition, to Staples® stores for FREE recycling. Staples®is the smart destination for small businesses and everyday needs. Start "greening your office" – click here to learn more.

CLOTHING & HOUSEHOLD GOODS: Donate used clothing and household goods to a local charity or women's shelter. Most charities will come to your home and pick up your donations.

NEWSPAPERS & CARDBOARD:  Shred carbon filled newspapers and cardboard into small pieces and add to a compost bin. If you don't have a compost bin, toss into the recycling bin.

FOOD: When it's time to purge the refrigerator, toss old fruit, vegetables, and egg shells into the compost bin. You can also add old coffee grounds.

PLASTICS: Identify what type of plastic you are purging before recycling. Plastics 3, 6, & 7 can not be recycled.

MEDICATIONS:  Dispose of expired and unused medications safely. April 30th is National Take-Back Initiative. Locate a collection site near you.

BOOKS:  Donate books to your local library or school.

INK & TONER CARTRIDGES: Recycling ink is crucial for the health of our environment and it's easy to do. Simply take it to Staples® In addition to reducing waste going to landfills and reusing valuable resources, Staples® customers receive $2 back in Staples Rewards® for each ink or toner cartridge recycled (up to 10 cartridges per month) — if you've spent at least $30 on ink and toner over the previous 180 days.

MOTOR OIL: Used motor oil recycling is the law in most states and it's also best for the environment. Call your local auto parts store to see if they will accept it.

BATTERIES: Batteries may contain materials that are recyclable. Before you purge them into the trash can, find out if they are recyclable. Visit http://www.call2recycle.org/locator/ to locate your local battery & cellphone recycling center.
Happy Earth Day!
Toni
Disclaimer: This is a sponsored post by Staples®. All opinions are my own & I only recommend products or services I use personally and believe my readers will enjoy. I am disclosing this in accordance with the Federal Trade Commission's 16 CFR, Part 255: "Guides Concerning the Use of Endorsements and Testimonials in Advertising. Please click here for full disclaimer.
Tags: green living, purging, purging clutter
April 2016, Blog, Earth Day, Green Living, purging clutter, springtime Posted in 3 comments