Since I have made a resolution to get my life organized… I thought "How can I help others get more organized too?"  After about a day, it finally came to me that since I'm starting my 21 day
Crazy Sexy cleanse
on January 1st, I thought it would be PERFECT to also start a 21 day organization challenge.  So, the 21 day challenge was born.
Starting on January 1st and lasting 21 days (except on Sundays)… Every morning I will post a daily challenge for you to do.  You will then have until the next day to complete the challenge (or longer if you need), and then check back here and link up your post to my blog for everyone to see (lots of pictures are a plus).  Thats it!  Simple eh? I promise they will be easy challenges.  It's only 3 weeks… you can do it! You will be so happy you did. 
The REAL challenge is getting 
you all
on the road to ORGANIZATION.  
The only rule is that you have to put my link (below) on your blog!
 If you have to miss a day, its okay.  Just catch up the next day.  But try to make it up when you can. If this turns out like I think it will… we will be a lot of organized bloggers by the end of January (National "Get Organized" month). Every store you go to this coming month will have tons of organizing bins, etc.  Take advantage of the sales and stock up on containers for the challenge. You never know when you may need one.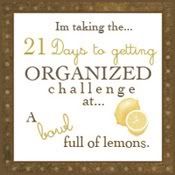 Happy Organizing!
One more important thing,  Just so I know who's taking the challenge… I would love for you to link up your blog home-page below and create a quick post on your blog about the challenge, so others can know & join in too. I can't wait to see your pictures. 🙂  Hugs.

On another note… today my blog was featured on Crazy Domestic. Megan also has a fab blog. Check it out
here
!

and to my surprise, I was featured on another amazing blog today, here…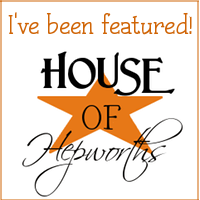 21 day challenge Posted in 40 comments