Thanks so much for visiting my new blog!  I hope everyone had a great weekend. Please come back to visit tomorrow when I have some new things to share with you.
Don't forget to support my blog by grabbing my button!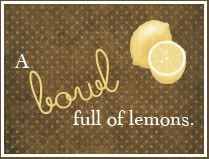 and…
Please "follow" my blog.
Im also on Twitter & Facebook now!
Coming up this week…
1. Cleaning and organizing the laundry room
2. Pantry organization (the following week)
3. Cleaning out my fridge
4. Washing the couch cushions
5. Getting inspired to organize (& my favorite organizing blogs)
6. How to make magazine storage boxes
Also,
Next Tuesday is the 2nd "TOTALLY ORGANIZED TUESDAY" link party!  I hope you join me here at A Bowl Full of Lemons. Invite all of your friends & come celebrate wtih me!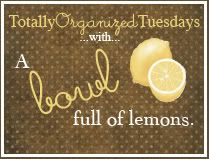 link party Posted in 3 comments