I am on spring break this week and will be visiting a close friend of mine (out of state), but I will have my ipad to answer emails & I will be back at the end of the week to finish this project with you all!  While I'm gone, hopefully you will all be purging away and sharing your success!This week I am challenging you to purge the un-necessary clutter from your life!  Over the winter months, clutter seems to grow and March is a great time to rid yourself of it. If you are like me and have a garage sale every spring, this challenge will give you a head start.  Its badly needed in my home, so Im excited to get started.  
I will be concentrating on purging items from my kids rooms. I am redecorating my 8 year olds bedroom for his 9th birthday coming up. (He has NO clue). That means purging lots of toys! The goal is to find as much stuff to purge as possible.  
*J-u-n-k
CLUTTER = STRESS
While purging, think to yourself… 
1. Do I use it?
2. Do I need it?
3. Does it have a purpose in my house?
4. Is it broken?
5. Does it fit NOW?
*If you answer no to any of these, toss it!
Now take a picture of your purge and box it all up! You can either put it in a corner until you are completely finished with the whole house, when you can take everything at once to donate to a local goodwill, or you can store it all in your garage for your spring garage sale (like me).  Post your purge on your blog and come back here to link up!! (Or just link up and tell us everything you need to purge). Congratulations, you are one step closer to an un-cluttered life.
If you are taking the challenge with me this week, grab a button and link up your blog!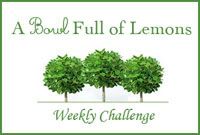 purging clutter, weekly challenge Posted in 15 comments