This week my "project" has been to get our household organized so we can have a smooth relocation for our family.  Moving to another state requires a lot of planning and organization.   It's very stressful and exhausting as well. We are moving to Greenville, SC.  We just got back last night from a visit and I must say its an absolutely beautiful place.  Downtown is breathtaking.  We are so excited to get fully moved.  Im even more excited that I will now have a new home to ORGANIZE!!  Here are some pictures I took with my cell phone to share with you all.  You have to see what I experienced down in Greenville. Its a beautiful city!
Greenville, SC
How many U.S. cities can say they have a natural waterfall & stream going right through the middle of downtown?  Not too many.  Its breathtaking. 
 There are so many trees. Now I know why its called "Green"ville.
Alex and Gavin on the suspension bridge overlooking the waterfalls. Its much higher than it seems.
 Downtown Greenville has cute italian style lights strung through the trees going down main street. (Do you see the street sign.  Its called Coffee street).  Love it!
They have a very trendy downtown with lots of sidewalk tables to eat outside the restaurants.
The first house we toured and the first house we fell in love with!  Now if it would still be for sale until after we sell our house, then its meant to be! Its just a beautiful colonial home.
Here is another house we fell in love with. The front porch is "farmhouse" style with a porch swing.  Just lovely. This house sat on just about an acre and looked very similar to the house above. It had an in ground swimming pool in the back yard and a master suite with a fireplace.  It was gorgeous!  I think this one is calling our name!  Dear God, please help us sell our home FAST!!
Now back to reality and the "preparing to move" part…
Here is a list of what we have accomplished so far:
1.  Make a list of everything that needs accomplished before, during, and after the move. Check.
2. Call a realtor or two or three.  (Compare offers).  Get the house on the market asap! (Still in process).
3. Research movers, price moving trucks, etc. Check.
4. If you are not lucky enough to have your company pay to pack you up, purchase boxes.  We found the best deal at Lowes. Check.
5. Start going through each room in the house and toss what you do not want, need, or have room to move. Double check. Im having the hugest moving sale ever!
6. Box up anything you will not need before you move (winter clothes, keepsakes, etc). Done! We are storing the boxes in our garage.
7. Label each box with a gift wrap tag (I found them at the container store for $1.99 for a set of 40).  On the label put: what room its from, contents, and box __ of __ (so you know how many boxes are in that room).  Place the label in the top right corner of each box.  It will be much easier to find something you might need in the future.
8. Get the house ready to sell. CLEAN the house.  Wipe down all doors, baseboards, shampoo carpets, scrub showers, sinks, toilets, ceiling fans, and everything in between. 
9.  Clean the outside of the house. This is the buyers first impression. If you don't take care of the outside, who will want to see the inside. Pull weeds, mulch, sweep off the porch, plant some flowers in planters for the porch, etc…
10. This is the point we are at now. 🙂  Stay tuned…
Shopping for moving boxes at Lowes. Don't forget the bubble wrap. 🙂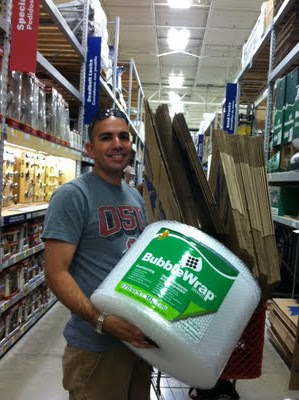 We got a LOT of boxes… and still need more.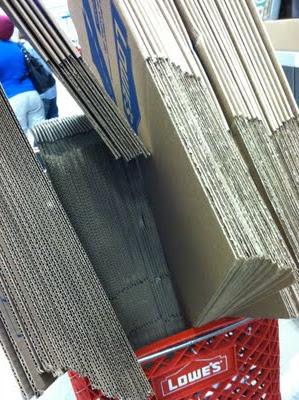 One Project At A Time LINK UP:
What are you up to this week? Any exciting projects?  Do you have any moving tips to share? If you are going to link up, please add my blog link button to your post. I have no rules to linking up. 🙂
moving, One Project at a Time Posted in 41 comments